Greek Orzo Salad with Roasted Shrimp {Guest Post}
It's Friday which means another guest post! Only one more week of this though–then I have to start blogging more myself. Eek! Still don't know how people do this with two kids. Today I have Vijay, the Editor and "Chief Nosher" at NoshOn.It, which in his words is "a daily email to inspire you to cook just a little bit better each and every day." More from him about NoshOn.It: "We feature hand-picked recipes and expert cooking tips from amazing up-and-coming bloggers (like Rachel!) so you don't have to think about what to make for dinner."
I receive some of NoshOn.It's newsletters and I love them, so when Vijay offered to guest post here, I gladly took him up on the offer.
~~~~~~~~~~~~
This flavorful Greek orzo salad will satisfy you with the Greek flavors you love including mint, lemon and parsley and it won't require fat-pants!
Hi Rachel Cooks readers! I'm so happy to be here today and thanks to Rachel for inviting me to share one of my recipes. I have to admit, I have an unhealthy obsession with Greek salad. I know it's nothing special (and to be honest, I'm not really sure how "Greek" it is), but there's something about the simple combination of lettuce, red onions, olives, tomatoes, and a heaping pile o' feta that I just can't resist.
But when I was thinking about what recipe I wanted to share with you guys, I came to a realization…I've never made Greek salad at home. Cue the shudders. I know, right? It's kind of silly but for some reason, Greek salad has always been one of those things I've left to the restaurants, which is completely irrational since it's so simple to make. So today, I decided to take all of the flavors of a traditional Greek salad and turn it into something a little different.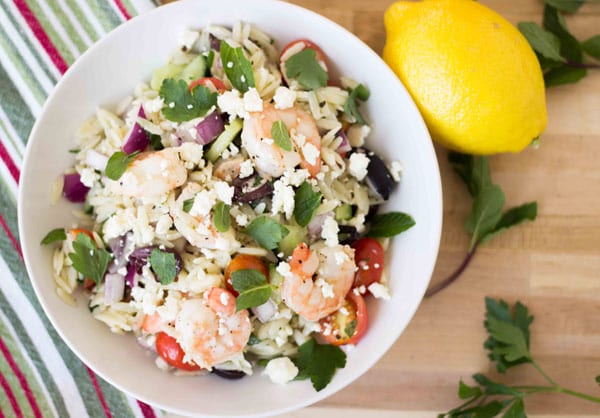 Admittedly, I wouldn't typically call myself a "light and healthy" cook, but lately, this is the kind of food I've been craving. Growing up in a South Indian household in Texas and living around the world, I've been exposed to rich flavors from all different cultures and that's the way I usually love to cook. Inspired, hearty, and comforting. Our winter meals here in Boston have been filled with plenty of rich, heavy comfort food and I'm about ready for a break! So today, put the slow cooker away and try out this light(er), fresh salad to get you ready for the changing of the seasons.
Instead of using lettuce as the base for the Greek orzo salad, I went with orzo, the little rice-shaped grains of pasta that are the perfect vehicle for the rest of the flavors in the dish. I love using orzo instead of rice because it has a pretty neutral flavor and nice chewy texture without any of the stickiness. Plus, it cooks up in less than 10 minutes!
I add a healthy dose of a bright lemony oregano vinaigrette to the orzo while it's still hot so it soaks up all of the flavors. The vinaigrette also serves double-duty as the marinade for the shrimp, which are quickly roasted in a hot oven. Into the cooled orzo go the rest of the traditional Greek salad components – tomatoes, red onion, cucumbers, and feta (oh yes, plenty of feta). I also added a healthy handful of chopped mint and parsley for some extra freshness. Toss it all together and you've got a light dinner or delicious side dish. Plus, I'm not the best at estimating portions so this will feed the entire family with plenty to spare for lunch the next day!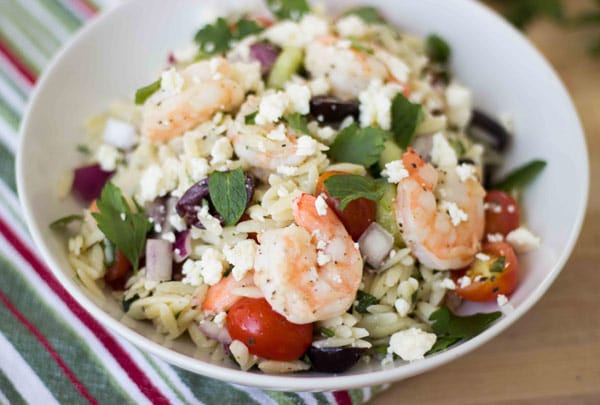 One of my little secrets is that right before serving, I add an extra squeeze of lemon juice and drizzle of a good olive oil just to help brighten everything up one last time. This Greek orzo salad is delicious served at room temperature and even better cold once all of the ingredients have had the chance to meld together.
If you're looking for a way to have a healthy and just-filling-enough dinner that'll serve you double and triple-duty throughout the week, I hope you'll give this Greek orzo salad recipe a try. Or, if you're like me, cure your Greek Salad addiction by (finally) making it yourself at home! The crunchy, salty, fresh, and tangy combination is sure to make you do a happy dance – just. like. this. Thanks again to Rachel for having me and I hope you'll come say hello to us over on NoshOnIt!
Greek Orzo Salad with Roasted Shrimp
This flavorful salad will satisfy you with the Greek flavors you love including mint, lemon and parsley, tossed with orzo, it won't require fat-pants!
Ingredients:
For the Marinade & Dressing
2 lemons, juiced (approximately 6 tbsp)
1 tsp kosher salt
1/2 tsp freshly ground black pepper
4 cloves garlic, minced
2 tsp dried oregano
1/2 cup extra virgin olive oil
For the Salad
1 pound orzo pasta
1/2 lb peeled, deveined shrimp (tail removed) – about 14-16 shrimp
1/2 hothouse English cucumber, cut into 1″ pieces
1 small red onion, cut into 1″ pieces
1 pint cherry tomatoes, halved
1/2 cup pitted kalamata olives, halved
1/2 cup crumbled feta cheese
1/4 cup minced parsley
1/4 cup minced mint
To finish:
Juice of 1 lemon and extra virgin olive oil
Directions:
First, make the dressing, which will serve double-duty as marinade for the shrimp. Whisk all of the ingredients together and set aside.
In a separate bowl, add 2 tbsp of the dressing to the shrimp and toss to combine. Place in the fridge until ready to cook, no more than 20 minutes.
Bring a large pot of heavily salted water to a boil. Add the orzo and cook according to the package instructions. Drain thoroughly, add to a large bowl, and pour over the reserved dressing. Toss to combine and let sit to the side to cool to room temperature.
Preheat the oven to 425 degrees F. Remove the shrimp from the marinade and spread on a sheet pan. Roast for 6-7 minutes until the shrimp just turns pink. Remove to a plate and allow to cool. Cut in half into bite-sized pieces.
To the cooled orzo, add the cucumber, red onion, cherry tomatoes, olives, feta cheese, parsley, and mint. Toss to combine. Add a few more drizzles of olive oil and a big squeeze of lemon to finish.
recipe by Vijay of NoshOn.It
All images and text © .