Best Granola Recipe – make it your own!
You'll love this granola recipe! Making your own granola is economical, easy to do, and it tastes so much better! Try all the fun variations in the recipe and you'll never be bored.
Recipe Overview
Why you'll love it: This recipe is really easy to customize, and it's easy to make too!
How long it takes: 10 minutes to prep, 35 minutes in the oven
Equipment you'll need: mixing bowl, sheet pan, oven
Servings: makes 5 cups (10 servings)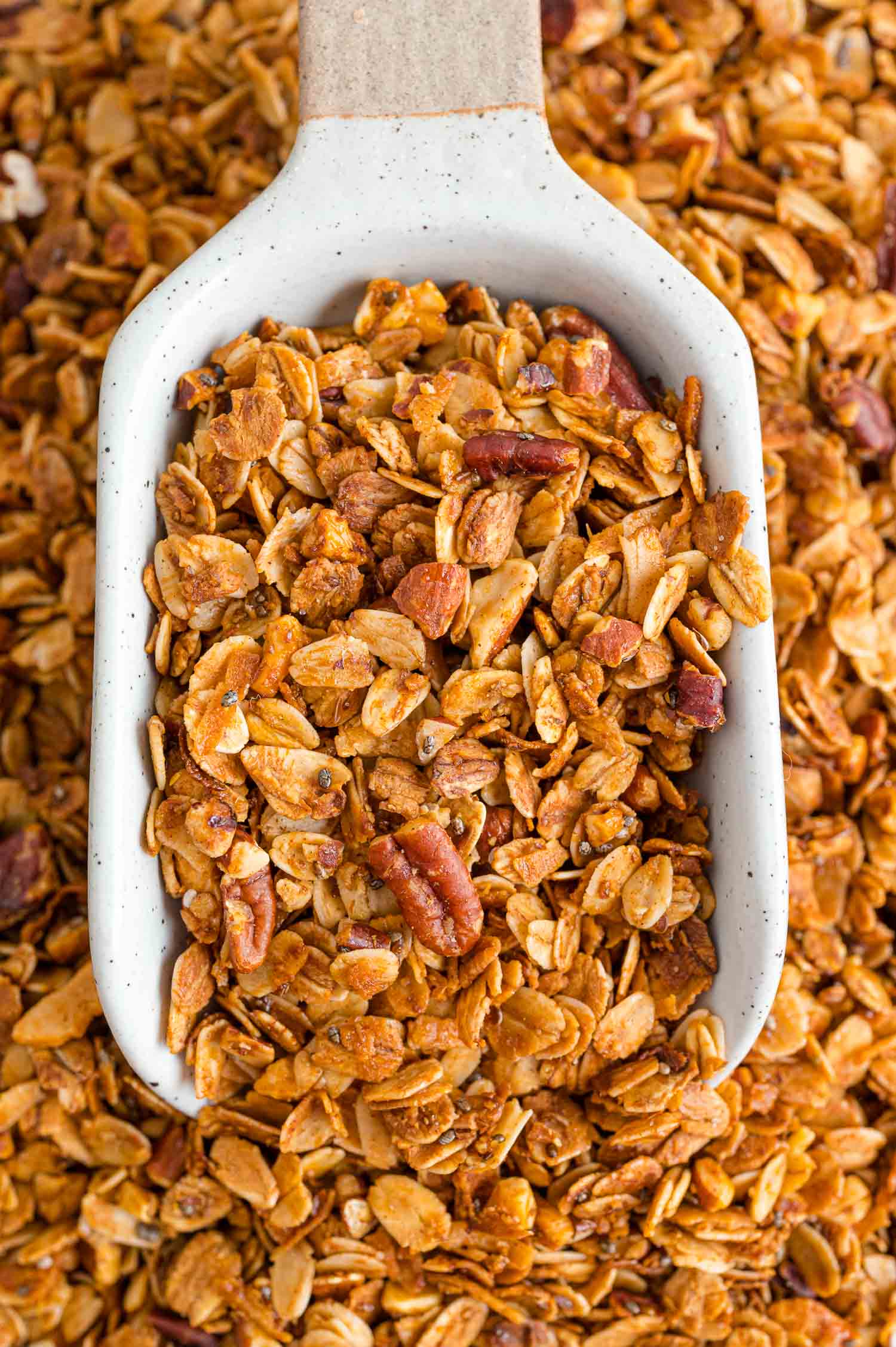 Have you been looking for a good basic granola recipe? One that you can tweak or jazz up to your heart's content? Look no further! This recipe has become my go-to and I think it will be yours too.
Lightly sweetened with brown sugar and honey, rolled oats are joined by nuts, coconut, and other goodies. With nutritious add-ins like ground flaxseed and wheat germ, this healthy granola will get your day started on the right foot.
Add granola to unsweetened Greek yogurt with fresh fruit and you have a powerful breakfast that will stick with you for hours. For a quickie breakfast, instead of eating over-priced and over-processed breakfast cereal, simply splash a little milk over granola in a bowl. Rice Krispies or Cheerios can't hold a candle to your homemade "cereal"!
About This Homemade Granola
You really won't believe how easy it is to make homemade granola. You just need a few minutes of prep, and then it's mostly hands-off time in the oven. The granola is crunchy yet a little chewy, flavorful and full of warm cinnamon, just the way it should be.
Granola is so easy to customize, too. Since making this granola, I've created other versions including almond mocha granola, almond vanilla bean granola, cinnamon flax granola, and Biscoff granola. And of course, this easy granola recipe with pecans and cranberries!
The best thing though? You really don't need another recipe to make your own special granola. Keep reading for lots of ideas for how you can tweak this classic granola. Throw in the stuff you like. Leave out the stuff you don't. Rolled oats are essential but the rest is pretty much up to you!
Although I say you can tweak this recipe as much as you want, there is one caveat. Try to keep the same ratio of wet vs. dry ingredients for the best results.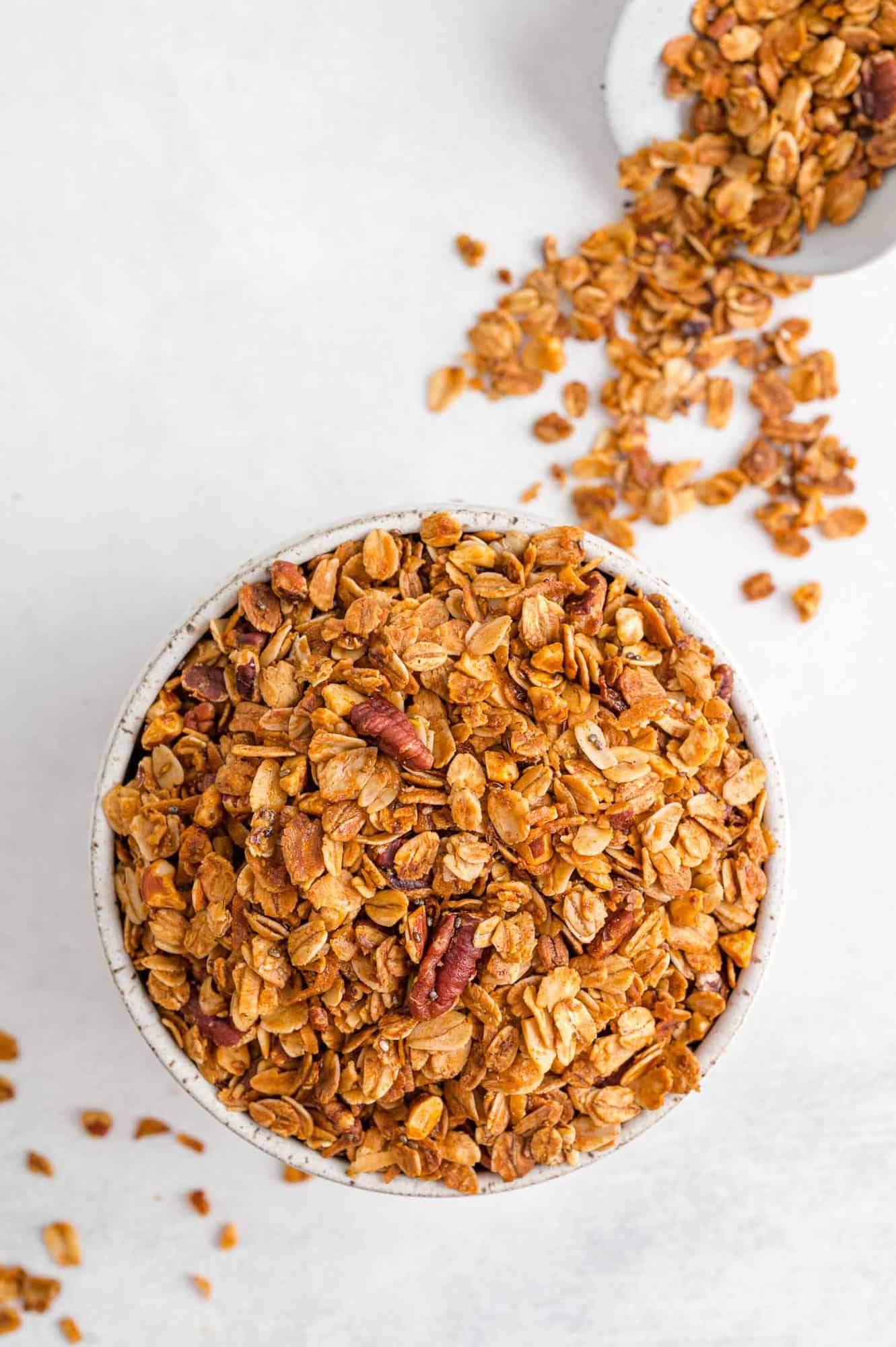 I'll run through the basics here and give you lots of extra tips. As always, the printable recipe card is found near the bottom of the post with complete instructions and nutrition information.
What You'll need
Rolled Oats: The foundation of granola, rolled oats are a must. They are sometimes called "old-fashioned" oats. Please don't substitute other types of oats, such as steel-cut, quick oats, or instant oats. They just don't work for granola. Rolled oats are pretty much the only ingredient you can't change in this recipe.
Almonds and Pecans: A half cup of each gives plenty of toasted nut flavor. However, if you're like my family which is now nut-free due to severe allergies, there are lots of things you can substitute for nuts.
Coconut: The recipe calls for shredded unsweetened coconut. Coconut flakes are great, too. Can't find unsweetened? Sweetened coconut will work but it adds a bit more sugar.
Wheat Germ and Ground Flaxseed: So much added nutrition in these two ingredients! Go ahead and add a bit more if you like (or leave it out if you prefer).
Dark Brown Sugar and Honey: The goal is to add just a bit of flavor but not a lot of sugar. Most store-bought granolas are loaded with sugar! That's another advantage of making your own. If you want, use even less than the recipe calls for.
Canola Oil: Because canola oil is a mild tasting and widely available oil, it's perfect for granola. Not a fan of canola? Use any mild flavored oil, such as coconut, mild olive oil, grape seed, or vegetable oil.
Cinnamon, Pure Vanilla Extract, and a Pinch of Salt: More flavor for the granola.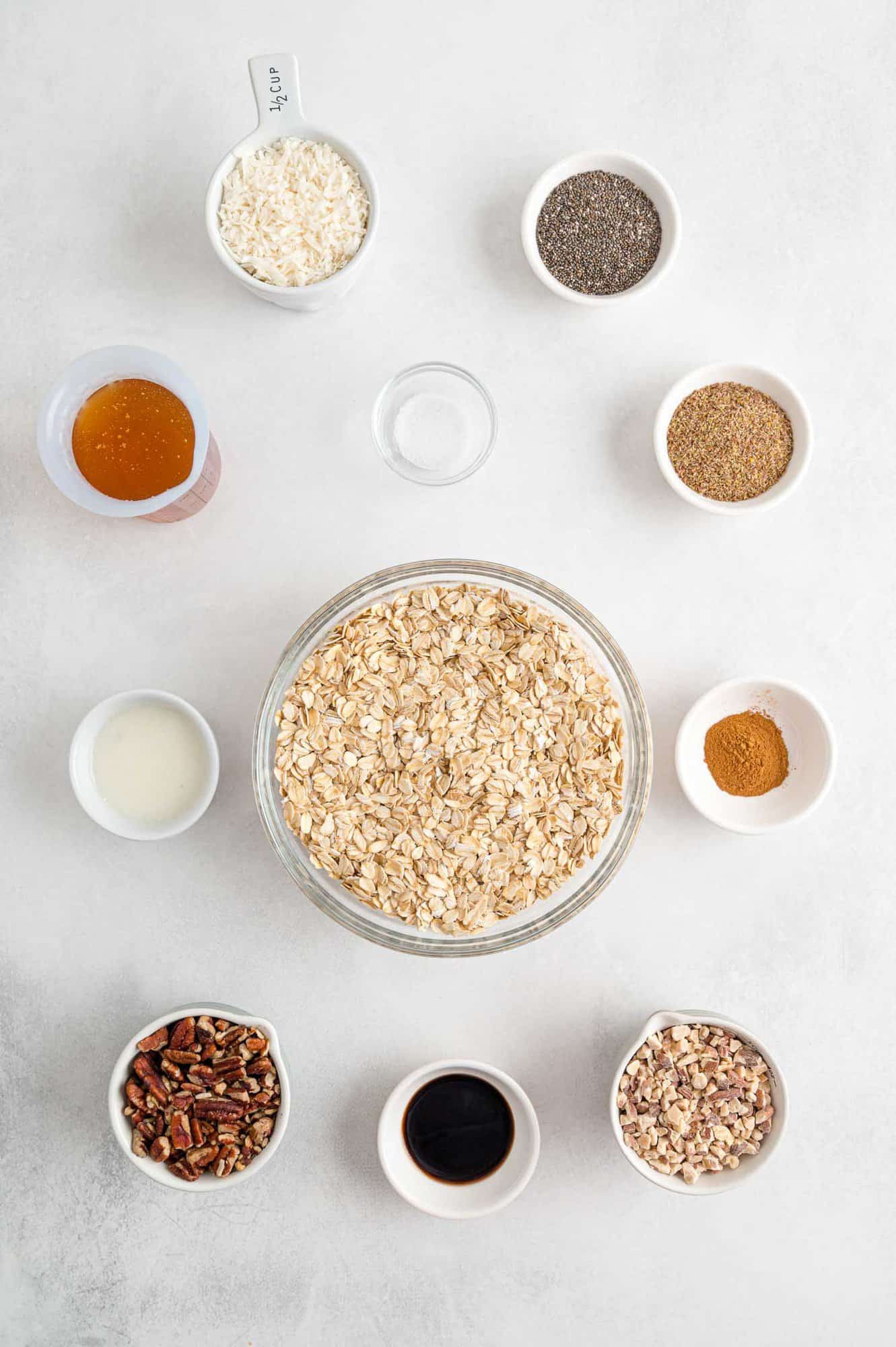 How To Make It
It's so easy, I promise! Here are the basic steps:
Combine oats, nuts, coconut, wheat germ, flaxseed, and brown sugar in a large bowl.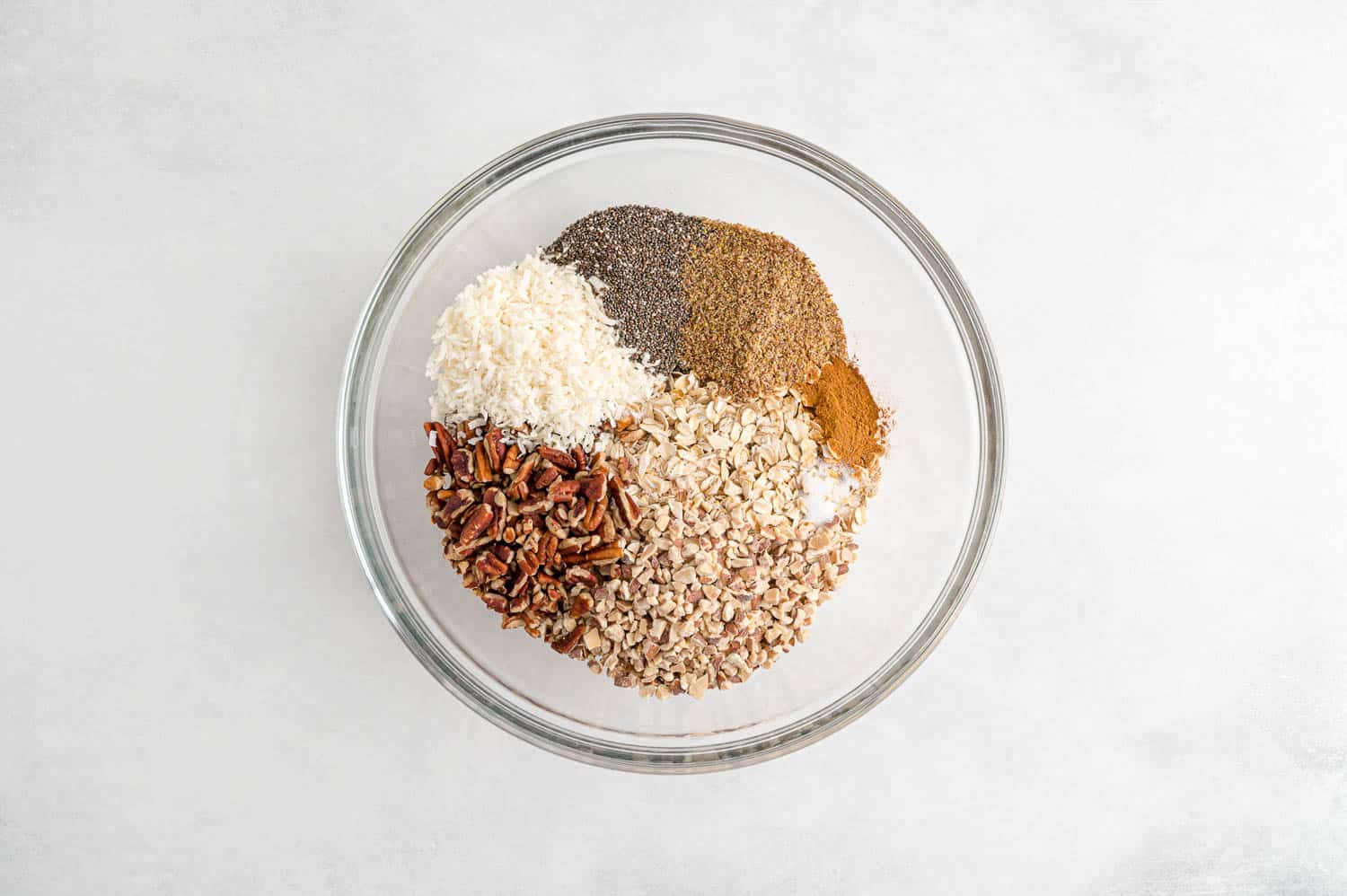 Warm up oil, honey, cinnamon, and vanilla in the microwave and stir to combine.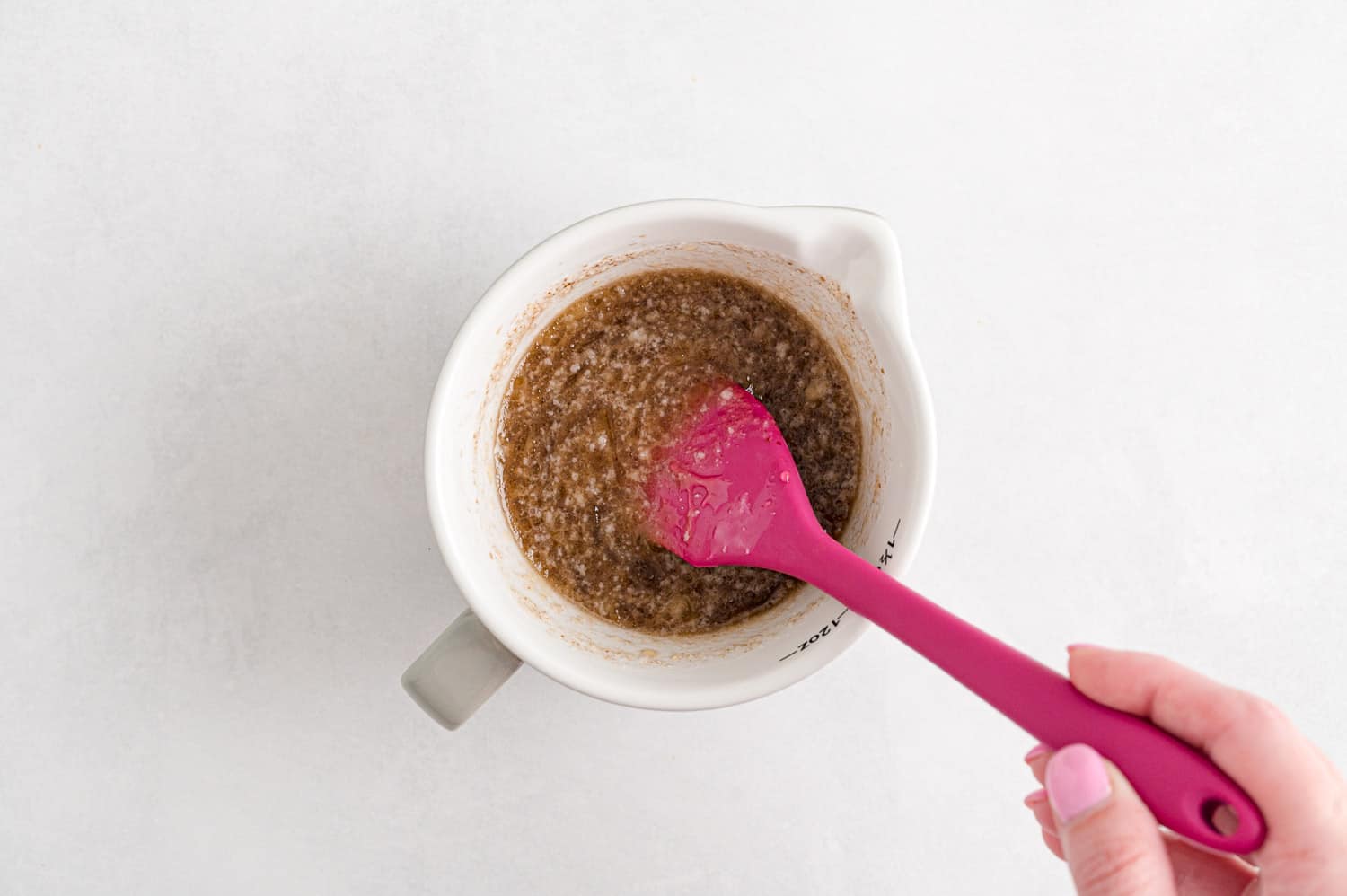 Add the oil mixture to the dry ingredients in the bowl and stir well to coat.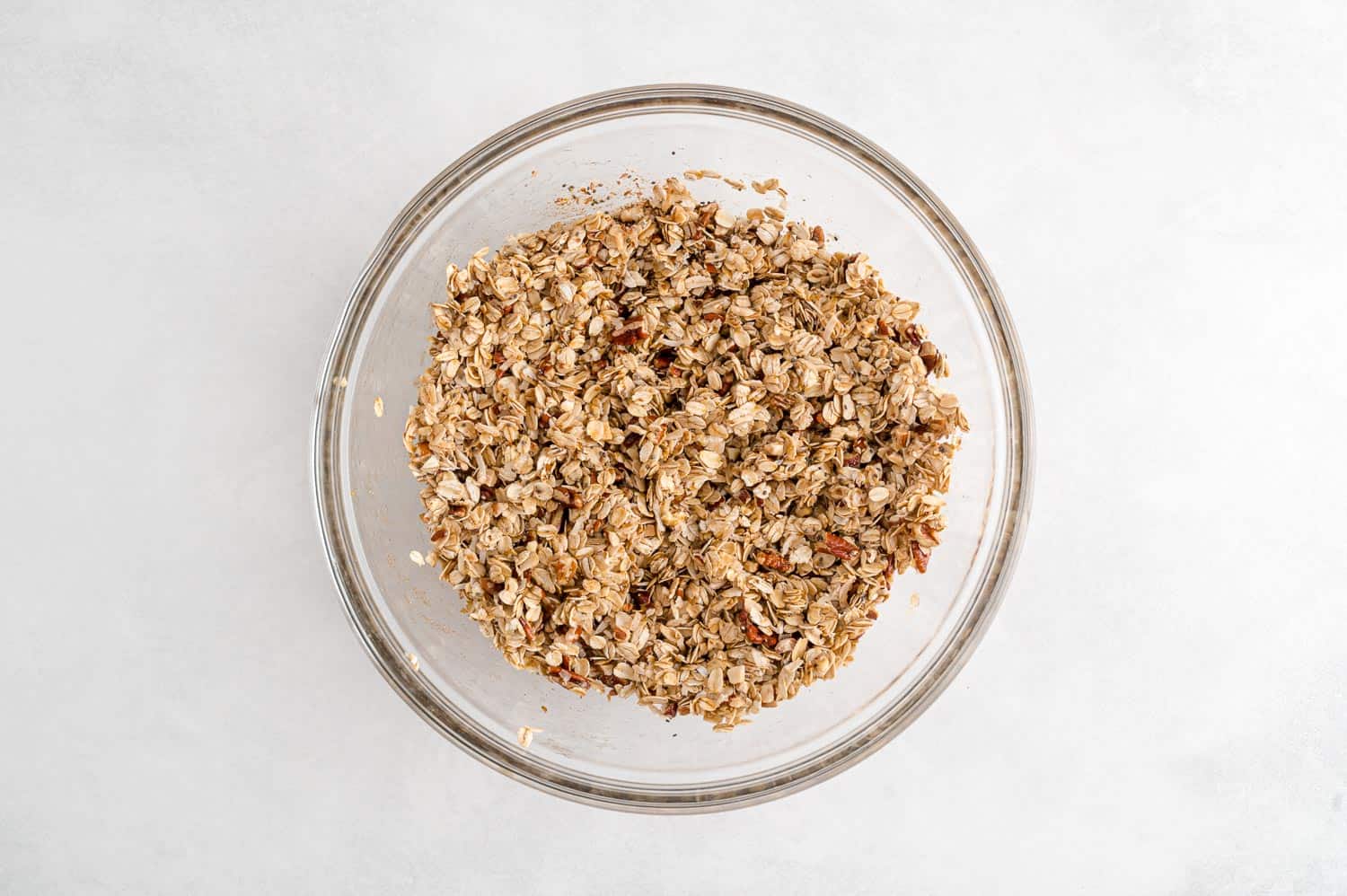 Spread the granola in an even layer on a rimmed baking sheet (don't crowd the pan!).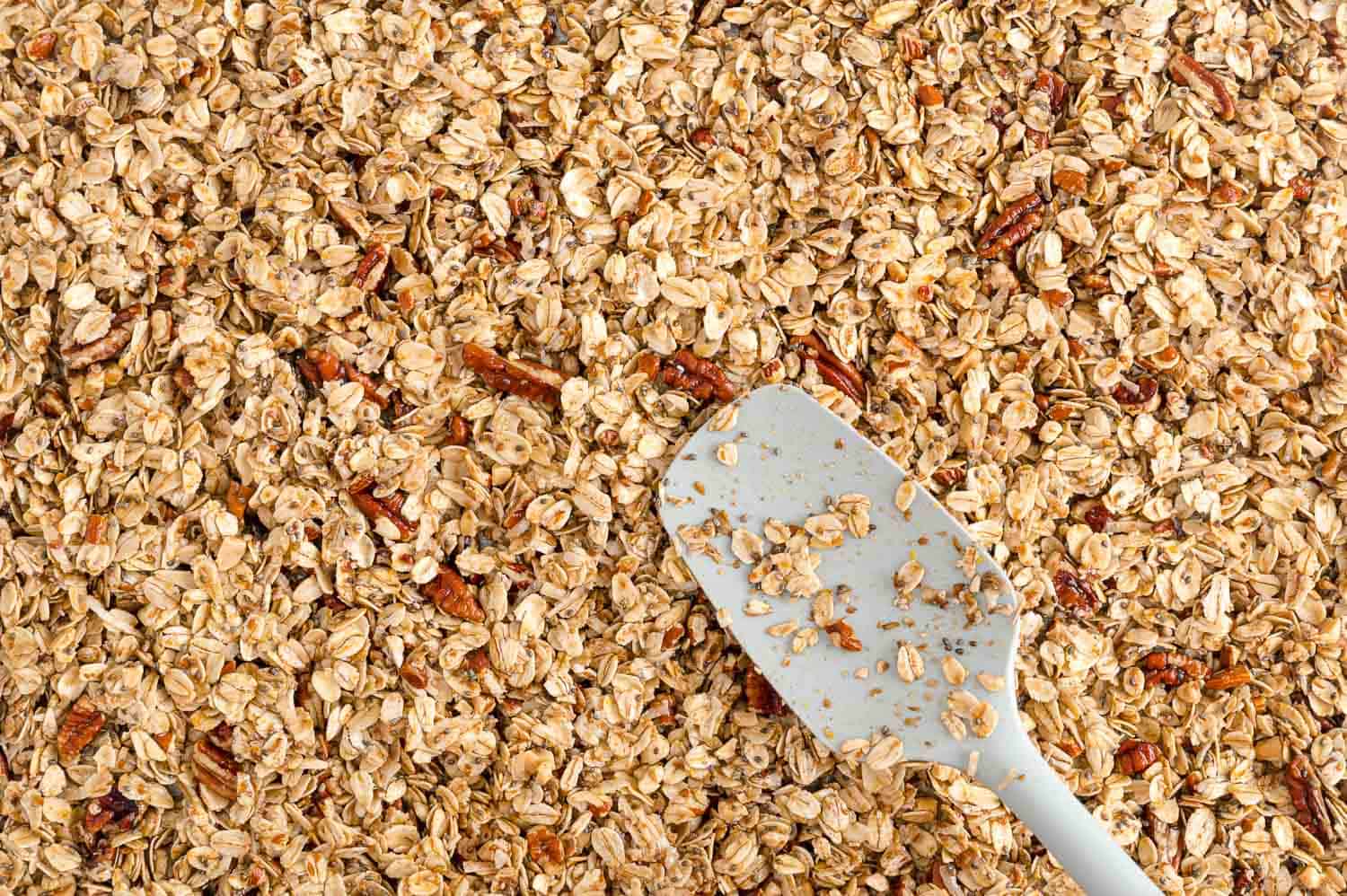 Bake until golden brown. Stir it a couple of times while it's baking so that it browns evenly.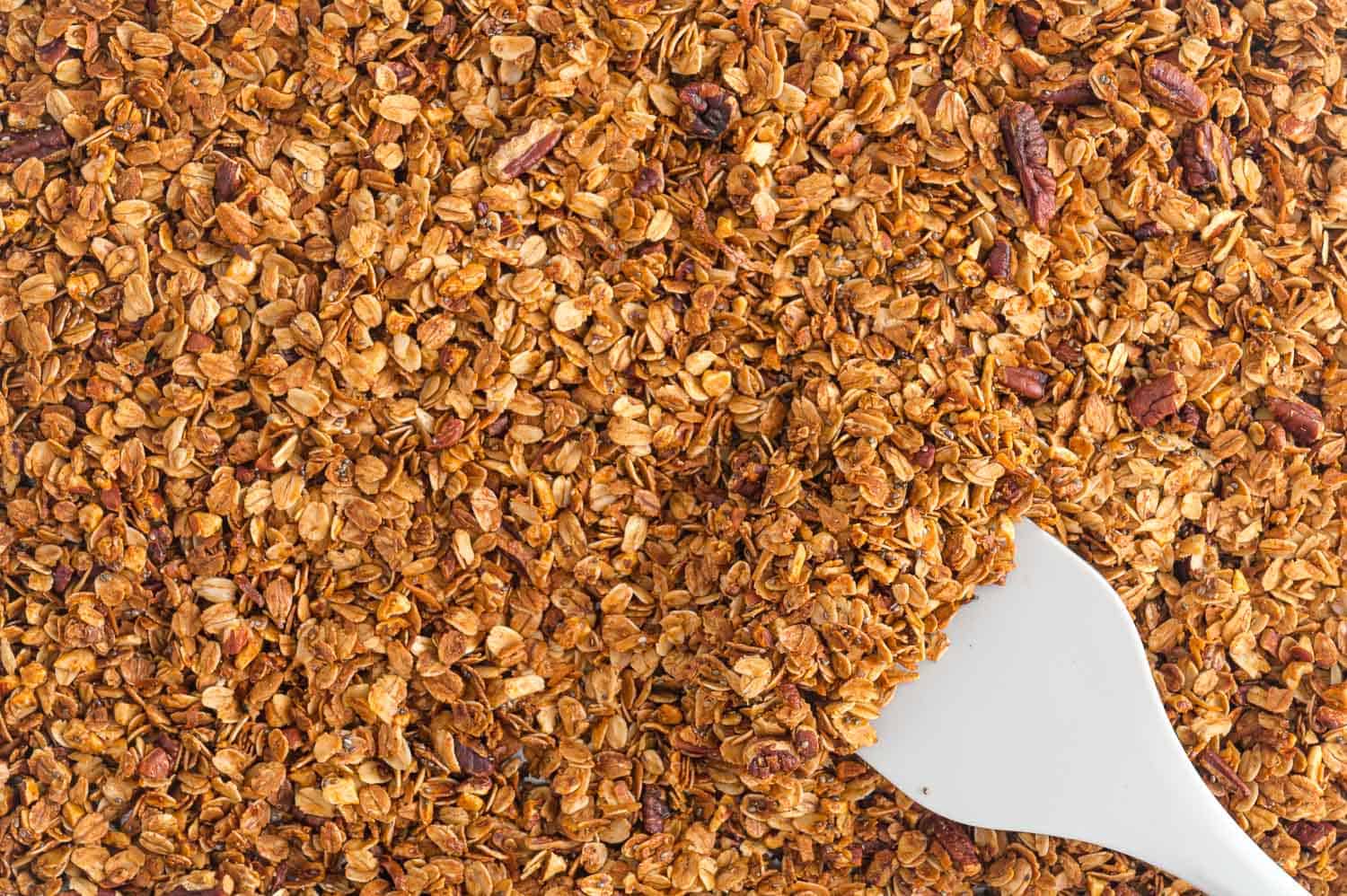 Cool and store. That's about all there is to it!
Chunky or Not?
If you like your granola in big clumps or clusters, use your spatula to press all the granola down onto the pan and let cool it completely without touching it. If you like smaller pieces, stir it a few times while it cools.
FAQs
Is homemade granola a healthy snack?
Some folks are of the opinion that granola is not good for you. Granola isn't inherently bad for you. Oats are very nutritious, actually one of the most nutritious grains you can choose (Healthline). Other add-ins like wheat germ, ground flaxseed, nuts, and seeds add loads of nutritional benefit.
However, many commercial brands (and some homemade recipes) add lots of sugar and oil to the granola, making it a not-as-healthy choice. That's the beauty of homemade: You can control what's in your granola.
If you prefer to eat oats in another form, try: Instant Pot steel cut oats, baked oatmeal, slow cooker steel cut oats, or pan-seared oatmeal.
And of course, there's always oatmeal cookies: iced oatmeal cookies, oatmeal raisin cookies, or coconut oatmeal cookies.
Is it cheaper to make your own granola?
It can be cheaper. Generally, oats are pretty inexpensive and most of the other ingredients are as well. Adding lots of nuts or dried fruit can drive up the price of making your own but they are optional.
Why is my homemade granola not crunchy?
There can be a few reasons. Perhaps you didn't add enough oats. If your granola always seems soft, not crunchy, try adding more oats to your recipe next time.
Another reason may be that you used a baking pan that is too small. Granola needs lots of room to dry out and crisp up. Use two pans if necessary and rotate them once or twice.
Perhaps your baking time is too short. If the granola isn't crispy and browned when you take it out of the oven, it probably isn't done baking yet. Bake it until it's dry to the touch and nicely browned.
Or may you're wondering, how do you keep homemade granola crispy? Always make sure the granola is completely cool before storing it in an airtight container. It will stay perfectly crispy. If you store it while it's still warm, the granola will produce steam in the container, causing it to become soft.
What can you eat granola with besides yogurt?
Granola can be much more than a topping for yogurt. Granola is good with milk as a breakfast cereal. Jazz up a plain bowl of oatmeal or chia seed pudding with a granola topping. For an easy fruit crisp, top canned fruit or pie filling with granola and warm in the microwave. It's really great on this apple compote. Granola is yummy on ice cream or vanilla pudding, too. Top a salad with granola, especially a salad with fruit. Add it to your peanut butter sandwich for a really crunchy sandwich.
Make It Your Own
Here are some fun variations to try! Please don't be limited by this list – I'm sure you have lots of ideas of your own.
Try walnuts instead of almonds and pecans. Sliced or slivered almonds are great, too.
Looking for a granola with no nuts? Swap in sunflower seeds for the nuts. Sunnies are so good in granola and make this recipe nut-free. Chia seeds, pepitas (pumpkin seeds), or sesame seeds are good choices.
Double the coconut. Coconut flakes are a good alternative to shredded coconut.
If you don't have wheat germ, use more ground flax. Omitting the wheat germ makes this recipe gluten-free.
If you don't have ground flax, use more wheat germ….
Looking for more fiber? Substitute oat or wheat bran.
If you don't have honey or want to make this vegan, try using maple syrup! Or simply increase the brown sugar.
Don't have canola oil? Use a different type of oil such as coconut oil (melted), light olive oil, or vegetable oil.
Add some fun spices! I love nutmeg, cloves, cardamom. Pumpkin pie spice or apple pie spice is great, too. Or don't add any spices at all.
Add dried fruit (raisins, cranberries, dried cherries, apricots, etc.) after the granola cools for a great chewy texture addition.
Chocolate chips are always a good idea. Add them after baking and cooling the granola or they'll melt!
Looking for a savory granola? (It's nut-free!) Add it to salads or soups instead of croutons.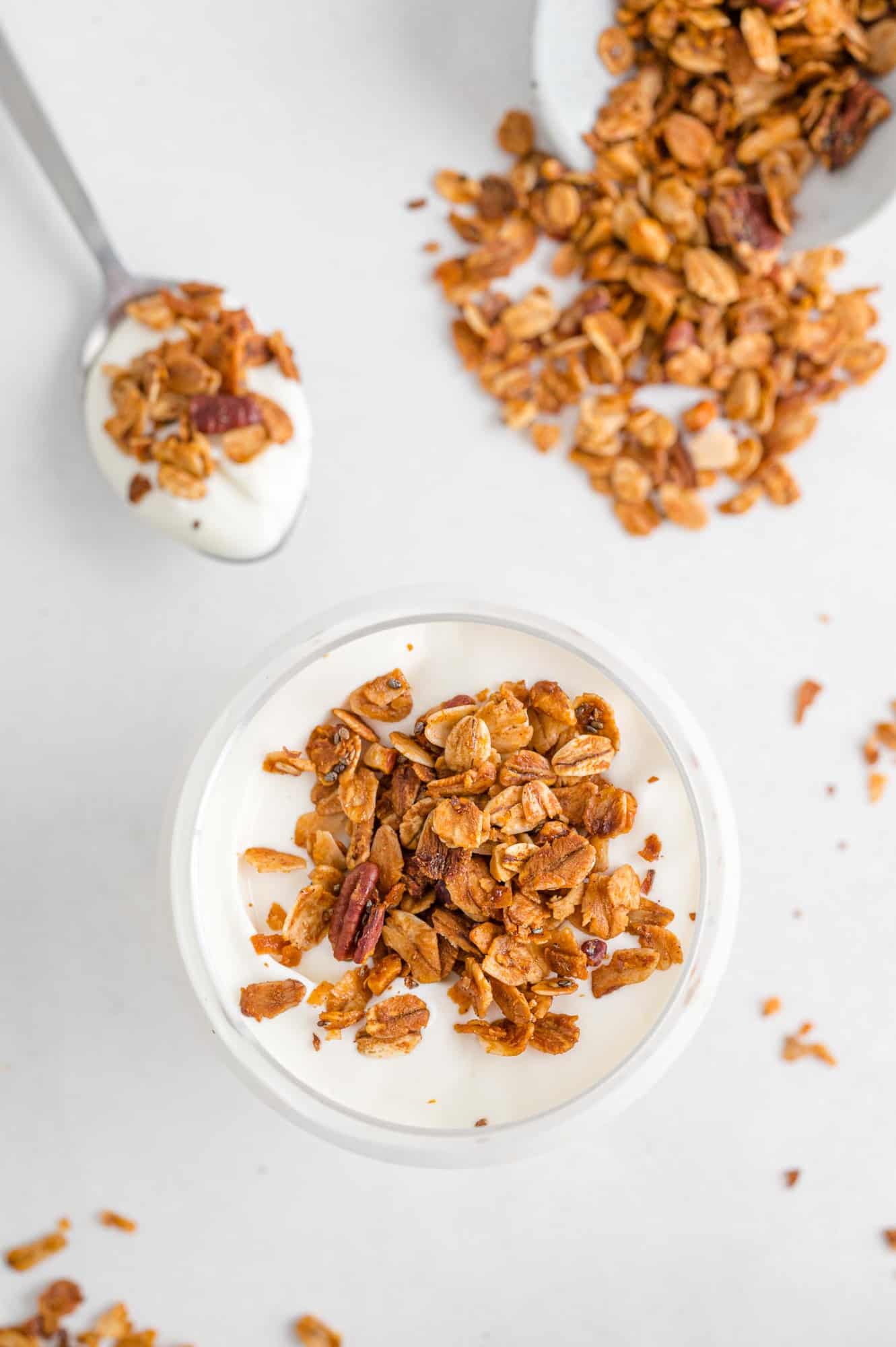 Storage Tips/Make-Ahead
Granola is a perfect make-ahead breakfast. It keeps well in a tightly covered container at room temperature for up to a month. You can freeze it for up to six months!
Make a big batch of granola, maybe even a double batch, and you'll have breakfast for a week or more. Or lots of good snacking…
Leftover Love
While not technically a leftover, I just wanted to say that granola is perfect in a yogurt parfait. I bet it's even great on ice cream. Not that I know. Okay, I do know. (P.S. With chocolate chips. Just sayin'!)
Did you make this? Be sure to leave a review below and tag me @rachelcooksblog on Facebook, Instagram, or Pinterest!
You'll love this granola recipe! Making your own granola is economical, easy to do, and it tastes so much better! Try all the fun variations in the recipe and you'll never be bored.
Ingredients
3

cups

oats

(old fashioned, rolled, or extra thick rolled)

½

cup

raw almonds, chopped

½

cup

raw pecans, chopped

½

cup

shredded unsweetened coconut

2

tablespoons

chia seeds

2

tablespoons

ground flaxseed

1

teaspoon

ground cinnamon

¼

teaspoon

salt

½

cup

honey

(or substitute

½

cup packed brown sugar, or a combination of brown sugar and honey)

3

tablespoons

canola oil or coconut oil

1

teaspoon

pure vanilla extract
Instructions
Preheat oven to 300°F. Spray a large rimmed baking sheet (11 by 17 inches) with nonstick cooking spray or line with parchment or Silpat.

In a large bowl, stir together oats, almonds, pecans, coconut, chia seeds, flaxseed, cinnamon and salt.

In a separate small microwavable bowl or large glass measuring cup, stir together honey or brown sugar, canola oil, and vanilla. Heat in microwave for 45 seconds on 50% power. Stir well.

Pour wet ingredients over dry ingredients and stir until everything is well coated.

Spread granola in an even layer over the baking sheet. Bake for 15 minutes, stir, and then bake for 15 minutes, and bake 5-10 minutes more or until golden brown and dry (no longer sticky).

Let cool completely, stirring occasionally to break up chunks if desired. Store in an airtight container.
Notes
Makes about 5 cups of granola.
This recipe is so flexible, see suggestions listed in the post. Making changes will change the yield as well as the nutritional information.
Granola can be frozen in an airtight container for up to six months.
Nutrition Information
Serving:
0.5
cup
,
Calories:
308
kcal
,
Carbohydrates:
35
g
,
Protein:
6
g
,
Fat:
17
g
,
Saturated Fat:
4
g
,
Polyunsaturated Fat:
5
g
,
Monounsaturated Fat:
8
g
,
Trans Fat:
1
g
,
Sodium:
63
mg
,
Potassium:
217
mg
,
Fiber:
6
g
,
Sugar:
15
g
,
Vitamin A:
5
IU
,
Vitamin C:
1
mg
,
Calcium:
58
mg
,
Iron:
2
mg
This website provides approximate nutrition information for convenience and as a courtesy only. Nutrition data is gathered primarily from the USDA Food Composition Database, whenever available, or otherwise other online calculators.