Classic Homemade Hummus with Toasted Pine Nuts
Classic homemade hummus is so easy to make at home – it comes together in minutes. Don't forget tons of toasted pine nuts!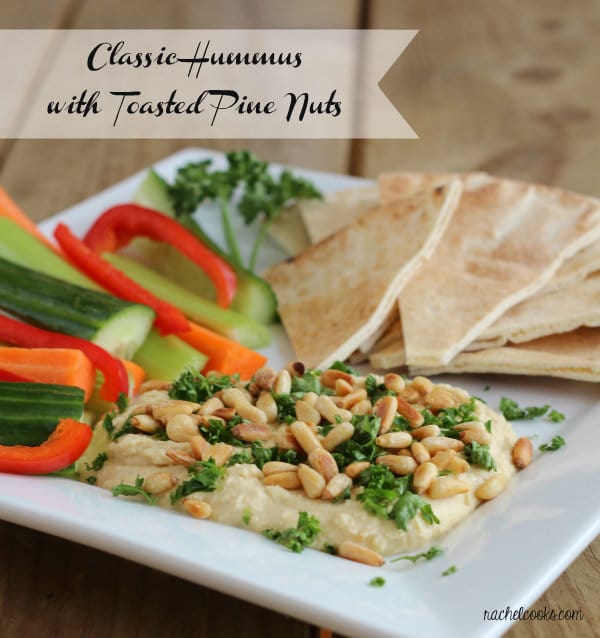 This is a staple in our house. I make it on a nearly weekly basis.
I love, love, love that I can get a snack full of protein without feeling guilty about it. Extra points for choosing veggies over hummus triangles.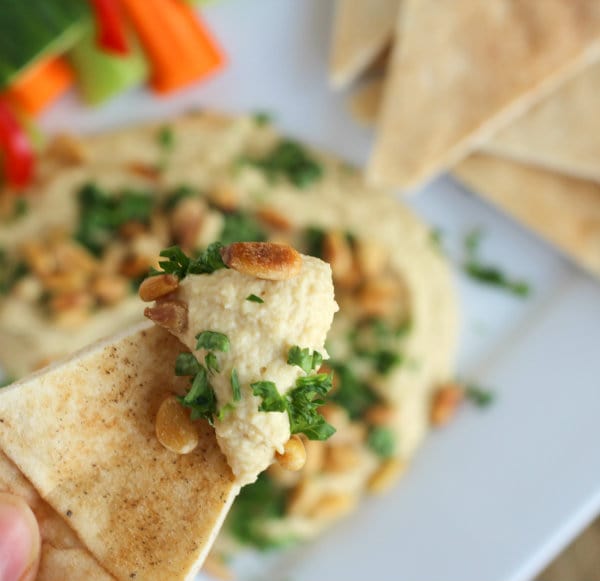 I use Liz's recipe. She writes The Lemon Bowl, a great site for tons of healthy recipes! I've referred people to her recipe forever, so I figured I would do it officially with some photos.
Follow the link to get the recipe for the hummus.
My tips/changes to the recipe:
I (gasp!) leave out the garlic. My husband doesn't really like garlic (gasp again!), and I can survive without it in this. If I have to. Please don't send me hate mail.
I sometimes add a bit more water and olive oil to thin it out a little. Play with the consistency until you get something you like, and taste as you go.
Blend, blend, blend. And then blend some more. I like it smooth. Let your food processor run for a solid chunk of time (a few minutes) to achieve a smooth consistency. I still can't get it as smooth as it comes to the table at our favorite restaurants though. How do they do that?
The more toasted pine nuts the better. Trust me on this one. Your wallet will hate you but your taste buds will love you. It's a good trade-off.
If you're feeling crazy, drizzle it will a little extra dose of good-quality extra virgin olive oil. This works especially well if you're using pita for dipping.