Ginger-Cinnamon Apple Cider Mocktail
This apple cider mocktail with ginger and cinnamon is perfect for a fall party.
Do you enjoy a good cocktail now and then?
Or are you pregnant and just desperately craving an ice-cold beer?
Oh that's just me. And Julia.
If you're in need of a good cocktail recipe, Barb from Creative Culinary has you covered with her Friday Cocktails. A cocktail every Friday!
Friday–the day that was made for cocktails. To help Barb celebrate a whole year of cocktail Fridays, a few of us are offering up some of our own cocktails for a little party! And there are lots of fun prizes over on Barb's site!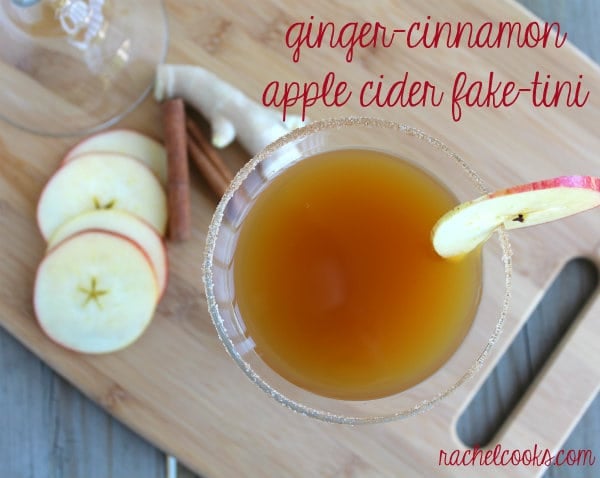 Being the pregnant blogger, I'm bringing a "mocktail" to the party. For those who don't drink…or can't. Shouldn't. Whatever.
And I put ginger in it. Because if I'm going to play along with a fancy drink–it might as well help with my 24/7 nausea, right? And it just had to be fall-inspired. I'm obsessed. I love fall!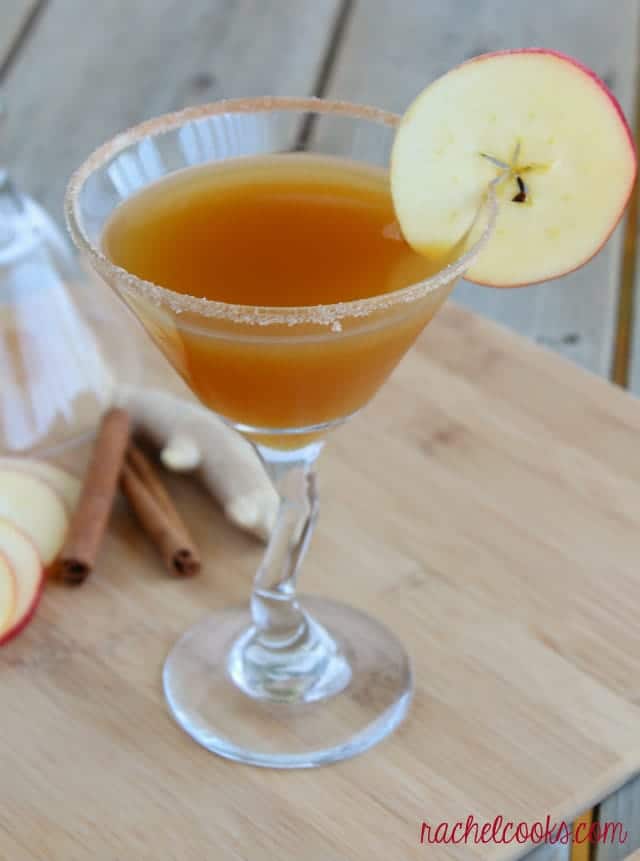 This apple cider mocktail (or fake-tini) is super simple to make. Whip up a quick ginger simple syrup,

Ginger Cinnamon Apple Cider Mocktail
This apple cider mocktail with ginger and cinnamon is perfect for a fall party.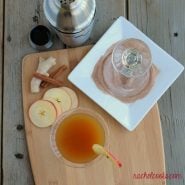 Ingredients:
Ginger-Cinnamon Simple Syrup (makes extra):
1 cup sugar
1 cup water
2 cinnamon sticks
~1-2 inches of ginger root, peeled and thinly sliced
For one Fake-tini:
2 tablespoons of Ginger-Cinnamon Simple Syrup
1 cup apple cider
ice for mixing
cinnamon sugar for rimming the glass
apple slice or cinnamon stick to garnish (optional)
Directions:
For the syrup
1. Mix all ingredients in a small saucepan over medium heat. Heat until sugar is dissolved. Let cool completely and strain to remove ginger and cinnamon.
For the Fake-tini
1. Prepare martini glass by wetting the rim with apple cider and then dipping in cinnamon-sugar.
2. Add ice to martini shaker. Pour in cider and simple syrup. Shake and pour into prepared glass. Garnish with apple slice or cinnamon stick.
All images and text ©
.
Verdict: I loved this! It was the perfect girly treat for this pregnant lady.
Husband's take: Oh I was supposed to share? He wouldn't be caught dead in public drinking this apple cider mocktail –plus he'd much rather have a beer I'm sure.
Changes I would make: Well…if I wasn't pregnant…rum? Whiskey?
Difficulty: Easy!
Don't forget to head to Barb's site and check out all the fabulous cocktails today and enter to win some terrific prizes!
Looking for more components for a perfect fall party? Try: Mini Pumpkin Doughnuts with Apple Cider Glaze, Pork Tenderloin with Apples and Onions, Pumpkin Pie Muddy Buddies, Pumpkin Cheesecake Phyllo Straws, Mini Pumpkin Tarts, or Autumn Quinoa Salad with Maple Mustard Vinaigrette.