Gingersnap Cookies with White Chocolate and Cranberries
These gingersnap cookies with white chocolate are irresistible! You'll love the addition of creamy white chocolate chips and chewy dried cranberries.
Recipe Overview
Why you'll love it: This variation of simple gingersnaps is so good!
How long it takes: 15 minutes to stir up the dough, 12 minutes per batch to bake
Equipment you'll need: mixing bowl, measuring utensils, baking sheet, oven
Servings: makes 4 dozen, depending on size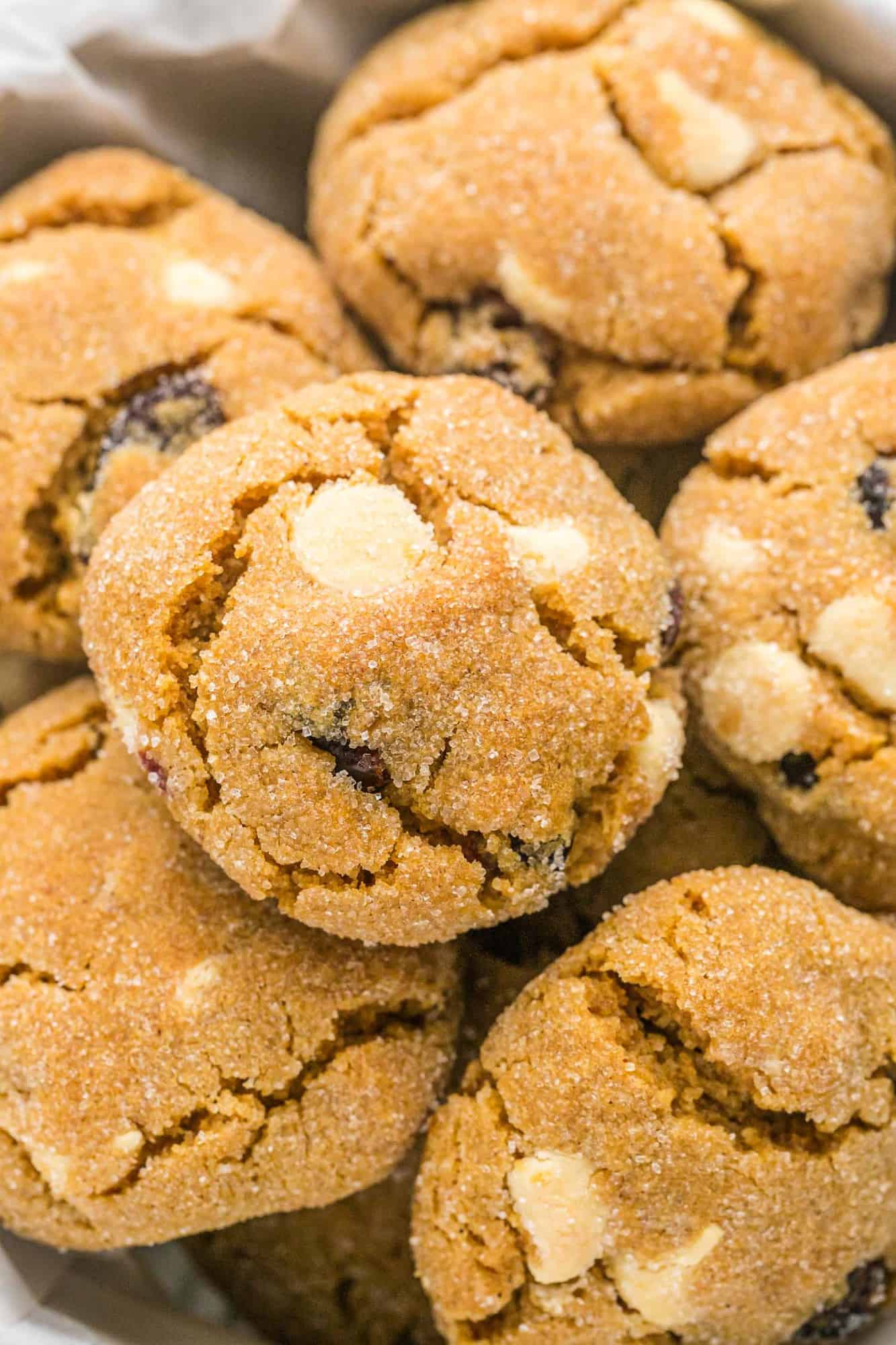 Give your gingersnaps a little update by adding white chocolate chips and dried cranberries. You'll love the way the creamy white chocolate mellows out the spicy ginger and dark molasses. Tangy cranberries intensify the experience with chewy little bursts of fruity delight.
Maybe you're feeling a little outrage. Are you a gingersnap purist? Do you think absolutely nothing can improve what's already perfect? Rest assured, the additions of white chocolate and cranberries only enhance the gingersnap experience.
My mom, who has been making these gingersnaps for many years, was quite dubious about changing up the recipe. I'm glad to say that she has made these altered gingersnaps and commented that they "grew" on her until she actually rather liked them a bit better. A bit better, you heard me right.
Speaking of making gingersnaps, I have to go down memory lane a bit. When I was younger (read "the little sister"), ginger sparkles were always my older sister's thing. My job was making two-ingredient chocolate peanut butter cups and my sister got the job of rolling the gingersnap cookie dough into marble-sized balls, then rolling them in sugar, all ready for mom to stick in the oven. I was envious of her obviously superior role.
Now I can bake to my heart's content, and roll as many cookie dough balls as I like (and wishing my sister was helping me out!). I think I'll invite her over for a cookie making jam session.
I'll bribe her with delicious Ginger Spiced Hot Chocolate which you can make in your microwave and goes so perfectly with gingersnaps. Homemade eggnog may be tempting too. Hmmm, or maybe she'd rather have an adult beverage with her cookie, like a White Russian or Apple Cider Mule. And I know she always says yes to a shot of espresso!
About these Gingersnaps
Okay, I waxed so eloquently about making cookies with my sister that I got a little off track. Back to these ginger cookies….
Ginger snaps are usually round crisp cookies with deep cracks and a sugary coating. This is easily achieved by forming the dough into balls and rolling them in sugar. The trademark cracks appear by magic (and a little help from baking powder).
These enhanced ginger cookies have a slightly chunkier look but still sport the familiar crackles. There are instructions for making chewy cookies and crisp cookies, whichever you prefer.
I'll run you through the process here and give you some extra tips and a few variations you can try.
As always, the printable recipe card is found near the bottom of the post, with complete instructions and nutrition information.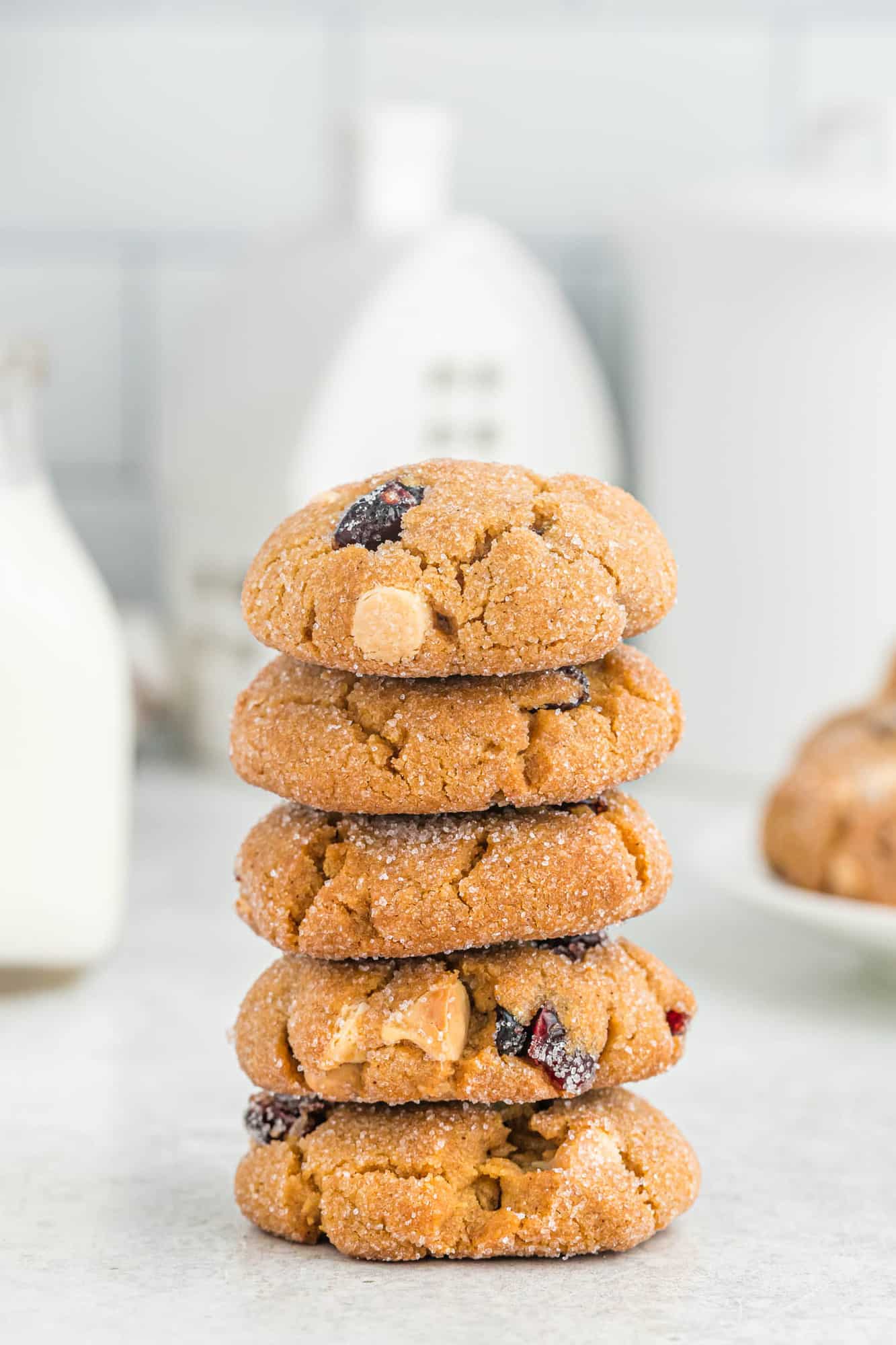 What You'll Need
Molasses: There are two basic types of molasses: light and dark. They may also be labeled as "original" and "robust." Dark molasses is often labeled as "blackstrap." Light molasses is sweeter and lighter in color while dark molasses is a bit thicker, with just a hint of bitterness. Either type can be used but you will notice a difference in the cookies both in taste and appearance. If you really love the rich taste of molasses, go ahead with the dark variety but if you prefer a milder flavor, choose the light. We used light molasses for the cookies pictured and we prefer it as it allows the other flavors to costar.
Sugar: White granulated sugar (just regular sugar) is used for both the dough and to roll the cookies, giving them a sparkling appearance.
Egg: Eggs add a bit of chewiness to the cookie and bind the dough.
Shortening: We found that using all shortening and no butter works best for these cookies.
All-Purpose Flour: Just regular flour is fine. If you prefer, use white whole wheat or a combination. The cookies will be a bit more substantial with whole wheat.
Ground Ginger: You'll find it in the baking section of the grocery store. This recipe calls for a whole tablespoon which is a pretty substantial hit of this zingy spice. These are ginger cookies after all.
Cinnamon: Ground cinnamon has a sweeter effect on the palate and mellows out the ginger a bit. Plus, it just plain tastes good.
Baking Powder: This leavening agent helps the cookies rise and contributes to the crackled surface of the cookie.
Salt: Just a bit for flavor. Leaving it out makes your cookies taste flat.
White Chocolate Chips: Doesn't white chocolate make everything better? I'm tempted to add it to all my cookie recipes.
Dried Cranberries: The chewiness of this dried fruit really contrasts with the crispy cookies.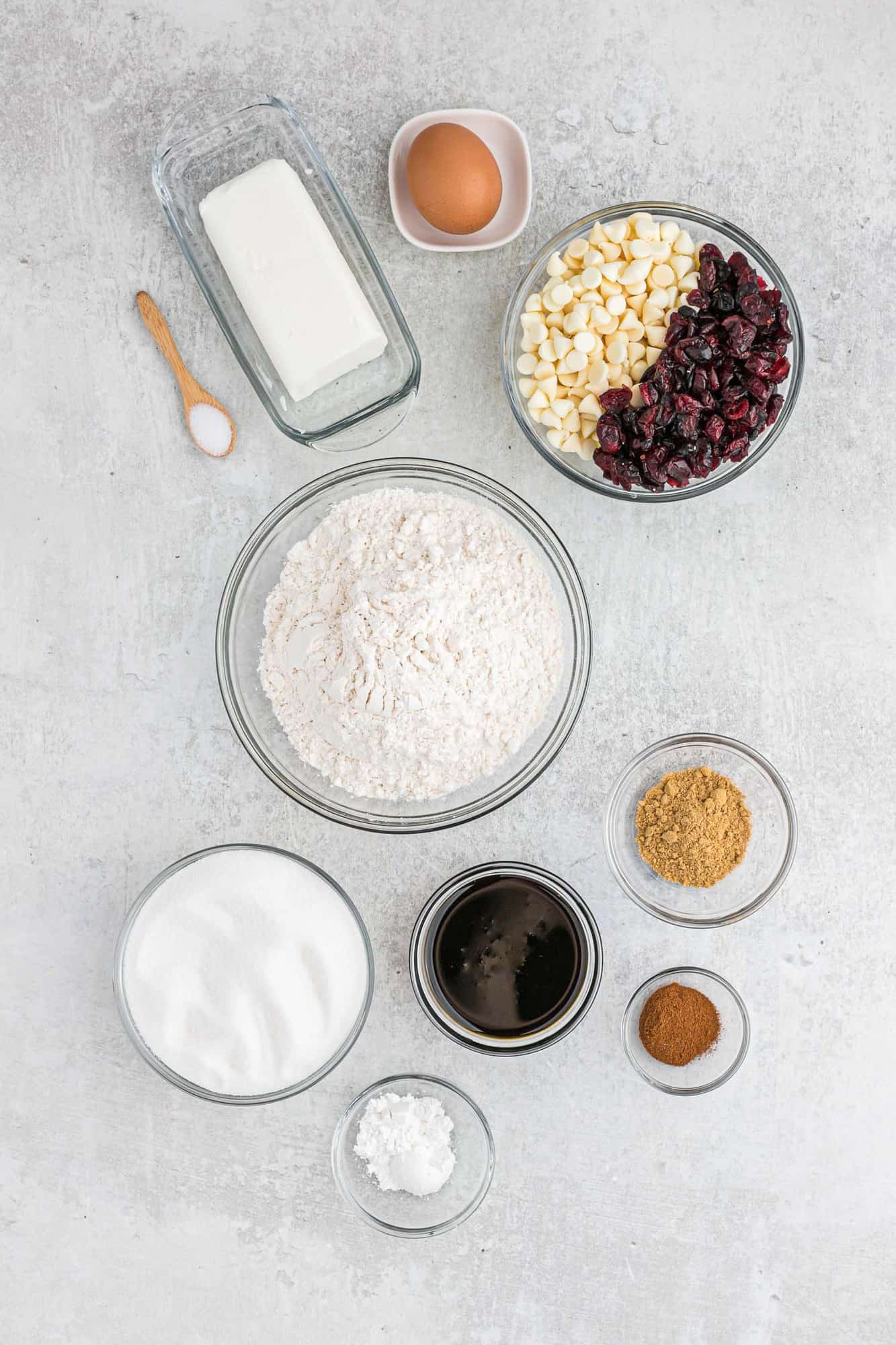 How To make These Cookies
This is an easy cookie dough to make and it doesn't require any chilling time. However, if you'd rather make the dough and bake it later, that's fine too. The cookies are pretty forgiving that way.
Turn your oven on to preheat and let's get started. You'll need just one large mixing bowl. We love one bowl baking!
Cream the shortening and sugar together in the bowl. You can do this by hand or use an electric mixer.
When the shortening and sugar looks creamy and smooth, add the egg and molasses, and stir well.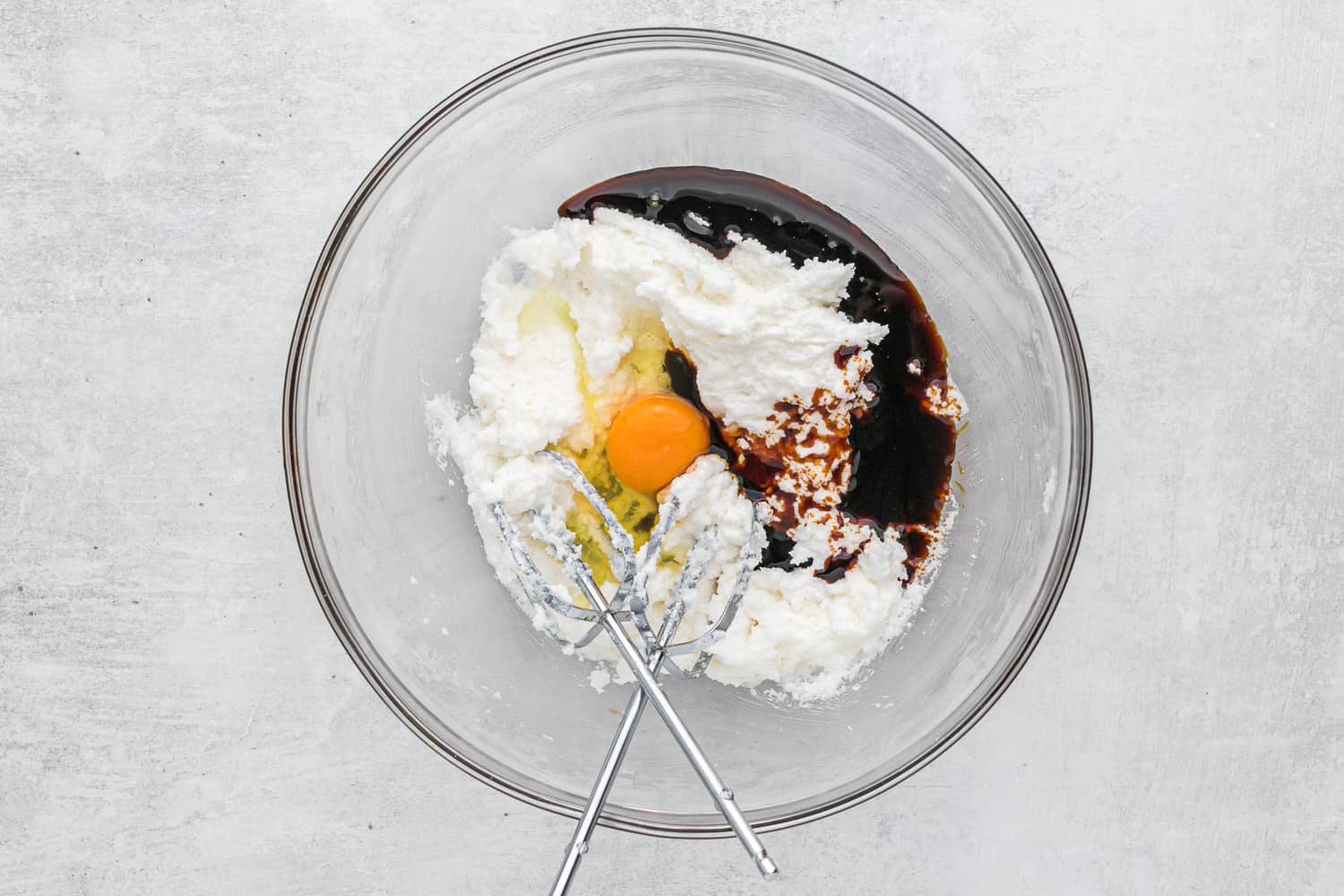 Next, measure out the flour and put it on top of the shortening mixture. Make sure to spoon the flour lightly into the measuring cup so it isn't packed down. Add the other dry ingredients (ginger, cinnamon, baking powder, salt) to the flour and mix them lightly together.
When the dry ingredients are sort of blended together, go ahead and stir them into the wet ingredients. Mix the dough just until it's blended together. Stir in the white chocolate chips and dried cranberries.
Roll small sized balls of dough, about rounded 1 tablespoon each. You don't have to measure, but try to keep the balls around the same size so they bake evenly.
Put a quarter cup of sugar in a shallow bowl and roll the balls in the sugar until they are completely coated. Place the balls on a baking sheet about 2 inches apart. They will spread a bit.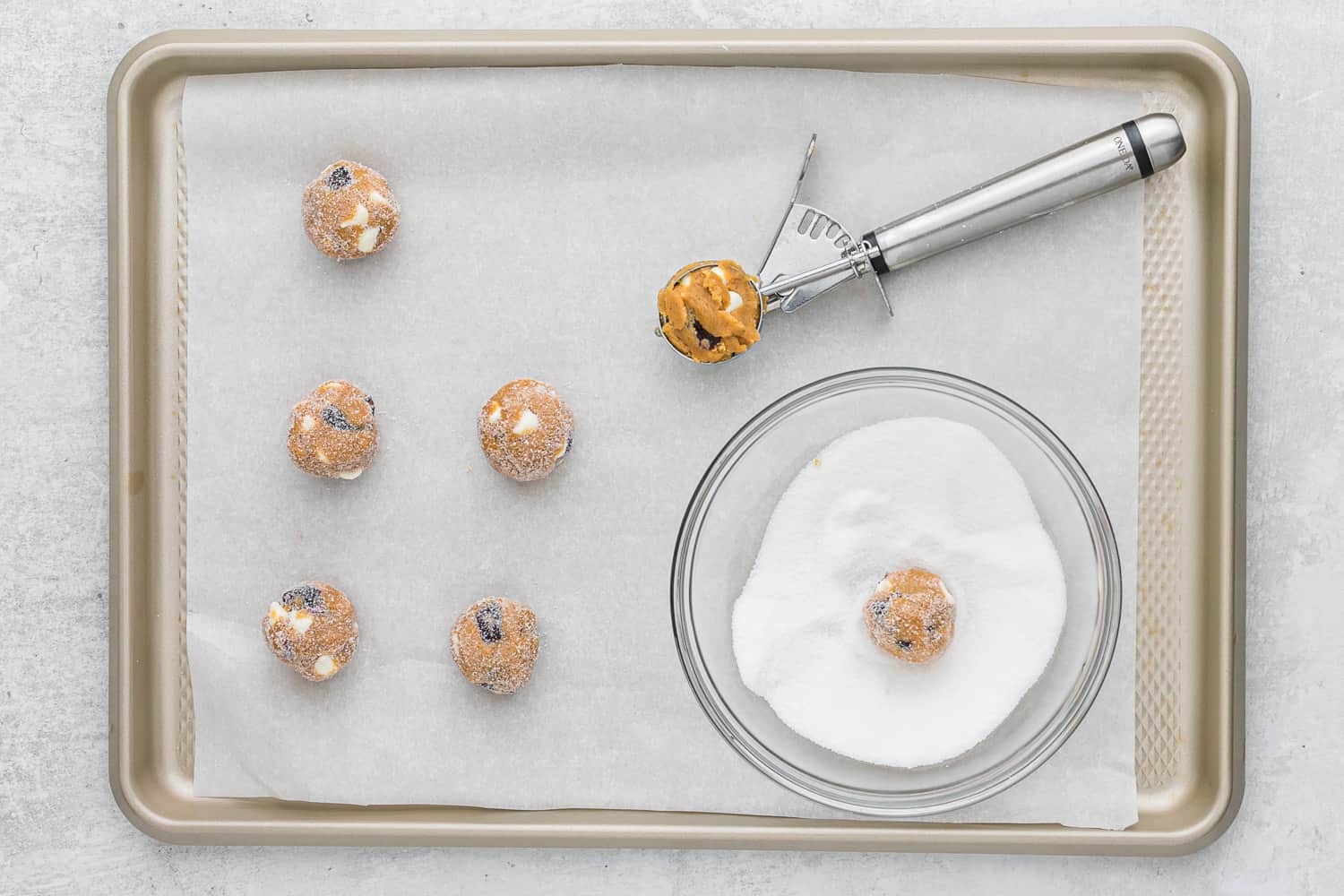 Bake 12 minutes for chewier cookies, or a couple minutes longer for crisper cookies. Weren't those fun to make? Enjoy!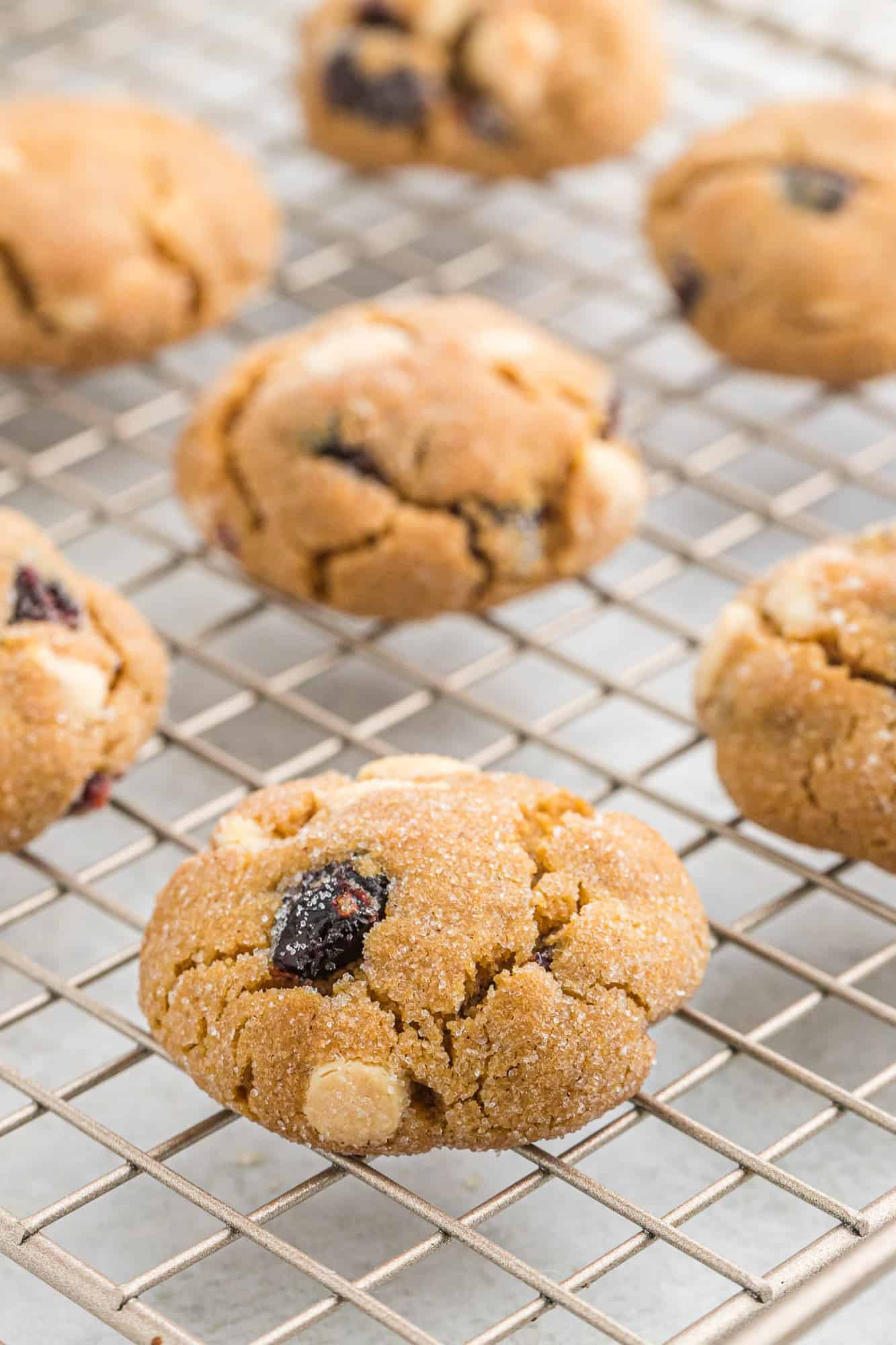 Storing Cookies Successfully
Always cool cookies completely, preferably on a wire rack, before storing. Don't rush the cooling process. If you put warm cookies in an airtight container, the warm cookies will steam and moisture will build up inside the container, causing the cookies to spoil. Most cookies can be kept at room temperature for up to a week or frozen for up to a month if stored properly.
FAQs
What are gingersnap cookies made of?
"Sugar and spice and everything nice", that's what these cookies are made of. Like the popular nursery rhyme from the 1800's, gingersnaps are much like little girls (unlike little boys, who are apparently made of snips, snails, and puppy dog tails).
Seriously, gingersnaps contain ground ginger, cinnamon, and molasses, along with the usual cookie ingredients (fat, flour, sugar, etc).
Why are they called gingersnap cookies?
These crisp ginger cookies are sometimes called ginger nuts or ginger biscuits but in the U.S. and Canada, they are more commonly called gingersnaps.
According to The Museum of the American Revolution, these cookies originated in Europe and came with early settlers from England, Netherlands, and Germany. The name reportedly came from the Dutch/German word snappen which means "to seize quickly." I'm not sure whether this refers to a quality that the cookies possess or how quickly they disappear from your cookie jar.
Make It Your Own
If you're anything like me, you'll want to fiddle with this recipe and make changes of your own. Here's a few ideas:
This one is pretty basic but if you want, substitute semi-sweet chocolate chips for the white chocolate. Both types work really well in this recipe.
If you really love ginger, substitute chopped crystallized ginger for the dried cranberries. You'll probably want to use a bit less, maybe about 1/4 cup.
Golden raisins are a good substitute for the dried cranberries, too.
If you like the idea of white chocolate but want a fancier look to your cookies, dip regular gingersnaps into melted white chocolate. I like to dip them in halfway so they have a half and half appearance. Dipped cookies can be decorated with tinted sugar.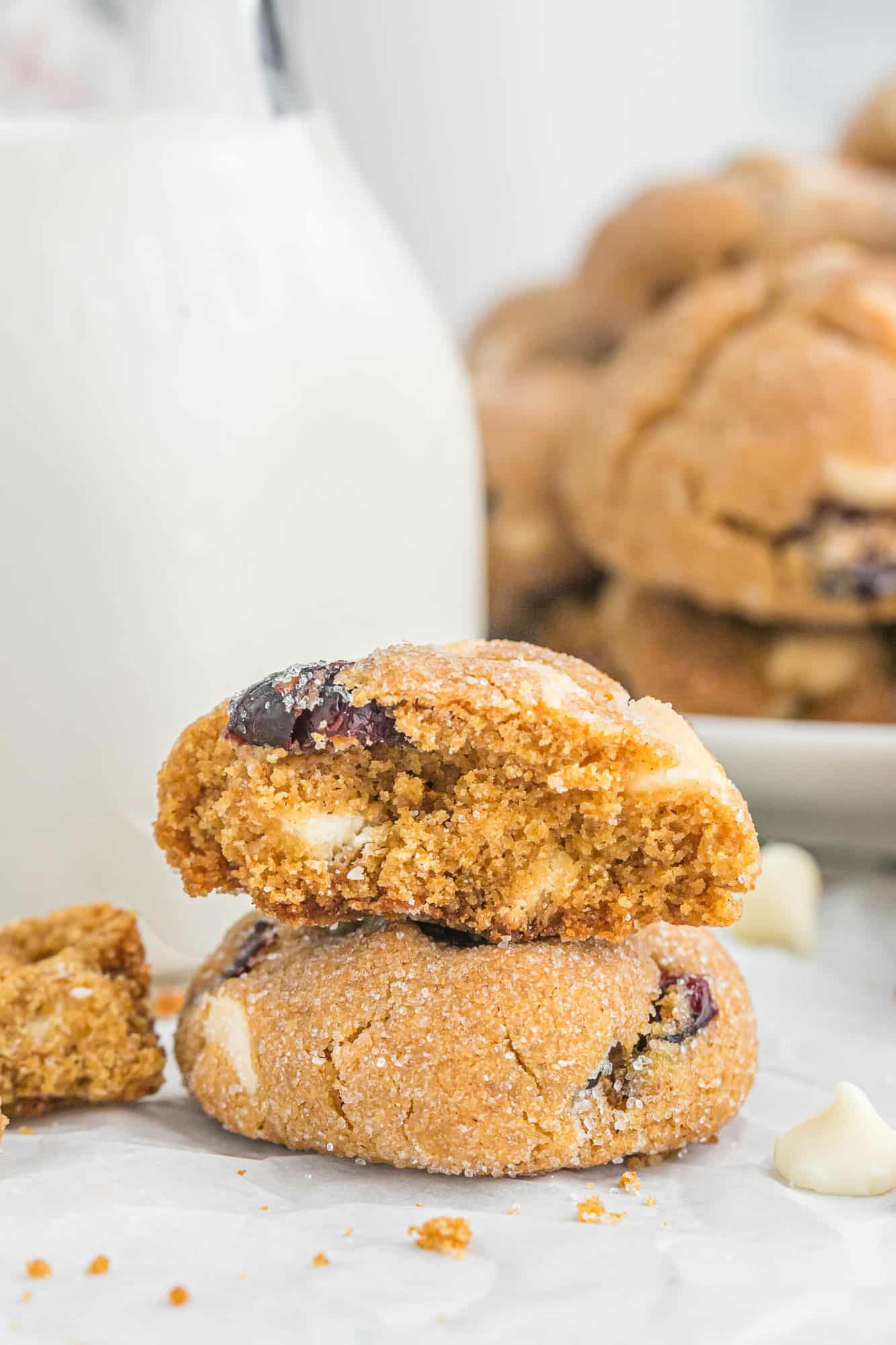 Make-Ahead Ideas
Like I mentioned above, the cookie dough can be made ahead and stored in the refrigerator for a couple of days. If it seems really stiff, let it set out at room temperature for 10 minutes or so before rolling into balls.
Cookie dough can also be frozen for up to a month, either as a whole (thaw overnight in the fridge before using) or made into balls (freeze them on a baking sheet before storing in a container so they maintain their shape and don't stick together).
Storage Tips
Baked cookies can be stored in an airtight container at room temperature for up to a week or frozen for up to a month.
More Cookie Recipes
Looking for more cookies to add to your repertoire? Clearly I have you covered! Check out all my cookie recipes or take a look at these:
Did you make this? Be sure to leave a review below and tag me @rachelcooksblog on Facebook, Instagram, or Pinterest!
These gingersnap cookies with white chocolate are irresistible! You'll love the addition of creamy white chocolate chips and chewy dried cranberries.
Ingredients
3/4

cup

shortening

1

cup

white granulated sugar

(plus extra for rolling)

1

large egg

1/4

cup

molasses

2

cups

all-purpose flour

1

tablespoon

ground ginger

2

teaspoons

baking powder

1

teaspoon

ground cinnamon

1/2

teaspoon

salt

2/3

cup

dried cranberries

2/3

cup

white chocolate chips

(see note)
Instructions
Preheat oven to 350°F. Prepare cookie sheet by lining with parchment paper, if desired. Cookies can be baked with or without parchment.

In a large bowl, cream shortening and sugar together until creamy and smooth. Beat in egg and molasses until well combined.

Add flour, ginger, baking powder, cinnamon and salt to bowl. Stir together lightly, combining dry ingredients; then stir everything together until just combined.

Fold in dried cranberries and white chocolate chips; stir until combined.

Form into small balls, about one rounded tablespoon each. Roll balls in sugar and place about 2 inches apart on cookie sheet.

Bake for 12-13 minutes or until cookies are firm. If you like crisper cookies, bake 1-2 minutes longer.

Leave on cookie sheet for about 5 minutes, then remove to wire cooling rack until completely cool.
Notes
Makes about 4 dozen cookies, depending on size. Store in airtight container after cookies have cooled completely. Makes about 4 dozen cookies, depending on size. Store in airtight container after cookies have cooled completely.

If desired, semi-sweet chocolate chips may be substituted.
Instead of dried cranberries, try golden raisins or chopped crystallized ginger.
Nutrition Information
Serving:
1
cookie
,
Calories:
89
kcal
,
Carbohydrates:
12
g
,
Protein:
1
g
,
Fat:
4
g
,
Saturated Fat:
1
g
,
Polyunsaturated Fat:
1
g
,
Monounsaturated Fat:
2
g
,
Trans Fat:
1
g
,
Cholesterol:
4
mg
,
Sodium:
46
mg
,
Potassium:
42
mg
,
Fiber:
1
g
,
Sugar:
8
g
,
Vitamin A:
6
IU
,
Vitamin C:
1
mg
,
Calcium:
20
mg
,
Iron:
1
mg
This website provides approximate nutrition information for convenience and as a courtesy only. Nutrition data is gathered primarily from the USDA Food Composition Database, whenever available, or otherwise other online calculators.