Cherry Martini with Elderflower and Lime
A cherry martini with lime and elderflower is fruity, flavorful, and so easy to make! Make a big pitcher for entertaining or make a single glass for a night out on the deck. You're going to love it!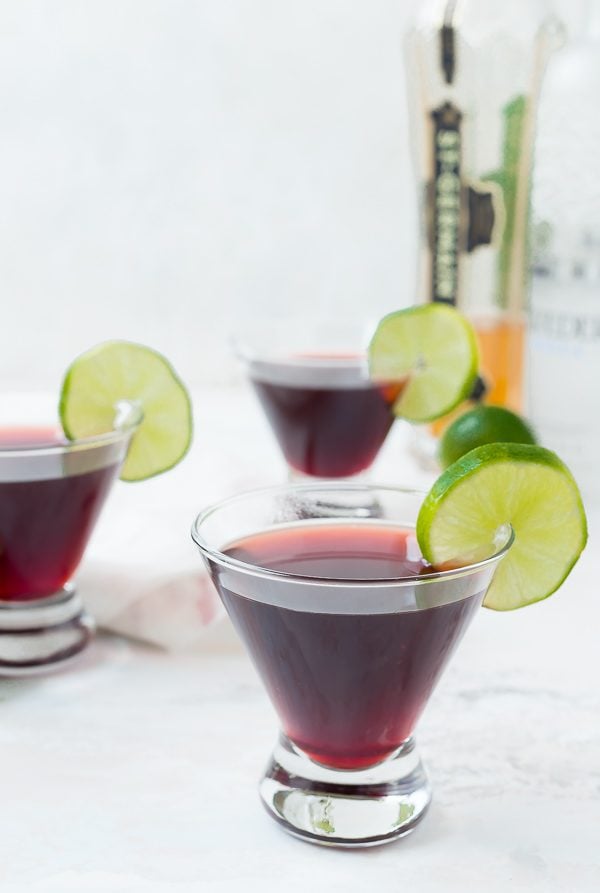 Oh goodness, you guys. Sometimes when I sit down to write about a recipe, I struggle with what to write. My life isn't very exciting (in the very best way possible!), and my days are spent with my kiddos (I wouldn't have it any other way!). However, sometimes that leads to…an absence of exciting things to write. Today, for example…the day I'm writing this.
I took the kids to swimming lessons, and then we came home! I ate plantain chips and salsa while we played with legos. Then the babysitter came over and I went to a coffee shop where I sat down to type this. After procrastinating for at least 20 minutes, of course.
Are you sleeping yet?
But! I have a story about this cocktail. It's a sad, tragic story. In a first-world kind of way.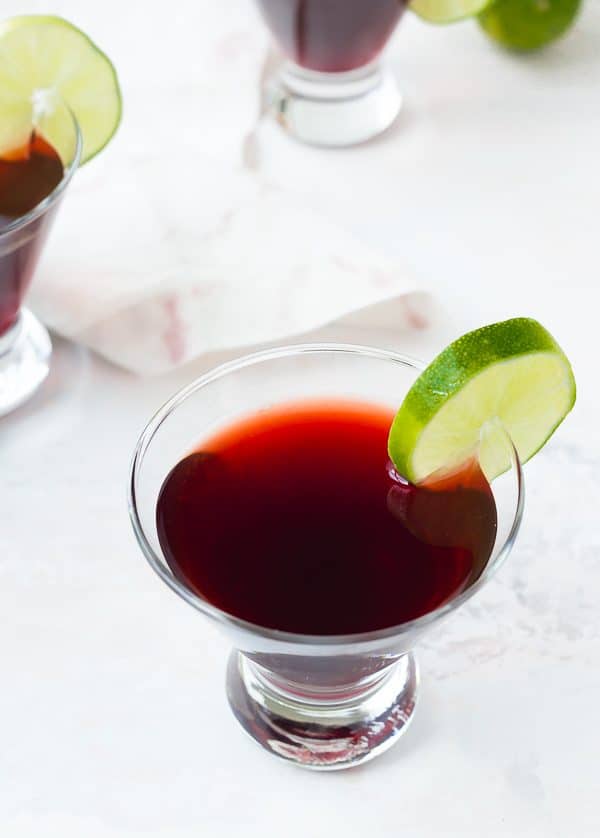 As you may or may not know, I photograph all my food in one of our upstairs bedrooms. So, I make the trek upstairs with all my recipes. Chili, balsamic reduction, and cherry martinis all travel with me up a flight of stairs and into my "studio." Carpeted, white stairs. Carpeted, white stairs that are typically littered with junk my kids left there. (Why oh WHY do they think that's a good spot to put everything they're carrying when they come in the door?!?)
Basically, an accident waiting to happen.
And….the accident happened with this cocktail. I brought it all upstairs and into my studio successfully. I began to set the scene…backdrop, linens, glasses set up. The cocktail was in the shaker, I was planning to pour it into the glasses upstairs. So, I give it a little shake and it's leaking a little. Annoying! I wrap a towel around it and it's still leaking a little so I decide it's good enough and I'm ready to pour it into the glasses. I take off the shaker lid. I grab the shaker and since it's a little wet on the outside from it leaking, it slips out of my hand. Cherry juice, BELVEDERE, and St. Germaine (which is even more expensive than Belvedere!) go flying across my carpet.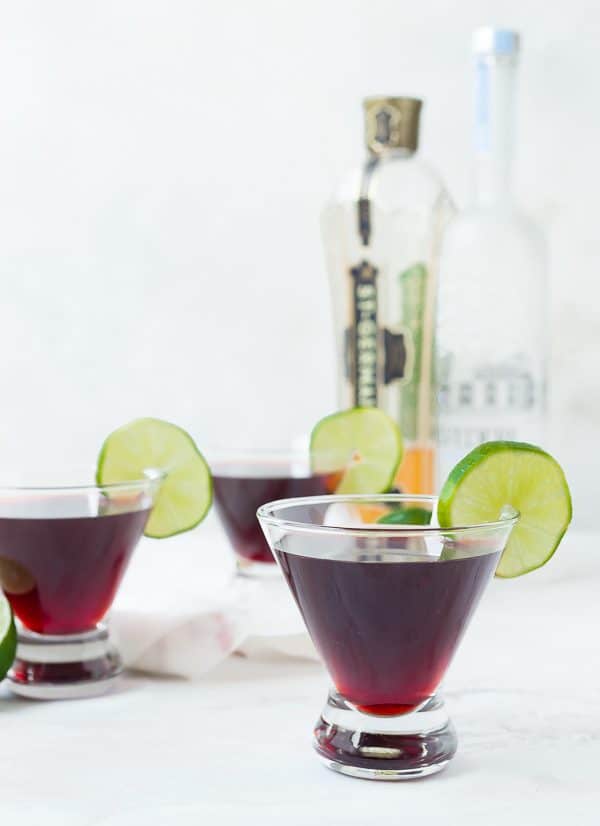 I clean it up…a little annoyed at the fact that I wasted a full shaker of very expensive ingredients, and even more annoyed that I have to make it again (we were having company later). I go downstairs and make another batch.
I photograph it successfully, bring it back downstairs and SPILL IT AGAIN. All over the kitchen floor and the tray I use to carry it up and down the stairs. Of course I took time to document all of this on Instagram stories, and I had so many people message me and ask how many I had had to drink. While I can see where you would think that I had been drinking, the answer was NONE! Apparently the floor needed a drink more than I did.
So, while I highly recommend making this cherry martini (it's so good!), I do have two disclaimers:
Cherry juice stains.
These ingredients aren't super cheap. Feel free to use a less expensive vodka if you prefer…or just don't spill three servings of it, twice.
I was making something else later (I don't remember what) and my daughter said, "Be careful Mommy, you have the dropsies today!"
Yuuuup.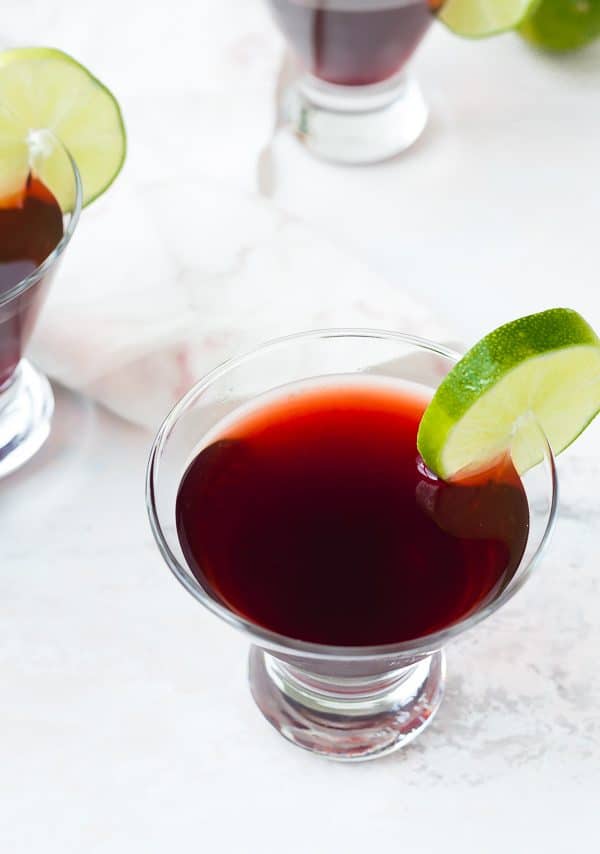 About this Cherry Martini
If you've never tried elderflower liqueur (most common brand: St. Germaine), you have to give it a try! It adds such a great flavor to cocktails with floral and citrus notes. I love it with drinks that have citrus flavors like this grapefruit and elderflower cocktail, but it's really a versatile liqueur that's great in so many different drinks. It's perfect with the cherry and lime in this cherry martini.
A cherry martinis is so easy to make, if you can manage not to spill, and it's great shaken with ice and strained or poured right over ice. It's beautiful garnished with a cherry too, but cherries in Michigan are still about 18 dollars a pound, so for these photos I decided the lime looked just fine!
By the way, put those martini glasses to good use! Try blood orange martinis with gin, Cointreau, blood orange juice, and lime. So good!
More refreshing cocktails:
Did you make this? Be sure to leave a review below and tag me @rachelcooksblog on Facebook, Instagram, or Pinterest!
This cherry martini with lime and elderflower is fruity, flavorful, and so easy to make! Make a big pitcher for entertaining or make a single glass for a night out on the deck. You're going to love it!
Ingredients
2

ounces

tart cherry juice

1 1/2

ounces

vodka

1

ounce

St-Germain elderflower liqueur

Juice of 1/2 lime

Ice for shaking

lime slices for garnish, optional
Instructions
Combine all ingredients in a shaker with ice.

Shake well, and pour into glasses, straining out ice. Serve immediately, garnished with a lime slice.
Notes
If desired, this cherry martini may also be served over ice in a highball glass.
Nutrition Information
Serving:
1
g
,
Calories:
122
kcal
,
Carbohydrates:
11
g
,
Sodium:
1
mg
,
Sugar:
9
g
This website provides approximate nutrition information for convenience and as a courtesy only. Nutrition data is gathered primarily from the USDA Food Composition Database, whenever available, or otherwise other online calculators.