This gorgeous hibiscus mimosa will glamorize any celebration. It's easy to make and so striking! The beautiful bloom is completely edible (and delicious!).
Recipe Overview
Why you'll love it: This champagne cocktail is so unique, festive and beautiful!
How long it takes: just a couple of minutes
Equipment you'll need: champagne glasses or other decorative stemware
Servings: as many as you like!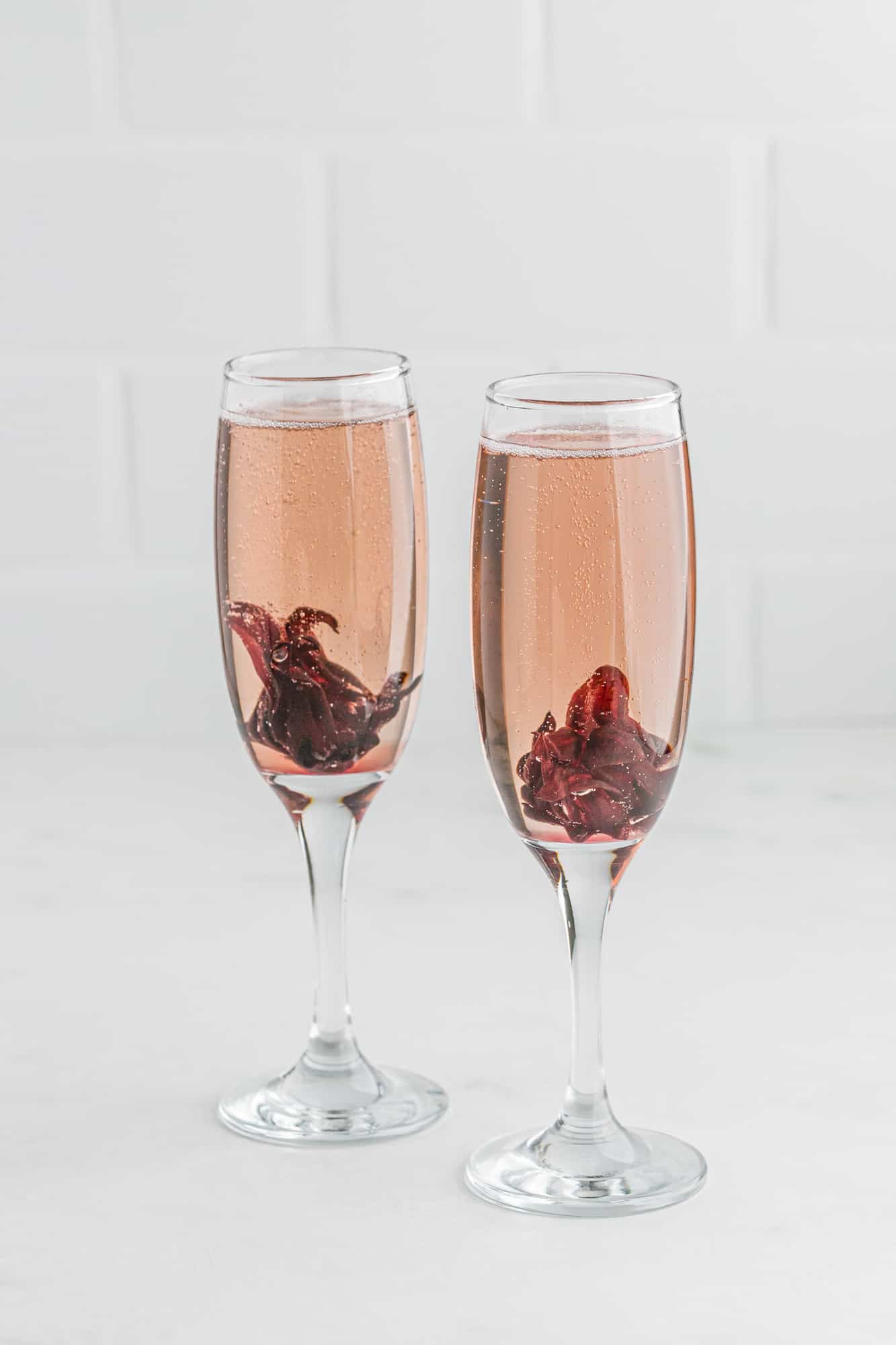 A good brunch often starts with a cocktail, right? A mimosa, which is orange juice dressed up with champagne, is always a good choice for brunches. It's light and not too sweet, and makes any brunch or breakfast seem like a festive occasion. Try it with French toast and candied bacon.
Try mixing things up a little with these pretty pink hibiscus mimosas. A beautiful (and edible) hibiscus bloom is nestled into the bottom of a champagne flute, a splash of pear vodka is added, and then the mimosa is topped with sparkling wine. The bubbles seem to rise up from the crimson flower.
Flowers, bubbles, and a gorgeous hue of pink! Does that sound like a special occasion or what? This champagne cocktail almost always elicits a "Wow"!
A hibiscus mimosa is easy and elegant. Don't you love it when those two words are in one sentence? Easy and elegant means you'll impress your guests but with a minimum of effort.
Aren't the hibiscus flowers pretty? This cocktail is perfect for a Mother's Day brunch and is fun for a girls' night out, a spa day, a bachelorette party, or a wedding shower. Serve it at your next book club meeting! Wouldn't it be perfect at a garden club?
It's so easy, too, with only three ingredients. Find pretty glasses to serve them in so the hibiscus flowers are displayed. And all the pretty bubbles, of course!
In Case You're Wondering…
What's the plural of "hibiscus"? If you have more than one of these strikingly beautiful blooms, a bouquet, shall we say, call them hibiscuses or just hibiscus, if you'd rather. Wiktionary says hibisci but it seems that hibiscuses is the most common.
Having a brunch? Serve overnight French toast casserole, crescent roll breakfast casserole, or an asparagus Gruyère tart with balsamic glaze. For dessert, serve vanilla bean cookie bars (tint the frosting to match your theme) or honey lemon shortbread cookies. A streusel coffee cake and homemade muffins are a must!
About This Champagne Cocktail
These mimosas are fruity, girly and spritzy. You can whip one up in just a couple of minutes because there are only three ingredients: a preserved hibiscus flower, pear vodka, and sparkling wine.
Each drink can be completely customized: make it sweeter, pinker, with less (or more) alcohol, or with a completely different kind of spirit. I'll show you how in the the Make It Your Own section below.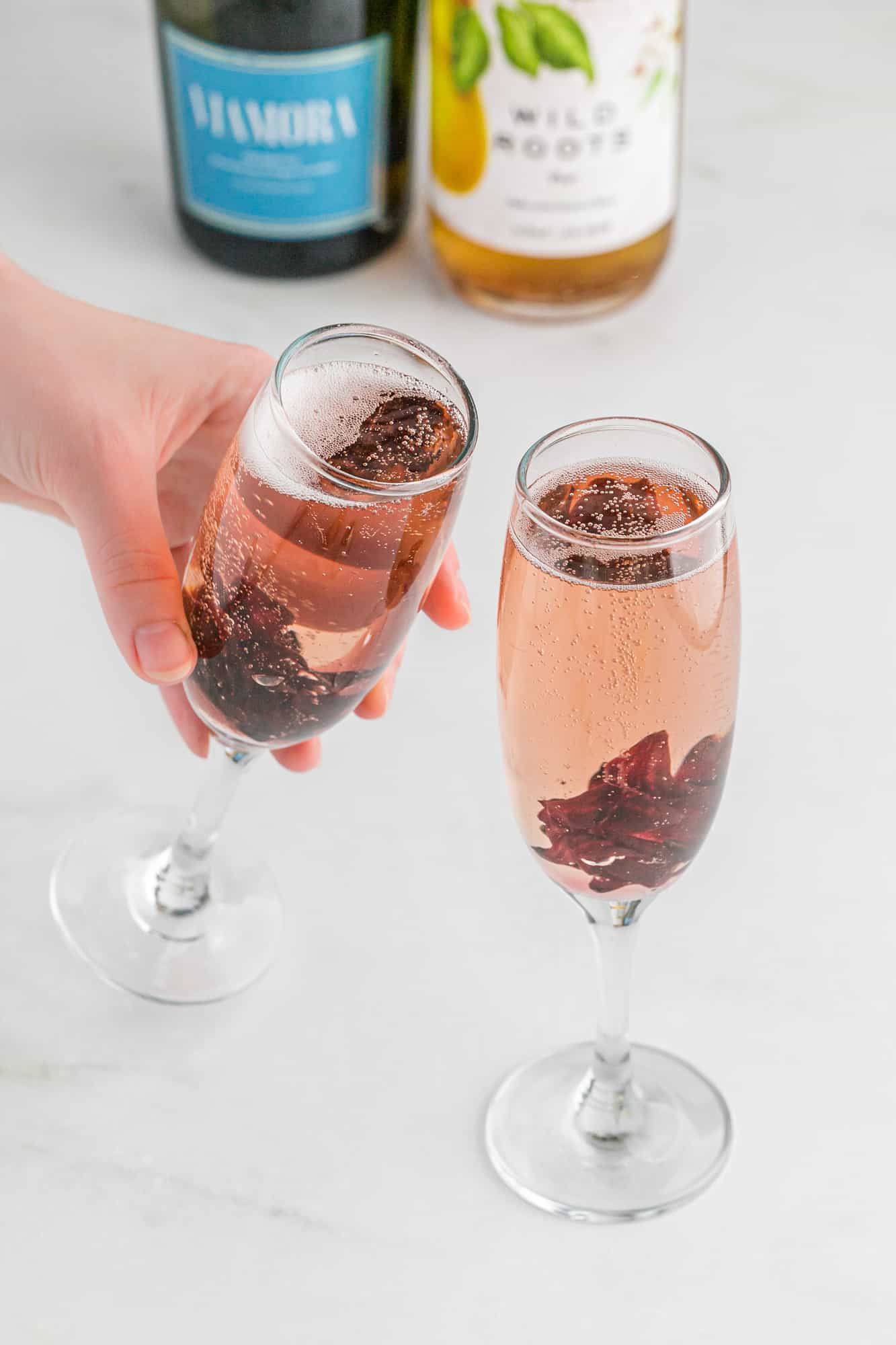 What You'll Need
Preserved Hibiscus: Hibiscus blooms are preserved in a light corn syrup. The syrup itself is deep red because it's colored by the hibiscus. If you've ever had hibiscus tea, you'll recall that the tea is deep red in color. The cocktail itself will be colored by the syrup that clings to the preserved flowers, and if you'd like your mimosa a deeper color (and sweeter), you can add more syrup. The jar of flowers has a "Use By" date and can be kept in the refrigerator for quite awhile after it's been opened.
Pear Vodka: Look for a pear flavored vodka. A popular brand is Absolut. We're suckers for pretty bottles and couldn't resist picking up this Wild Roots vodka that's pictured.
Champagne or Prosecco: Really any type of dry sparkling wine can be used. I wouldn't choose the most expensive bottle since it will be mixed with other ingredients, but choose a sparkling wine that you would enjoy drinking. Choose a rosé champagne for a more intensely pink cocktail.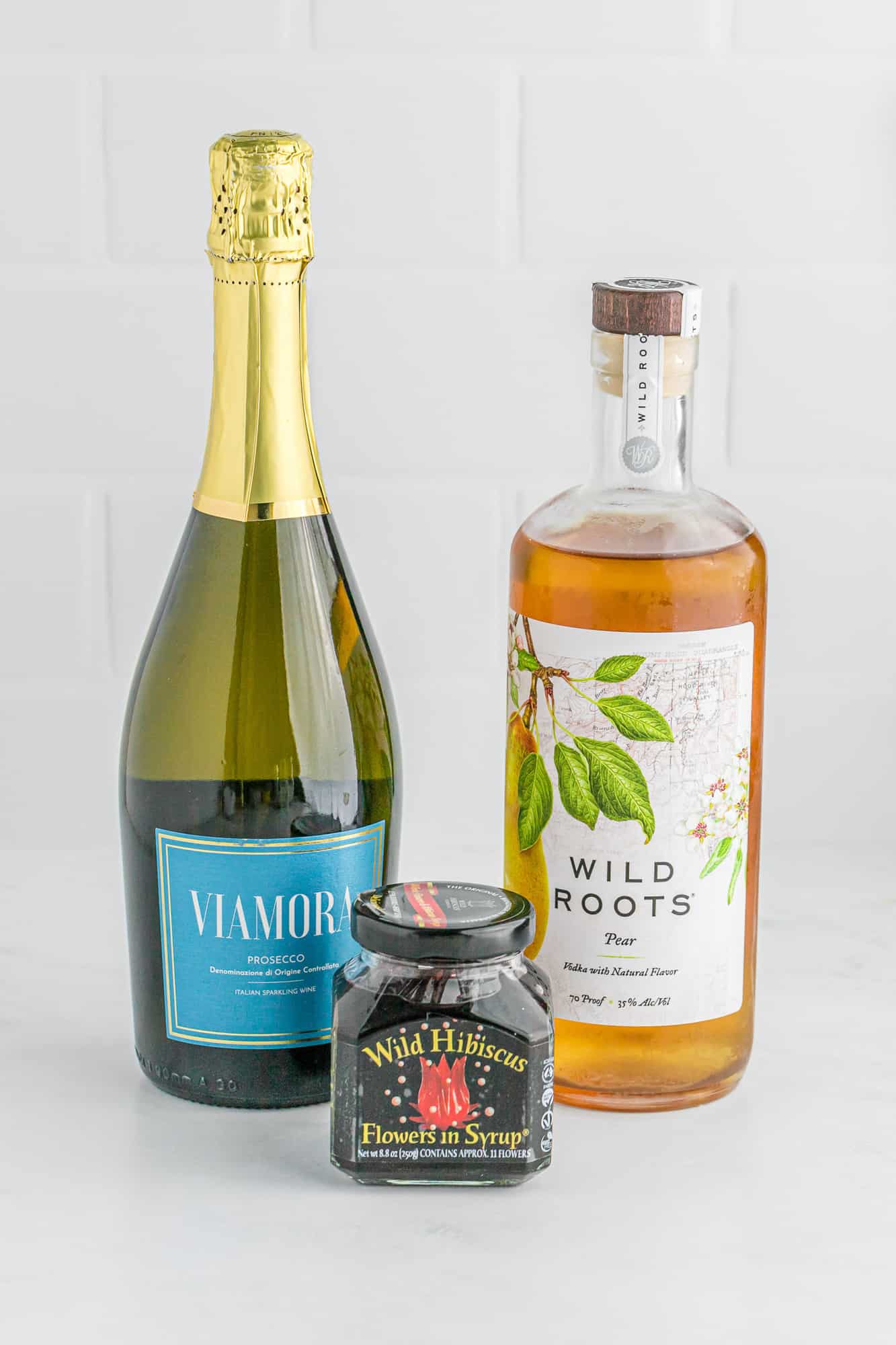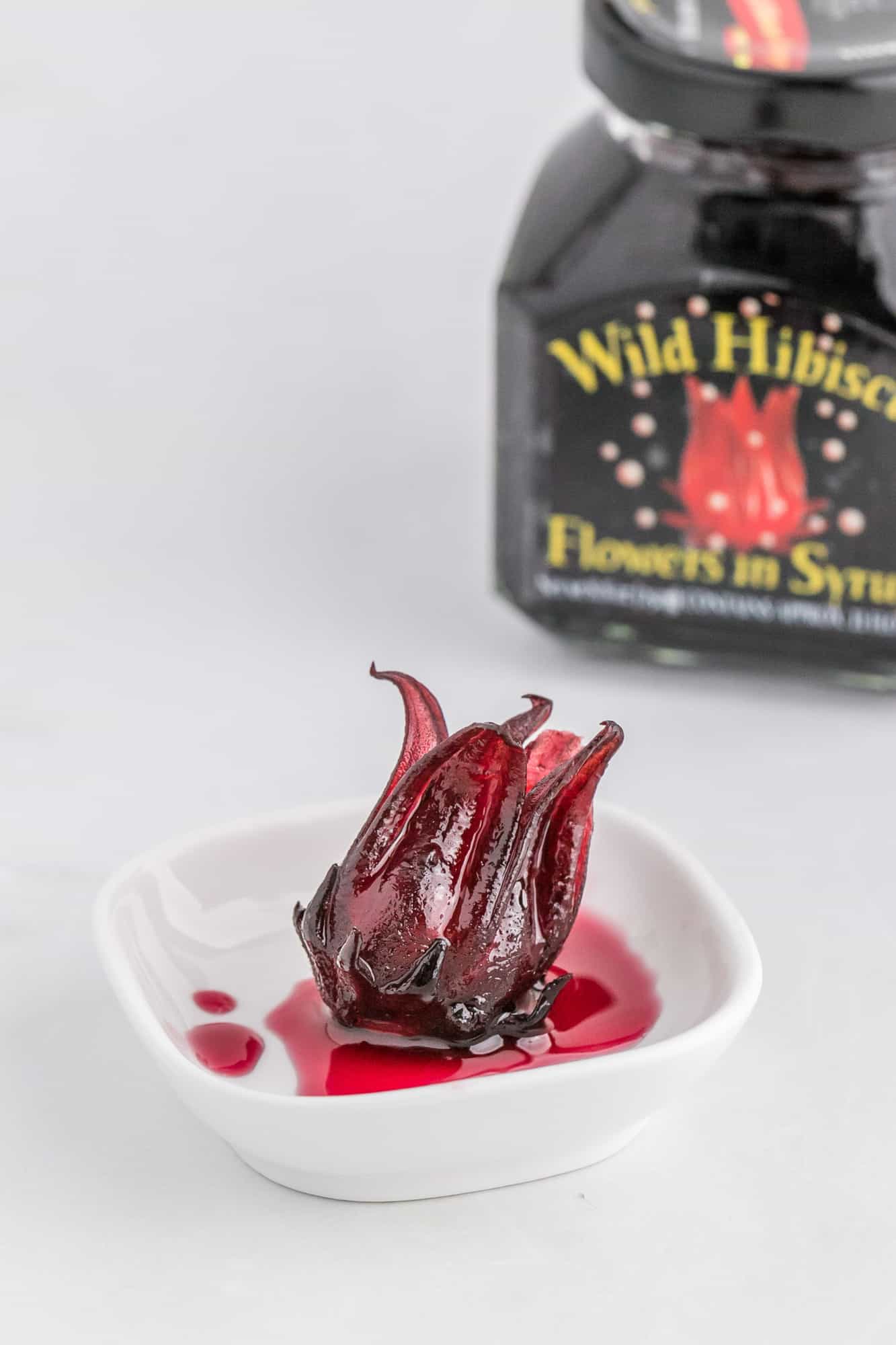 How To Make These Mimosas
It's so easy! Begin by having all the ingredients well chilled. This cocktail needs to be served cold. You won't be adding any ice or shaking it in a cocktail shaker so make sure everything gets put into the refrigerator well in advance.
You'll need champagne glasses, small wine glasses, or coupe glasses, which are stemmed glasses with a shallow wide bowl. Look for a glass that will nicely display the hibiscus bloom and the bubbles that rise from it.
Carefully remove a hibiscus from the jar. They can be packed into the jar pretty tightly and the first couple may be a little tricky to get out intact. A small fork or tongs work well. Don't be afraid to use your (clean!) fingers if it's necessary.
Nestle one flower into the bottom of each glass.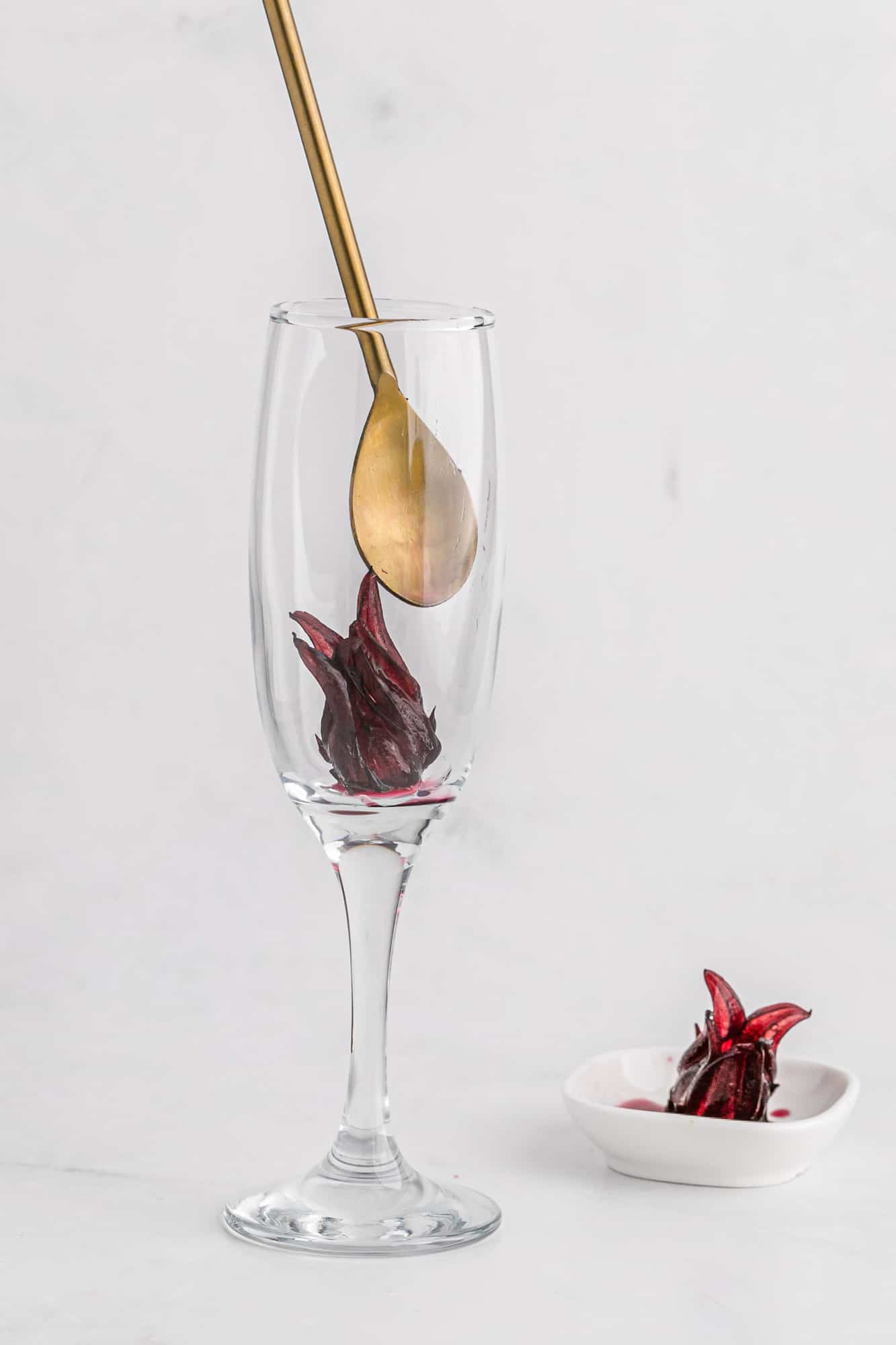 Pour in an ounce of pear vodka.
Finish by topping the glass with sparkling wine. Serve immediately while the effervescent bubbles are filling the glass.
Raise a glass to celebrate the occasion. Cheers! (And please remember to drink responsibly.)
And yes, it's okay to pick out the flower and eat it after you finish your drink. Unless of course, you want to go back for a refill!
Make-Ahead Ideas
Have everything well chilled and your glasses clean and polished. To get a little jump on things, put a flower into each of the glasses an hour or two ahead of time. Put the glasses with the flowers into the refrigerator so they are chilled and ready to fill.
FAQs
Why is a mimosa called a mimosa?
According to Make Me A Cocktail, it's named after a flowering tree with bright yellow blooms (Acacia dealbata) from Australia. The mimosa cocktail mimics the color of the blooms.
Can you eat hibiscus flowers in syrup?
Yes, they are completely edible! They taste fruity, somewhat like raspberry or sweet rhubarb, and have a firm but tender texture.
What are some uses for hibiscus?
Many folks enjoy hibiscus tea. Hibiscus is available in other forms: extracts, powders, or capsules. It's been used for many years for medicinal purposes. It contains antioxidants, vitamins, and minerals. For more about the health benefits, check out Healthline.
What is the difference between champagne and prosecco?
Both are sparkling wines but champagne is produced only in a certain region of France and prosecco is produced in a specific region of Italy. They are made from different grapes and using different methods. Often prosecco is more affordable than champagne. For a more thorough comparison of the two sparkling wines, check out Wine Folly. They do a really great job of explaining the differences and also share a list of their favorites.
Make It Your Own
Add a few drops of syrup from the jar of hibiscus flowers. The syrup will add sweetness and a deeper color to your cocktail.
Omit or use less vodka for a lighter drink.
Substitute elderflower liqueur (St Germaine), Chambord (raspberry liqueur), or pomegranate liqueur for the pear vodka.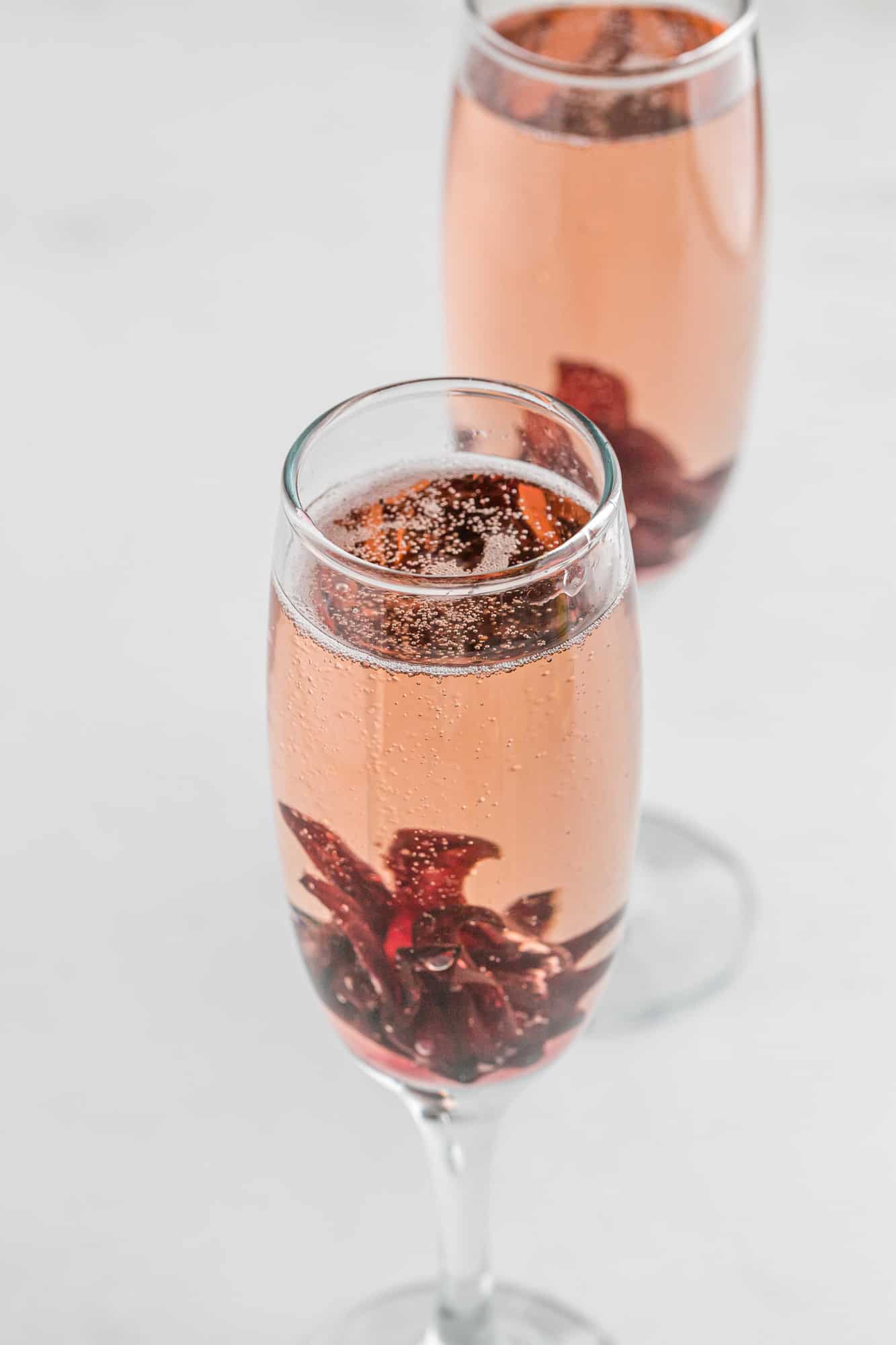 Lots More Mimosas
Some of you may be already familiar with my other website, Pancake Recipes. Pop on over there for more mimosa ideas and lots of other brunch ideas, too. You'll find easy recipes for mimosas, beermosas (mimosas made with wheat ale instead of champagne), apple cider mimosas, or even a mimosa mocktail (no alcohol). Learn how to set up a mimosa bar & brunch board for your next special occasion breakfast.
Oh, yes, I almost forgot. There's also a striking blue Jack Frost mimosa. It's super pretty and perfect for winter celebrations.
Along with this hibiscus mimosa, you have plenty of mimosas to choose from. Let me know which one you like best!
And A Few More cocktail recipes
Prefer fruit rather than flowers in your drinks? Try:
Did you make this? Be sure to leave a review below and tag me @rachelcooksblog on Facebook, Instagram, or Pinterest!
This gorgeous hibiscus mimosa will glamorize any celebration. It's easy to make and so striking! The beautiful bloom is completely edible (and delicious!).
Ingredients
1

hibiscus flower in syrup

1

ounce

pear vodka, chilled (see notes)

5

ounces

dry champagne or prosecco, chilled
Instructions
Place a hibiscus flower in the bottom of a champagne glass.

Add vodka. Top off glass with champagne. Serve immediately.

Repeat recipe for as many cocktails as are needed.
Notes
Elderflower liqueur (St Germaine), Chambord (raspberry liqueur), or a pomegranate liqueur can be substituted for pear vodka.
For a lighter cocktail, omit the vodka. Simply put the flower in the glass, add a drop or two of the hibiscus syrup, if desired, and top with champagne. It will be a lovely shade of pink, darker if you add syrup.
Any type of sparkling wine can be used. For a more intense shade of pink, use r

osé

champagne.
Nutrition Information
Calories:
135
kcal
,
Carbohydrates:
2
g
,
Protein:
1
g
,
Sodium:
10
mg
,
Potassium:
125
mg
,
Sugar:
2
g
,
Calcium:
13
mg
,
Iron:
1
mg
This website provides approximate nutrition information for convenience and as a courtesy only. Nutrition data is gathered primarily from the USDA Food Composition Database, whenever available, or otherwise other online calculators.