Easy Turkey Burgers
Delicious homemade turkey burgers, with seasoning and rolled oats, are so much tastier than pre-made turkey burgers. Perfect on a bun or cut up on a salad.
This warmer weather has me yearning for burgers, burgers, and more burgers. I had a package of ground turkey in the fridge that I thought was destined for spaghetti (cleaning out the cupboards this week). Instead, it met its fate in the form of burgers. Thick, juicy, flavorful burgers.
My hubby ate his like a normal burger (bun, ketchup, etc.), but I cut mine up on top of a salad with romaine, avocado, grape tomatoes, sautéed onions and shredded carrot. I topped it with homemade Thousand Island dressing. It's my "special sauce" for burgers so I thought it would be great for this salad, and it was!
About these turkey burgers:
You may be thinking, Why make your own burgers when you can just buy frozen turkey patties?
Better flavor and texture is the answer! While I admit you can't beat the convenience, frozen turkey burgers are rather flavorless and can be pretty dry. When you add an egg, oats, grated onion, and seasoning, the turkey burger is juicy, tender, and so tasty!
f you've made meatloaf, the mixture for these burgers is kind of similar. I also love that you can add whatever flourishes you like. In the mood for Italian? Make pizza turkey burgers. How about Mexican? Make taco turkey burgers. Want to get fancy? Try mozzarella, tomato and basil stuffed turkey burgers.
See what I mean? Homemade turkey burgers are just so much more fun and better tasting.
Just a note about the onion. I add half a medium sized onion to the mixture. Hubby doesn't care for onion "chunks" so I grate the onion. Grating gives you a very fine mince without a lot of work. Grating onion also results in a little juice. Add that to the burgers, too, for more juicy flavor.
Hey, now you have half an onion left over. Why not slice it and sauté it in a little butter to top your burger or salad? Yum!
Turkey burgers can be broiled in your oven on a foil covered sheet pan, or grilled. The mixture can be a little soft so make sure the grill grates are oiled and you don't try to flip them too soon. I actually prefer doing them in the oven.
Make ahead idea:
If you want to, make the patties ahead a day ahead and refrigerate or freeze them. They'll be ready to cook up when you're ready to eat. Or cook them up and freeze them. Reheat gently in the microwave. (Frozen burgers should be thawed overnight in the fridge.)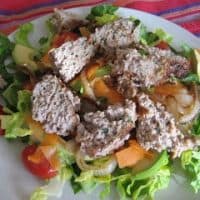 Turkey Burgers
Yield: 4 burgers
Prep Time: 10 minutes
Cook Time: 15 minutes
Total Time: 25 minutes
Delicious homemade turkey burgers, with seasoning and rolled oats, are so much tastier than pre-made turkey burgers. Perfect on a bun or cut up on a salad.
Ingredients
1 1/4 pounds ground turkey
1/2 medium yellow onion
1/4 cup rolled oats
1 egg, beaten
1 1/2 teaspoons dried parsley (if using fresh, double the amount)
1/2 teaspoon cumin
1/8 teaspoon cayenne
salt and pepper to taste
Instructions
Grate the onion over a large bowl, catching all the juices. You could mince the onion if you prefer.
Add the rest of the ingredients, mixing well. (Use your hands but don't over-mix).
Separate meat into four portions, roll into a ball, and flatten into a patty.
Grill or broil until cooked all the way through, about 7 minutes per side. Internal temperature should be 165°F when instant read thermometer is inserted into the center of the burger.
Optional: While the burger is grilling, fry some sliced onions to put on top of your burger or your salad.
Nutrition Information:
Yield: 4
Serving Size: 1 burger
Amount Per Serving:
Calories: 410
Total Fat: 26g
Saturated Fat: 7g
Trans Fat: 0g
Unsaturated Fat: 16g
Cholesterol: 197mg
Sodium: 214mg
Carbohydrates: 5g
Fiber: 1g
Sugar: 1g
Protein: 38g
RachelCooks.com sometimes provides nutritional information, but these figures should be considered estimates, as they are not calculated by a registered dietitian. Please consult a medical professional for any specific nutrition, diet, or allergy advice.
Verdict:
I think these are really good. They are my go-to version of turkey burgers. If you're buying pre-made patties, you need to try these–100x better. Promise.
Huband's take:
He's a turkey burger lover just like me. Give a man a burger and I promise he'll be happy.
Changes I would make:
I had some thoughts of stuffing these with cheese, but I held myself back. Maybe next time…
Difficulty:
Easy!