10 Grain Savory Waffles with Cheddar, Dill and Ham
Savory waffles with cheddar, dill and ham are the perfect (savory!) way to start the day. With 10 grains, they're sure to keep you energized throughout the whole morning!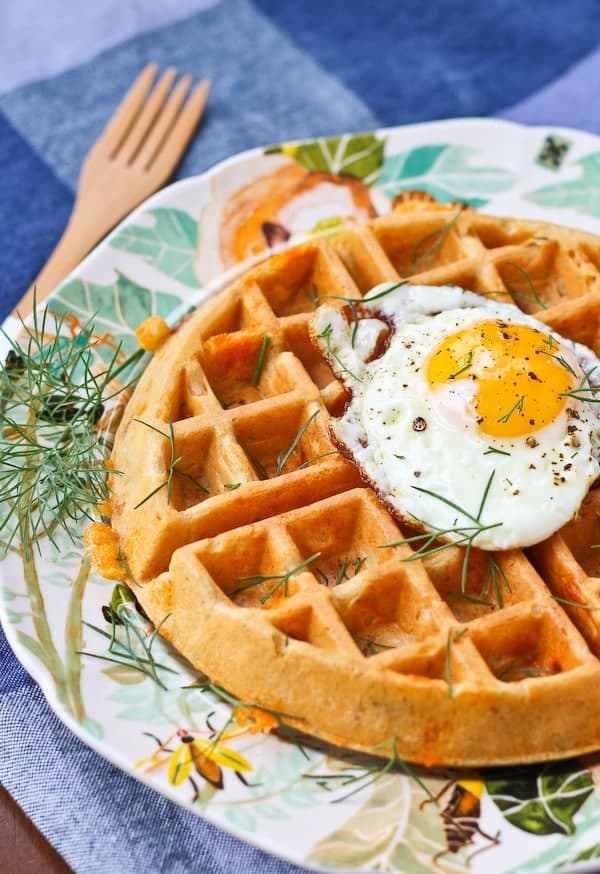 I love a savory breakfast. If I'm eating out for breakfast (one of my favorite things to do), I'll almost always choose an omelet over French toast. Unless of course, I can have both. Quiches, eggs, basically anything I can get. Ben still makes fun of me when I eat pizza for breakfast but I just can't resist the call of savory foods waiting for me in the fridge.
Since I've had my Waffle Baker, the choice to make waffles in the morning has been an obvious one. My current go-to is Bob's Red Mill* 10 Grain Pancake & Waffle Whole Grain Mix. If I'm buying anything – bread, wraps, mixes like this waffle mix – my first choice is always whole grain or multi-grain.
However, since N's severe reaction to sesame seeds, I've had to be really careful because so many whole grain/multi-grain products contain sesame seeds. So as you can imagine, I was thrilled to find that this pancake and waffle mix didn't contain any sesame seeds. Which is good, because little man doesn't eat much but he's serious about waffles and pancakes. LOVES them.
See, he's already licking his lips just holding the bag.
The only ingredients you need to add to this mix are eggs, oil, and water. I can't handle a breakfast that takes forever to make (I wake up starving in the mornings and would rather sip on coffee than slave over breakfast!) so this is the perfect solution for my family.
But Bob's Red Mill doesn't stop at 10-grain – they also offer pancake and waffle mixes in buckwheat, buttermilk, high fiber, cornmeal and gluten-free. (I need to try the cornmeal! I love the crunch it adds to pancakes.)
Quick side note: Am I the only one obsessed with Bob's Red Mill products? I swear by their thick-cut oats when making granola. They help achieve that perfect chewy-crunchy granola. (Yes, chewy and crunchy. It's totally the thing you're going for when making granola.)
Their farro, barley, quinoa, wheat berries, bulgur, wheat bran, and wheat germ (and more!) are all at an arm's reach on a dedicated fridge-door shelf. I love the huge variety of their products. I just realized I haven't tried their popcorn which is clearly a travesty considering my addiction to popcorn.
But back to the waffles, before I get distracted and head to the kitchen to make a bowl of popcorn.
These savory waffles are super simple to make thanks to this mix. Once you get the batter mixed according to the directions on the package, all that's left to do is fold in cheddar, dill, and ham. I use pre-shredded cheese (again – getting breakfast on the table asap), but these would be great with the sharpest cheddar you can find for the ultimate kick of flavor.
[Tweet "Make today's breakfast a savory one! Try these 10 grain waffles with fun mix-ins! @BobsRedMill"]
Then, into the waffle iron they go!
While they are cooking – I'd highly recommend frying up an egg with a nice runny yolk (or two – these waffles are large enough to throw two eggs on). They'd also be great topped with melted butter or a nice hollandaise sauce.
[Tweet "Put an egg on it! On your waffles, that is. #rachelcooks @bobsredmill"]
Heat up the waffle iron!

Looking for more ways to get your waffle on? Try:
10 Grain Savory Waffles with Cheddar, Dill and Ham
Yield: 3 large Belgian waffles
Prep Time: 5 minutes
Cook Time: 3 minutes
Total Time: 8 minutes
Savory waffles with cheddar, dill and ham are the perfect (savory!) way to start the day. With 10 grains, they're sure to keep you energized throughout the whole morning!
Ingredients
2 large eggs
2 cups Bob's Red Mill 10 Grain Pancake and Waffle Mix
3 tablespoons oil
1/2 teaspoon Dijon mustard
1 cup water
1/2 cup diced ham
1/2 cup grated sharp cheddar
1 tablespoon chopped fresh dill, plus extra for garnish if desired
Optional, for topping: Fried eggs, butter
Instructions
Preheat waffle iron.
In a medium bowl, beat eggs with a whisk until fluffy. Add waffle mix, oil, water, and Dijon mustard and mix until just combined – it will be lumpy. Fold in the ham, cheddar, and dill – again, mix until just combined.
Pour batter (according to your waffle iron's directions) into preheated waffle iron and bake according to waffle iron manual – my waffles took 3 minutes. Continue to repeat this step until all the batter is gone.
Serve immediately — I recommend topping with butter, a fried egg (runny yolk!) and additional fresh dill.
Nutrition Information:
Yield: 3
Serving Size: 1 waff
Amount Per Serving:
Calories: 640
Total Fat: 48g
Saturated Fat: 15g
Trans Fat: 1g
Unsaturated Fat: 29g
Cholesterol: 299mg
Sodium: 980mg
Carbohydrates: 26g
Fiber: 0g
Sugar: 1g
Protein: 26g
RachelCooks.com sometimes provides nutritional information, but these figures should be considered estimates, as they are not calculated by a registered dietitian. Please consult a medical professional for any specific nutrition, diet, or allergy advice.
Verdict:
Savory waffles are a great way to start the day, but they're also perfect for breakfast-for-dinner nights. Fry up some bacon and cut up some fruit to go with them and you have all you really need in life.
Husband's take:
No complaints from the peanut gallery.
Changes I would make:
None are necessary!
Difficulty:
Easy peasy.
*Disclosure: I've partnered with Bob's Red Mill to bring you this post. They compensated me for my time but all opinions are, as always, my own. If you opened my cupboards and fridge, you'd find a wealth of Bob's Red Mill products that I purchased myself. Thanks for supporting Rachel Cooks by reading about brands I use and love!