Loaded with cooked and fresh blueberries, this no-bake fresh blueberry pie is a real summertime treat! It's so easy to make and everyone loves it.
Recipe Overview
Why you'll love it: Fresh blueberry pie is so deliciously different from a baked pie.
How long it takes: only 30 minutes but allow a couple of hours for chilling
Equipment you'll need: pie plate, saucepan
Servings: 8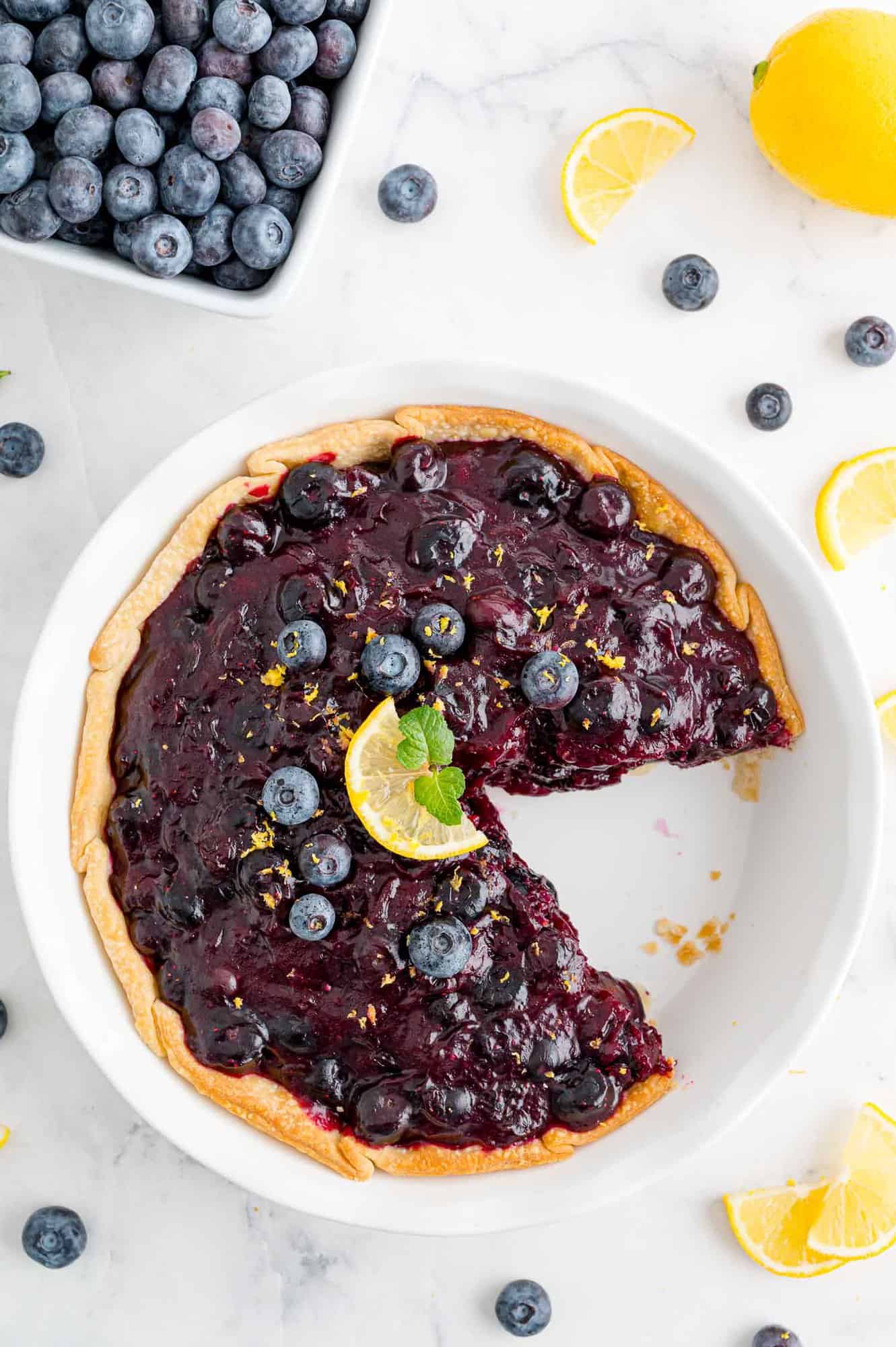 Fresh blueberry pie is one of my all-time favorite summer desserts.
My family picked blueberries every summer. We would pack a picnic lunch and lots of snacks, and pretty much spend the day in the blueberry patch. I'll admit, my sister and I weren't always enthusiastic pickers but mom rules, right? We would whine, "Don't we have enough yet?" and the answer was always, "Keep picking!"
Once we returned home was when the fun started. We all love blueberries so mom would get cooking and baking. Blueberry jam, blueberry muffins, blueberry pancakes, blueberries on our cereal, blueberries for snacks, we chowed on blueberries. Mom always froze several bags to enjoy in the winter, too.
Our favorite is fresh blueberry pie! Fresh blueberry pie covers all the bases: crisp buttery crust, sweet cooked berries, fresh tart berries, and mounds of whipped cream. The fresh blueberries almost pop in your mouth with every bite. Oh, it doesn't get much better than this!
And with six cups of blueberries, this fresh blueberry pie is good for you. Think of all those antioxidants!
Try this recipe for fresh blueberry pie whenever you can get your hands on fresh blueberries. You'll love this pie. I promise.
About This Blueberry Pie
This blueberry pie is one of the easiest pies you can make. It always turns out. It's not a typical baked pie. The crust is baked, of course, but not the blueberries. Half of the blueberries are cooked on the stove and thickened; the other half is stirred in fresh. It is phenomenally good and a real summertime treat.
If fresh blueberries are a bit scarce, you can substitute frozen blueberries for the cooked portion of the recipe. Fresh blueberries are a must for the stirred in portion.
May I add that my mother-in-law deemed this "one of the best pies she has ever had." Quite the compliment!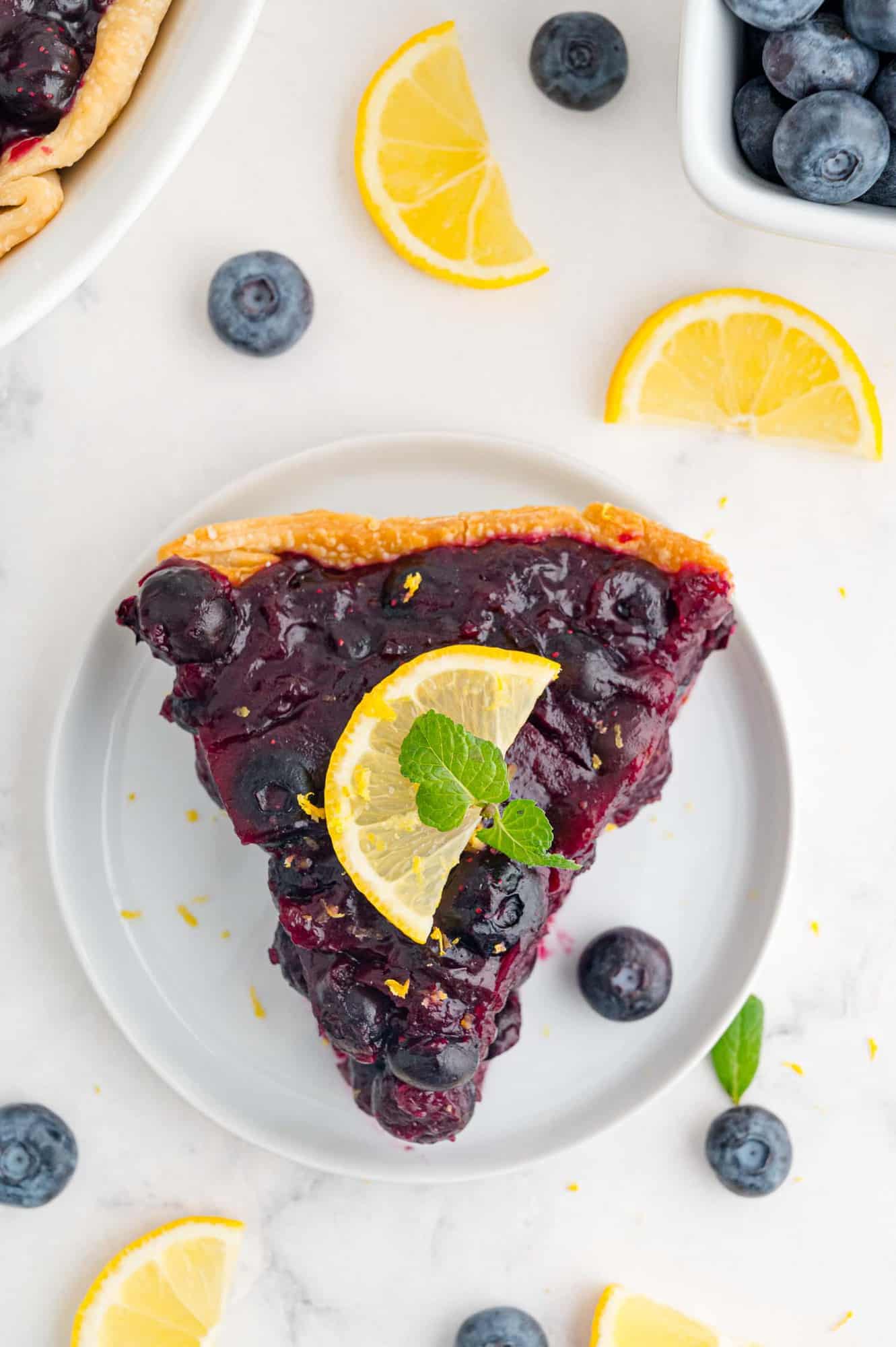 I'll get you started on making your blueberry pie and give you lots of helpful tips. Look for the printable recipe card near the end of the post. It has complete instructions, measurements, and nutrition information.
What You'll Need
Pie Crust: There are lots of different pie crusts to choose from. You can make your own pie crust or buy a frozen, refrigerated, or box crust. Graham cracker or cookie crusts are great, too. It's your choice.
Blueberries: You'll need six cups total: 3 cups are cooked, 3 cups are fresh. In-season summertime berries are the best tasting.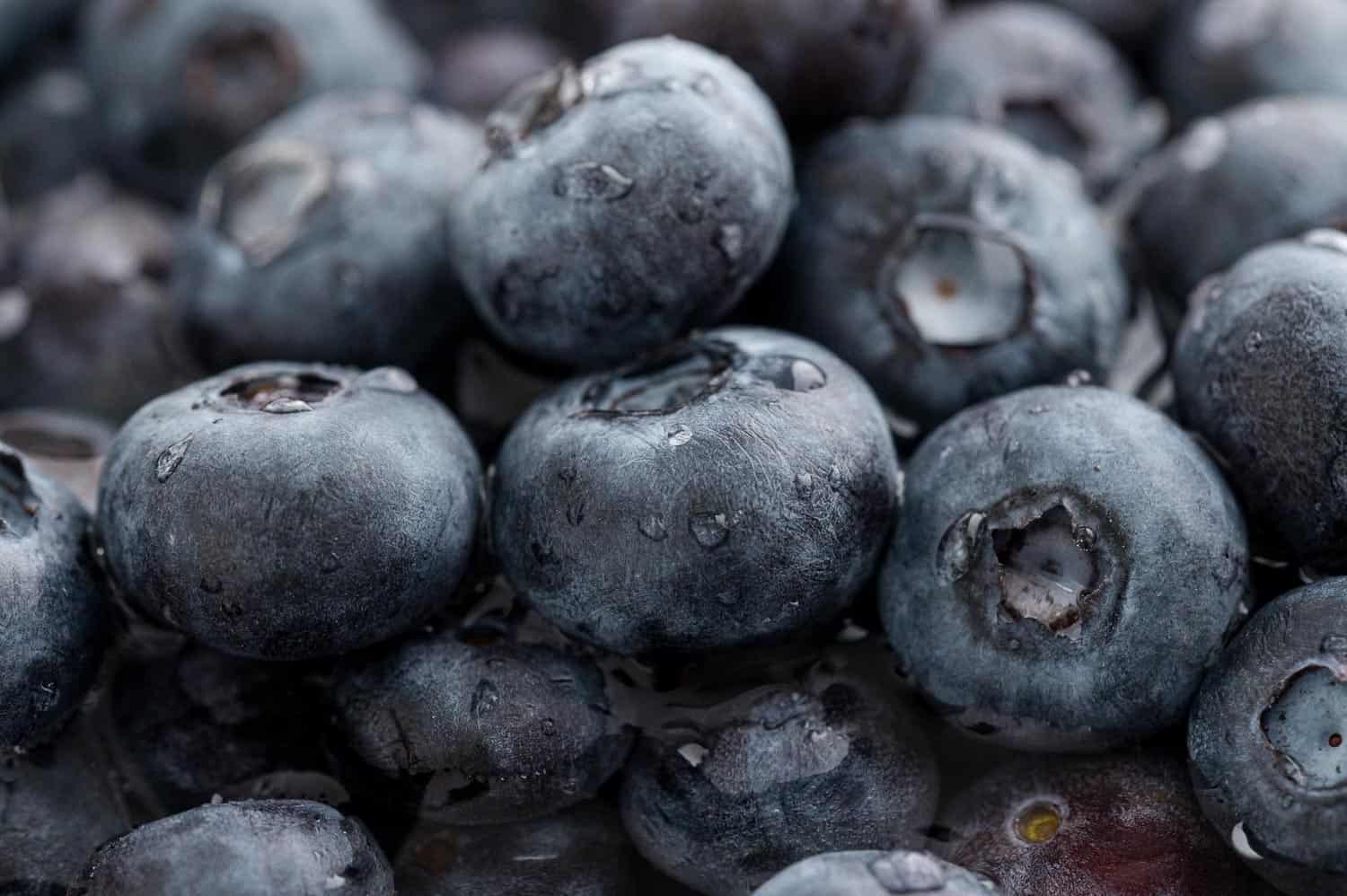 Granulated White Sugar: You'll need a cup and a half of sugar.
Cornstarch: Used as a thickener, cornstarch is a white powder made from the endosperm of corn kernels, commonly found in the baking aisle. It is naturally gluten-free.
Salt: Why add salt to a pie filling? Salt keeps things from tasting flat, including pie filling. You only need a pinch but it makes a difference.
Water: A half cup of water is needed for the filling. I suppose you could use a fruit juice instead but water works just fine.
Butter: Unsalted butter is stirred into the filling after it's cooked. It provides flavor and a richer mouth feel.
Fresh Lemon Juice: A squeeze of lemon juice perks up blueberry filling.
Whipped Cream: Optional, but I would say required. Vanilla ice cream is a good choice, too.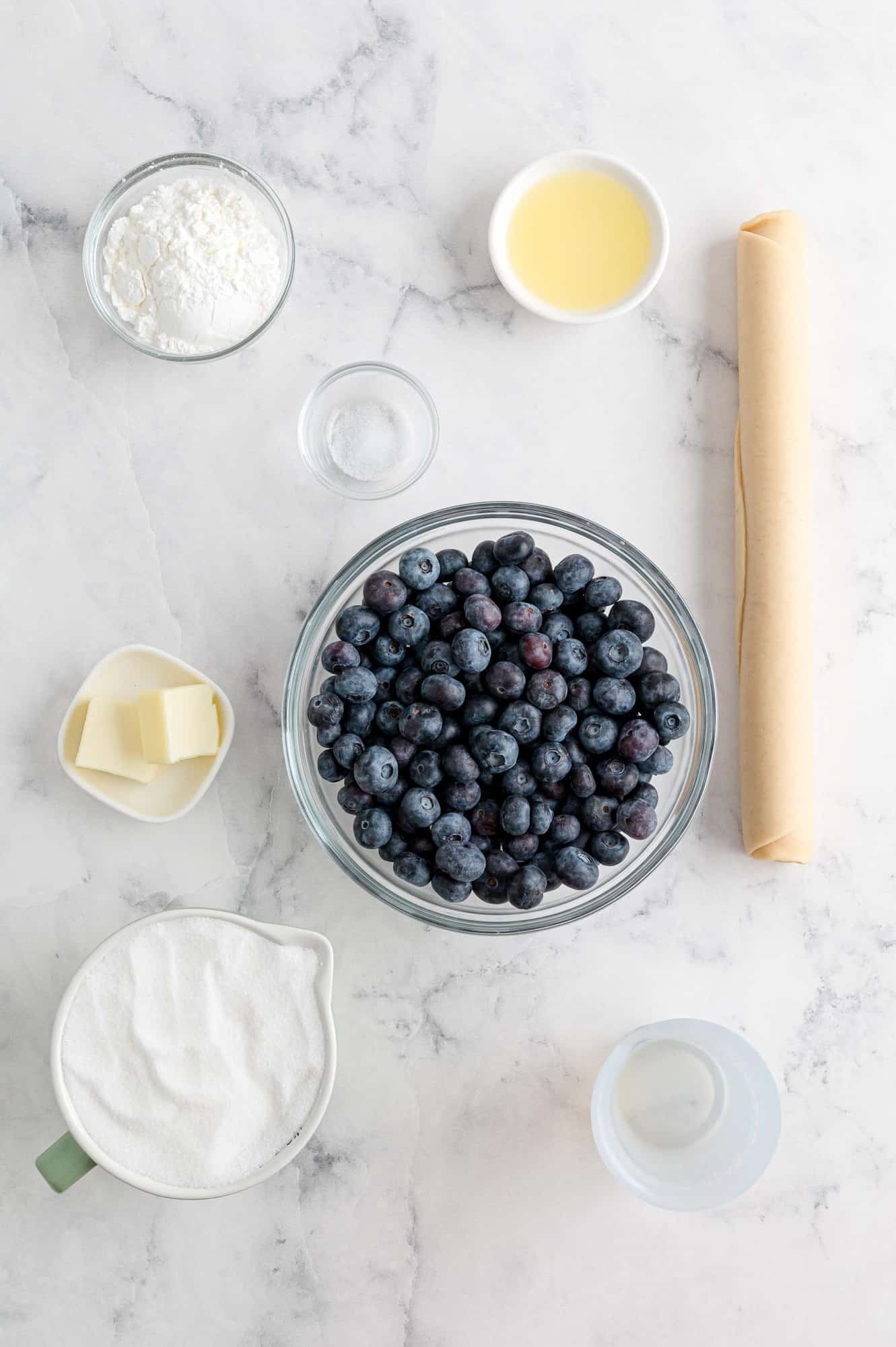 How To Make This Recipe
Start by preparing the pie shell you chose. You'll need a nine inch pie plate. Because this pie isn't baked, the pie crust has to be pre-baked and cooled. Follow the directions on the package or make the pie crust as you normally would for an unbaked pie shell.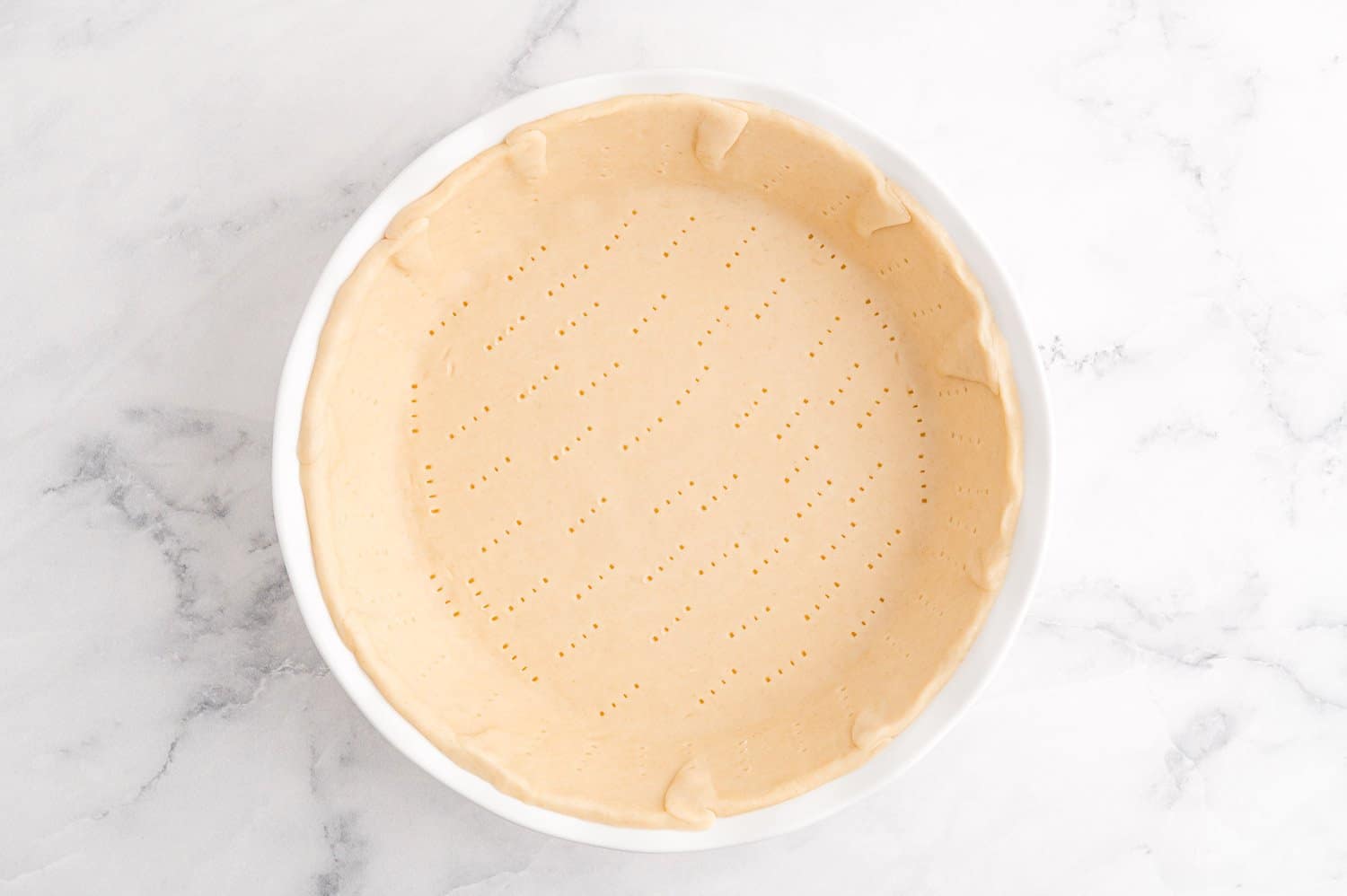 Pie Weights
Empty pie shells often form air bubbles or shrink away from the sides of the pie plate when they are in the oven. To prevent this from happening, use pie weights inside the crust when you blind bake it. You can buy ceramic or metal pie weights or use dried beans. Our friends at Kitchn have detailed instructions.
Next, wash your fresh blueberries and sort out stems, leaves, green berries, or mushy berries. Measure out 3 cups of the blueberries that you will use for the cooked portion. Spread the remaining 3 cups of berries on a clean towel or paper towel to dry.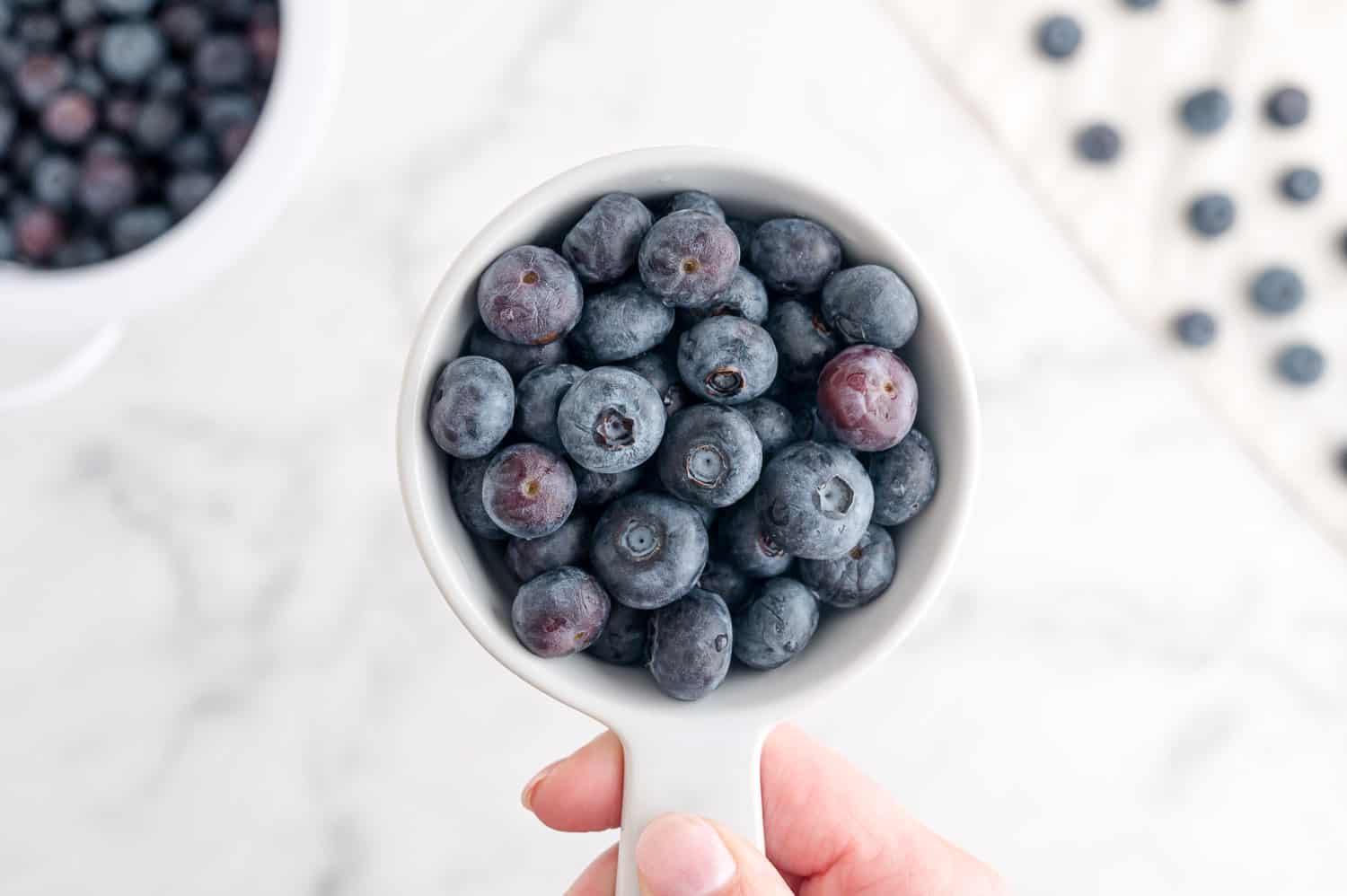 To cook the berries, you'll need a good sized saucepan. Mix the berries with sugar, a pinch of salt, and cornstarch in the pan. Pour in a half cup of water, and heat the mixture over medium heat. Bring it all to a boil, and continue to boil for 2 minutes. This is important. The berry mixture will be very thick, some of the berries will begin to burst, and the filling should look clear, not cloudy. Remove the pan from the heat.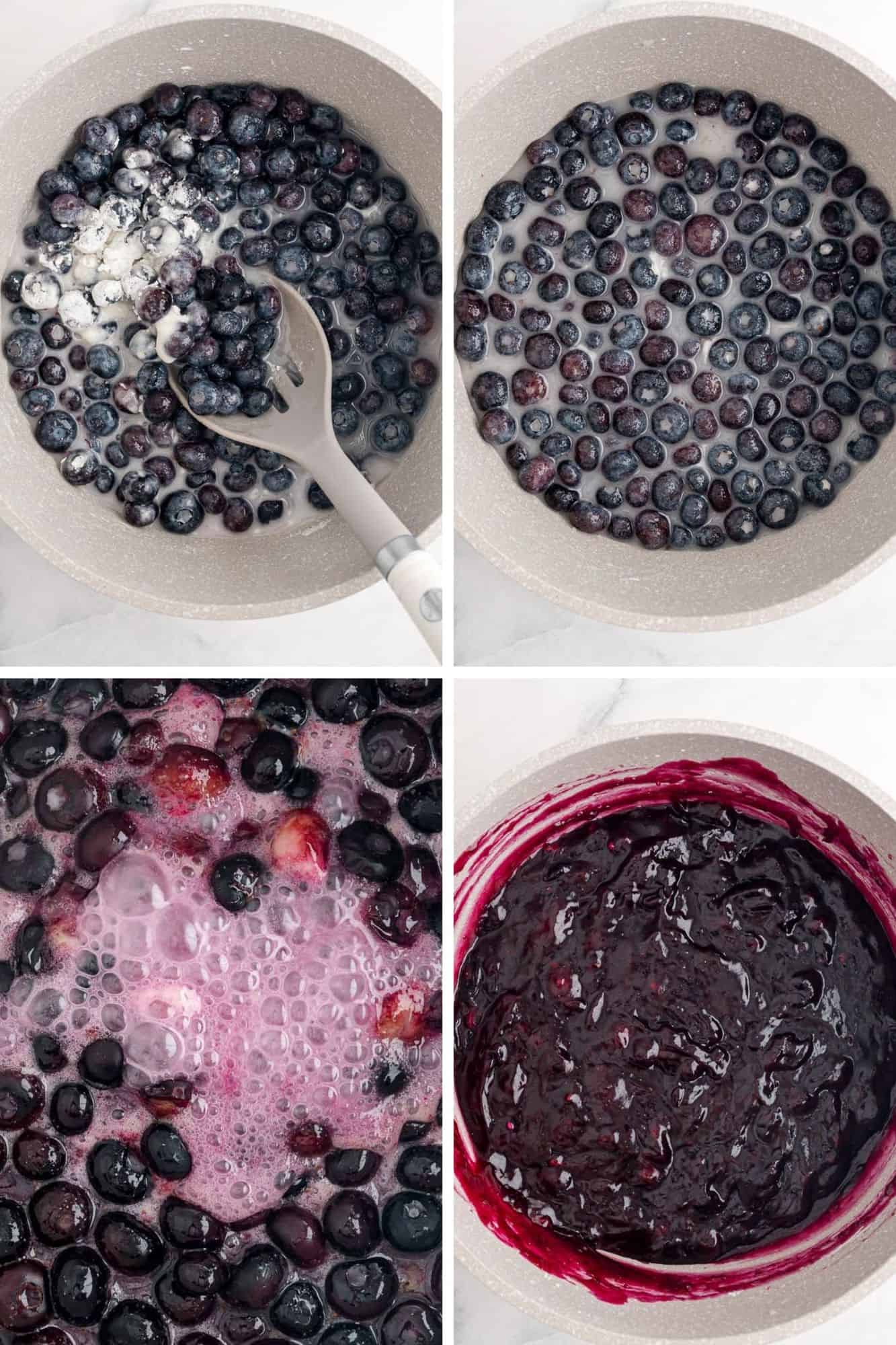 Stir a dab of butter, and fresh lemon juice. Let the hot mixture cool down for fifteen to twenty minutes. It doesn't have to be chilled but it shouldn't be boiling hot.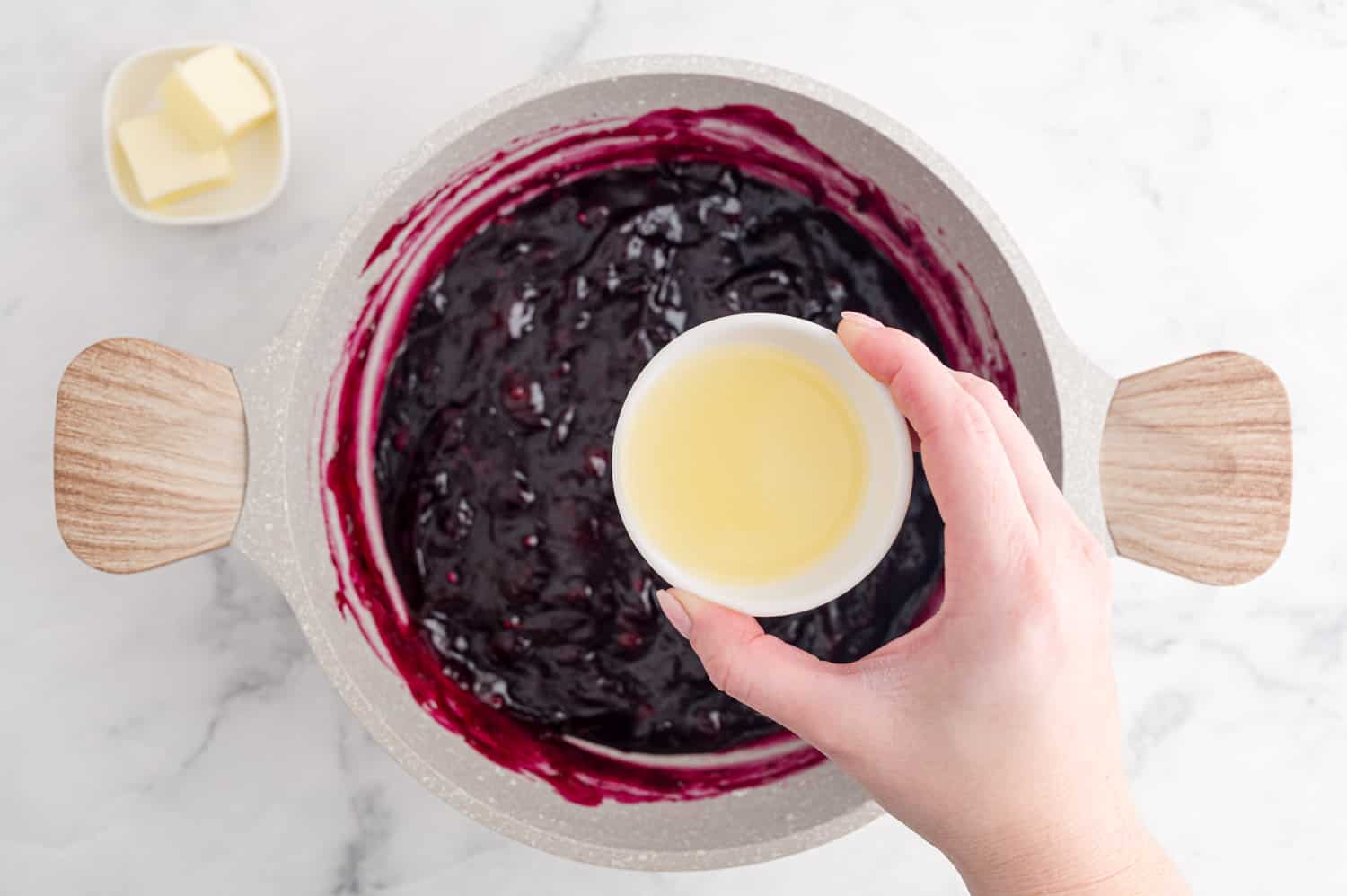 When it's cooled, fold in the remaining 3 cups of blueberries and pour the mixture into the pie shell. Smooth out the top and chill the pie for a couple of hours until it's firm. I know the waiting is hard but …. it's worth it!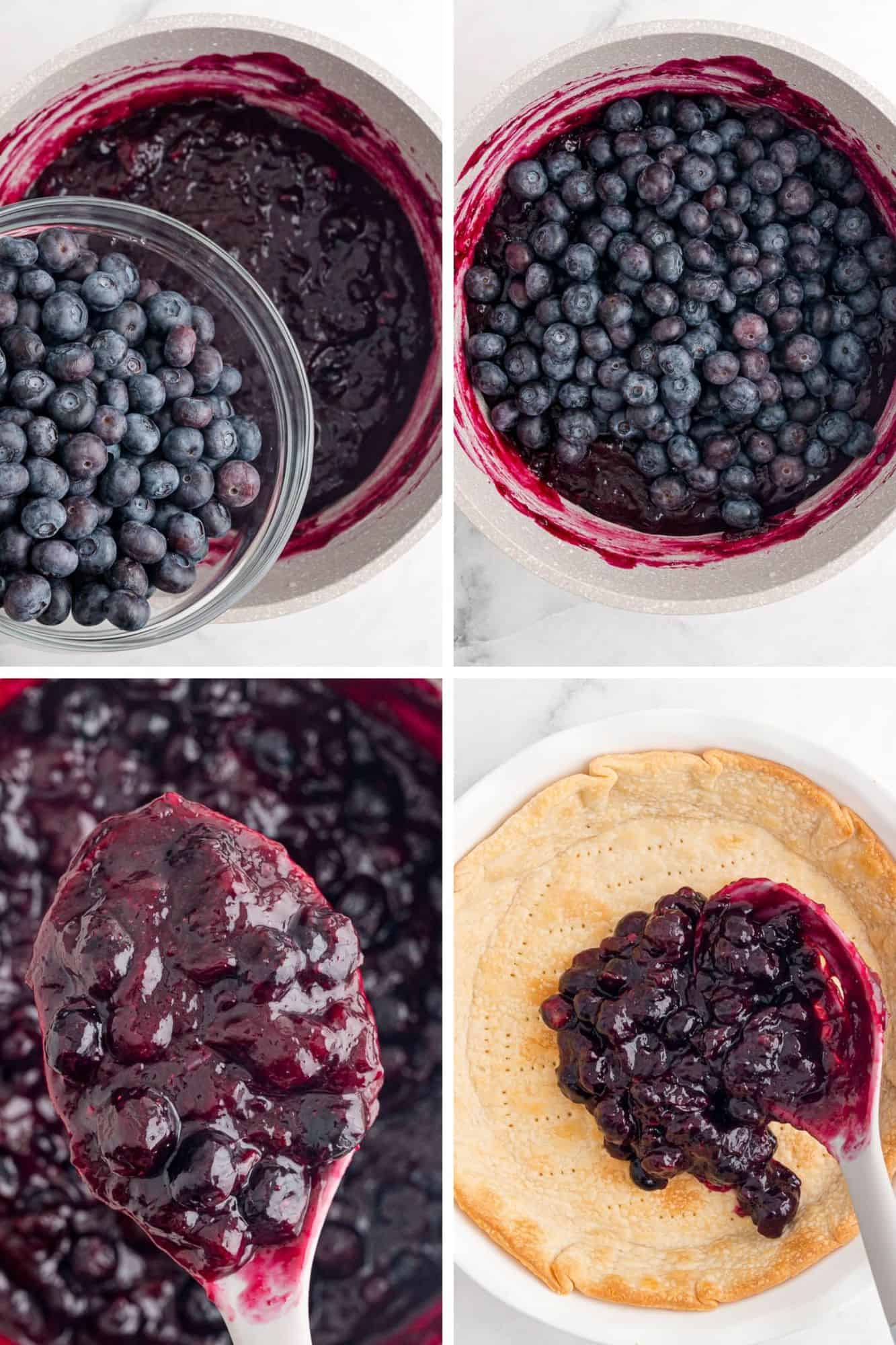 Cut the pie into wedges and enjoy! Top this fresh blueberry pie with homemade whipped cream. In a pinch, you could use canned whipped cream, but homemade is a hundred times better. Homemade vanilla bean no churn ice cream is really good, too.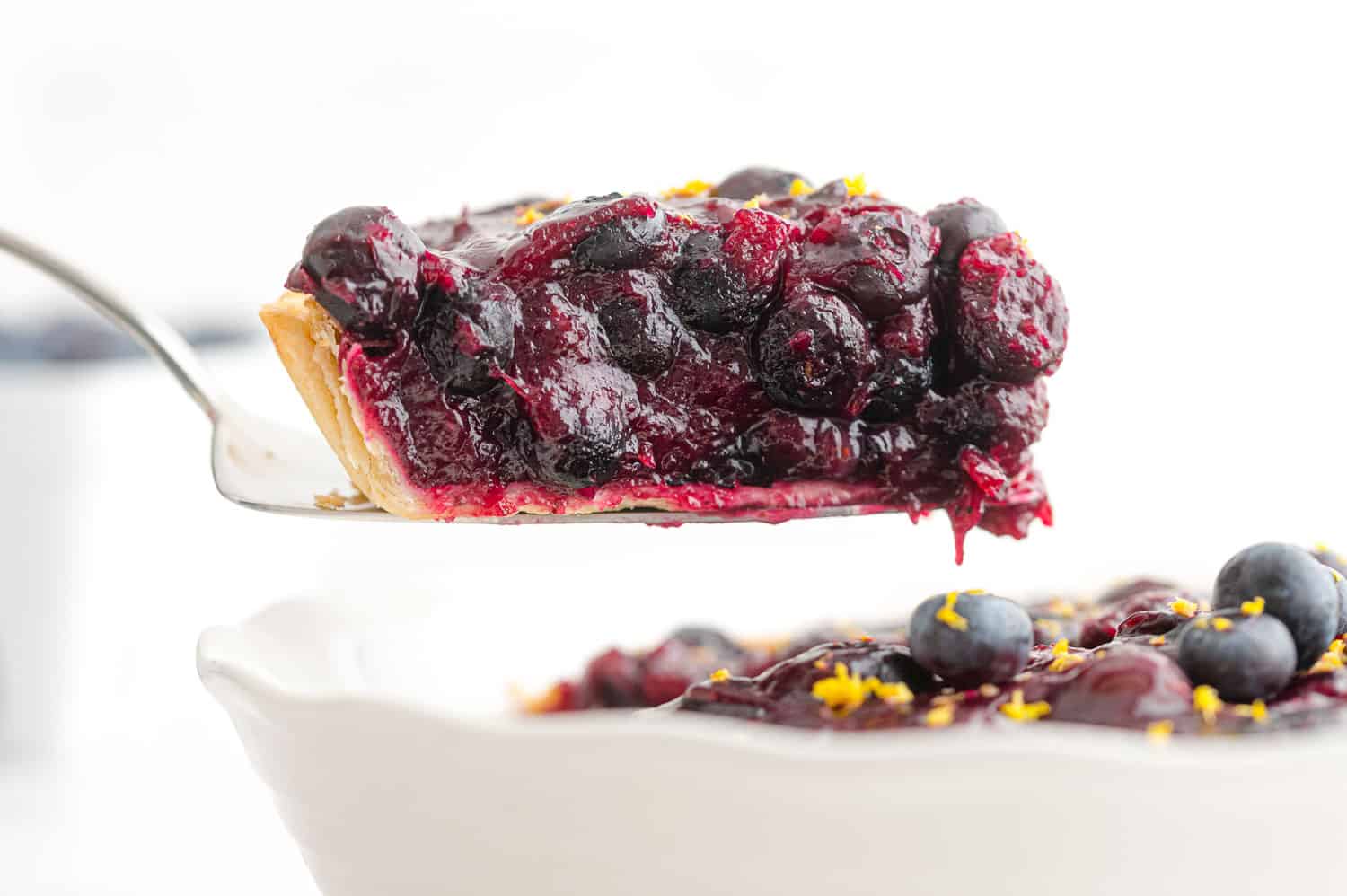 FAQs
How do you thicken blueberry pie filling?
It depends on whether you are making a baked blueberry pie or a no-bake pie. Most baked blueberry pies use all-purpose flour to thicken the filling. Instant or quick-cooking tapioca works well, too. For a no-bake pie, cornstarch is preferred because it cooks quickly and doesn't get pasty or cloudy.
What causes watery blueberry pie?
This no-bake pie shouldn't get watery; however, if the fresh blueberries that are added to the cooked berries are very wet, that may cause the pie to get watery.
Baked blueberry pies sometimes are juicy or watery. It could be that the pie was underbaked; a baked blueberry pie needs ample time in the oven. Make sure you use enough thickener. Cooling the pie completely before slicing it helps too.
Are blueberry pies good for you?
Pies can be pretty calorie dense because of the sugar and pastry which makes them a once-in-awhile treat. Blueberries are very good for you though! They have lots of antioxidants, fiber, and promote good health. Healthline says they are the "king of antioxidant foods!"
Storage Tips
Fresh blueberry pie is definitely best the same day you make it. If you have pie left over, cover it, and store it in the refrigerator for up to two days. It cannot be frozen successfully.
More blueberry delight!
I love baking and cooking with blueberries. Here's some recipes I'm sure you'll enjoy:
Did you make this? Be sure to leave a review below and tag me @rachelcooksblog on Facebook, Instagram, or Pinterest!
Loaded with cooked and fresh blueberries, this no-bake fresh blueberry pie is a real summertime treat! It's so easy to make and you'll find yourself craving more when it's gone.
Ingredients
1

refrigerated pie crust

(or homemade, if you prefer)

6

cups

fresh blueberries, divided

(see note)

1 ½

cups

granulated sugar

6

tablespoons

cornstarch

Pinch

of salt

½

cup

water

2

tablespoons

unsalted butter

2

tablespoons

fresh lemon juice

whipped cream

(optional)
Instructions
Bake the pie crust as directed on the package for a single crust pie. Cool completely.

Meanwhile, wash the blueberries; drain well. Measure out three cups of berries and spread the remaining berries on a clean dishtowel to dry.

Combine 3 cups of blueberries, sugar, cornstarch, and salt in a medium to large-sized saucepan (you'll be adding the remaining blueberries to the same pan later). Pour in the water. Mix together and cook over medium-high heat. Cook until the mixture comes to a boil, about 10 minutes, stirring constantly, and then continue to cook for two minutes more, or until mixture is very thick and clear.

Remove from heat; stir in butter and lemon juice. Cool slightly, about 15 to 20 minutes, before adding the fresh blueberries. When mixture has cooled, fold in the remaining 3 cups of berries. Pour into cooled, prepared crust.

Chill pie 2 to 3 hours before serving. Top with whipped cream, if desired.
Notes
Nutrition information does not include whipped cream.
If desired, use 3 cups frozen berries for the cooked portion of the recipe. Be sure you have 3 cups of fresh berries to add.
A graham cracker crust can be substituted for the baked pie shell.
Nutrition Information
Serving:
1
slice
,
Calories:
354
kcal
,
Carbohydrates:
70
g
,
Protein:
2
g
,
Fat:
9
g
,
Saturated Fat:
4
g
,
Polyunsaturated Fat:
1
g
,
Monounsaturated Fat:
3
g
,
Trans Fat:
1
g
,
Cholesterol:
8
mg
,
Sodium:
90
mg
,
Potassium:
112
mg
,
Fiber:
3
g
,
Sugar:
49
g
,
Vitamin A:
148
IU
,
Vitamin C:
12
mg
,
Calcium:
13
mg
,
Iron:
1
mg
This website provides approximate nutrition information for convenience and as a courtesy only. Nutrition data is gathered primarily from the USDA Food Composition Database, whenever available, or otherwise other online calculators.