Seasoned Oyster Crackers Recipe (with video)
Seasoned oyster crackers are the perfect snack to set out at your next party. You won't be able to stop snacking on them. Perfect with a cold beer!
Do you ever cook or bake something and then realize that you will probably be polishing off the entire batch in a very short period of time? Well, that's the case with these seasoned oyster crackers. Coated in butter, garlic, oregano, parsley, and cheese, they are perfect snacking material. They're irresistibly salty and flavorful. And the butter! Oh the butter. It's so very important to this recipe, and so very delicious.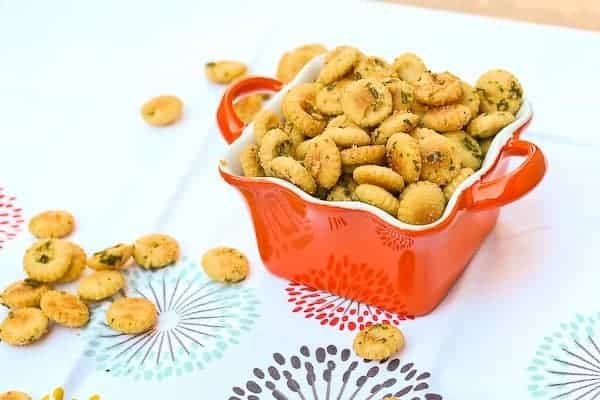 Oyster crackers are typically reserved for soups and chili but they contain some serious snacking potential as well. These would be the perfect party treat – set out in bowls around your house for guests to munch on while they sip a beer or a cocktail. I'd advise making far more than you think you'll need, because they will disappear very, very quickly.
Circling back to the traditional use of oyster crackers, soup and chili… well, we don't need to dismiss that quite yet. These fancified oyster crackers would take your soup up a notch, and a big one. Sprinkle these onto a steaming bowl of soup and you have oyster crackers in your soup, but with 100 times more flavor.
They're super simple to make, just like all my recipes. (I still haven't decided if I'm lazy or smart… or both.) All you do is mix together your butter, olive oil, garlic, oregano, and pepper in a small saucepan.
It won't take long for that to melt over medium-low heat. While it melts, keep yourself busy chopping fresh parsley. Sprinkle that beautiful green herb over your oyster crackers. Is your butter melted now? I bet it is.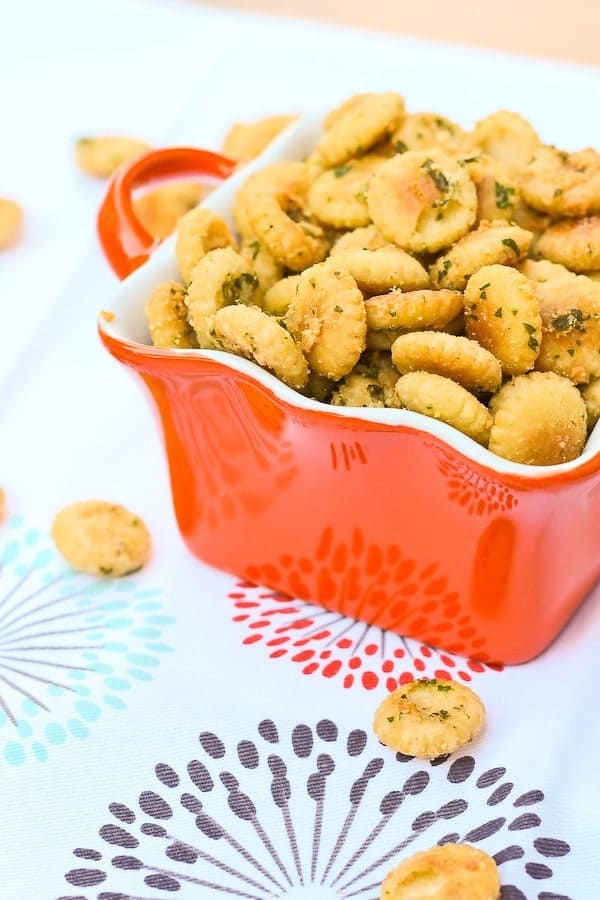 Pour it over the crackers and parsley and stir until everything is niiiiicce and buttery. Spread them out on a rimmed pan (don't want to lose any!), and give it a nice dusting of cheese. All that's left to do is bake them until they are golden brown.
Try not to burn your fingers as you inhale these straight off the sheet pan.
Here's the short version of how to make these seasoned oyster crackers:
Melt butter, because butter is amazing.
Mix butter with seasonings and a little olive oil for extra flavor.
Toss oyster crackers with parsley and butter mixture.
Spread onto sheet pan and sprinkle with CHEESE.
Bake at low heat (250°F) until golden brown and irresistible (about 25 minutes).
If you're still hungry for more salty snacks, try Old Bay Chex mix, low-carb bacon guacamole appetizer, olive oil roasted almonds, or marble bark with pistachios.
I developed this Seasoned Oyster Crackers recipe for Food Fanatic. Make sure to check out all the great eats over there.