Parmesan Crusted Pepperoni Pizza Grilled Cheese (VIDEO)
Grilled cheese like you've never had it! Celebrate grilled cheese month (or any month!) with this Parmesan crusted pepperoni pizza grilled cheese recipe.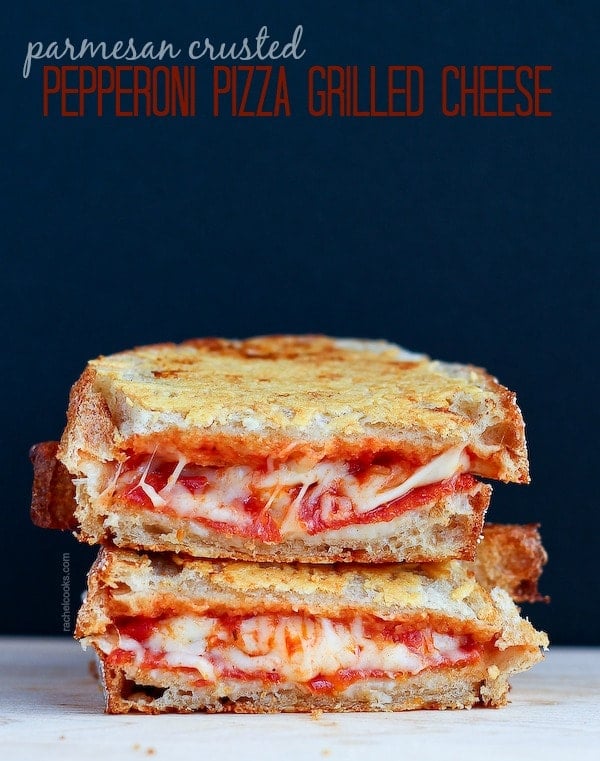 So, I don't know if you've heard or not, but it is Grilled Cheese Month!!! This is exciting for so many reasons. I went through a major grilled cheese phase in graduate school. I ate grilled cheese sandwiches so often that one of my professors dubbed me the "Grilled Cheese Queen."
I think it was in an exercise physiology class or something along those lines and we were talking about nutrition or something and two or three days in a row it just so happened that we talked about lunch or something and I had grilled cheese. That was a lot of "or somethings." My memory isn't my strongest suit.
Anyways — I was in grad school. I didn't have a lot of money. Cheese and bread were a cheap, easy, and oh-so-delicious meal solution. Great to make and eat quickly before heading back out to the library to study for houuuuuuurs on end. Hours. And hours.
So I'm in Physical Therapy school and they called me the grilled cheese queen. Not at all embarrassing. People in classes ahead of me even knew me by this name. Whatever, I'll own it. Grilled cheese is clearly one of the best foods known to man. And it's so adaptable! Add bacon. Add a huge, tasty, juicy tomato (those are coming eventually, right?), add pesto, add whatever the heck you want. Or whatever you have in your fridge.
I'm also obsessed with anything "pizza." Maybe it's because of my toddlers, but more likely, it's because of me. Pizza Quinoa Stuffed Peppers. Pizza Lasagna Rolls. Pizza Macaroni and Cheese Muffins. Pizza Chicken Tenders. Pizza Pizza Pizza. Oh my goodness if you want to dive into my archives and horrible photos, there are even more. Pizza turkey burgers, Pizza baked pasta and pizza paninis. But it's grilled cheese month, not pizza month.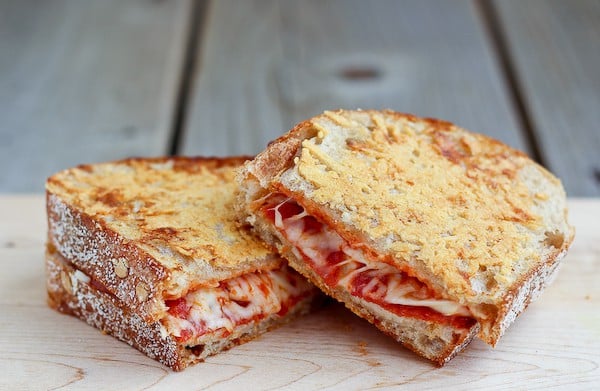 This pizza grilled cheese sandwich is stuffed with pepperoni, pizza sauce and mozzarella cheese. And if that weren't enough, it has a crispy Parmesan cheese crust that takes it right over the top!
Parmesan Crusted Pizza Grilled Cheese
Grilled cheese like you've never had it! Celebrate grilled cheese month (or any month!) with this Parmesan crusted pepperoni pizza grilled cheese recipe.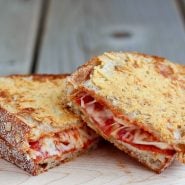 Ingredients:
2 slices whole grain bread
2 teaspoons butter, softened or spreadable
2 tablespoons grated parmesan cheese, divided
1 tablespoon pizza sauce
6 slices pepperoni
4 tablespoons mozzarella, divided
Directions:
Butter one side of each slice of bread with softened butter. On unbuttered side of one slice, spread on pizza sauce. Then add about 3 tablespoons of the mozzarella, lay out the pepperoni, and then top with the rest of the mozzarella and the other slice of bread. The buttered side should be on the outside. On one buttered side, spread 1 tablespoon of grated parmesan cheese and press down gently. Place this face down on a skillet or griddle heated over medium heat. Top the other buttered side (should be face up in the pan) with the rest of the parmesan cheese.
Cook for 4-6 minutes on each side or until golden brown and cheese on the inside is melted. Enjoy immediately.
Note: Measurements are approximate and will vary based on size of bread

All images and text ©

.