Hot Caprese Dip Recipe
This hot caprese dip recipe is a summertime winner – it will be your new go-to for summer entertaining (or year-round if you can find good basil!). 
Confession: I could eat this entire dish of hot caprese dip. It's…dangerous.
I'm the first to admit that I know my shortcomings and my weaknesses. It's a good characteristic to have, you know. Admit your weaknesses so that you can be proactive and avoid them.
Well, one of my weaknesses just so happens to be hot, melty, cheese. I know, rare and unusual, right? I'm sure not a single one of you shares that weakness. I'm sure I'm the only one that goes back for "just one more bite," a thousand times over again.
So, you see…I knew this recipe was on my to-do list to develop. What's a girl to do with summer around the corner? I can't chow down the whole dish and still look cute in my summer clothes (I have a hard enough time as it is!). I took a look at my calendar and saw that my parents were coming to visit.
Ding ding ding!
We have a solution. My mom helps me cook AND the whole fam helps me eat. Winner winner caprese dinner dip.
This addicting hot caprese dip recipe starts off with a layer of creamy cream cheese mixed with shredded mozzarella and fresh basil.
(Majorly long side note: My mom and I debated about the cream cheese layer for quite some time. I was insistent, even though it isn't a traditional component of caprese, and since this is Rachel Cooks and not Bonnie Cooks, my opinion wins. She ultimately admitted I was right. But she still wins for the best person to debate recipes with. Some of "my" best ideas come from phone conversations with her.)
Annnnnnyyywayyys…that creamy cream cheese layer is topped with plenty of fresh tomatoes and fresh mozzarella. That's right – three different types of cheese. Is there any other way? You know I love a good quinoa salad and smoothie but there's nothing better than ooey, gooey, melted cheese. It's the stuff dreams are made of.
Top this with some fresh basil and you're ready to enjoy. Don't get carried away though – make sure to let it cool down for a few minutes prior to digging in or those tomatoes will explode like hot lava bombs in your mouth and you'll end up with a serious burn. And then you'll do it again because it tastes so good.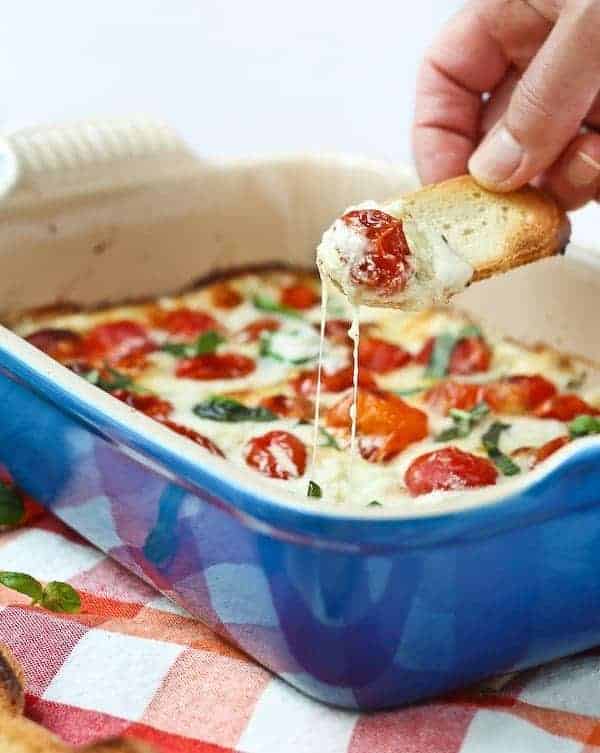 Hot Caprese Dip Recipe
Yield: 8 as an appetizer
Prep Time: 10 minutes
Cook Time: 30 minutes
Total Time: 40 minutes
This hot caprese dip recipe is a summertime winner - it will be your new go-to for summer entertaining (or year-round if you can find good basil!).
Ingredients:
8 ounces full-fat cream cheese, softened
1/2 cup shredded low-moisture part skim mozzarella
3 heaping tablespoons chopped fresh basil, plus more for garnishing
1/4 teaspoon fresh cracked pepper, more to taste
10.5 ounces grape tomatoes (about two cups)
8 ounces fresh mozzarella, dried and cut into small pieces
bread or crackers for dipping
Directions:
Preheat oven to 425 degrees Fahrenheit.
Spray a baking dish with nonstick cooking spray.
In a mixing bowl, combine cream cheese, mozzarella, chopped basil, and pepper. Spread into bottom of prepared baking dish.
Layer on grape tomatoes and then fresh mozzarella. Sprinkle with more pepper if desired.
Bake for 25-30 minutes or until heated through and bubbling and tomatoes start to burst.
Let stand for 10 minutes and then serve topped with additional fresh basil.
Verdict: I hated it. (Or not.)
Husband's take: Let me tell you – there were no complaints from Ben or my parents about this hot caprese dip recipe. I think my dad's words were, "WOW, that is really good!"
Changes I would make: Nada.
Difficulty: Easy. Unless we're talking about portion-control. That's not so easy.
Craving more delectable dips? Try: Broccoli and Bacon Beer Cheese Dip, Vanilla Bean Yogurt Dip, Hummus Spinach Artichoke Dip, Cheddar Leek Dip, Homemade Queso Dip, or Roasted Garlic Bean Dip.
Oh yeah and of course I have a Pinterest board devoted to the subject. Clearly.
Follow Rachel Cooks | Rachel Gurk's board Delightful DIP Recipes on Pinterest.


**Disclosure: I am thrilled to be a dairy ambassador for Milk Means More.  I have been compensated by Milk Means More for my time. All opinions are as always, my own. Find out more about why Milk Means More on Twitter, Facebook, YouTube, Instagram and Pinterest.