With melty cheese and fresh tomatoes, hot caprese dip recipe is winning appetizer. Perfect for summer entertaining.
Recipe Overview
Why you'll love it: This dip is a warm version of the beloved caprese salad. It's really easy to make and you can make it ahead, too.
How long it takes: 10 minutes to prep and 30 minutes to bake.
Equipment you'll need: small baking dish, oven
Servings: 8
Confession: I could eat this entire dish of hot caprese dip. It's dangerously good.
I'm the first to admit my shortcomings and my weaknesses. It's a good characteristic to have, you know. Admit your weaknesses so that you can be proactive and avoid them.
Well, one of my weaknesses just so happens to be hot, melty, cheese. I know, rare and unusual, right? I'm sure not a single one of you shares that weakness. I'm sure I'm the only one that goes back for "just one more bite" a few more times than I should.
Fellow cheese lovers: if you're like me and can't get enough cheesiness, try white queso in the slow cooker! No Velveeta, but plenty of dippable cheese. A couple more winners are Mexican spinach dip and crab rangoon dip.
So, you see, I knew this recipe was on my to-do list to develop. What's a girl to do with summer around the corner? I can't chow down the whole dish and still look cute in my summer clothes (I have a hard enough time as it is!). I took a look at my calendar and saw that my parents were coming to visit.
Ding ding ding!
We have a solution. My mom helps me cook AND the whole fam helps me eat. Winner winner caprese dinner dip.
About this hot caprese dip
This luscious hot caprese dip recipe starts off with a layer of creamy cream cheese mixed with shredded mozzarella and lots of fresh basil.
(Majorly long side note: My mom and I debated about the cream cheese layer for quite some time. I was insistent, even though it isn't a traditional component of caprese, and since this is Rachel Cooks and not Bonnie Cooks, my opinion wins. She ultimately admitted I was right. But she still wins for the best person to debate recipes with. Some of "my" best ideas come from conversations with her.)
Anyways, that creamy layer is topped with plenty of fresh tomatoes and fresh mozzarella cheese. That's right – lots of cheese. Is there any other way? You know I love a good quinoa salad but there's nothing better than ooey, gooey melted cheese. Like I said, it's one of my weaknesses.
I'll get you started on the recipe here and give you lots of helpful tips. Look for the printable recipe card near the end of the post. It has complete instructions, measurements, and nutrition information.
What You'll Need
Cream Cheese: For creamy dips, full fat cream cheese is usually the best bet. You'll need an 8 ounce package. Make sure you take it out of the fridge an hour or two before you make this recipe so it has a chance to soften up.
Shredded Mozzarella Cheese: You'll only need a half cup (or so) but don't skip it. It provides the stringy cheesy pizza texture to the dip.
Fresh Basil: There's really no substitute for fresh basil in this dip. It's what makes it a caprese dip, along with the fresh mozzarella and tomatoes. You'll need extra to garnish the dip, too.
Grape Tomatoes: Any type of sweet small tomato will work. When they roast, they burst and become sweeter and juicy. So good!
Fresh Mozzarella Cheese: Look for fresh mozzarella in the deli section of the grocery store. It's packed in clear liquid which is a by product of the cheese-making process and sold in plastic containers.
Freshly Ground Black Pepper: Just a little black pepper is really all the seasoning this dip needs. All the fresh flavors really shine on their own.
Dippers: Crackers, fresh baguette rounds, crostini, or whatever you like.
How To Make This Dip
This dip is really easy to make. You'll need a shallow baking dish, about 8 inches square, that will also be used to serve the dip. A round pie dish works too. Turn the oven on to preheat.
Hopefully you remembered to take your cream cheese out of the fridge to soften. If you didn't, don't despair. Remove it from the packaging, cut it into small squares, and it will be soft in 10 to 15 minutes. Or, put the whole block (with foil removed) on a small plate and microwave it in 10 second increments at High power until it feels soft.
In a medium size bowl, mix the cream cheese with the shredded mozzarella cheese, a few grinds of pepper, and fresh chopped basil until blended. Spread the cheese mixture evenly in the bottom of the baking dish.
Next, arrange the tomatoes on the cheese layer (be sure to wash and pat them dry first). Cut the fresh mozzarella cheese into small pieces and arrange the pieces on and around the tomatoes.
Pop the dish into the oven and bake it until it's warm and melty. The tomatoes should look a little wrinkled and be starting to split and burst.
Garnish with fresh basil leaves and enjoy!
Wait, there's a warning: make sure to let the caprese dip cool down for a few minutes prior to digging in or those tomatoes will explode like hot lava bombs in your mouth and you'll end up a burnt mouth. And then you'll do it again because it tastes so good. Don't ask me how I know.
FAQs
Why do they call it caprese?
It's short for insalata caprese, which means "a salad in the manner of Capri" in Italian. The simple salad usually consists of fresh mozzarella, tomatoes, basil, olive oil, and is said to originate on the island of Capri. It will remind you of the Italian national flag, which is striped green, white and red.
In case you're wondering, caprese is pronounced ke PRĀ sē.
What is the difference between caprese and bruschetta?
Caprese is a simple layered salad with fresh mozzarella, tomatoes, and basil. Bruschetta is a chopped tomato mixture that is served on toasted rounds of bread.
Is caprese a healthy snack?
Yes, caprese can be a very healthy snack. Fresh mozzarella is usually lower in calories and sodium than most cheese. It may have active probiotics, as well. Tomatoes are loaded with antioxidants, especially lycopene. Basil adds nutrition, too.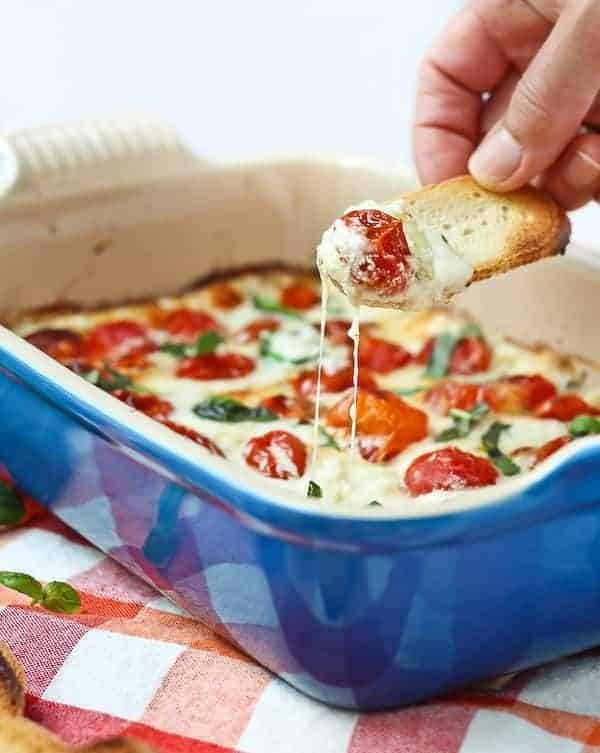 Make It Your Own
Because this is such a simple dip recipe, there aren't too many ways to change it up without making it something completely different. However, if you love caprese, you may want to try caprese couscous stuffed tomatoes, caprese pasta salad, or chicken caprese quinoa bake.
Make-Ahead Ideas
You can prep the dip up to a day ahead of time. Store it in the baking dish, covered, in the refrigerator. When you're ready to serve it, remove the dish from the fridge, uncover it, and preheat the oven. Bake as directed. You may have to add a minute or two to the baking time since the dish is chilled.
Storage & Reheating Tips
This dip is really best served immediately. If you do happen to have some left over, store it in the refrigerator for up to 3 days. That's assuming the dip hasn't sat out for more than two hours on the counter. In that case, you're probably better off discarding it.
To reheat, the best method is the microwave. Just heat it gently until it's warmed through.
more delectable dips
Did you make this? Be sure to leave a review below and tag me @rachelcooksblog on Facebook, Instagram, or Pinterest!
With melty cheese and fresh tomatoes, hot caprese dip recipe is winning appetizer. Perfect for summer entertaining.
Ingredients
8

ounces

full-fat cream cheese, softened

½

cup

shredded low-moisture part skim mozzarella

¼

cup

chopped fresh basil, plus more for garnishing

¼

teaspoon

coarsely ground black pepper, more to taste

2

cups

grape tomatoes

(10 oz. pkg.)

8

ounces

fresh mozzarella, patted dry and cut into small pieces

bread or crackers for dipping
Instructions
Preheat oven to 425°F.

Spray a baking dish with nonstick cooking spray.

In a mixing bowl, combine cream cheese, mozzarella, chopped basil, and pepper. Spread into bottom of prepared baking dish.

Arange grape tomatoes evenly on top of the cheese layer. Arrange the fresh mozzarella cheese over the tomatoes. Sprinkle with more pepper if desired.

Bake for 25-30 minutes or until heated through and bubbling and tomatoes are starting to burst.

Let stand for 10 minutes and then serve topped with additional fresh basil.
Notes
Nutrition information is for dip only and does not include crackers.
Make Ahead: Prepare dip in baking dish, cover and refrigerate up to a day ahead. Bake as directed (remove cover), adding a few minutes because the dish is chilled.
Nutrition Information
Calories:
209
kcal
,
Carbohydrates:
4
g
,
Protein:
10
g
,
Fat:
17
g
,
Saturated Fat:
10
g
,
Polyunsaturated Fat:
1
g
,
Monounsaturated Fat:
5
g
,
Cholesterol:
56
mg
,
Sodium:
312
mg
,
Potassium:
156
mg
,
Fiber:
1
g
,
Sugar:
2
g
,
Vitamin A:
956
IU
,
Vitamin C:
5
mg
,
Calcium:
231
mg
,
Iron:
1
mg
This website provides approximate nutrition information for convenience and as a courtesy only. Nutrition data is gathered primarily from the USDA Food Composition Database, whenever available, or otherwise other online calculators.