This is the best snickerdoodle recipe – these cinnamon sugar cookies are deliciously soft and chewy with the perfect crisp edge.
Recipe Overview
Why you'll love it: This easy snickerdoodle recipe is made in one bowl and doesn't require any extra time to chill the dough.
How long it takes: 15 minutes to stir up the dough, and 10 minutes to bake each batch
Equipment you'll need: large mixing bowl, mixer, baking sheets
Servings: 3 dozen cookies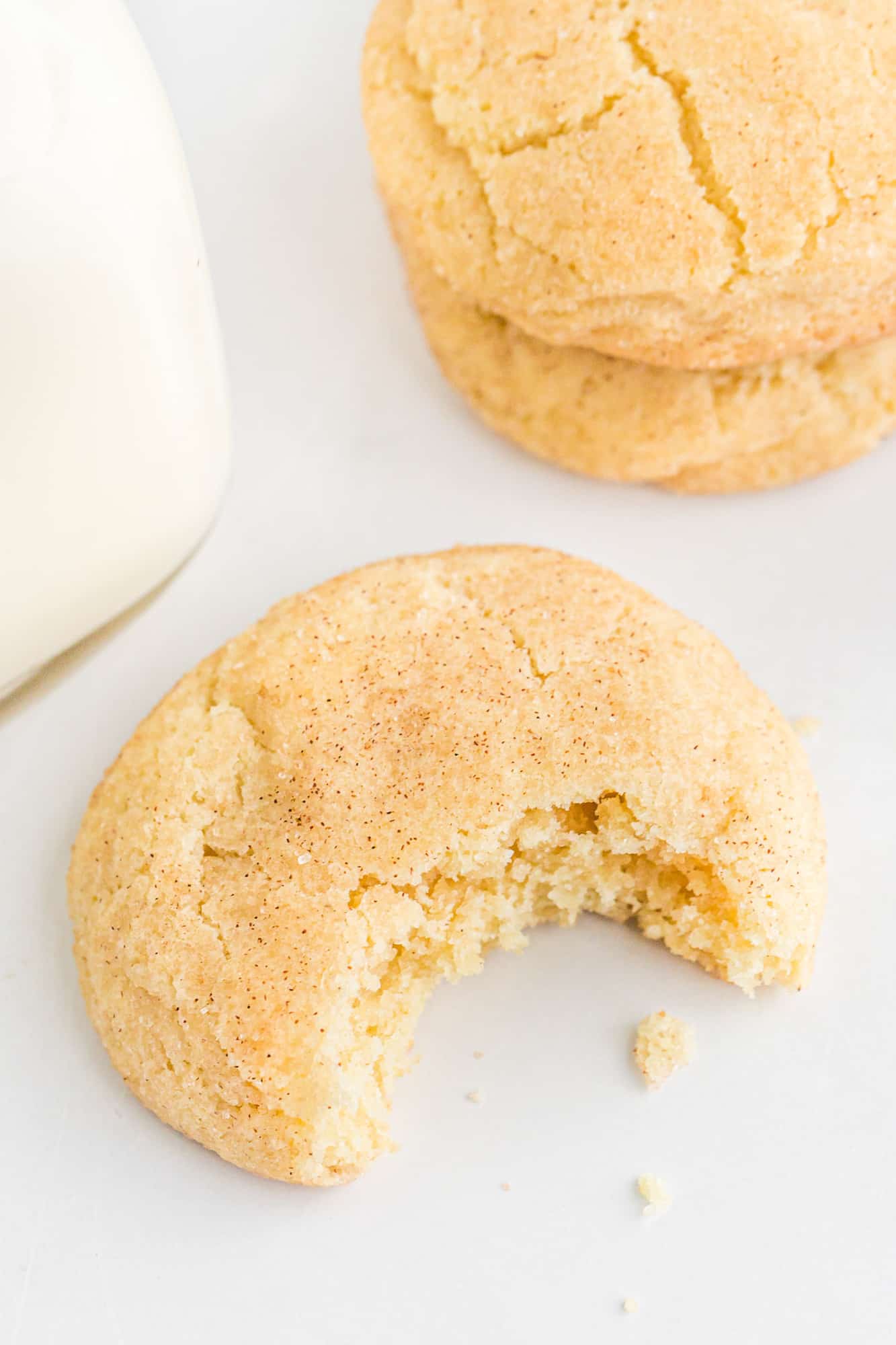 Snickerdoodles are sugar cookies coated in cinnamon sugar, with the perfect balance of chewy and crisp.
Along with my whole wheat chocolate chip cookies, these snickerdoodle cookies are a go-to of mine and I'm pretty sure they'll become a requested cookie in your family, too.
And if you're looking for more cookies, Christmas or otherwise, check out my list of kitchen tested, family approved cookie and bar recipes.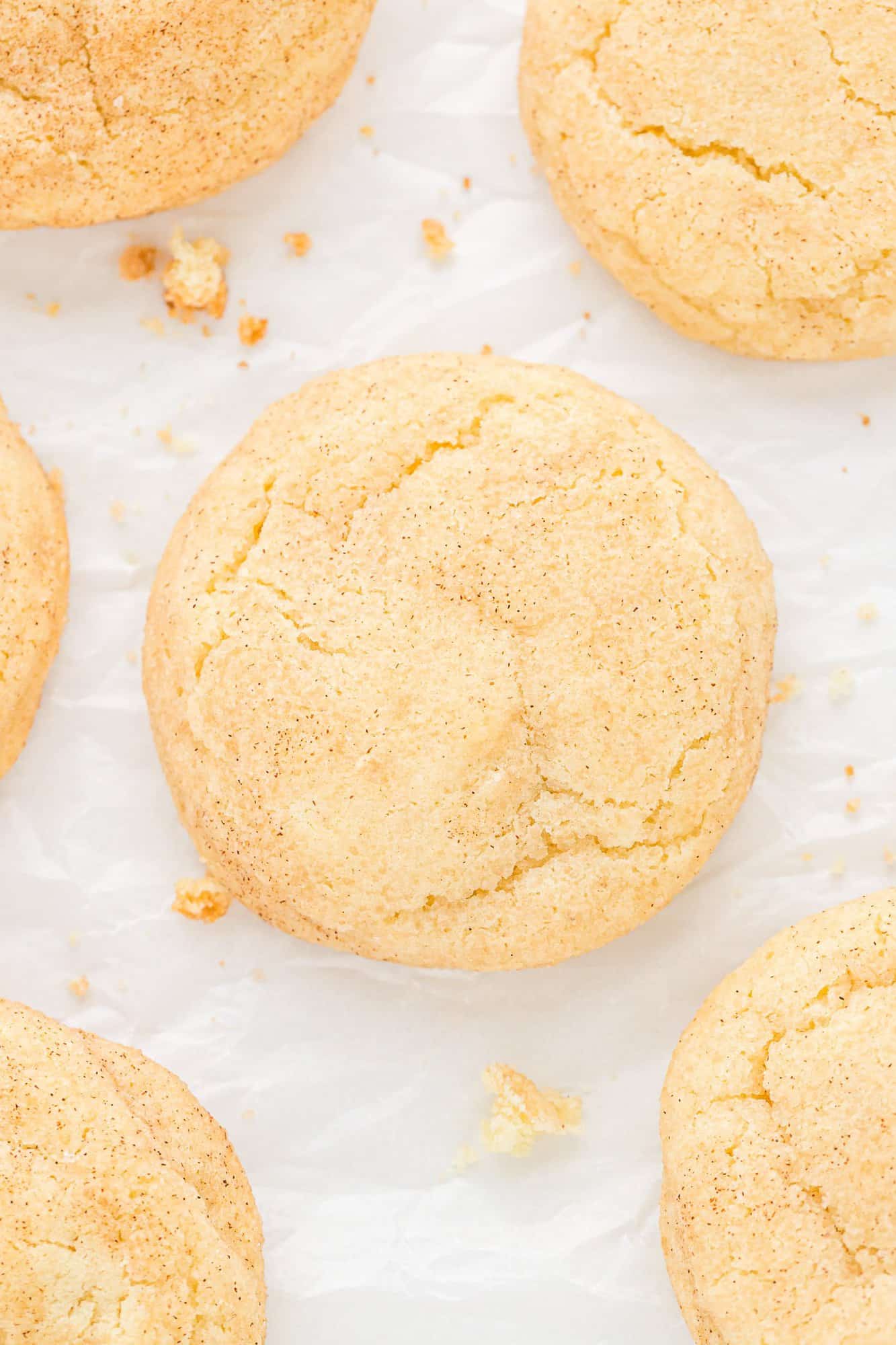 About this recipe
Easy to Make: These cookies are very easy to make; it's a simple sugar cookie dough that doesn't even need to be chilled. I tested them both ways and the cookies were equally as chewy and delicious with or without extra refrigeration time. I really don't like chilling dough because a) it takes longer, and b) it gives me more time to eat all the dough.
All Butter: I didn't invent the wheel when it comes to snickerdoodles, but it's probably no surprise that the Rachel Cooks version involves ALL butter (no shortening) and extra cinnamon.
Great Snack: A snickerdoodle goes really well with a cup of tea or coffee, or a tall glass of cold milk. Kids love them in lunchboxes. They are nut-free which is a bonus for my household.
One Bowl Recipe! Whenever possible, we'll leave you with the fewest dirty dishes possible!
I'll get you started on your cookie-making here and give you lots of helpful tips. As always, you'll find the printable recipe card with complete instructions, measurements, and nutrition information near the end of the post.
What You'll Need
Butter: Because there are so few ingredients in a good sugar cookie, butter is an essential element. Good-tasting butter makes the cookies taste good, it's that simple. Make sure the butter is at room temperature. If it's ice cold, it won't blend properly.
Sugar: Plain white granulated sugar is also necessary. It provides a crunchy texture and sweetness.
Eggs: A couple of eggs bind the cookie dough together and helps keep the cookies soft.
Pure Vanilla Extract: Pretty much every cookie recipe requires vanilla. It's the background flavor that provides just the right note.
All-Purpose Flour: Just regular flour. Don't substitute bread flour (the cookies will be too hard) or cake flour (the cookies will be too soft). Read the tip below to learn how to properly measure flour.
Cream of Tartar: A dry white powder that is usually found in the baking aisle along with the spices, dried herbs, and seasoning, cream of tartar is acidic and gives the cookies a unique tang. Read more about that in the FAQ section.
Baking Soda: Baking soda interacts with the cream of tartar to leaven the cookies, making them slightly airy, soft and chewy.
Salt: A pinch of salt keeps the cookies from tasting bland.
Cinnamon & Sugar, For Rolling the Cookies: Each cookie dough ball is rolled in a cinnamon and sugar mixture which adds another snickerdoodle signature touch.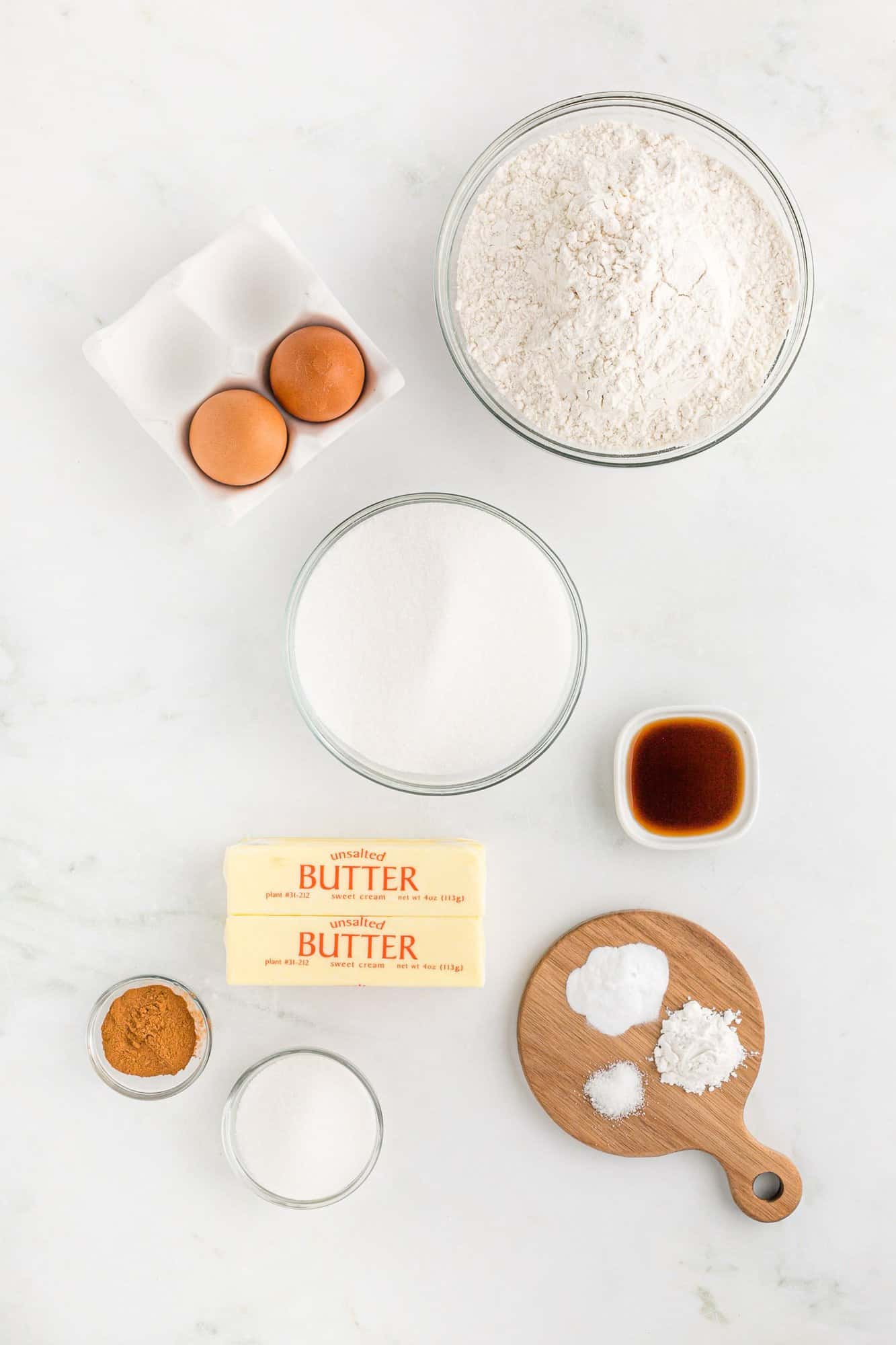 How To Make This Cookie Recipe
Roll up your sleeves and let's get baking! Preheat your oven and line a couple of baking sheets with parchment paper or silpat for easy cleanup. Scroll down for the full printable recipe!
The cookies can be made with an electric hand mixer or a stand mixer. You can use arm power instead but you'll need to use some muscles.
Mix Wet Ingredients: In a large mixing bowl, blend together the sugar and butter, beating for a few minutes until the mixture is light and fluffy. Add the eggs and vanilla, blending them into the sugar/butter mixture.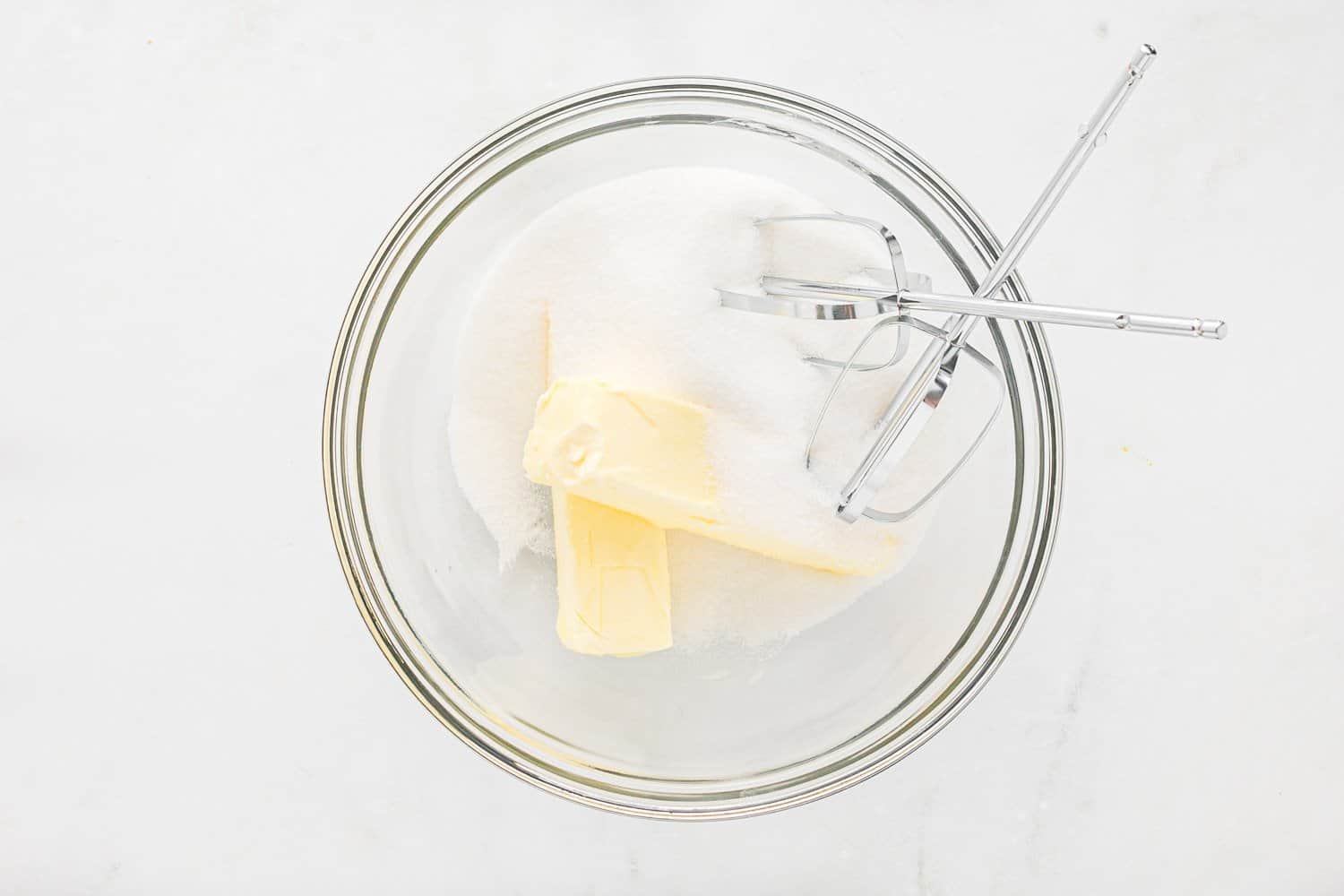 Add Dry Ingredients: Now, most cookie recipes will tell you to measure out the dry ingredients in a separate bowl, mix them, and then add them to the butter mixture. I question why you need an additional bowl to do that, just one more bowl to wash!
Measure out the flour, cream of tartar, baking soda, and salt, adding them right to the original bowl. Mix just the dry ingredients with your fingertips or a spoon, right on top of the butter mixture.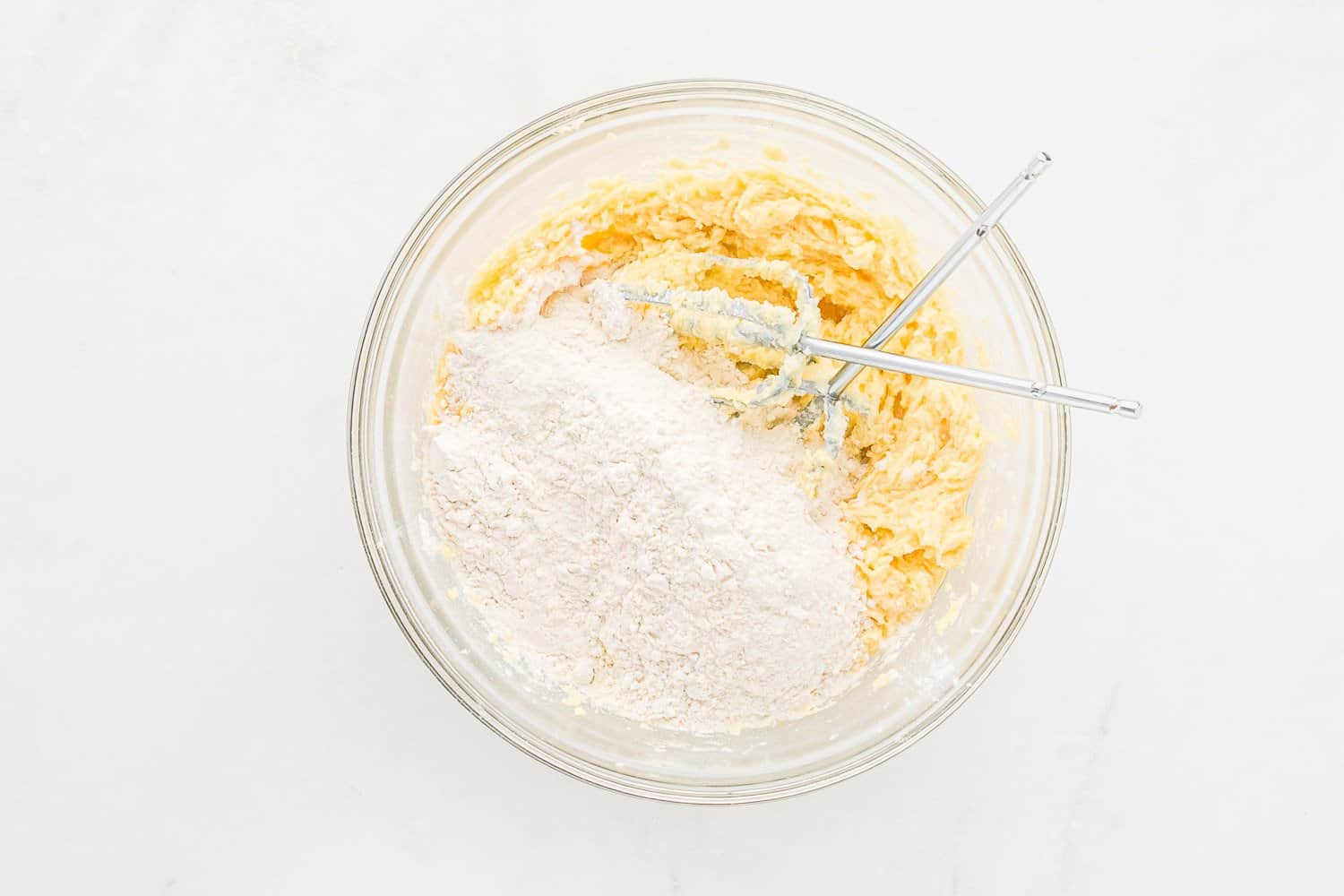 Now stir the dry ingredients into the butter mixture. Don't overstir! Tough cookies will be the result. Mix the two together until just blended. Perfect!
To chill the dough or not to chill the dough, that is the question. The cookies turn out just fine either way. If you don't have time right now to bake them, go ahead and chill the dough. If you would like to get them in the oven pronto, go ahead and bake them. It's your choice!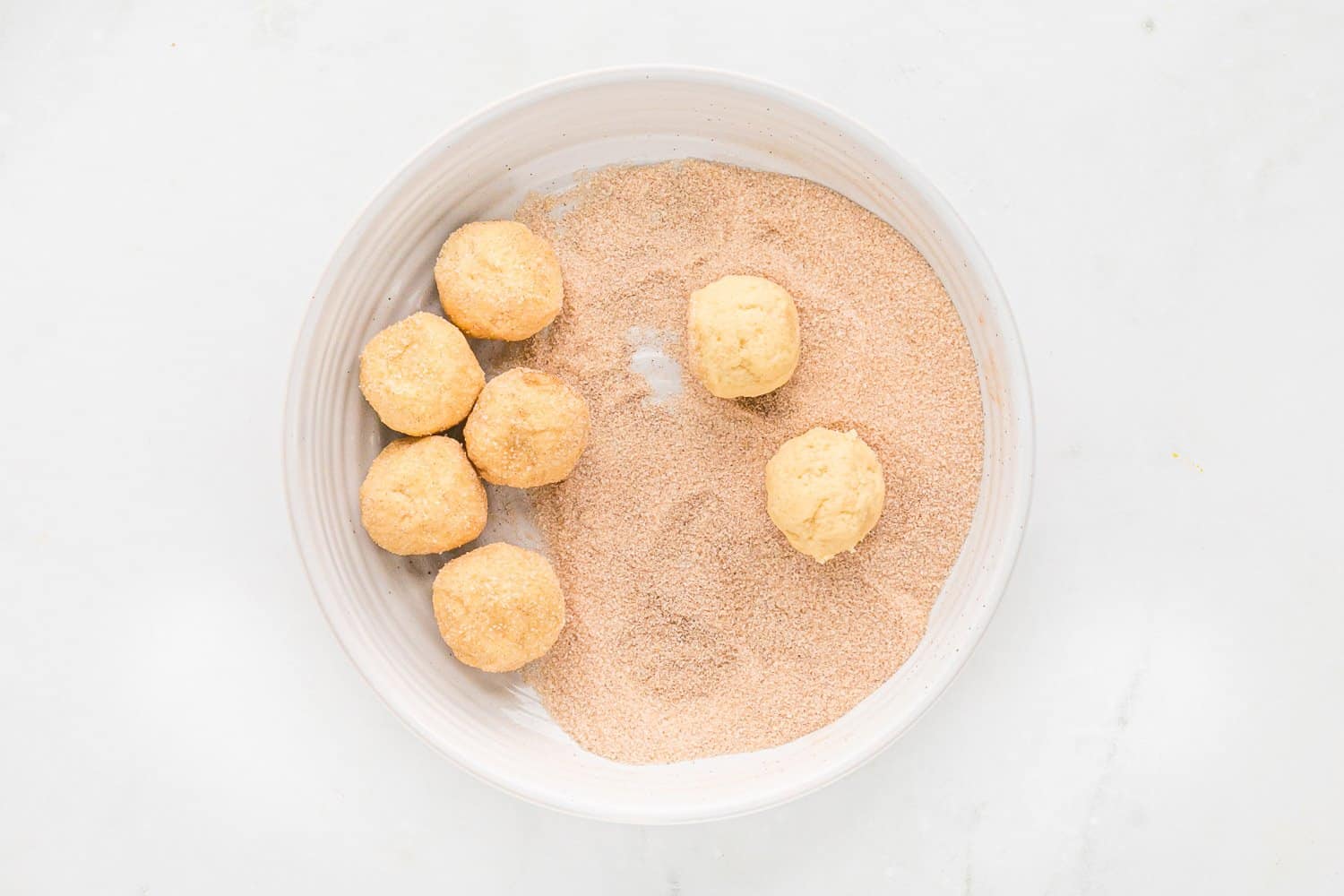 Roll: To bake the cookies, scoop out the dough (about one and a half tablespoons), and form it into balls. Roll each ball in the cinnamon sugar mixture and place them on the cookie sheet. They'll spread so allow some room in between.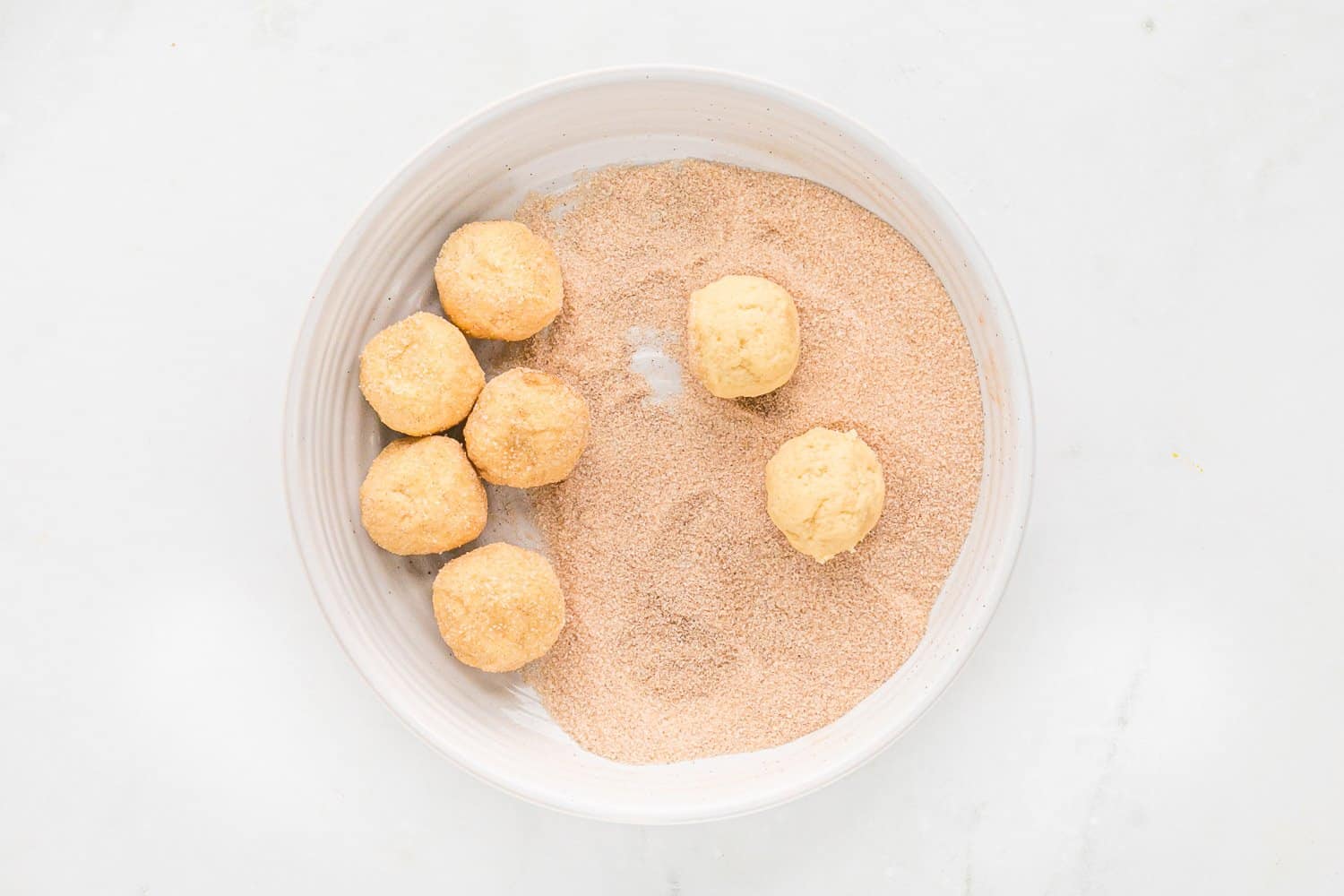 Bake: Bake the cookies until they are just done, about 10 minutes. They'll be set (firm) but not brown. Let them cool on the cookie sheet for a few minutes, then use a spatula to transfer them to a wire rack to cool completely.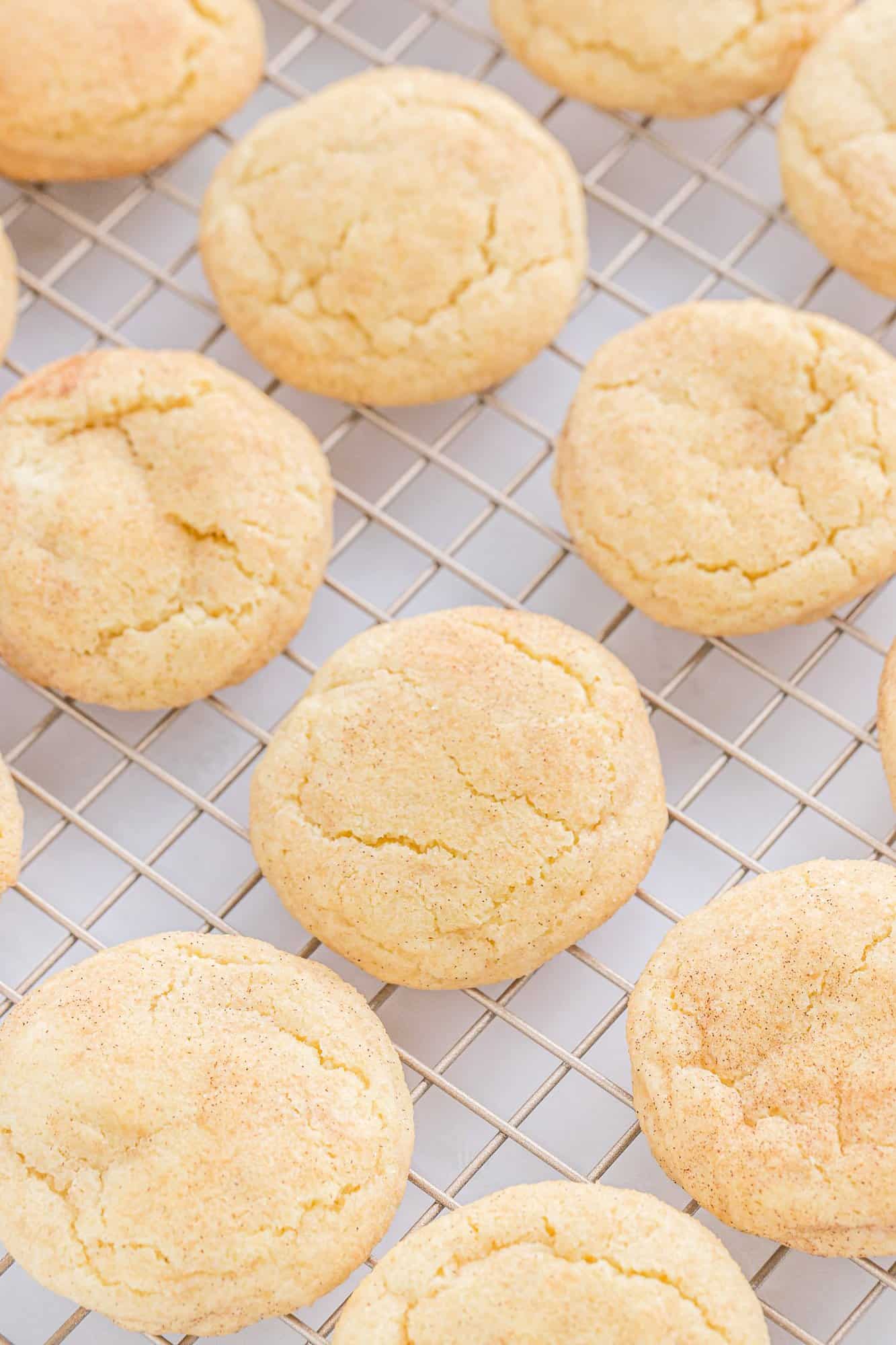 FAQs
Why are they called snickerdoodles?
"Snickerdoodle" is a rather unique word, isn't it? Is it a small laugh or a silly drawing? Or a drawing of someone laughing? According to The Joy of Cooking (and Wikipedia), the name is German in origin but the Oxford English Dictionary believes the word's origin is uncertain and more or less just a fun word someone made up.
What's the difference between a sugar cookie and a snickerdoodle?
One simple ingredient sets a snickerdoodle apart from a regular sugar cookie: cream of tartar. Cream of tartar isn't creamy as you might guess. It's a white powder that is an acidic byproduct of wine fermentation (tartaric acid).
Why do you need to put cream of tartar in these cookies?
Cream of tartar gives the cookies a slightly acidic flavor which is a trademark of the cookie. Moreover, cream of tartar gives the cookie a soft texture and is a leavening agent when teamed up with baking soda.
Can I use baking powder instead of cream of tartar?
Yes, you can make these cookies without cream of tartar but keep in mind that the cookies will lose their iconic tart flavor. For this recipe, use 2 teaspoons of baking powder instead of the cream of tartar.
Why did my snickerdoodles get hard?
When cookies turn out too hard, the culprit is often dough that's been overmixed. Once you add the dry ingredients, stir just until the flour mixture is incorporated into the butter/sugar mixture. Don't be tempted to keep stirring.
Use the correct type of flour. Most cookies call for all-purpose flour; if you happen to substitute bread flour, your cookies may be too hard.
How To Measure Flour Correctly
Often home bakers make the mistake of inadvertently adding too much flour, resulting in hard dry cookies. Measure the flour accurately. Don't scoop the flour with your measuring cup. Spoon it lightly into a dry measuring cup (not one with a pouring spout that is used for measuring liquids) and level the flour off with a knife. Tapping or shaking the measuring cup to level the flour causes the flour to settle and you'll end up with more flour than you need.
Make It Your Own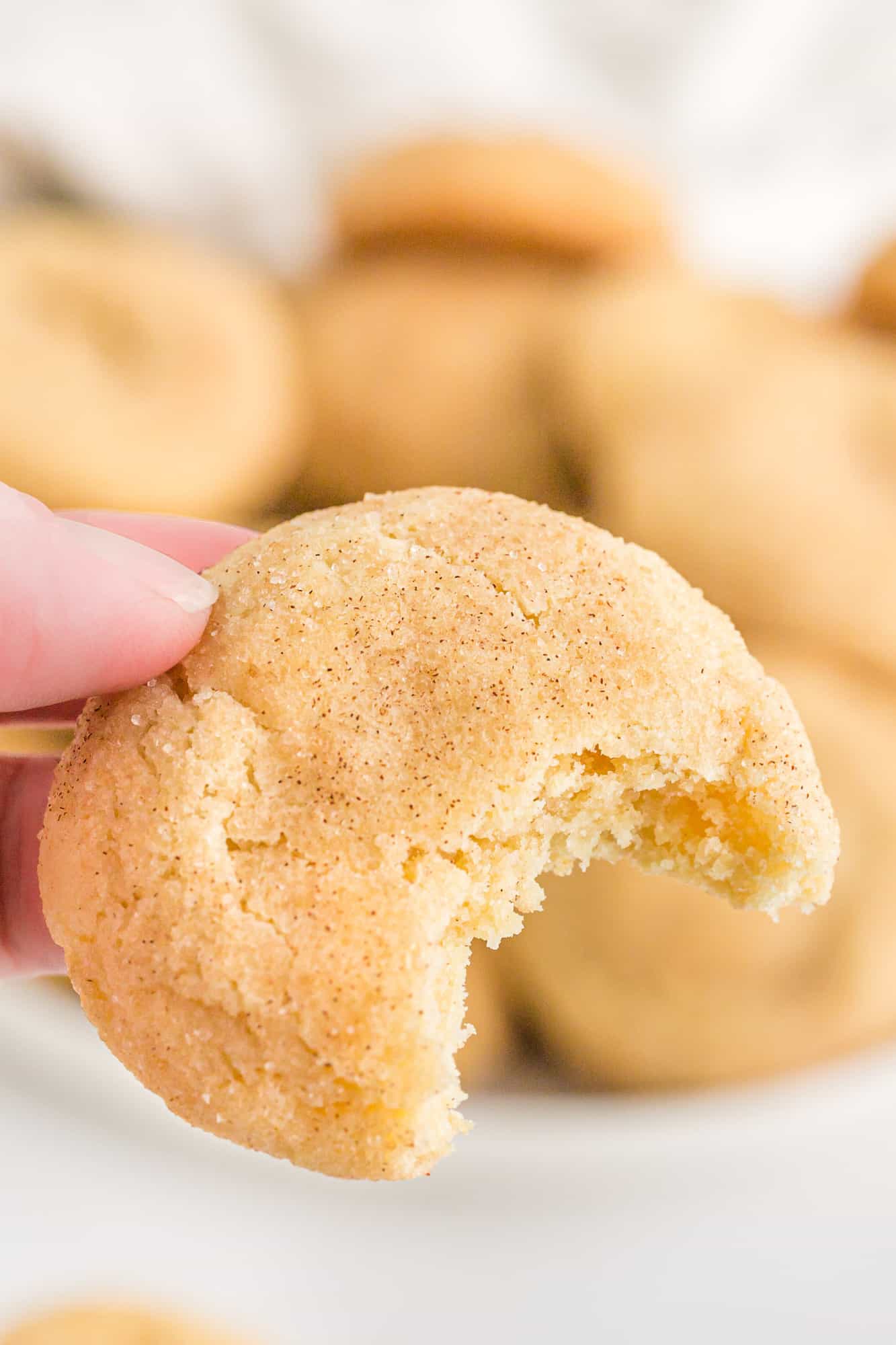 Storage Tips
Cool First: Cool baked cookies completely before storing. Any residual heat will turn to steam once you put the cookies in an airtight container, and steam will make the cookies soggy or even moldy eventually.
Storing Baked Cookies: Baked cookies will keep in an airtight container at room temperature for at least a week or in the refrigerator for a couple of weeks. Snickerdoodles freeze well, too. They can be frozen for two to three months.
Storing Unbaked Dough: The dough can be refrigerated for two to four days, wrapped securely, or it can be frozen for up to two months. Thaw it overnight in the refrigerator before baking.
Freezing Unbaked Dough: You can also freeze individual dough balls. Wait to roll the balls in the cinnamon sugar mixture until you're ready to bake them. Freeze the balls individually on a tray or baking sheet for an hour or so, then pop them into a freezer bag. You can take out as many as you need to bake them. There's no need to thaw the dough balls but add a minute or two to the baking time.
More Cinnamon Love
Be sure to check out:
Did you make this? Be sure to leave a review below and tag me @rachelcooksblog on Facebook, Instagram, or Pinterest!
This is the best snickerdoodle recipe – these cinnamon sugar cookies are deliciously soft and chewy with the perfect crisp edge.
Ingredients
1

cup

unsalted butter, softened

1 ½

cups

granulated sugar

2

large eggs

2

teaspoons

pure vanilla extract

2 ¾

cups

all-purpose flour

1 ½

teaspoons

cream of tartar

1

teaspoon

baking soda

¼

teaspoon

salt
For rolling:
3

tablespoons

granulated sugar

1

tablespoon

cinnamon
Instructions
Preheat oven to 400ºF. If desired, line a cookie sheet with parchment paper for easy clean-up.

In a large mixing bowl or the bowl of a stand mixer, combine butter and sugar and use an electric or a stand mixer to beat for 2-3 minutes or until fluffy.

Add eggs and vanilla; beat until combined.

On top of the wet ingredients, add flour, cream of tartar, baking soda, and salt. Gently mix those together before mixing into the wet ingredients. Mix until combined, do not overmix. (See note regarding chilling dough.)

In a small bowl or plate, combine

3 tablespoons

granulated sugar and

1 tablespoon

cinnamon.

Use a 1 ½ tablespoon scoop to scoop out dough and roll into balls. Roll in cinnamon sugar mixture and place on cookie sheet. Place cookies about 2 inches apart on cookie sheet.

Bake for 10 minutes or until set. Be careful not to overbake. Let cool for 1-2 minutes on cookie sheet before removing to a cooling rack to cool completely.
Notes
Store baked cookies in an airtight container on the counter for up to a week, in the refrigerator for a couple of weeks, or in the freezer for 2-3 months.

To Chill or Not To Chill: I tested this recipe both ways. I found that chilled dough had a slightly increased bake time but did not change the appearance, taste, or texture of the cookies. If you prefer to use chilled dough, go for it, but I didn't find it necessary for this recipe.
I like to add

¼ – ½ teaspoon freshly grated nutmeg to the dough. It's not a classic snickerdoodle flavor but people seem to love it. It will give your cookies an edge over the ordinary.
Nutrition Information
Serving:
1
cookie
,
Calories:
121
kcal
,
Carbohydrates:
17
g
,
Protein:
1
g
,
Fat:
5
g
,
Saturated Fat:
3
g
,
Polyunsaturated Fat:
1
g
,
Monounsaturated Fat:
1
g
,
Trans Fat:
1
g
,
Cholesterol:
23
mg
,
Sodium:
51
mg
,
Potassium:
37
mg
,
Fiber:
1
g
,
Sugar:
9
g
,
Vitamin A:
171
IU
,
Vitamin C:
1
mg
,
Calcium:
7
mg
,
Iron:
1
mg
This website provides approximate nutrition information for convenience and as a courtesy only. Nutrition data is gathered primarily from the USDA Food Composition Database, whenever available, or otherwise other online calculators.