Easy pumpkin dip (2 versions!) is always a hit at parties! It's super easy to make and tastes like the best pumpkin pie.
Recipe Overview
Why you'll love it: It's creamy, sweet, and delicious. It's a great snack or lunchbox treat, too.
How long it takes: 10 minutes but allow an hour chilling time
Equipment you'll need: electric mixer, mixing bowl
Servings: makes 3 cups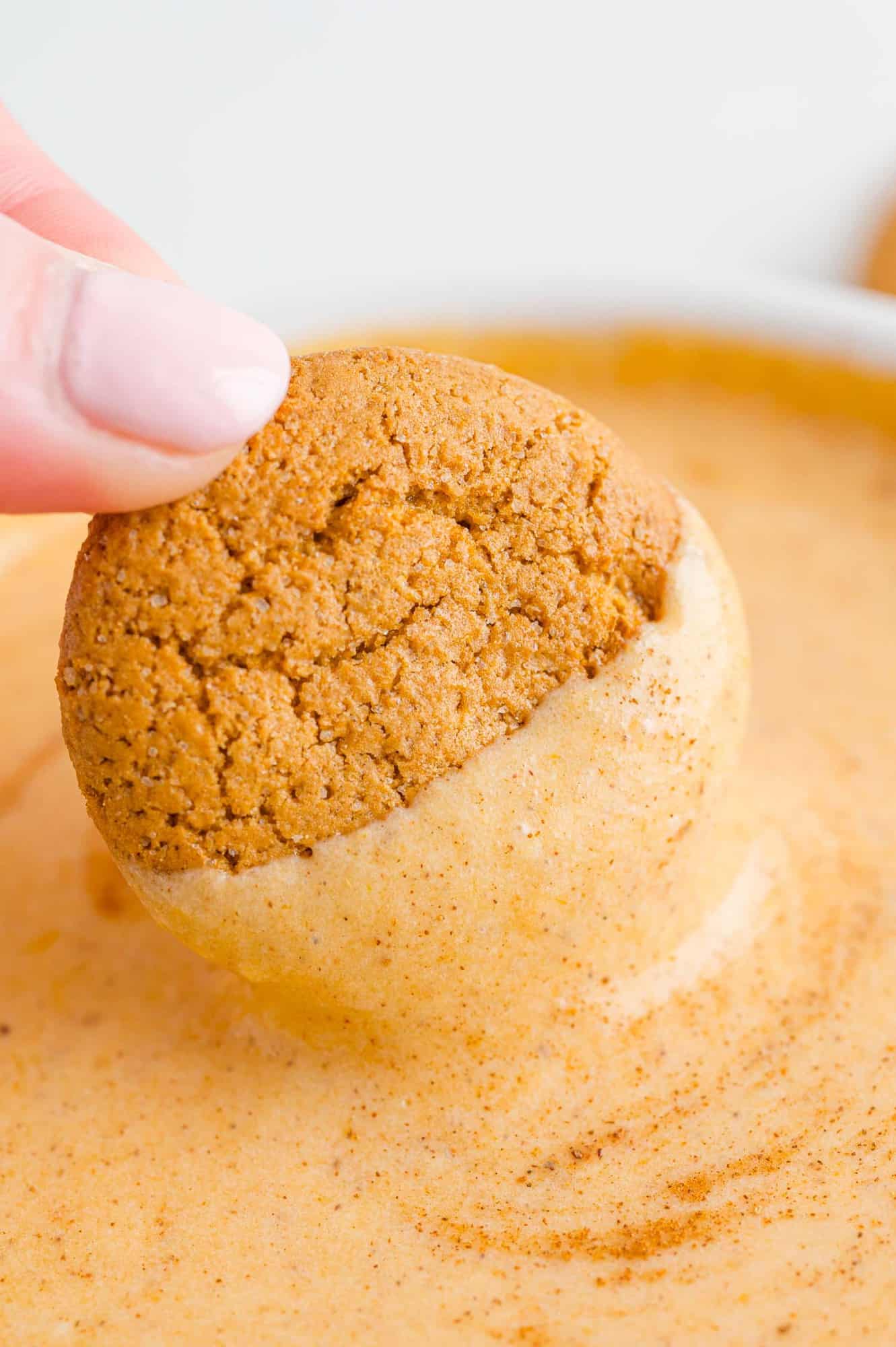 This is gooooood stuff. I promised you something delicious that you could make with your homemade pumpkin pie spice, and here it is!
I usually make two versions of this pumpkin pie dip and I've given them the monikers "naughty" and "nice". Or you could call them amazing and amazing. I can't even choose a favorite; I really like both.
The nice one? A creamy sweet concoction with cream cheese, Greek yogurt, pumpkin pureé, that tastes like the best pumpkin pie. My kids are crazy about it. Divide it in half and ….
The naughty one? For adults only. Stir in a couple tablespoons of dark rum. Dark rum makes everything better: popcorn, caramel, and pumpkin doughnuts. The rum really enhances the flavor of the dip.
Which dip is better? It's hard to choose. If you're not a fan of rum, you'll still love the nice pumpkin pie dip. In fact, I think I might prefer that version. I really can't decide. I better go give them another taste …
Yup. Both amazing. Can't decide.
About This Recipe
Pumpkin pie dip is a great autumn recipe. It's a sneak preview of the upcoming holiday when pumpkin pie is the star. Having a Halloween party? Jack o'lanterns aren't the only way to enjoy pumpkins!
The dip is really very easy to make and keeps well in the fridge for up to five days. It's good for snacks or lunchbox treats, too. While it has a fair amount of sugar, it's still a pretty healthy snack, with only 56 calories per serving (2 tablespoons).
Did you know that pumpkin is packed with betacarotene, an important antioxidant? It has lots of minerals and fiber, too and is low calorie (Healthline). Enjoy it as a dip for apples and you have double the health benefits.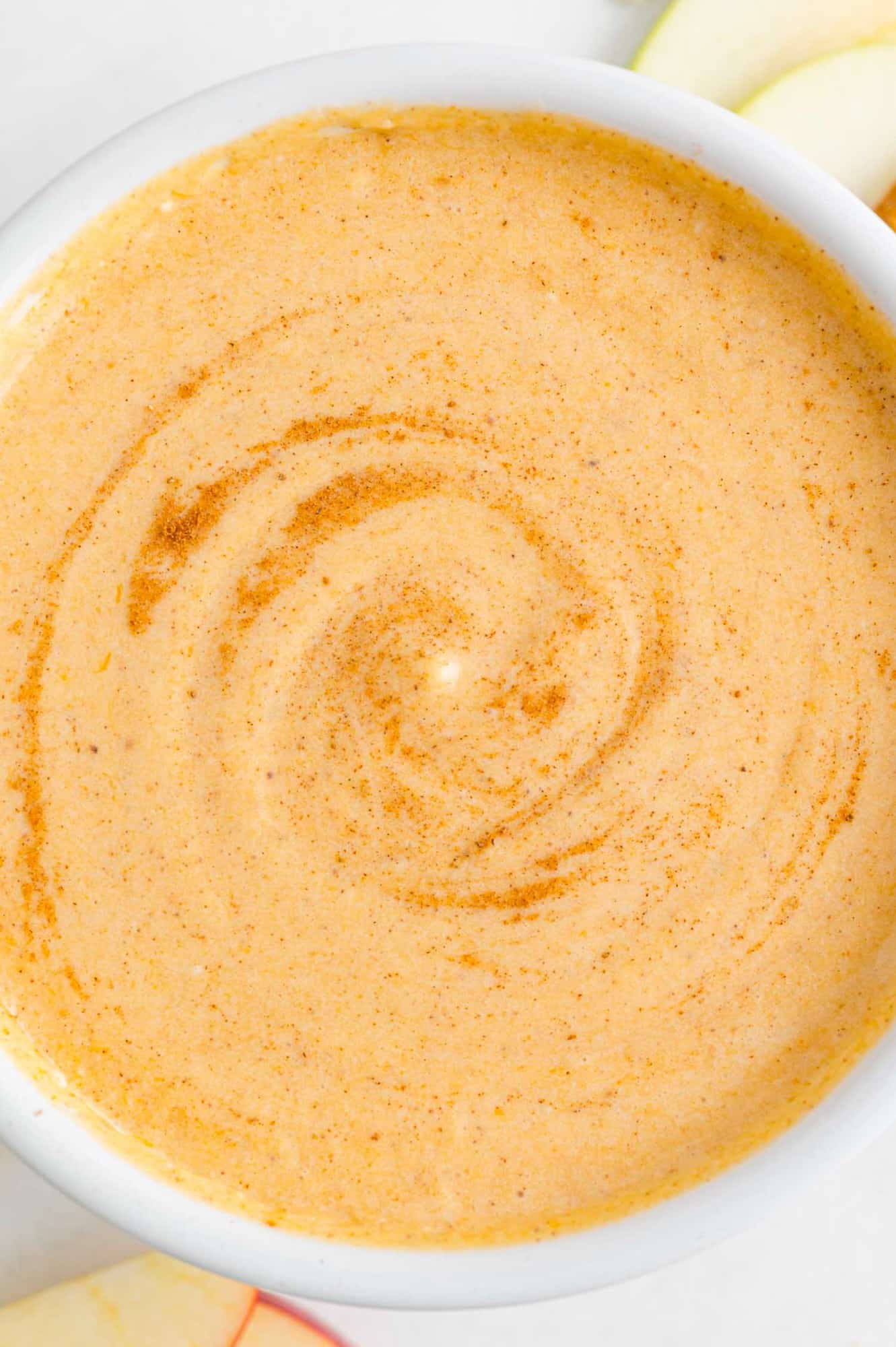 Anxious to get started on your dip? I'll run through the recipe here and give you some helpful tips. As always, look for the recipe card near the end of the post for complete instructions, measurements, and nutrition information.
What You'll Need
Pumpkin Purée: Canned pumpkin is convenient, inexpensive, and so versatile. I always have a can of pumpkin in my pantry ready to use for dips, desserts, muffins, breads, and soups. Take a look at the FAQ section for more about pumpkin purée.
Cream Cheese: Both regular or reduced-fat cream cheese will work fine. You'll need an 8 ounce package. Avoid fat-free cream cheese which has additives. Cream cheese spreads (whipped cream cheese) is too soft and won't work in this dip either.
Greek Yogurt: Choose plain unflavored (unsweetened) Greek yogurt. It doesn't matter which type you use: full fat, 2%, or nonfat. Greek yogurt is creamy and adds a nice tartness to the dip to counterbalance the sweetness. Greek yogurt adds protein and calcium to the dip, too.
Powdered Sugar (Confectioner's Sugar): Use a spoon to scoop the powdered sugar into the measuring cup. Much like flour, it tends to compact and if you use your measuring cup to scoop, you may end up with an overly sweet or overly thick dip.
Pumpkin Pie Spice: A blend of spices, pumpkin pie spice is what makes pumpkin taste like pie. I like to make my own blend but it's readily available on grocery store shelves, too.
Pure Vanilla Extract: Warm vanilla flavor rounds out the spices. Vanilla bean paste is a good substitute and you'll really love the dark flecks of vanilla bean.
Dark Rum: This is totally optional! It's a nice addition if you're having a harvest party for your adult friends. Be sure to label the dips clearly if both children and adults are present.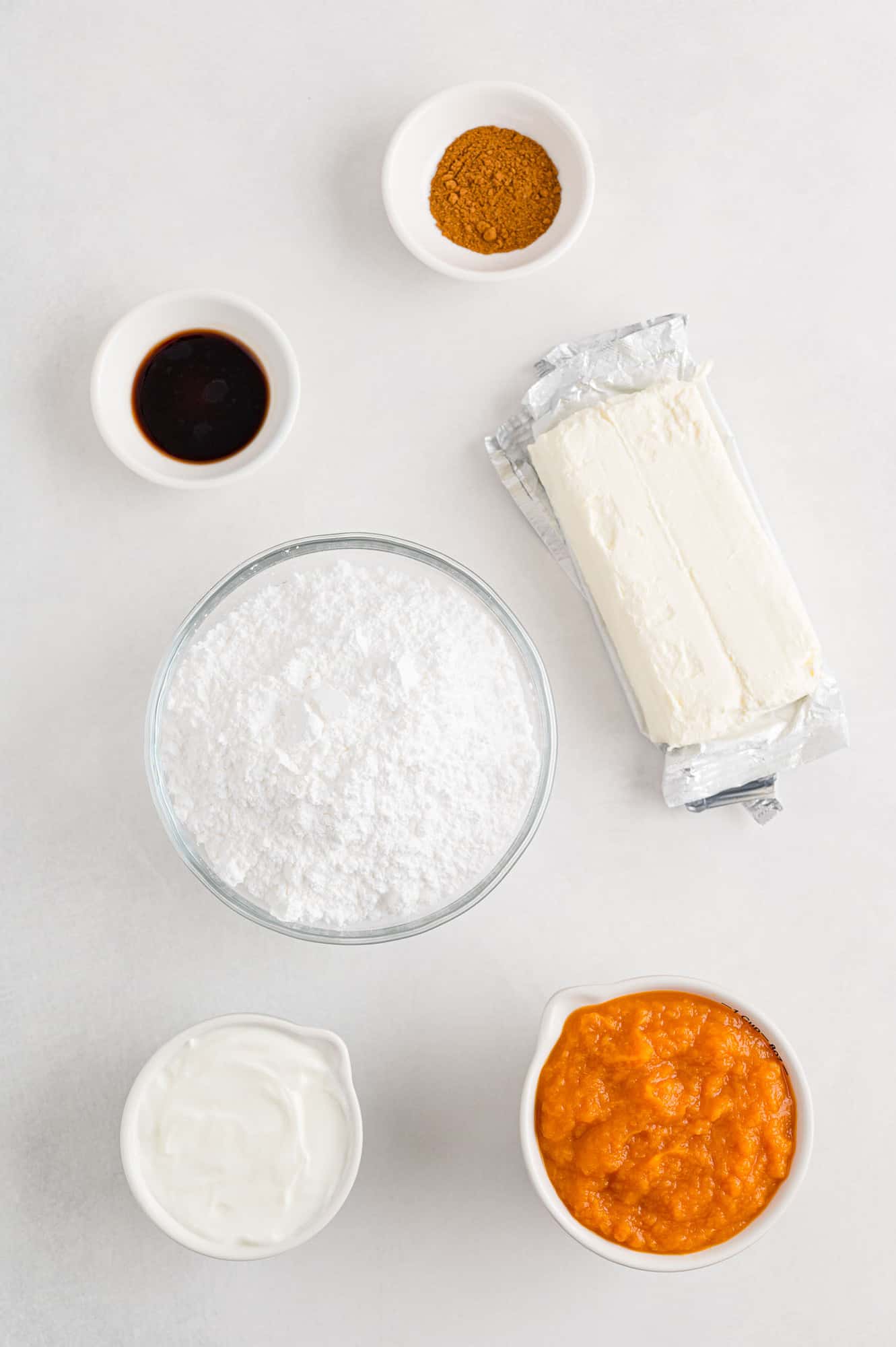 How To Make This Recipe
Make sure your cream cheese is softened before you begin. If you forgot to take it out of the fridge ahead of time, open the package and cut the block into small portions and spread them out a bit on a plate. It will soften quite quickly.
You'll need an electric mixer and a large mixing bowl. Add all of the ingredients, except the powdered sugar, to the bowl.
Blend until the mixture is smooth and creamy, with no lumps of cream cheese.
Next, add the powdered sugar, one cup at a time. Blend after each addition, scraping the sides of bowl with a rubber scraper. The dip should be very smooth.
If you're making both versions, remove half the dip and put it into a serving dish. Add the rum to the remaining dip and blend it in thoroughly. Put it into a separate serving dish.
Cover and refrigerate the dip for at least one hour. It thickens slightly when it's chilled.
Serve it with your choice of dippers. This irresistible sweet dip is perfect for a Halloween party or harvest party and has plenty of pumpkin flavor. Kids and adults love it!
P.S. Not crazy about pumpkin? We also love this easy apple dip (cream cheese & peanut butter).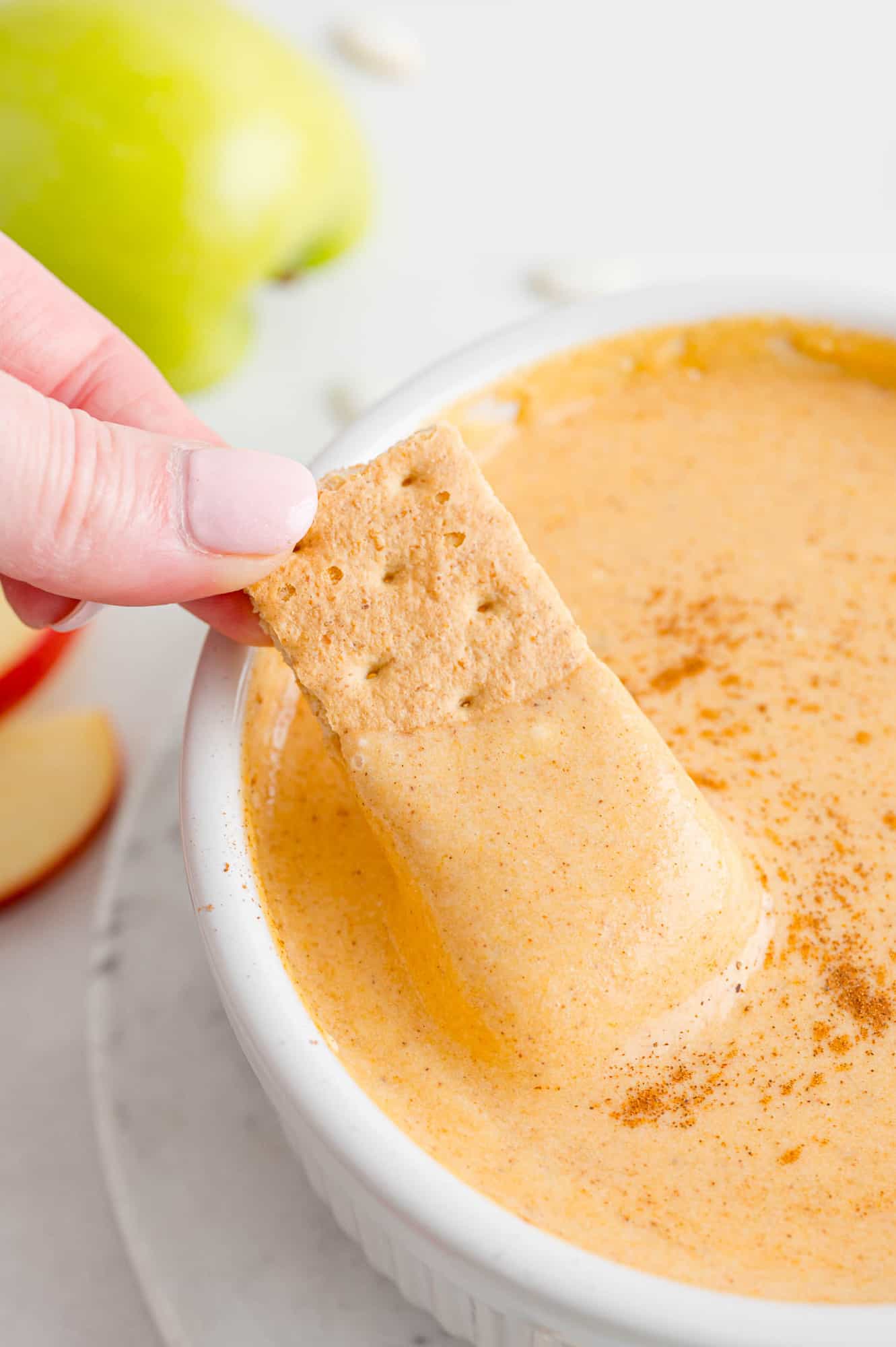 FAQs
What is the difference between pumpkin purée and pumpkin pie filling?
Great question! Often you'll find both of these canned products side by side at the grocery store and it can be quite confusing because they look very similar. They are really quite different, though, so be sure you grab the correct one.
Pumpkin purée is 100% pumpkin (or in some cases, squash) that has been cooked and processed until it's smooth and ready to add to dips, pies, breads, or muffins.
In contrast, pumpkin pie filling contains pumpkin purée, along with lots of sugar and spices. It's a shortcut to pumpkin pie.
Always use what your recipe calls for. If you used pumpkin pie filling instead of pumpkin purée for this dip recipe, it wouldn't turn out. It would be very, very sweet and overly spiced.
What does pumpkin pie spice contain?
Pumpkin pie spice is a blend of warm spices. It magically turns plain pumpkin into pumpkin pie. A popular brand contains cinnamon, ginger, nutmeg, and allspice. It also has "sulfiting agents".
I always make my own blend with cinnamon, freshly grated nutmeg, ginger, allspice, and cloves (and no sulfiting agents!). I use it in a variety of recipes, from candied walnuts to pumpkin soup. You'll definitely want to learn how to make your own pumpkin pie spice.
What Would You Dip in Pumpkin Dip?
Hmm, maybe the question should be what wouldn't you dip in pumpkin dip?! My favorites are graham crackers and apple slices.
sliced apples
graham crackers or graham cracker sticks (cinnamon graham crackers are especially good!)
animal crackers
Nilla wafers
gingersnap cookies (make your own!)
pretzels (yum, sweet and salty!)
fingers
large spoons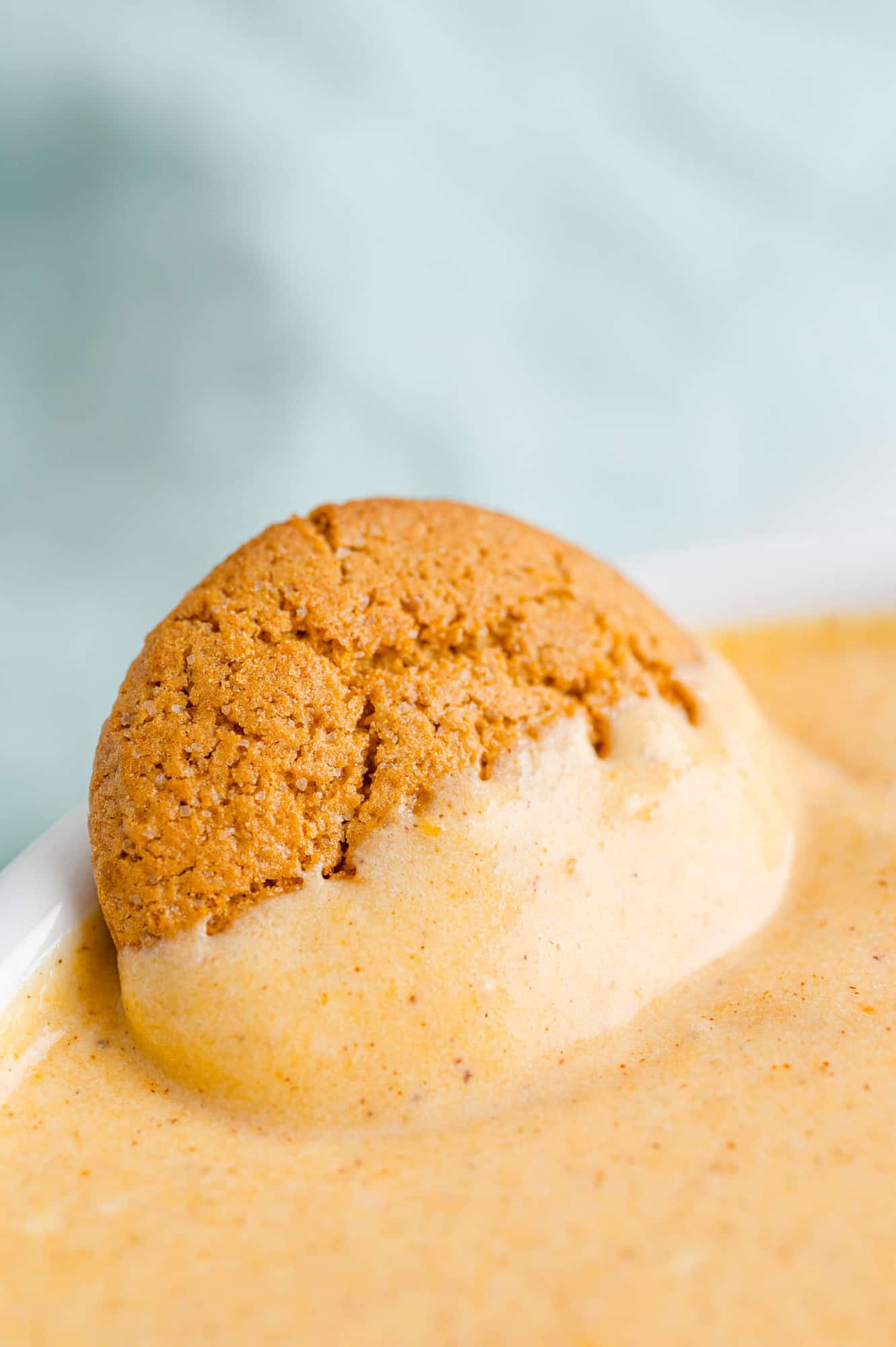 Storage Tips
Pumpkin dip will keep in the refrigerator for up to five days. Keep in mind that if the dip has sat out on the counter for several hours at a party, you should probably discard any leftovers.
More Pumpkin Recipes
If you're looking for more pumpkin recipes now that you have that can of pumpkin opened, I have some good ideas:
Did you make this? Be sure to leave a review below and tag me @rachelcooksblog on Facebook, Instagram, or Pinterest!
Easy pumpkin dip (2 versions!) is always a hit at parties! It's super easy to make and tastes like the best pumpkin pie.
Ingredients
8

ounces

cream cheese, softened

(see note)

1

cup

pumpkin purée (canned)

½

cup

plain Greek yogurt

1

teaspoon

pumpkin pie spice

1

teaspoon

pure vanilla extract

2

cups

powdered sugar

(confectioner's sugar)

2

tablespoons

dark rum, optional

(for adults only)
Instructions
Using an electric mixer, blend together cream cheese, pumpkin, yogurt, pumpkin pie spice, vanilla until very smooth and cream cheese is completely blended in.

One cup at a time, add powdered sugar and blend until smooth, scraping down sides of the bowl with a rubber scraper.

If you're making both versions of the dip, remove half the dip and put it into a serving dish. Blend the rum into the remaining dip and put it into a separate serving dish.

Chill in a covered container for at least one hour before serving. Dip will keep in the refrigerator for up to five days.

Serve with animal crackers, graham crackers, gingersnaps, pretzels, or sliced apples. Garnish with a sprinkling of pumpkin pie spice, if desired.
Notes
Reduced fat cream cheese can be substituted for full fat. Do not use fat free cream cheese or whipped cream cheese.

Dip with added rum is intended for adults only. If you're serving both, make sure they are properly labeled.
Makes 3 cups of dip.
Nutrition information is calculated for dip only without added rum or dippers.
Nutrition Information
Serving:
2
tablespoons
,
Calories:
56
kcal
,
Carbohydrates:
12
g
,
Protein:
2
g
,
Fat:
1
g
,
Saturated Fat:
1
g
,
Polyunsaturated Fat:
1
g
,
Monounsaturated Fat:
1
g
,
Trans Fat:
1
g
,
Cholesterol:
1
mg
,
Sodium:
69
mg
,
Potassium:
54
mg
,
Fiber:
1
g
,
Sugar:
11
g
,
Vitamin A:
1594
IU
,
Vitamin C:
1
mg
,
Calcium:
41
mg
,
Iron:
1
mg
This website provides approximate nutrition information for convenience and as a courtesy only. Nutrition data is gathered primarily from the USDA Food Composition Database, whenever available, or otherwise other online calculators.