Creamy Lemon Orzo with Greens (one pan)
Creamy lemon orzo is a delectable pasta dish, loaded with healthy kale and spinach, and delicately nuanced with lemon and Parmesan cheese.
Recipe Overview
Why you'll love it: This entire recipe is made in one pan, pasta and all.
How long it takes: 35 minutes
Equipment you'll need: large skillet
Servings: 4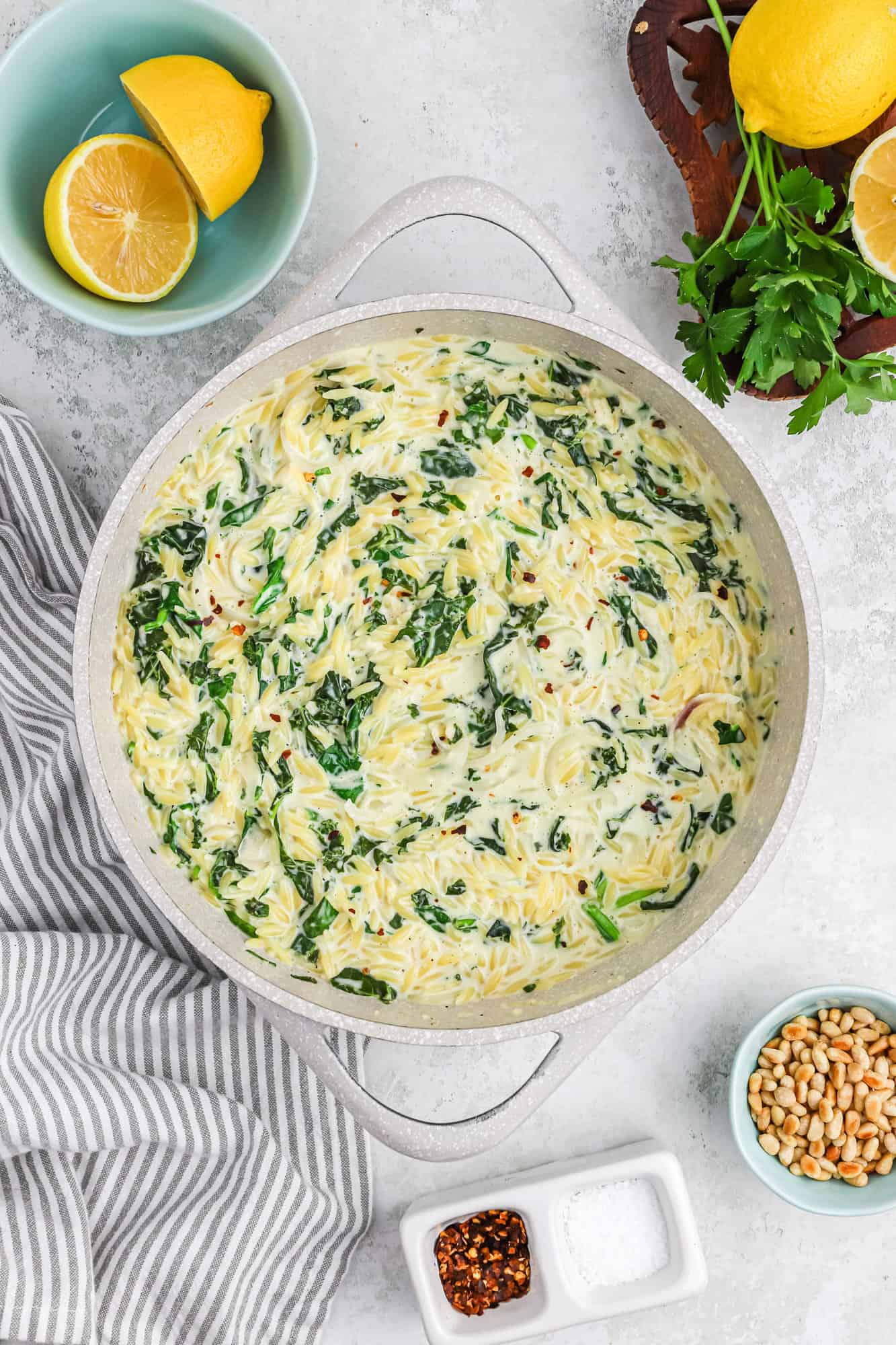 The first time I made this recipe, we could hardly wait to try it. It has everything going for it: tender greens cooked perfectly, creamy sauce with cheese, and those crunchy little pine nuts! Total yumminess.
And orzo! It's one of my favorite pastas. It cuddles up to the greens so nicely and travels on a fork so politely. It's really just a friendly little pasta. If you're not familiar with orzo, it's time to say hello! Orzo is my friend.
To set the scene, we were in the testing kitchen (well, my kitchen, to be more specific). The testers (yup, my mom and I) soon realized that this recipe was a sure-fire winner. In fact, we pretty much polished off the whole pan of creamy lemon orzo. We discovered that it's like potato chips, you can't eat just one (spoonful, that is).
This recipe combines pasta with healthy greens. It goes really well with simply prepared chicken, fish, pork, or beef. Add a citrus fruit salad dressed with honey, lime and mint, and you're good to go. You could also serve it as a meatless main.
About This Recipe
Creamy lemon orzo may remind you a bit of creamed spinach, only it's better and a little more substantial. Kale has more body than spinach; orzo adds a nice chewy texture and contrasts well with the greens; and the flavor is more nuanced with the addition of lemon, garlic, and red pepper flakes.
So get your greens on with creamy lemon orzo with kale and spinach. Isn't St. Patrick's Day coming up? This would be a great recipe to serve on the holiday of green. It may remind you that spring is just around the corner. (If you're looking for a salad instead of a hot dish, try spring orzo salad with arugula and asparagus.)
I almost forget to mention that this is a one pan recipe. You have to love that!
And kale is so, so good for you, too. It's a superfood with all sorts of goodies in there that keep your body healthy. Healthline makes the rather sweeping statement that kale is one of the most nutritious foods on the planet. Wow!
Makes you want to eat more kale, right? Here are a few of my favorites: slow cooker chicken kale soup (with an impressive 6 cups of kale, along with lots of other veggies), kale and pear salad with yogurt dressing, and gnocchi with kale & sun-dried tomatoes (another one pan recipe). I actually have lots more recipes with kale.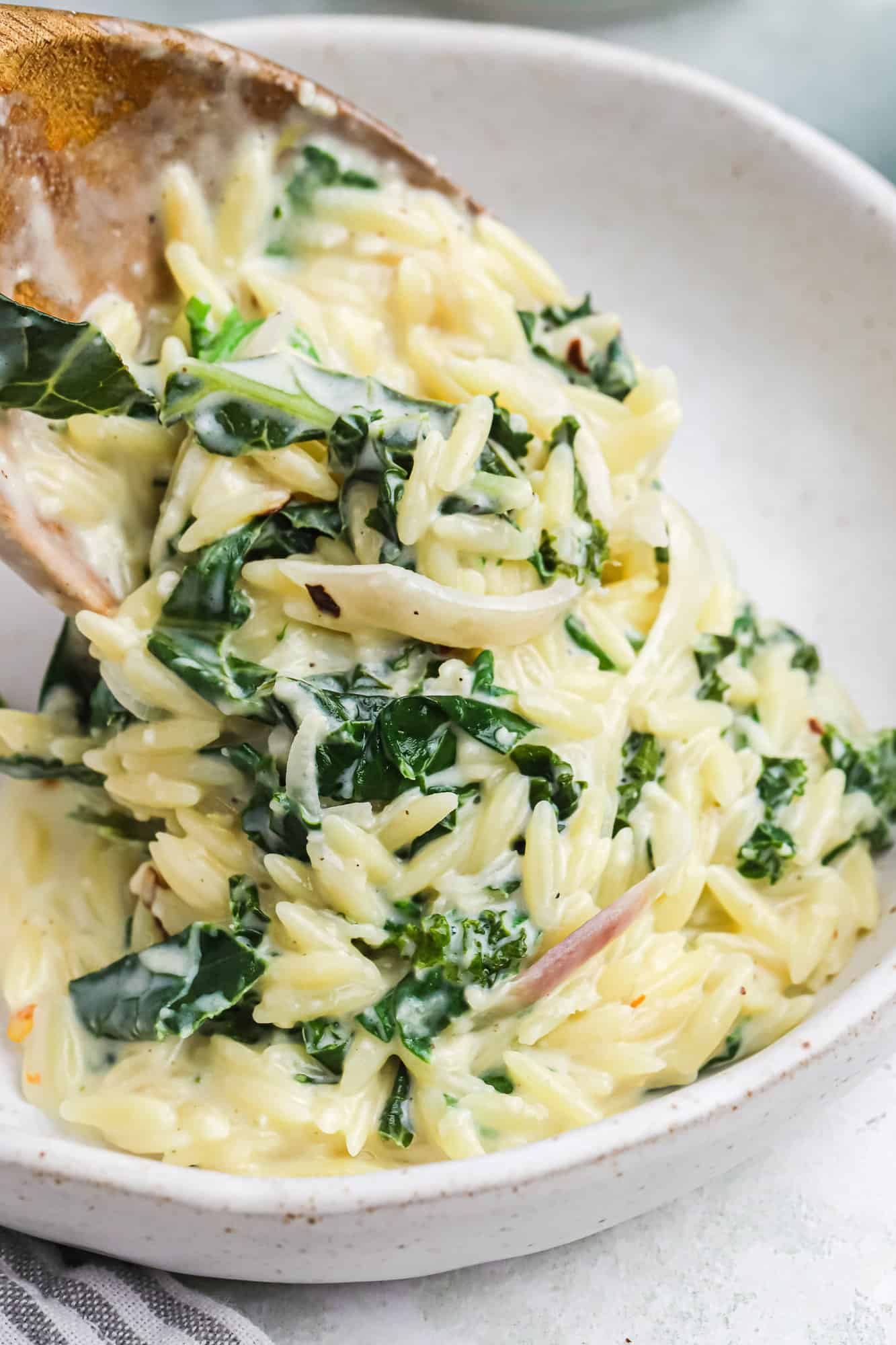 Kale 101
You may be confused by all the different types of kale. Very generally, there are two main types: curly and flat. Curly kale has large ruffly leaves with a tough center spine.
Tuscan kale falls into the flat category. The leaves are rather long and narrow with a pebbly texture. It tends to be less bitter and more tender.
Other names for Tuscan kale: dinosaur kale, lacinato kale, Italian kale, palm tree kale, or flat back kale.
For more about kale, refer to this article in Wikipedia.
I'll talk you through the recipe and give you some extra tips. For specific measurements, and so on, refer to the recipe card below.
What You'll Need
Tuscan Kale: Refer to the note above if you are confused about which type of kale to purchase. You'll need 3 to 4 ounces, which is one good-sized bunch. If you can't find Tuscan kale, you can use curly kale, just be sure to chop it into small pieces.
Baby Spinach: Kale isn't the only green in this recipe! Baby spinach leaves are very tender and are added near the end of the cooking time.
Orzo: Although orzo may look like rice, it's actually a small-sized pasta. It cooks quickly. For more about orzo, check out the FAQ section below.
Olive Oil/Butter: A combination of these two fats gives your dish the best qualities of both: great flavor and higher smoke point.
Garlic and Shallots: These two aromatics are members of the allium family. Shallots are more finely textured than onions and are milder in taste.
Broth: Choose either chicken broth or vegetable broth for a vegetarian dish. Look for low or no sodium broth.
Heavy Cream: The rich creamy sauce balances any bitterness of the greens and tastes so darn good.
Parmesan Cheese: This dry aged cheese has a nutty salty flavor.
Lemon Zest/Lemon Juice: The bright acidic flavor balances the creaminess and adds a bit of delicate citrus sweetness, too.
Red Pepper Flakes: Add a pinch for a mild tingle in your tastebuds.
Toasted Pine Nuts: This is an optional garnish but the crunchy nuts add great texture and nutrition. For best flavor, be sure to toast the pine nuts.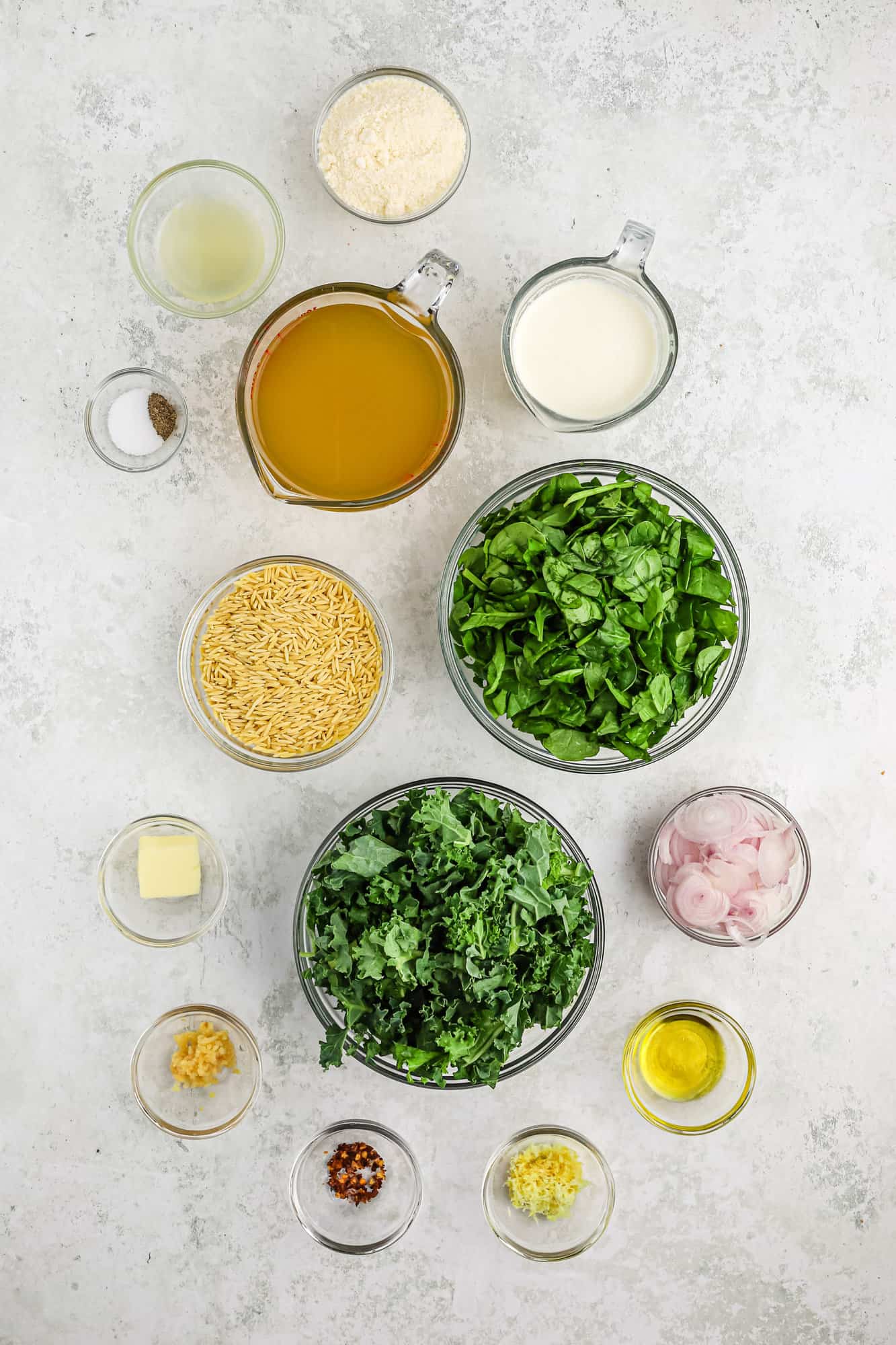 How To Make This Recipe
Assemble the ingredients. It's good practice to assemble everything you need before you start cooking. You'll find that you're more relaxed if you're prepared. You'll be able to enjoy the cooking process rather than scurrying around, rummaging in the refrigerator, or hurriedly chopping onions on your cutting board.
Prep the kale. So, before you get started, let's pay attention to the kale. Wash the leaves well in cold water, changing the water a couple of times if the kale is particularly sandy or dirty. Shake the excess water from the leaves.
Strip the leaves from the fibrous stems. Start at the bottom and run your hand along the stem, tearing the leaves off as you go. Another way to accomplish this is to fold the leave in half along one side of the stem and slice along the fold, removing the stem.
Once you have removed the tough stems, chop the kale into small pieces. Roll the leaves together, slice them into ¼ inch strips, then cut across the strips. This short YouTube video from A Couple Cooks demonstrates how to remove the stems and cut kale.
Prep the remaining ingredients. Peel and slice the shallot, mince the garlic, and measure out the broth and cream. Zest the lemon and juice it, in that order. It's so much easier to zest before juicing. Grate the cheese and roughly chop the spinach.
There! You're ready to get cooking!
Sauté. Heat the oil and butter in a large skillet over medium heat. Add the kale and shallot; stir well. Cook the kale for a few minutes or until it begins to soften and turn dark green, stirring constantly. It's such a pretty color, isn't it?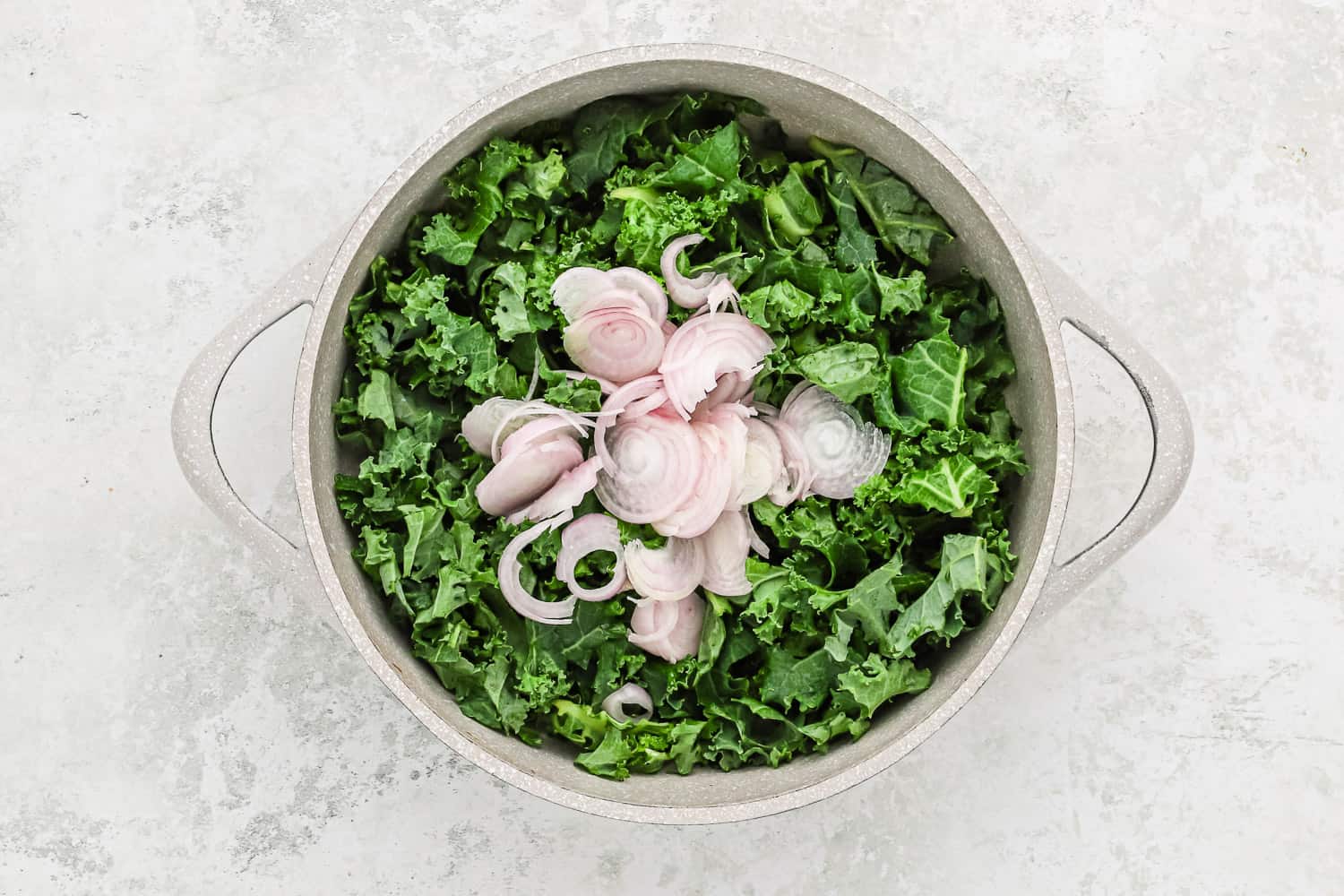 Add the garlic, salt, and pepper, and keep stirring for another minute. Doesn't that smell good?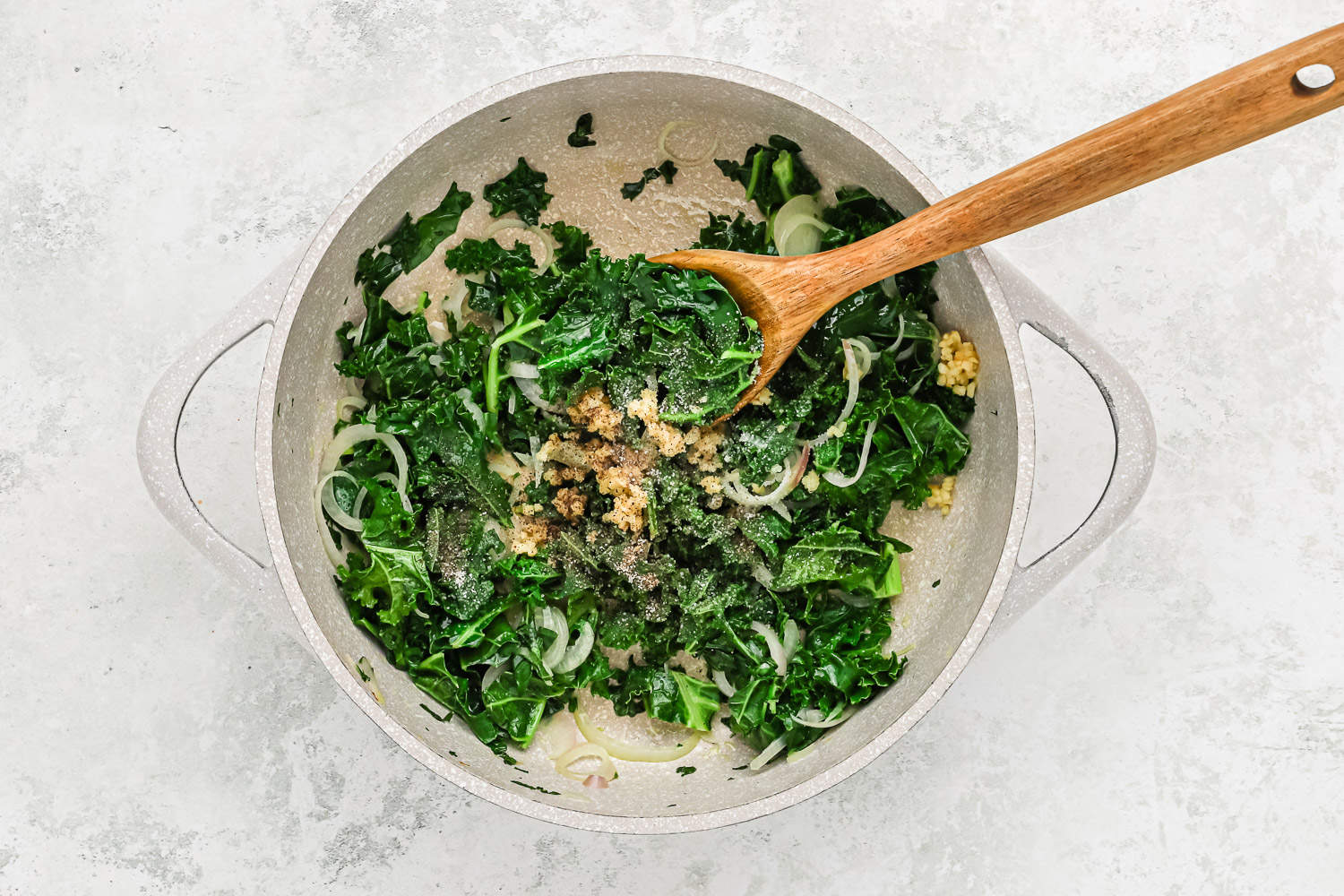 Pour in the broth, then the heavy cream. Stir well.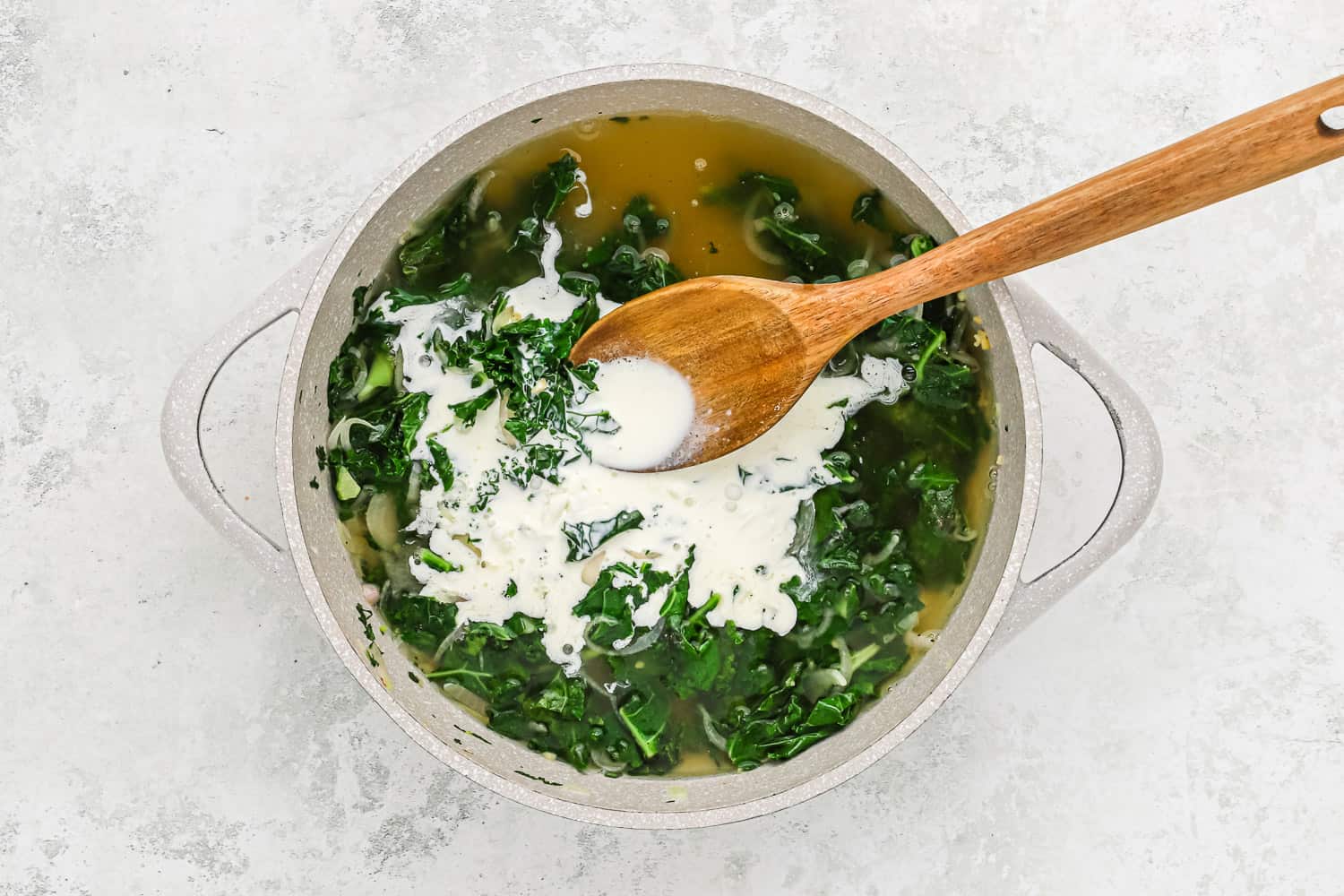 Add the orzo and reduce the heat.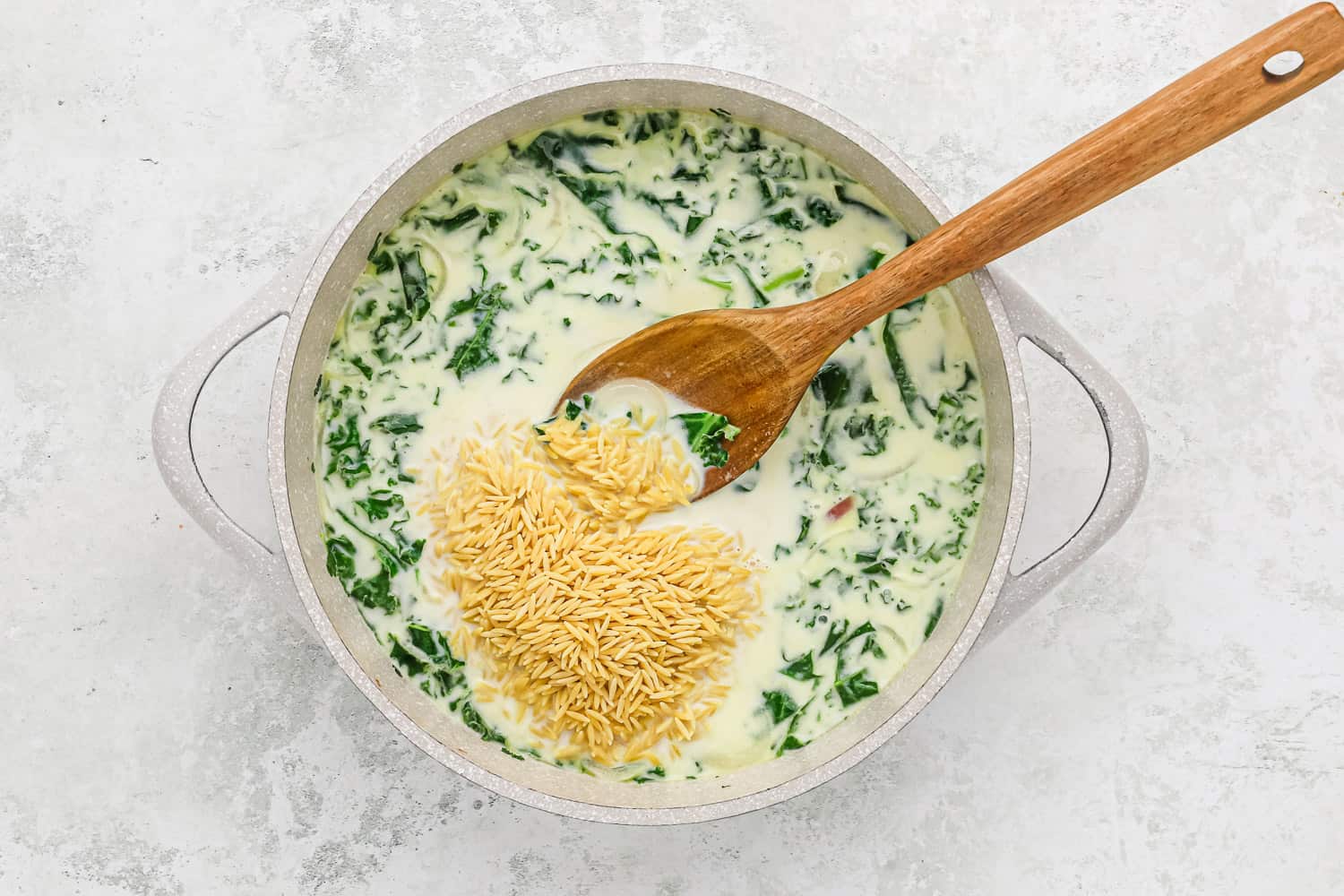 Simmer. Let the orzo simmer in the sauce until it's al dente, 9 or 10 minutes. Give it a stir occasionally to make sure that it cooks evenly and isn't sticking to the bottom. If it's sticking, lower the heat a bit.
Stir in spinach. Your creamy lemon orzo is almost ready. Stir in the spinach and turn the heat off.
The tender spinach leaves will wilt almost instantly once they hit the steaming hot sauce.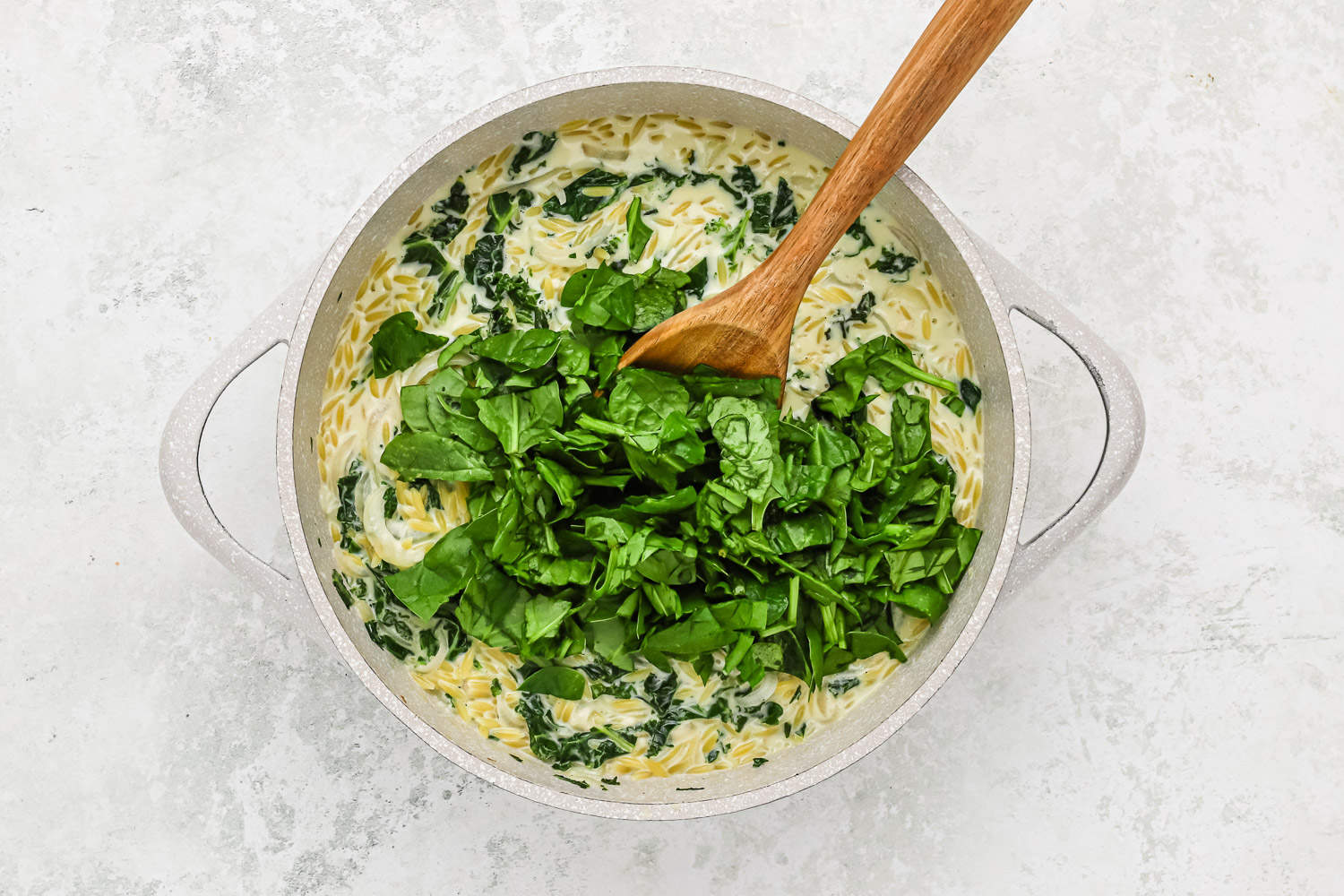 Add the Parmesan, lemon zest, lemon juice, and red pepper flakes; stir gently until everything is combined.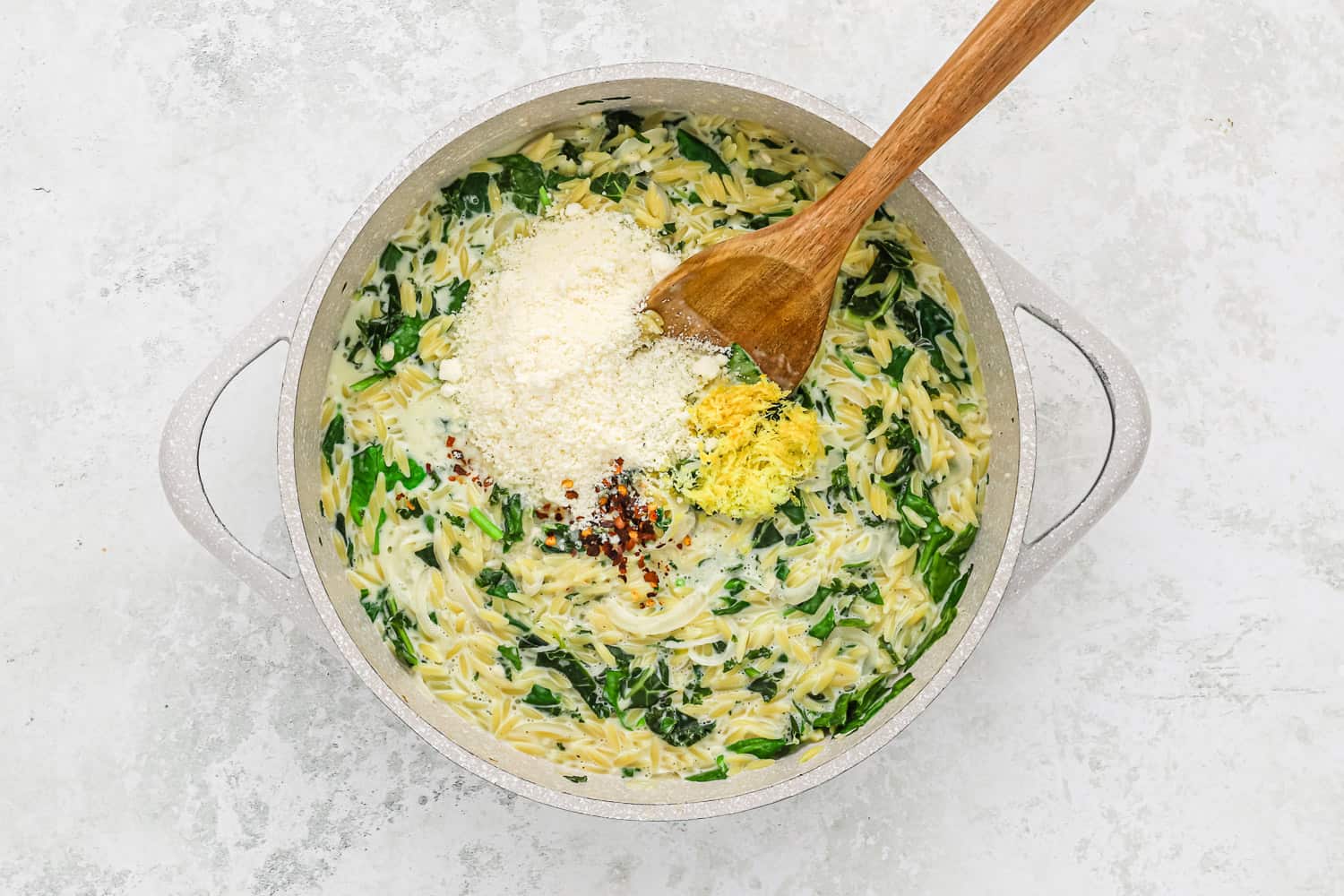 Dinner is ready to be served! Garnish the pasta with toasted pine nuts, if you like.
This creamy pasta with greens is a hearty side dish or it can be a meatless main dish. Serve it alongside easy baked lemon salmon with dill, grilled chicken, or air fryer pork chops.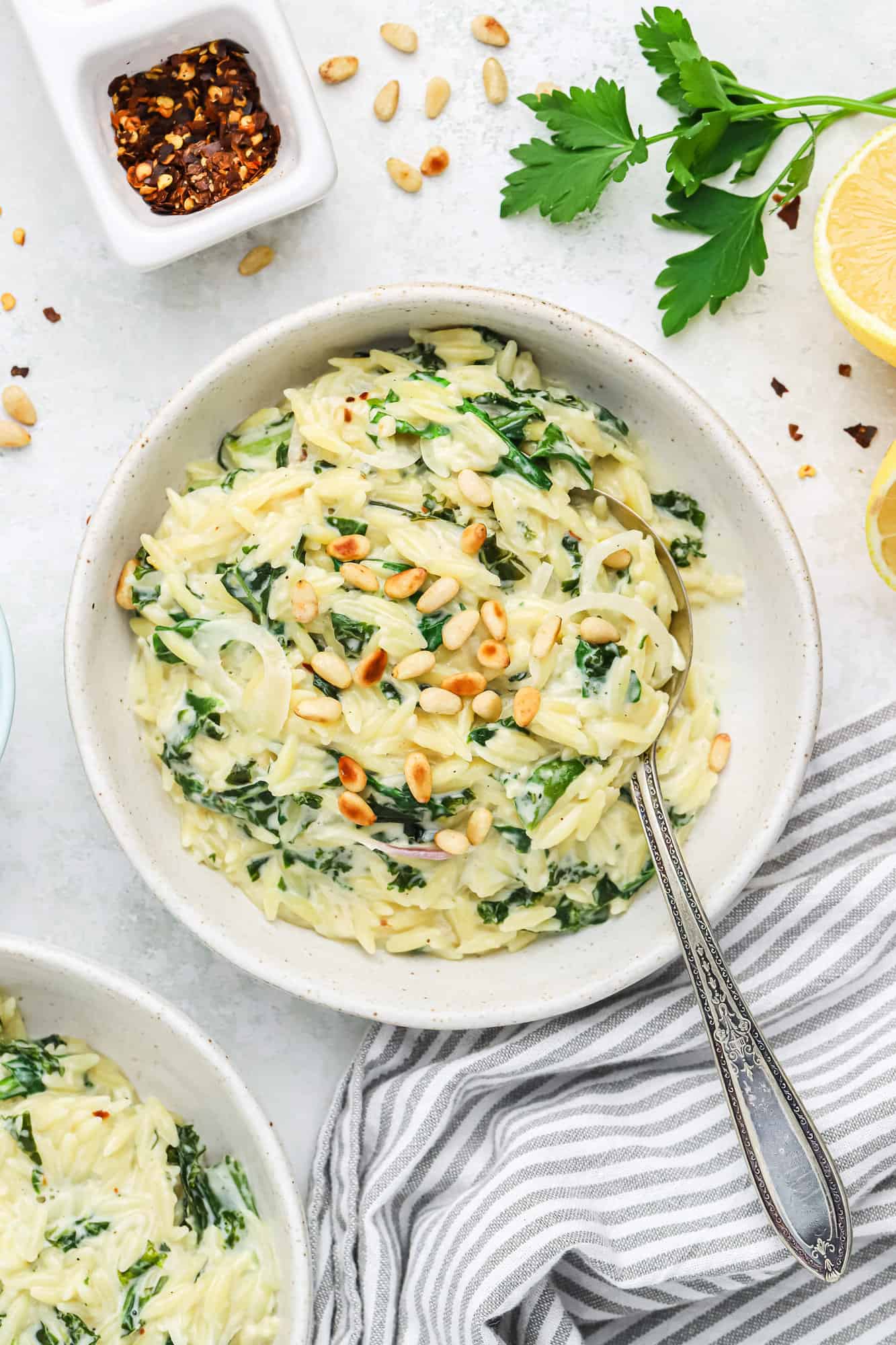 FAQs
Should you rinse orzo before cooking?
Because orzo is a pasta, it does not need to be rinsed before cooking. Confusion arises because of orzo's similar appearance to rice. Rice is usually rinsed before cooking to reduce starch and stickiness.
One exception: If you are adding cooked orzo to a salad, rinse it immediately after cooking to cool it down and to remove the starch.
How do you keep orzo from getting mushy?
The key thing to remember is to not overcook orzo. Because it is a very small pasta, it cooks quite quickly. Start checking it at seven minutes. It should be firm and chewy, but not crunchy.
Is orzo healthier than regular pasta?
Since orzo is a pasta, it has the same qualities. It's made with seminola flour which is ground from durum wheat. Whole wheat orzo is available and is more nutritious than regular white pasta.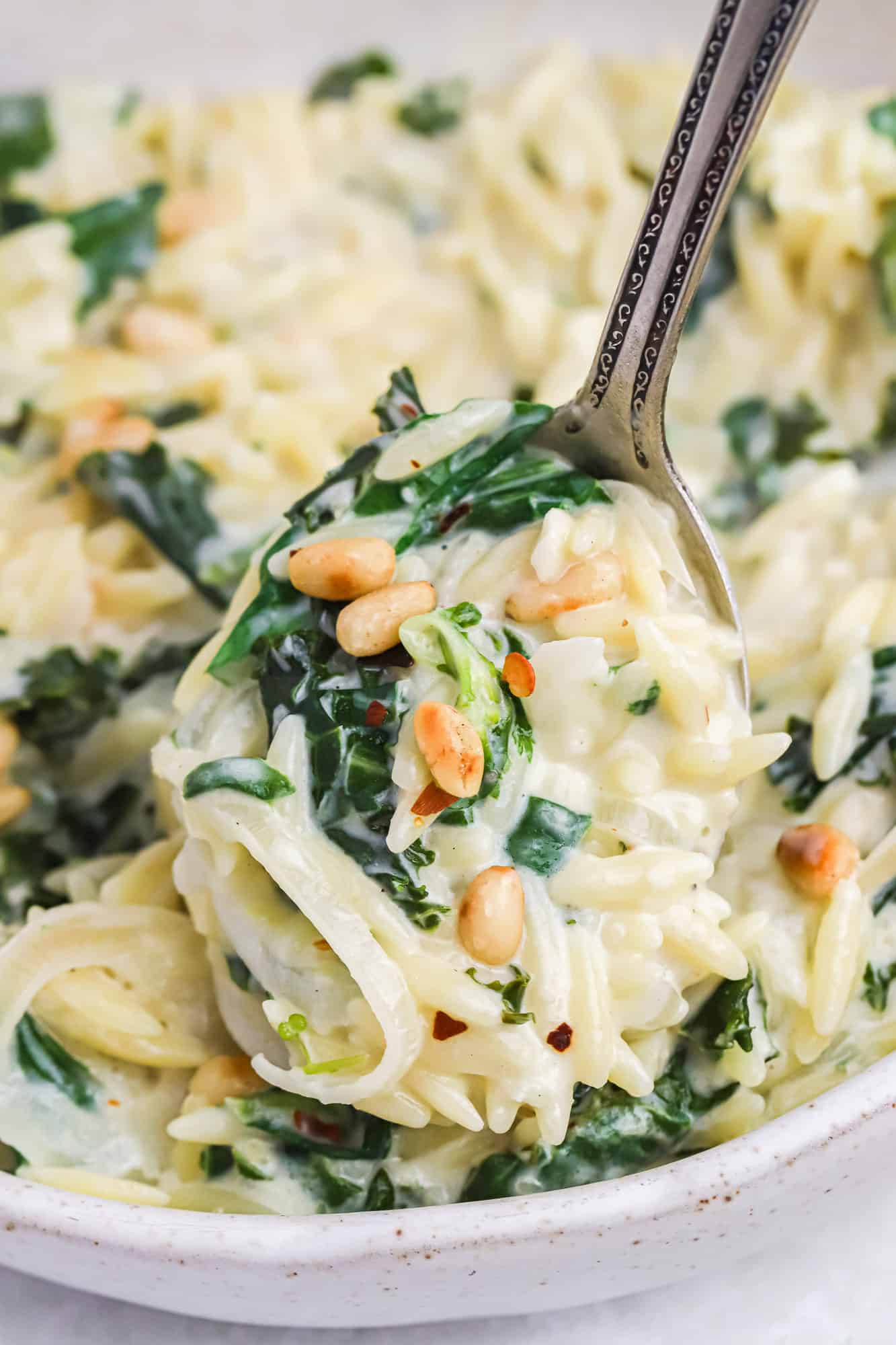 Make-Ahead Ideas
To get a head start on this recipe, you can prep the kale up to a couple days in advance. Store it in an airtight container in the refrigerator.
Storage & Reheating Tips
Creamy lemon orzo is best eaten immediately but leftovers can be refrigerated for up to 3 days. The orzo will continue to absorb liquid so you may need to add additional broth or cream when you reheat it. I don't recommend freezing it.
To reheat, microwave individual portions in 1 minute increments, stirring each time, until warm. Larger amounts can be reheated in a skillet. Use low heat and try not to overheat it because high heat may cause the sauce to separate or curdle.
Did you make this? Be sure to leave a review below and tag me @rachelcooksblog on Facebook, Instagram, or Pinterest!
Creamy lemon orzo is a delectable pasta dish, loaded with healthy kale and spinach, and delicately nuanced with lemon and Parmesan cheese.
Ingredients
1

tablespoon

olive oil

1

tablespoon

butter

2

cups

chopped Tuscan kale, washed and ribs removed

(

3

to

4 oz.

bunch)

2

large shallots, thinly sliced

3

cloves

garlic, minced

½

teaspoon

kosher salt

⅛

teaspoon

coarse black pepper

2

cups

chicken broth

(use lower sodium, if possible)

¾

cup

heavy cream

1

cup

orzo, uncooked

5

oz.

baby spinach, roughly chopped

¾

cup

grated Parmesan cheese

1

teaspoon

lemon zest

1

tablespoon

lemon juice

¼

teaspoon

red pepper flakes, more to taste

¼

cup

toasted pine nuts

(optional garnish)
Instructions
Heat olive oil and butter in large skillet over medium heat. Add kale and shallots and cook for 3 to 4 minutes, stirring constantly. Add garlic, salt and pepper, and cook for one minute, stirring, until fragrant.

Increase heat to medium high; add chicken broth and cream. Bring to a simmer. Stir in orzo, and reduce heat to medium low. Cook until orzo is tender, about 9 to 10 minutes, stirring occasionally.

Stir in spinach to wilt. Turn the heat off. Stir in cheese, lemon zest, lemon juice, and red pepper flakes.

Serve as a hearty side dish, garnished with toasted pine nuts, if desired.
Notes
Nutrition information does not include optional pine nuts.
Substitute vegetable broth for the chicken broth to make this recipe vegetarian.
Leftover pasta can be refrigerated for up to 3 days, although it's best eaten immediately. Reheat over low heat, adding cream or broth if it seems too thick.
Inspired by Food Network Magazine.
Nutrition Information
Serving:
1
cup
,
Calories:
470
kcal
,
Carbohydrates:
38
g
,
Protein:
16
g
,
Fat:
29
g
,
Saturated Fat:
16
g
,
Polyunsaturated Fat:
2
g
,
Monounsaturated Fat:
9
g
,
Trans Fat:
0.1
g
,
Cholesterol:
74
mg
,
Sodium:
729
mg
,
Potassium:
556
mg
,
Fiber:
3
g
,
Sugar:
4
g
,
Vitamin A:
5316
IU
,
Vitamin C:
24
mg
,
Calcium:
281
mg
,
Iron:
2
mg
This website provides approximate nutrition information for convenience and as a courtesy only. Nutrition data is gathered primarily from the USDA Food Composition Database, whenever available, or otherwise other online calculators.