Cucumber Ribbon Salad with Yogurt Herb Dressing
This cucumber ribbon salad is easy to make and is full of great flavor but without any fat thanks to a creamy yogurt herb dressing.
I just love cucumbers. They are so refreshing, so light, and yet so full of flavor. This salad is a great side dish if you're having a barbecue or anything grill related. I know, it's soooo not grilling season, at least not here in Michigan.
I got carry-out the other day for breakfast (our kitchen faucet isn't working at the moment so I've been avoiding cooking a bit). I went to a local place we go to all the time. Ben and I have been going there since before we had the kids – in fact, we went nearly every Saturday before we had the kids.
Now it's much more uncommon, but the staff there still knows us and loves the kids. I love places like that. I ran in to get the carry-out (because it's sooo much easier sometimes than sitting in a restaurant with the kids!) in just workout pants and a sweatshirt. The woman working the cash register scolded me for not wearing a coat!
Coat or not, we're not doing any grilling. We'd have to get all the snow off of the grill first. But this salad is a perfect compliment to any bbq. Whether you're grilling steak, cooking up some burgers on your grill pan in the the nice warm house, or doing some pulled pork in your slow cooker, this salad will fit right in. It gives that needed freshness and lightness to an otherwise heavy meal.
But I had this salad for lunch on it's own and it was perfect for that too. It's super refreshing thanks to the cucumbers and tons of fresh herbs. I used chives, parsley and dill, but you could use a combination of whatever you have. I love the dill with the cucumbers though – I'd highly recommend it. Other than the herbs, the dressing is very simple and easy – yogurt and salt and pepper are the only other ingredients you'll need.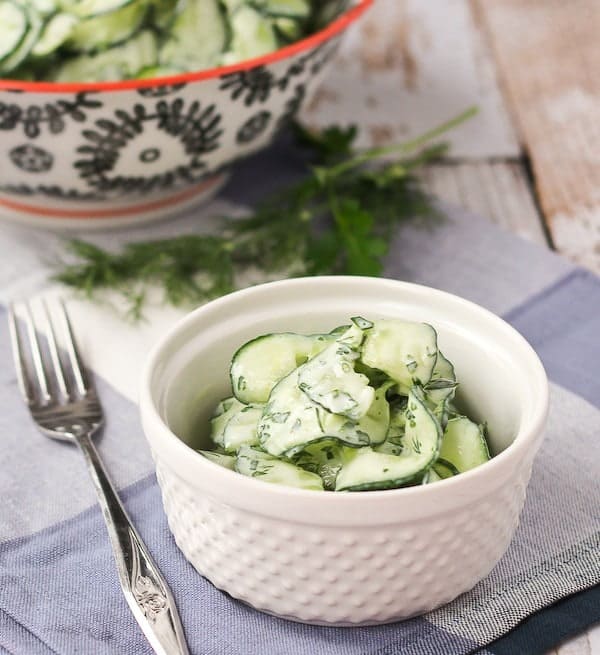 Getting back to the cucumbers, I used my spiralizer to cut them into pretty ribbons. If you haven't jumped on the spiralizer bandwagon yet, it's okay (although I'd argue you should — I love mine!). You can just cut these into thin slices or half moons. The thinner the better.
Hope you love this easy, light, and refreshing salad.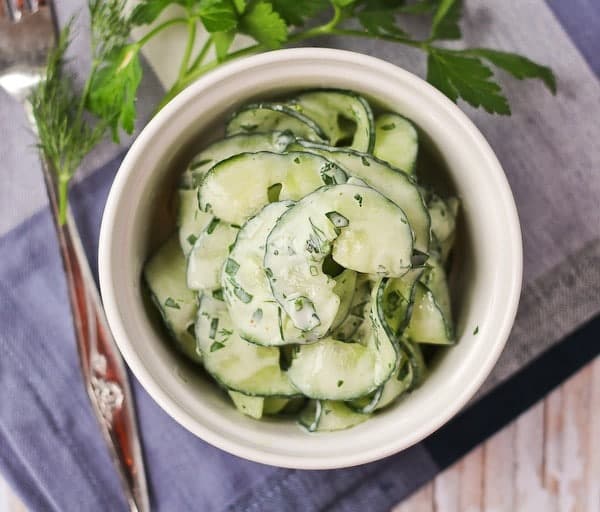 Cucumber Ribbon Salad with Yogurt Herb Dressing
Yield: 4 as a side
Prep Time: 10 minutes
Total Time: 10 minutes
This cucumber ribbon salad is easy to make and is full of great flavor but without any fat thanks to a creamy yogurt herb dressing.
Ingredients
1 english cucumber
1/2 cup nonfat plain Greek yogurt
1 tablespoon minced fresh chives
1/4 cup minced fresh parsley
1 tablespoon minced fresh dill
salt and pepper to taste
Instructions
Using a spiralizer, cut the cucumber into ribbons with the ribbon blade. If you don't have a spiralizer, just thinly slice the cucumber in half moons.
In a small bowl, mix together Greek yogurt, chives, parsley, dill, salt and pepper. Taste dressing and season with more salt and pepper as needed.
Mix dressing into cucumbers and stir well to combine. Best served immediately. Store in fridge.
Notes
Note: I prefer English cucumbers to regular cucumbers. The skin is less tough and the cucumbers contain less seeds. If you can't find them, regular cucumbers can be substituted but you may want to peel the cucumbers.
Nutrition Information:
Yield: 4
Serving Size: 1/4 of recipe
Amount Per Serving:
Calories: 35
Total Fat: .3g
Saturated Fat: 0g
Cholesterol: 2mg
Sodium: 17mg
Carbohydrates: 4g
Fiber: .5g
Sugar: 2.5g
Protein: 4g
Verdict: Loved this! It was a perfect lunch for me and exactly what I was craving.
Husband's take: He's not an onion lover, so the flavor of the chives in this cucumber ribbon salad was a little too strong for him.
Changes I would make: None!
Difficulty: Easy.
Looking for more salad recipes? Try this Greek Chopped Salad recipe, orzo salad with yogurt dill dressing, Herbed Israeli CousCous Salad with Tomatoes and Mozzarella, Reduced Fat Creamy Coleslaw, Broccoli Salad from RecipeGirl, or Lemony Roasted Potato Salad from Bev Cooks.