Chicken Kofta Recipe on Kebabs (with VIDEO)
This Chicken Kofta is made with ground chicken flavored with parsley, onion, and great spices. It is healthy, exciting and easy to prepare. It would be great with ground turkey too!
Remember on Tuesday I mentioned that I had a great recipe to go with the tahini sauce recipe? Well, look no further — here it is!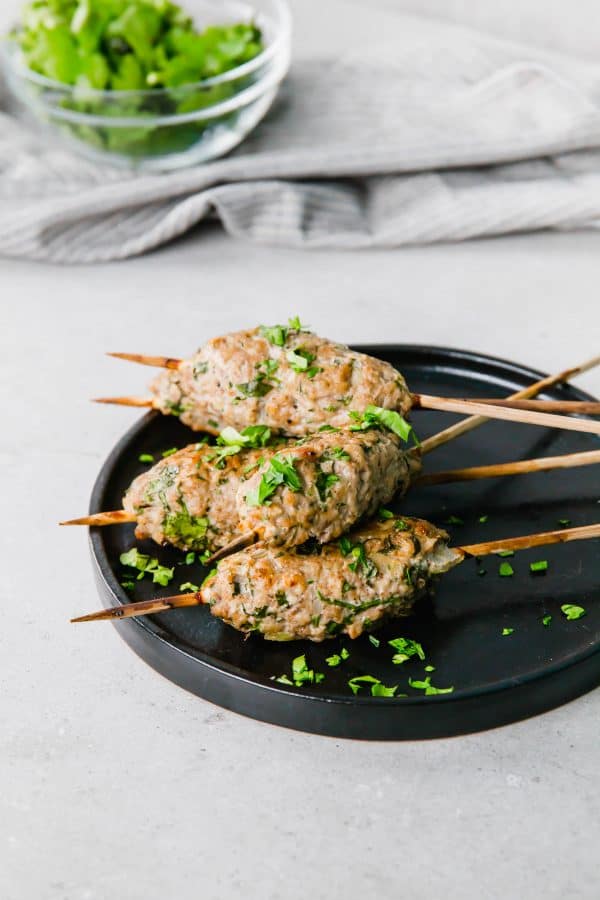 Sometimes I mix up my usual routine of buying ground turkey (evvvvvery single time I go to the store) and I grab the ground chicken instead. Occasionally it is on sale, or I might just grab it out of boredom. Mix up the ol' routine.
Despite being a food blogger, I do get into dinner ruts. Ground chicken is great for a number of recipes (try southwestern mini meatloaves or chicken lettuce wraps) and can be subbed in for ground turkey or even ground beef in many of your favorite recipes. Often, I'll just throw it in spaghetti sauce or use for tacos. But the night I made this recipe, I was in the mood to try something new.
I love recreating recipes from our favorite Lebanese carry-out place. Chicken tawook, tahini sauce, chicken kofta. I need to work on a shawarma recipe. This recipe doesn't come out identical to the chicken kofta at our carry-out place, but dare I say…it's better? Ben definitely liked it better. I liked them both but they are quite different so it's hard to compare the two to each other.
Both versions are a combination of ground chicken with lots of great flavors. I used parsley, onions, cinnamon, allspice, and nutmeg. You mix this together in the same way you would do for meatballs or burgers. I like to use my hands so that I'm careful not to overmix the meat mixture.
I'm pretty sure the version I order from the restaurant doesn't include the combo of cinnamon, allspice and nutmeg, but I love what they bring to this recipe. I also love the freshness of the lemon and parsley in the restaurant version. Clearly I need to make Chicken Kofta Version 2.0 for my blog in the future.
After you get the meat combined with all the other ingredients, you'll form it around sticks (I recommend soaking them in water for at least 30 minutes so they don't start on fire!). You'll place them on a baking sheet and broil them until they're cooked through, turning once! It's so easy. You could also grill these, but the mixture is fairly loose and you might have some problems with it falling through the grates of the grill. I'd recommend broiling or maybe using a grill pan.
You can eat this straight off the kebabs or you can slide it off and use a fork and knife – whatever you prefer!
PS: Kofta vs. Kofte vs. Kafta – what's your vote? Does the spelling depend on if the recipe is Lebanese, Pakistani, Greek, or Indian?
One thing I know is that I'll eat it regardless of how it's spelled or where it's from!
Chicken Kofta
This Chicken Kofta is made with ground chicken flavored with parsley, onion, and great spices. It is healthy, exciting and easy to prepare.
Ingredients:
1 pound ground chicken breast
1/3 cup finely chopped yellow onion
1 clove garlic, minced
1/3 cup chopped fresh flat-leaf parsley leaves
1/4 teaspoon ground cinnamon
1/4 teaspoon allspice
2 tablespoons Greek yogurt
1/2 teaspoon salt
1/2 teaspoon freshly ground black pepper
1/4 teaspoon ground nutmeg
1/8 teaspoon cayenne pepper
Directions:
Preheat broiler to high with the oven rack positioned 5-6 inches from the heat. Line a rimmed baking sheet with foil and spray foil.
In a large mixing bowl, combine all ingredients and mix together using your hands until just combined.
Wet hands and shape chicken mixture evenly around 5 to 6 skewers (if using wood, make sure to soak them in water for a couple hours first).
Broil for 8-10 minutes, turning once, or until cooked through and golden brown.
Notes: These are fragile and slightly difficult to form around the skewers, so they probably won't work on the grill. The broiler adds that same great grilled flavor without the risk of your kofta falling through the grill grates.
Nutrition Information
Yield: serves 4, Serving Size: 1/4 of recipe
Amount Per Serving:
Calories: 212 Calories
Total Fat: 11g
Saturated Fat: 3g
Cholesterol: 73mg
Sodium: 360mg
Carbohydrates: 2g
Fiber: 1g
Sugar: 1g
Protein: 25g
Actual nutrition may vary depending on how recipe is prepared.
All images and text ©
.
Verdict: Loved this for a healthy dinner! If I remember correctly, I served with rice, tahini sauce, and a salad.
Husband's take: He loved these — said they were better than the restaurant version. E loved these too — she had so much fun eating them right off the stick.
Changes I would make: None are necessary.
Difficulty: These require a bit of patience to form the meat around the sticks, but wet your hands and you'll be highly successful. Easy recipe and ready in less than 30 minutes!
PS: Ground meat, on a stick. Hard to make look attractive. Thank God for parsley.
Photos updated 1/8/18 – see below for old photos!