Roasted Mushroom Risotto Recipe
This roasted mushroom risotto recipe creates an elegant meal that is still perfect for any day of the week. It's easy and fun to customize too.
Risotto. Fancy schmancy, right?
And there's something almost therapeutic about standing there stirring the rice until it becomes creamy, perfect risotto fit for any occasion at all. Of course, I had to pair my risotto with my favorite thing in life (besides popcorn) — roasted vegetables. I chose roasted mushrooms because they are near the top of my list of favorite vegetables to roast.
When Anolon asked me to come up with a recipe that demonstrated "Creativity in the Kitchen," this risotto was one of the first things that came to my mind. Anolon asked for a recipe that was customizable and gourmet, without losing mass appeal. Something that invited and encouraged creativity through tweaks, swap of ingredients, etcetera.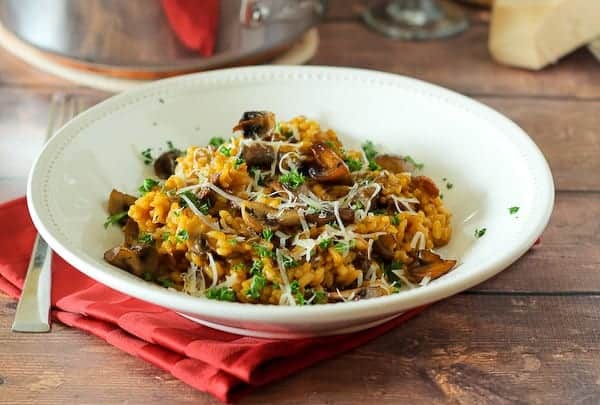 One of my favorite things about cooking is that it does encourage creativity. When I use a recipe, I hardly ever follow it exactly. Granted, the ability to stray from a recipe and still maintain a successful outcome comes with experience. If you're not comfortable with that yet, that's not an issue at all. This recipe is fantastic just as it is written. However, if you are slightly more experienced or perhaps not a fan of mushrooms, this recipe is super easy to adapt. You could roast nearly any vegetable and stir it into this rich and creamy risotto. I think it would be great with roasted carrots, roasted butternut squash or even some roasted broccoli.
If you want to use different herbs — you can easily do that. Keep this perfectly vegetarian for Meatless Monday by using vegetable stock, or use chicken stock and throw some grilled chicken on top to satisfy your meat-loving man. The possibilities are endless. Just remember to keep on stirring. That's what gives this risotto recipe and any risotto it's famously creamy texture. It's definitely an elegant meal but not out of reach for any night of the week.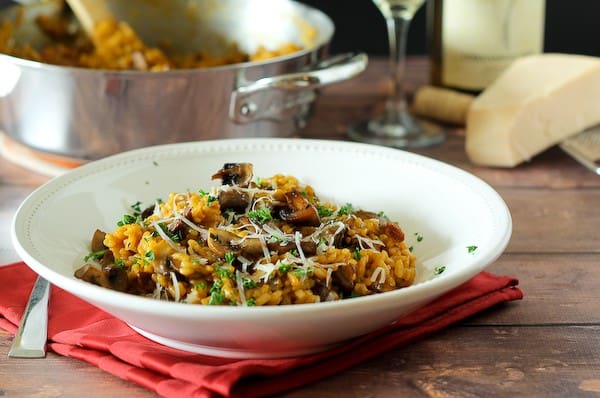 A heavy-bottomed pan with high edges will help you as you stand over the stove and stir. You don't want a pan that's sliding around while you stir and you certainly don't want to lose any of the risotto over the edges of the pan. I used Anolon's 3-Quart Covered Sauté with Helper Handle and it was the perfect pan for the job. Make sure to scroll down past the recipe for a chance to win your own.
There are more opportunities to win great cookware from Anolon's Nouvelle Copper line over on their Facebook page (ends May 27th, 2014).
I originally shared the recipe for this roasted mushroom risotto on Anolon.com but you can also find it right here!
Roasted Mushroom Risotto
This roasted mushroom risotto recipe creates an elegant meal that is still perfect for any day of the week. It's easy and fun to customize too.
Ingredients:
0.5 ounce dried chanterelle mushrooms
24 ounces white mushrooms cut into halves or quarters (bite-sized, they will shrink)
3 tablespoons extra virgin olive oil
1 tablespoon fresh thyme leaves roughly chopped
Salt and pepper to taste
6 cups vegetable broth/stock
2 tablespoons unsalted butter
1 clove garlic minced
1/2 yellow onion finely diced
1 3/4 cups Arborio rice
2/3 cup dry white wine (e.g. Chardonnay)
1/2 cup freshly grated Parmesan cheese more for garnish, if desired
2 tablespoons (or more) chopped fresh parsley
Directions:
Preheat oven to 425°F.
Place the dried chanterelle mushrooms and pour boiling water over them. Let them soak for twenty minutes.
Place the white mushrooms on a large rimmed sheet tray and toss with olive oil, thyme and a sprinkle of salt and pepper. Spread into a single layer and place in preheated oven. Roast for 15 minutes, stir, and roast for another 10-15 minute or until golden brown and cooked.
Meanwhile, bring stock to a simmer in a saucepan.
In a deep, heavy, medium-sized sauté pan, melt the butter over medium-high heat. Add rehydrated and drained chanterelles, garlic and onion and sauté for about 5 minutes or until onions are translucent. Add the rice and cook for another 2-3 minutes to toast the rice, stirring frequently.
Add the white wine and bring to a boil. Reduce liquid by about half, 2-3 minutes. Add ½ cup of simmering stock, and keep stirring nearly constantly, making sure to push down any rice stuck to the edges of the pans. Once the liquid is nearly absorbed, add another ½ cup of stock. Continue to do this until the rice is cooked but still slightly chewy, about 25 minutes.
Remove from heat and stir in Parmesan cheese and roasted mushrooms. Garnish with fresh parsley and serve immediately.
All images and text ©

.
Giveaway Details: GIVEAWAY CLOSED
One (1) winner will receive an Anolon 3-Quart Covered Sauté with Helper Handle.
To Enter: Follow the directions on the widget below. Give it a minute to load and if it isn't loading follow the link to enter. If you don't see a link — please let me know!
Make sure to check out Anolon on Facebook, Twitter and Pinterest.
Disclosure: I have been compensated by Anolon/Meyer Corporation to develop this recipe and write this post but all opinions are my own as always. Giveaway sponsored by Anolon. Thanks for supporting my blog by supporting brands I use and love.