Roasted Cauliflower Soup with Cheddar
This cauliflower soup is a perfect weeknight meal when you're craving a bowl of creamy soup. The sharp cheddar adds great flavor and extra creaminess.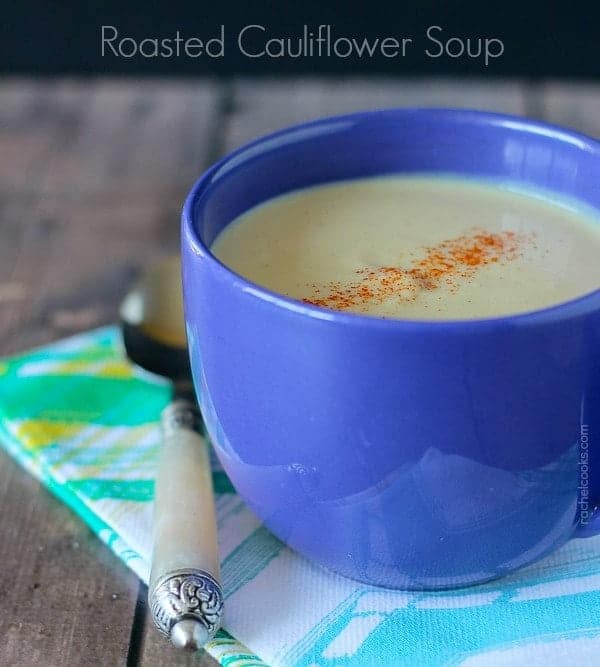 Even with Mac and Cheese Mania over, I'm clearly not over cheddar cheese. I'll never be over cheddar.
This soup takes flavorful roasted cauliflower and blends it with sharp white cheddar to create a luxuriously smooth and creamy soup. And since I live in Michigan where spring IS NEVER COMING, we'll be eating soup until the cows come home. (SO COLD. ALL THE TIME.)
(PS: If you love the cauliflower and cheese combination, try my Parmesan Roasted Cauliflower.)
This cauliflower soup is souper easy to make (ha.ha.ha. — this is what being stuck inside does to me). And since it's against my personal moral code to eat cauliflower without first roasting it, that is obviously a necessary step.
I feel like such a fraud writing that – it might be a bit of an exaggeration. I ate steamed/boiled frozen cauliflower tonight. I was tired. Sometimes a lady just has to dump a bag of frozen veggies into a pan of hot water and get dinner on the table as quickly and easily as possible. As I write this, today was one of those days.
But I prefer it roasted. As with all things. I had roasted sweet potatoes and red onions for lunch today. I could live on roasted vegetables.
Roasting the cauliflower before pureeing it into the soup adds a great depth of flavor. While it isn't completely required, it is very very very much required. I mean…recommended.
Curl up with a blanket and a mug of this cauliflower soup — it's going to be winter forrrrrrrrrrrrrrrrrrrrever.
And ever.
Roasted Cauliflower Soup with Cheddar Cheese
This cauliflower soup is a perfect weeknight meal when you're craving a bowl of creamy soup. The sharp cheddar adds great flavor and extra creaminess.
Ingredients:
1 head of cauliflower, roasted
2 tablespoons unsalted butter
1 medium yellow onion diced small
4 cups low sodium chicken broth
1 cup water (or more)
6 ounces sharp white cheddar cheese, grated
1/8 teaspoon cayenne pepper, more to taste
salt and pepper to taste
Directions:
Roast cauliflower. Meanwhile, melt butter in a large saucepan over medium heat. Add onions and saute until translucent or about 5 minutes. Add the roasted cauliflower, chicken broth, and one cup of water. Bring to a boil and boil until cauliflower is very soft (about 10 minutes).
Carefully transfer this mixture to a blender in batches (should take 2-3 batches) and puree until smooth. Return to saucepan, add cheese and cayenne and more water if necessary to thin out the soup. Heat over medium-low heat until cheese is melted and soup is heated through. Serve immediately or cool and store in an airtight container in the fridge for 2-3 days.
Note: Cook time includes roasting cauliflower.
All images and text ©
.
Verdict: I loved this cozy cauliflower soup.
Husband's take: Honestly, not his favorite. He called it "a bowl of cheese." He had leftovers the next day but I think he'd be fine not eating it again. Not really man food, I guess.
Changes I would make: None are necessary.
Difficulty: Pretty easy!
Still searching for more great soup recipes? Try a classic beef stew, split pea soup, or a 16 bean soup! They are some our family favorites.