Spicy Sweet Roasted Butternut Squash – with video!
This roasted butternut squash that is both spicy and sweet is 100% perfect! It's an easy and healthy side dish that the whole family will love.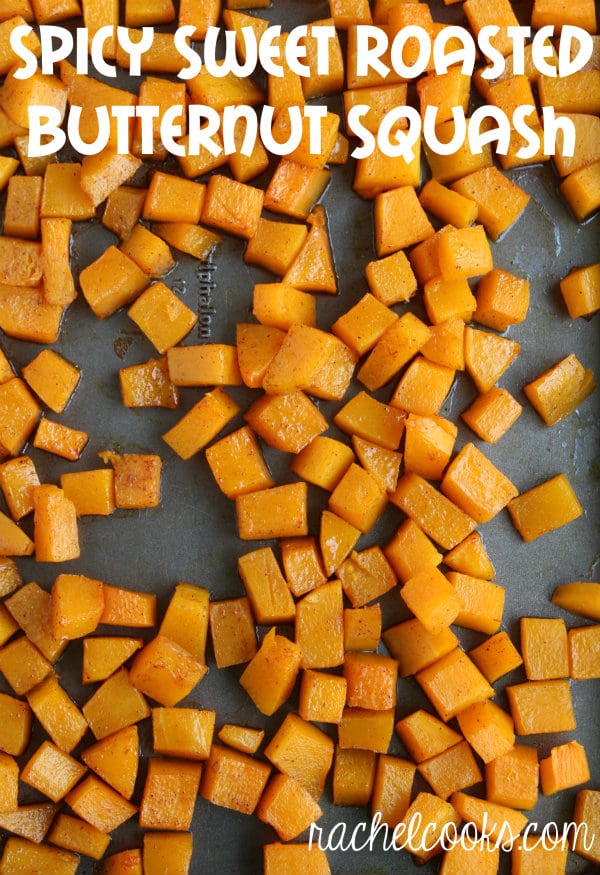 Let's be real here for a minute.
Peeling and dicing butternut squash may just be the worst kitchen task ever. It takes forever, your hands get that weird film on them, and you can consider yourself very lucky if you finish the task with all ten fingers intact. (HINT: You can buy it already prepped from Costco! I pick up a package of it every time I go.)
However, it is one of my favorite fall treats. I love it roasted and tossed on top of a salad or as a side dish. This version is a fun mix of sweet and spicy that perfectly captures the flavors of fall.
The combination of spicy and sweet is irresistible. I've put this squash in a farro salad with bacon and it's unbelievable. (Also – if you like spicy sweet, you have to try these spiced pecans!)
This would also be a great side dish for Thanksgiving if you're looking to do something a little different.
Basically, it's great any day of the year.
Watch this one minute video to see how easy it is make this roasted butternut squash!
Spicy Sweet Roasted Butternut Squash
This roasted butternut squash is both spicy and sweet.
Ingredients:
one large butternut squash
1 tablespoon extra virgin olive oil
1 tablespoon pure maple syrup
1/2 teaspoon ground cinnamon
1/4 teaspoon cayenne pepper
salt to taste
Directions:
Preheat oven to 400 degrees F. Peel and cube butternut squash. (Disclaimer: I am not responsible for any personal injuries or anxiety attacks.)
Dump butternut squash cubes onto a large, rimmed sheet tray.
In a small bowl, mix together olive oil, syrup, cinnamon, cayenne and salt. Pour olive oil mixture over cubed squash and toss with your hands to coat. Spread out squash so that it is in an even layer.
Bake for 15-30 minutes, stirring halfway through. Cooking time will depend on how crowded your squash is and how big your cubes are. You want the squash to be fork tender (stick a fork in–it comes right back out), but not mushy.
Enjoy as a side dish or on a leafy green salad.
Nutrition Information
Yield: 4 side servings, Serving Size: 1 of 4
Amount Per Serving:
Calories:

106 Calories

Total Fat:

4g

Saturated Fat:

1g

Sodium:

6mg

Carbohydrates:

20g

Fiber:

3g

Sugar:

6g

Protein:

1g
Actual nutrition may vary depending on how recipe is prepared.
All images and text ©
.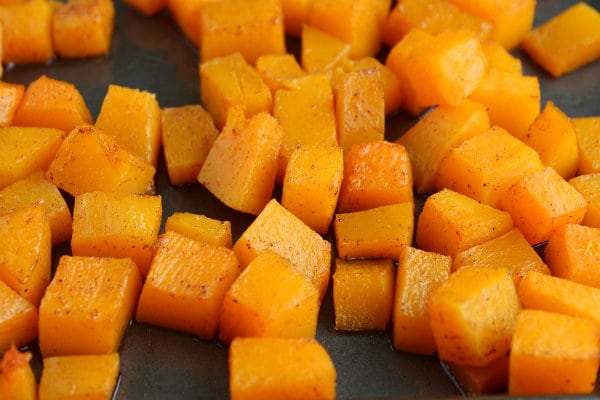 Verdict: So good! Slightly sweet from the maple syrup, a little kick from the cayenne…and a touch of fall from the cinnamon. Good stuff!
Husband's take: At the time I'm writing this, he hasn't tried this roasted butternut squash yet! He'll love it though.
Changes I would make: None.
Difficulty: Once you get that darn squash chopped up, easy!
PS — a few more basics:
If you are obsessed with roasting vegetables like I am, I have a lot of great recipes for you to try or you can check out my entire collection of roasted vegetables!