Strawberry Basil Freezer Jam
You'll love the basil in this strawberry basil freezer jam — it is the perfect complement to your favorite slice of toast.
Recipe Overview
Why you'll love it: The addition of basil really makes this jam special!
How long it takes: 25 minutes to make but allow 8 hours for the jam to set.
Equipment you'll need: saucepan, stove, large bowl, measuring cup, jars
Servings: Makes 5 cups
Strawberry freezer jam — one of the best parts about visiting my parents. My mom always has strawberry jam stocked in the freezer for us to enjoy while we're there. I sometimes even manage to return home with a jar. Honestly, I could eat it by the jarful spoonful, but I try to hold myself back since there is…umm…quite a bit of sugar in it. But it's jam, so that's to be expected.
This strawberry basil freezer jam is a twist on my mom's classic strawberry freezer jam. The addition of basil makes it undeniably perfect for summer.
I just love the combination of strawberries and basil. Have you tried these strawberries stuffed with basil whipped cream? So yummy! May I say they're even better than chocolate dipped strawberries?
Everyone loves strawberry jam spread on toast, bagels, and corn bread, but it is also amazing stirred into plain Greek yogurt, spooned over vanilla bean ice cream, or even stirred into hot oatmeal. Clearly, you'll want to find every possible opportunity to use this delicious jam.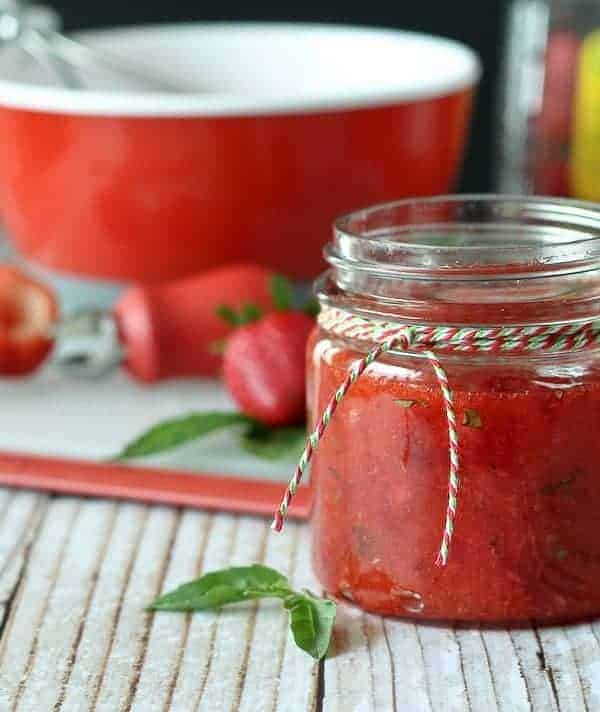 About This Freezer Jam
Strawberry freezer jam is unbelievably easy to make. One of my favorite brands, OXO, sent me Driscoll's strawberries to create a recipe with — and I knew immediately that they would be destined for strawberry basil freezer jam.
You'll find the easy-to-follow printable recipe at the end of this post.
Hulling the berries is easy (and dare I say fun?) with the OXO Strawberry Huller.
What You'll Need
Strawberries! You'll need one pound of berries, or two cups mashed strawberries. Use ripe, but not overripe, strawberries.
Sugar: Lots of it! Four cups of granulated white sugar, no substitutions.
Fruit Pectin: I use a box of Sure-Jell.
Fresh Basil: Fresh herbs are essential, don't be tempted to substitute dried. Fresh mint is a good alternative.
How to Make This Jam
After hulling the berries, the next step in making strawberry basil freezer jam is mashing the berries (I use a potato masher for this).
Don't get too carried away. You want lots of good chunks in there for a nice jammy texture. A food processor makes quick work of this step but avoid getting the strawberries completely pureed.
Next, stir in 4 cups of sugar. Yeah….4 cups! This is why it's called jam. And not healthy jam. Or fresh fruit purees. It's the sugar, baby. Totally necessary. Let the berries commune with the sugar while you prepare the pectin.
Hint: Measure the sugar separately in a bowl before adding it to the jam because it's easy to get distracted and lose count of how many cups you're up to. It is important to be accurate with your measurements when you make jam or it may turn out too runny.
In a saucepan, mix the powdered fruit pectin with water. Bring it to a boil, stirring constantly, and boil for one minute. Remove it from heat.
Stir the pectin into the berry/sugar mixture. I don't mean a quick little swirl here but a thorough stir, like for three or four minutes, to make sure the pectin and strawberries are really mixed well.
Add chopped basil to the bowl and stir that in. Pour the jam into jars and cover.
Easy peasy!
FAQs
What is the difference between jam and freezer jam?
Regular jam is usually cooked. The strawberries are simmered on the stove with sugar, pectin, and other ingredients. The hot jam is poured into sterilized jars and processed in a canner. Canned jam can be stored at room temperature for up to a year.
Freezer jam, on the other hand, generally is not cooked. The pectin may be heated but the berries are fresh. The jars should be very clean but there's no need to sterilize them with boiling water. Freezer jam has a softer consistency and needs to be refrigerated or frozen.
Can you use glass jars for freezer jam?
Yes! Glass jars are fine but make sure they are in a secure place in your freezer. Plastic resealable containers work well, too.
How do I know if my freezer jam is bad?
Freezer jam will last a long time in the freezer but once it's thawed in the fridge, it may spoil eventually. If you notice mold, a yeasty or vinegar odor, and anything else that looks off, discard immediately.
Storage and Freezing Tips
Strawberry freezer jam will keep up to a year in the freezer. Thaw it overnight in the fridge before using.
Refrigerated jam will keep two to four weeks. Discard the jam if it looks moldy, or smells strange.
Don't you just want to eat that slice of toast right now? Yum….
If you're really feeling crazy, spread a little goat cheese or cream cheese on the toast first. The best breakfast ever!
More Strawberry Recipes
Strawberries, strawberries, strawberries! I mentioned stuffed strawberries above and I have a few more recipes for you to try!
Did you make this? Be sure to leave a review below and tag me @rachelcooksblog on Facebook, Instagram, or Pinterest!
You'll love the basil in this strawberry basil freezer jam — it is the perfect complement to your favorite slice of toast.
Ingredients
2

cups

crushed fresh strawberries,

about 1 pound

4

cups

granulated sugar

1

pkg. (1.75 oz)

fruit pectin,

such as Sure-Jell

3/4

cup

water

1/4

cup

finely chopped fresh basil leaves
Instructions
In a large bowl, mash strawberries using a potato masher. Measure out exactly two cups, setting aside any extra mashed berries, and add the 2 cups back to bowl. Save the extra mashed berries for another use. You want to be as exact with the recipe measurements as possible.

To the 2 cups of mashed strawberries, stir in 4 cups of granulated sugar. Mix well to combine, making sure the sugar is completely incorporated, and then let the berry mixture stand for 10 minutes, stirring occasionally.

After 10 minutes, in a small saucepan, combine fruit pectin and 3/4 cup water. Bring to a boil on high heat, stirring constantly. When it boils, set a timer for one minute. Continue to stir constantly and then remove from heat when it has boiled for one minute.

Stir pectin and water mixture into the fruit and sugar mixture. Stir constantly for about 3-4 minutes or until sugar is completely dissolved and mixture is no longer grainy. Stir in chopped basil leaves.

Pour mixture into freezer containers with tight fitting lids (jars work great). You'll need five 8 oz. containers or something comparable. Total yield is 5 cups.

Let jam stand at room temperature for 8 hours before moving to the fridge or freezer. If you freeze it, thaw it in the fridge overnight before using.
Notes
This recipe makes 5 cups of jam. Nutrition information is based on serving size of 2 tablespoons.
Nutrition Information
Serving:
2
tablespoon
,
Calories:
40
kcal
,
Carbohydrates:
10
g
,
Protein:
1
g
,
Fat:
1
g
,
Saturated Fat:
1
g
,
Polyunsaturated Fat:
1
g
,
Monounsaturated Fat:
1
g
,
Sodium:
1
mg
,
Potassium:
6
mg
,
Fiber:
1
g
,
Sugar:
10
g
,
Vitamin A:
4
IU
,
Vitamin C:
2
mg
,
Calcium:
1
mg
,
Iron:
1
mg
This website provides approximate nutrition information for convenience and as a courtesy only. Nutrition data is gathered primarily from the USDA Food Composition Database, whenever available, or otherwise other online calculators.
Disclaimer: I was given free OXO products and Driscoll's berries to work with but was no compensated otherwise. All opinions are as always my own. Post contains affiliate links.