Quinoa Salad with Cumin-Lime Dressing
Quinoa salad, loaded with fresh tomatoes, corn, red peppers, cucumbers, and avocado chunks, and dressed with a cumin-lime dressing that is oh, so yummy! You'll love this summer salad!
Have you ever had what is commonly called "Texas caviar"? It seems like it's really popular in the summer. I went to a summer picnic recently and three different people brought some iteration of it.
What's Texas caviar? Well, there are as many recipes as there are cooks, I think, but basically it's a delightful mixture of beans, bell peppers, corn, and onions, with chunks of creamy avocado stirred in, dressed with an Italian-style vinaigrette.. Texas caviar is served with tortilla chips so you can scoop all this crazy goodness right into your mouth, no silverware necessary. Kind of like salad on a chip.
This quinoa salad is a cousin of Texas caviar with many of the same ingredients, but with the addition of quinoa. Instead of a bottled dressing, I love the homemade cumin-lime dressing that is so easy to whip up.
And you know what? Tortilla chips make great scoopers for this salad, too.
About this quinoa salad with cumin-lime dressing
This quinoa salad is a good source of protein because of the black beans and the quinoa. I love quinoa. If you aren't familiar with this grain, I cover some of the interesting facts in this post. One of my favorite, and slightly unconventional, uses for quinoa is in pancakes. These pancakes freeze perfectly and make a great breakfast on the run.
And there are more quinoa recipes! I love the stuff. If you like to meal prep, cook a whole package, divide it into portions, and store in the freezer. It freezes really well and thaws out quickly, perfect if you want to make this salad.
Okay, enough about quinoa. The star of this salad is the cumin-lime dressing. It's so flavorful and easy to make, you'll want to use it for lots of different salads. Freshly squeezed lime juice, olive oil, honey, freshly chopped cilantro, and ground cumin – just whisk it all together or shake in a small jar. So good!
Besides the quinoa, the salad is made up of black beans, corn (fresh if you have it, but canned or frozen works too), fresh tomatoes, cucumber, green onions, and red bell peppers. It takes a little bit of chopping, etc. but it's so worth it. Mix the dressing in and stir well.
You'll want to wait until you're ready to serve the salad before stirring in the cubed avocado so it doesn't discolor or get mushy. I find that slightly underripe avocados work best. Give the salad an extra sprinkle of cilantro before you serve it.
This quinoa salad is great for lunches, dinners, potlucks, picnics, lunchboxes, or even a quick snack. You'll love it!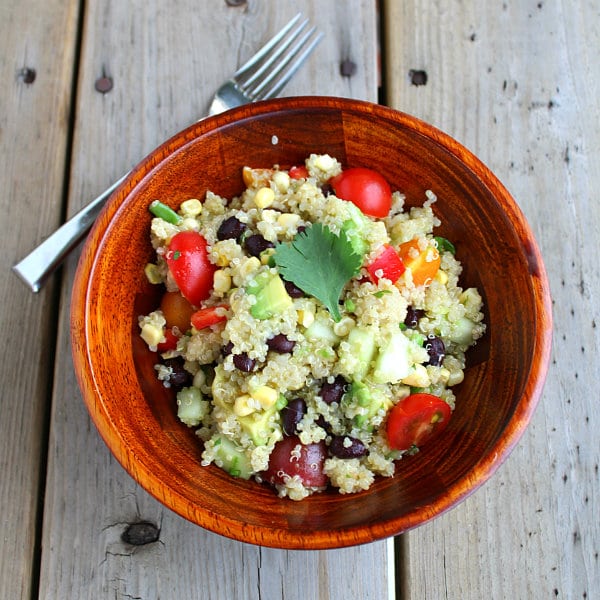 Make this quinoa salad your own:
Meatlover? Add some chicken. Rotisserie chicken would work, or cooked chicken breasts, shredded.
Add cheese to the salad. Cojita, feta, or cubes of Monterey Jack would be delicious.
Don't have all the veggies listed? Substitute what you have or simply leave one out. Try green or yellow bell peppers, jalapeño, poblano, any kind of tomato, zucchini, jicama, celery, or radishes.
Instead of black beans, use whatever you have in your pantry: chickpeas, pinto beans, black-eyed peas would all be great!
Use a bottled dressing of your choice.
Serve quinoa with a fork, with chips, or on a bed of greens.
Make ahead/storage ideas:
You can easily make quinoa salad earlier in the day. It actually gets a little better when it sits for a bit. Just remember to stir the avocado in right before serving.
Quinoa salad is excellent for up to 3 days in your fridge, stored in an airtight container. For lunchboxes, put the salad in individual sized containers and grab one on your way out the door.
Loving quinoa salads?

I have a few more recipes I know you'll enjoy! Try: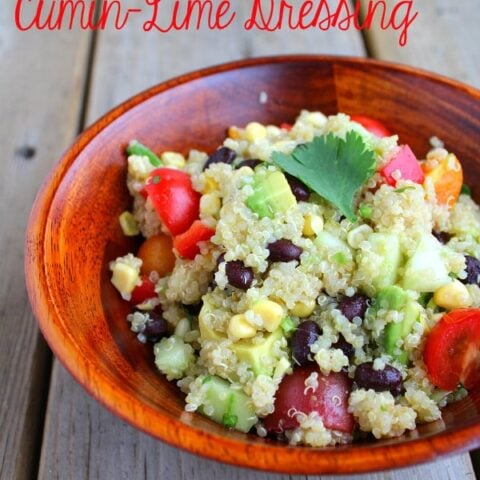 Quinoa Salad with Cumin Lime Dressing
Yield: 8 servings
Prep Time: 15 minutes
Total Time: 15 minutes
Quinoa salad, loaded with fresh tomatoes, corn, red peppers, cucumbers, and avocado chunks, and dressed with a cumin-lime dressing that is oh, so yummy! You'll love this summer salad!
Ingredients
Salad:
5 cups cooked and cooled quinoa
one 15 ounce can of black beans, drained and rinsed
2 ears corn, kernels cut from cob (or 1 cup frozen or canned corn)
2 cups halved or quartered cherry tomatoes
1 cucumber, peeled, seeds removed, and diced
1-2 green onions, thinly sliced
1/2 cup diced red bell pepper (1/2 of a bell pepper)
2 avocados, diced
Dressing:
1/4 cup freshly squeezed lime juice (1-2 limes)
2 tablespoons honey
1/2 teaspoon cumin
1 tablespoon finely chopped cilantro
1/3 cup olive oil
Instructions
Dressing: Mix first four ingredients of dressing together in a small measuring cup or bowl. While whisking, slowly pour in olive oil. Or, shake all ingredients in a small jar.
Salad: Combine quinoa, black beans, corn, tomatoes, cucumber, green onions, and bell pepper in very large bowl. Add dressing and gently stir until combined and all ingredients are coated with the dressing.
Immediately before serving, stir in diced avocado. Season with salt and pepper if desired. Garnish with additional cilantro, if desired.
Serve salad on its own, on a bed of greens, or with tortilla chips.
Notes
This makes A LOT. Great for a crowd, for lunchboxes, or left over.
Firmer (less ripe) avocados work better for this recipe.
Add shredded chicken or cheese to the salad, if desired.
Nutrition Information:
Yield: 8
Serving Size: 1 1/2 cups
Amount Per Serving:
Calories: 425
Total Fat: 19g
Saturated Fat: 3g
Trans Fat: 0g
Unsaturated Fat: 16g
Cholesterol: 0mg
Sodium: 16mg
Carbohydrates: 55g
Fiber: 13g
Sugar: 9g
Protein: 12g
RachelCooks.com sometimes provides nutritional information, but these figures should be considered estimates, as they are not calculated by a registered dietitian. Please consult a medical professional for any specific nutrition, diet, or allergy advice.
Verdict: Delicious! This recipe is so versatile that you could add whatever veggies you have on hand.
Husband's take: "It is better than I expected." "The dressing makes it." He loves it! E didn't like it at first (I think it was a texture thing with the quinoa), but once we let her scoop it up with chips, she was all about it.
Changes I would make: None. Like I said though, there are many variations possible. Add feta, use chickpeas instead of black beans, whatever you want!
Difficulty: Lots of prep work but comes together quickly once you get all the veggies chopped.