Grilled French Toast Stuffed with Strawberry Basil Cream Cheese
Take your brunch to the grill! This grilled French toast with strawberry basil cream cheese stuffing will be the perfect brunch centerpiece.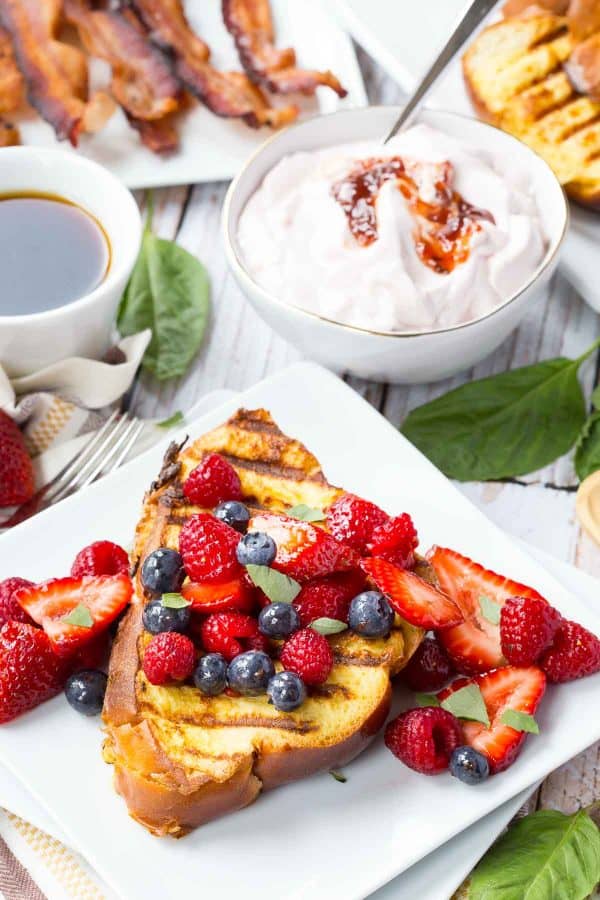 Want to hear a funny story? It wasn't too funny at the time but you have to laugh at life. A couple of weekends ago, I had 3 or 4 recipes I wanted to develop on the grill. We hadn't grilled yet this season, so we got the grill out, uncovered it and it was covered with mold! Moooolllllld. Gross, I know (sorry). So we burned it all off, cleaned it really well, and then burned it all off again. By this time, it was raining. Yep, raining. Thankfully I had begun some initial recipe development using my grill pan inside, but still. One of those days where the stars just didn't seem to align….yeesh!
Oh wait, there's more! By dinner time it had brightened up, so I asked Ben to turn it back on so we could grill some chicken (also a recipe for Rachel Cooks). He went to turn it on, and guess what? OUT OF GAS. Throw me a freakin' bone! Back to the grill pan….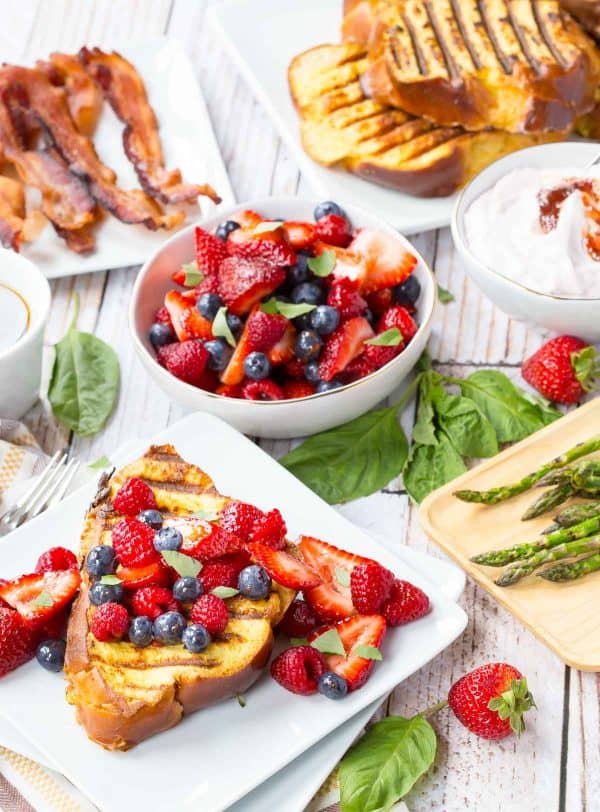 I teamed up with Door to Door Organics once again to bring you this amazing French toast. I was challenged to create a brunch item using the grill, and let me tell you, I might never go back to grill-free brunches! I bought all the ingredients for this brunch through Door to Door Organics, meaning they were delivered right to my door. I don't know about you, but when I'm entertaining or even just planning meals for the week, there is always so much to coordinate and so many lists happening. One of the things I always have to coordinate is when I'm going to swing by the grocery store to pick up all the ingredients for the food I'm preparing. The great thing about Door to Door Organics is that it comes right to you! It's a huge stress reliever and the quality is insanely consistent and impressive, so you can be confident that you won't be making any last-minute trips to the store.
Freshly baked bread, organic berries and vegetables, great bacon and eggs, and even cold-brew coffee. Shopping done, from my computer, in my sweat pants. What's better than that?
About this grilled French toast recipe:
I'll be honest, when the Door to Door Organics representative approached me about this project, she mentioned stuffed French toast and it kind of stuck with me. When I was preparing my order online and finalizing my recipe idea, I spotted the strawberry basil preserves, which I've had before and LOVED. Once I spied those, there was no turning back from this recipe.
I love the combination of strawberry and basil, in fact, I've made my own strawberry basil freezer jam. I've also stuffed strawberries with basil whipped cream which you just HAVE to do this summer! They are so delicious.
I carried on with my shopping and saw the challah from Zingerman's (aka heaven on earth). That solidified the grilled French toast in my mind. Into my order went eggs, milk, tons of fresh berries, fresh basil, and cream cheese. I decided to round out my brunch with some fresh asparagus, bacon, and cold-brew coffee. And some yogurt for good measure.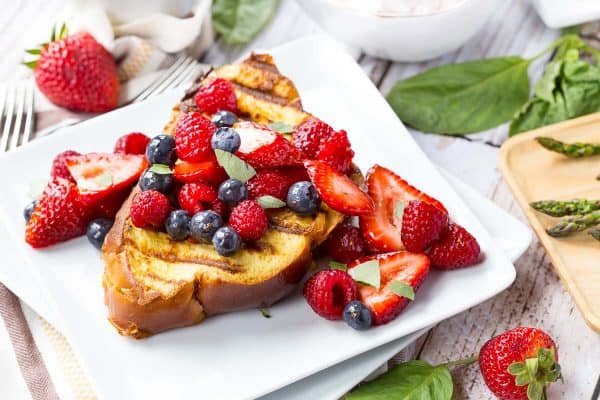 The grilled French toast is really simple to make. You'll want to slice the challah into nice thick slices, about an inch thick. Then, carefully with a sharp knife, slice a hole in the middle of the slice, making a pocket for the cream cheese. I flavor plain cream cheese with the preserves and stuff the bread with that.
The stuffed bread goes into a large baking dish until you're done stuffing each piece. Then you pour your egg and milk mixture over the bread, letting it soak it all up. All that's left to do is grill it!
You could definitely cook it on a griddle as well, but grilling it gives it such a great flavor. You have to try it!
For the perfect brunch centered around the grill, I also grill asparagus and bacon. You could round it out with some other great brunch offerings like a yogurt parfait with shortbread crumble, a beautiful cocktail. If you want to add more protein to brunch, consider a frittata, they're very easy to make and taste great at almost any temperature. A white pizza frittata or a leek and asparagus frittata are both great vegetarian options.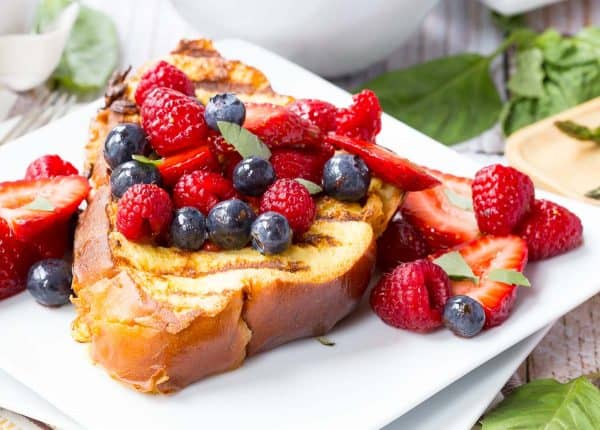 If you're in search of a more traditional French toast, don't miss my classic French toast recipe – I cover all the tips to make perfect French toast!
Did you make this? Be sure to leave a review below and tag me @rachelcooksblog on Facebook, Instagram, or Pinterest!
Take your brunch to the grill! This grilled French toast with strawberry basil cream cheese stuffing will be the perfect brunch centerpiece.
Ingredients
4

ounces

of spreadable cream cheese

1/2

cup

strawberry basil preserves, divided

1

loaf challah bread, sliced into 1-inch thick slices

8

large eggs

2

cups

whole milk

2

tablespoons

honey

1

tablespoon

pure vanilla extract

6

ounces

blueberries

6

ounces

raspberries

1

pound

strawberries, sliced
Instructions
Oil the grates of your grill and preheat grill to medium-low, or about 250-300°F.

From the bottom of each piece of bread, carefully slice a pocket into the middle of the bread. You don't want to cut all the way through, but the opening should be large enough to get a knife with filling into the bread.

In a small bowl, mix together cream cheese and 1/4 cup preserves together until combined. It's okay if it looks a little chunky. Evenly fill the bread slices with cream cheese mixture. Place filled bread into a large pan (at least a 9×13, larger if you have it).

In a large mixing bowl, whisk together eggs, milk, honey, and vanilla until combined. Pour over filled bread.

Grill the french toast on the preheated grill over direct heat for about 5 minutes on each side or until golden brown and cooked through. If it's browning too quickly, move it away from the direct heat and to the indirect heat.

Meanwhile, mix berries and 1/4 cup preserves until berries are coated with preserves.

Top french toast with berries and serve!
Notes
You'll likely have extra berries after topping the french toast – they make a perfect fruit salad on the side.
This French toast could also be prepared on a griddle instead of a grill.
Nutrition Information
Serving:
1
of 6
,
Calories:
327
kcal
,
Carbohydrates:
31
g
,
Protein:
14
g
,
Fat:
16
g
,
Saturated Fat:
8
g
,
Polyunsaturated Fat:
7
g
,
Cholesterol:
279
mg
,
Sodium:
217
mg
,
Fiber:
5
g
,
Sugar:
21
g
This website provides approximate nutrition information for convenience and as a courtesy only. Nutrition data is gathered primarily from the USDA Food Composition Database, whenever available, or otherwise other online calculators.
Verdict:
LOVE this! I love the creamy strawberry basil filling and the topping is so fresh and flavorful which cuts the richness of the grilled french toast perfectly.
Husband's take:
He's not a huge cream cheese fan so once in awhile I catch him leaving behind a bit of the filling.
Changes I would make:
None! But feel free to try different flavors and experiment with different stuffings.
Difficulty:
Easy to moderate. The bread gets fragile when soaked with the egg mixture so you just have to be gentle moving it to the grill. Also be gentle when stuffing the bread, take your time and make sure to use a sharp knife when cutting a hole in the bread.
*Disclosure: I've partnered with Door to Door Organics to bring you this post. They compensated me for my time but all opinions are, as always, my own. I've paid for Door to Door Organics deliveries with my own money more times than I can count. Thanks for supporting Rachel Cooks by reading about brands I use and love!