Gingerbread Butter Recipe – Perfect for the Holidays!
This gingerbread butter recipe will transform any pancake, waffle, or slice of toast into a festive holiday treat! And it's SO easy to make!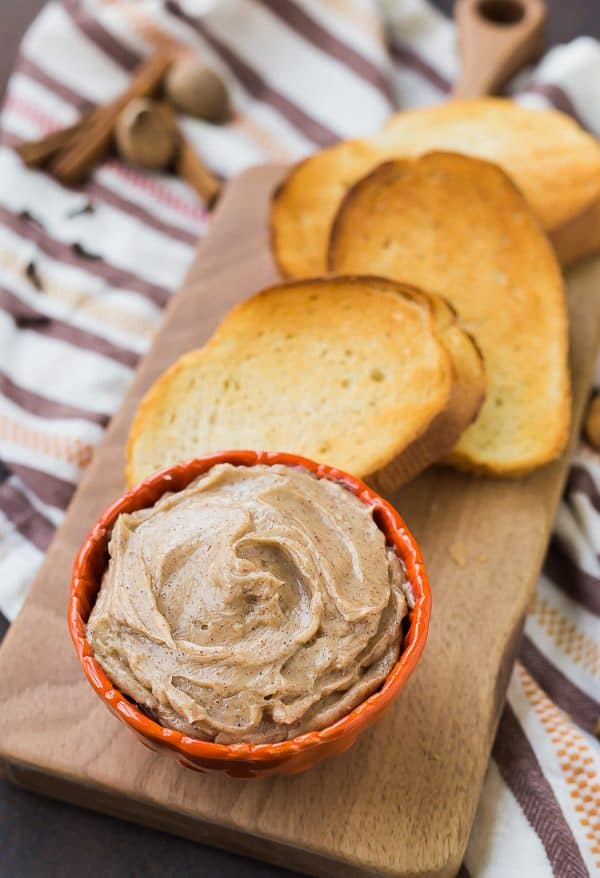 The holidays are right around the corner, which is insane! I think I say it every year, but I really can't believe it. I feel like I should start my cooking now! Or at least my plans. We have a family Christmas on the 23rd, I'm hosting another party on the 24th, we have another on the 25th, and then we're going out of town for a couple days on the 26th. Of course on Christmas day I like to do a big breakfast for our family so I'll have to prep that at some point so we can eat before 1pm that day. And N's birthday is December 20th so there will be a Ninja Turtle birthday party in there somewhere that I haven't even started thinking about. Oh and of course, Ben's birthday is on New Year's Day.
Be right back, I'm going to go take a nap because thinking about that made me tired.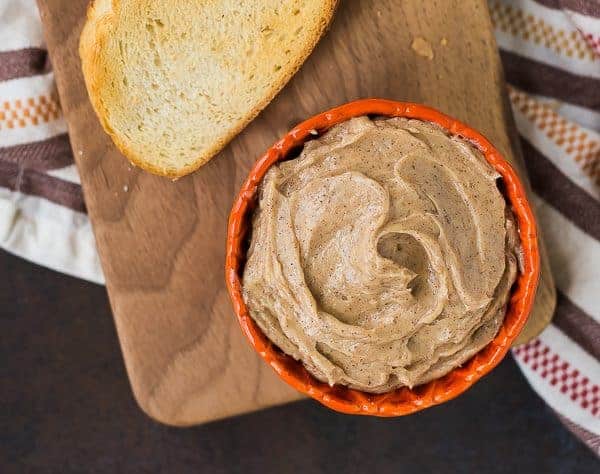 No, seriously. I just stared at my computer for about 5 minutes without writing anything. I hadn't really given that craziness any thought until I put it into words just now.
It will be okay. It will be okay!
Honestly, I love this time of year. I absolutely love having people over, especially in our new home. New-ish, since we've been there for almost a year and a half now. Plus, this is why God gave us paper and ink, right? To make lists? Lots and lots and lots of lists…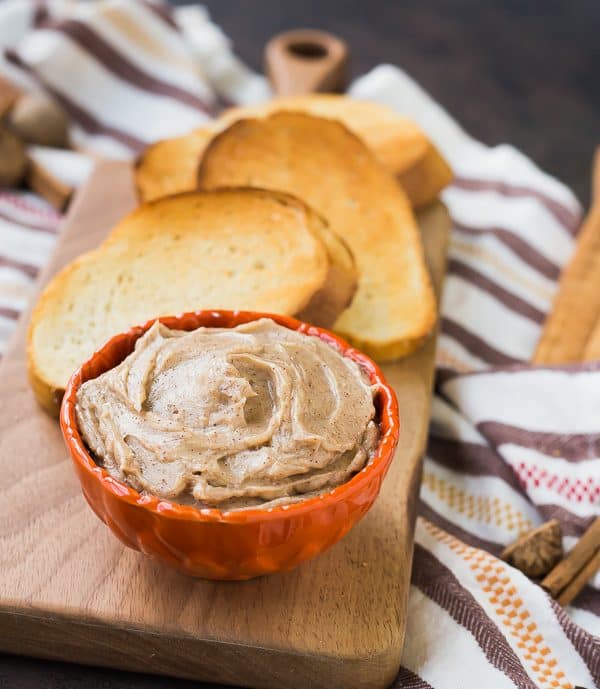 I already have presents wrapped for the kids so I'm totally ahead of the game. At least that's done. I told them they were each getting one BIG present this year instead of lots of little stuff, and yet somehow they each have 5 gifts under the tree. So far. Gift-giving is my love language…I can't help it.
One thing I plan to make sometime during this whirlwind is this gingerbread butter. It will be a great spread to have in the fridge for those leisurely breakfasts and lazy brunches. It tastes like a gingerbread cookie but in buttery goodness form. It has the ginger, cinnamon, nutmeg and cloves that you'll recognize as classic gingerbread flavors. It's sweetened with maple syrup and it's dangerously tasty. I'd recommend just going ahead and doubling the recipe – you'll be so glad you did when you're spreading it in a thick layer onto your stack of pancakes.
Best part? You can make it in advance. CHECKING IT OFF MY LIST.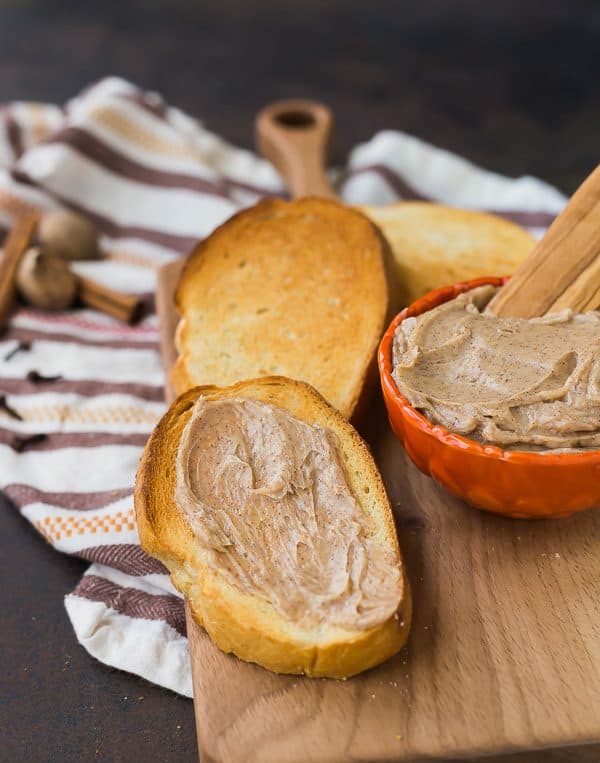 I love making compound butters like this gingerbread butter because they feel pretty fancy but they take about five minutes to throw together. I'm nothing if not consistent, faking it 'til I make it – finding shortcuts while keeping appearances of having my act together. If you're like me, you might also like orange honey butter (AMAZING on cornbread) or cranberry cinnamon honey butter. Butter makes it better.
This gingerbread butter would be so fantastic on buckwheat pancakes! Or you could double down and put it on these whole wheat gingerbread pancakes from Cookie & Kate.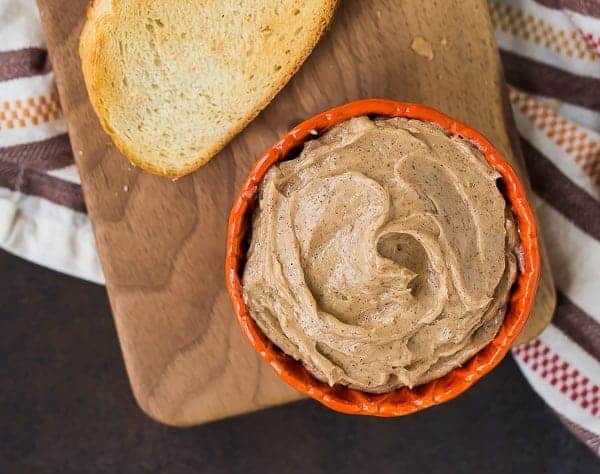 Gingerbread Butter
Yield: 1/2 cup of butter
Prep Time: 5 minutes
Total Time: 5 minutes
This gingerbread butter recipe will transform any pancake, waffle, or slice of toast into a festive holiday treat! And it's SO easy to make!
Ingredients
1 stick (8 tablespoons) unsalted butter, softened
1 teaspoon ground ginger
3/4 teaspoon ground cinnamon
1/4 teaspoon ground cloves
1/4 teaspoon ground nutmeg (I recommend freshly grated)
1 tablespoon maple syrup
Instructions
Blend ingredients together using fork.
Store in the fridge but soften before use.
Try it with pancakes, waffles, or pumpkin bread.
Notes
Serving Size: 1 tablespoon
Nutrition Information:
Yield: 8
Serving Size: 1 tablespoon
Amount Per Serving:
Calories: 21
Total Fat: 1g
Saturated Fat: 1g
Trans Fat: 0g
Unsaturated Fat: 0g
Cholesterol: 4mg
Sodium: 12mg
Carbohydrates: 2g
Fiber: 0g
Sugar: 2g
Protein: 0g
RachelCooks.com sometimes provides nutritional information, but these figures should be considered estimates, as they are not calculated by a registered dietician. Please consult a medical professional for any specific nutrition, diet, or allergy advice.
Verdict:
I could eat it by the spoonful, but I'll try not to.
Husband's take:
Ben isn't usually a huge fan of ginger, but he loves this gingerbread butter.
Changes I would make:
I'd make twice as much.
Difficulty:
So easy!