Orange Hot Chocolate Recipe – Easy!
This orange hot chocolate recipe is easy to make – you'll be sipping flavorful, rich, creamy hot chocolate in less than 15 minutes.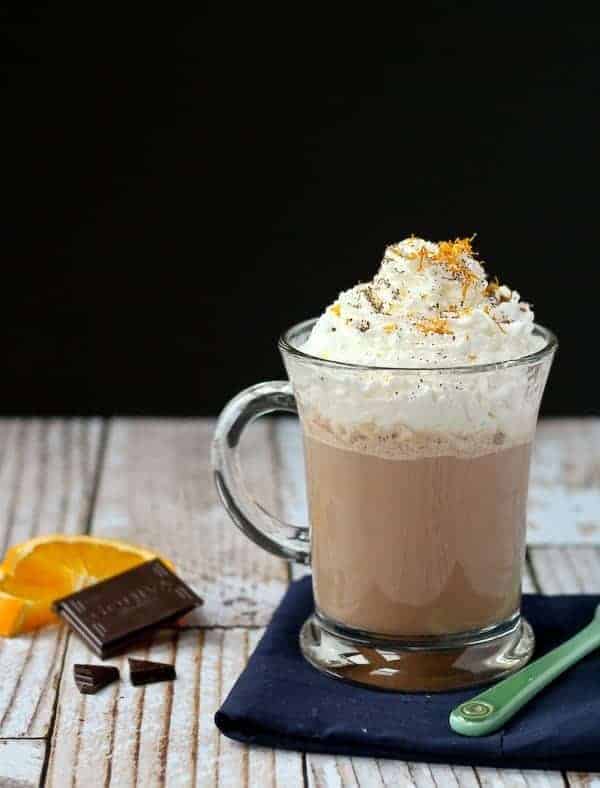 January – it doesn't have to be all about salads. There is nothing better, NOTHING better than warming up with some hot chocolate after being out in the snow. Hot chocolate is a perfect beverage following snowman building and snow angel making.
Maybe you just spent an hour shoveling heavy snow. It might be because our house is still fairly new to us or maybe it's the west Michigan girl in me, but I really enjoy shoveling. You can see the work you've done and as a bonus, it's a great workout. And you can go inside and warm up with hot chocolate.
I have a small mug, a little bigger than an espresso mug, that E drinks cocoa out of. It's such a special treat and she just glows and smiles ear-to-ear when she gets to enjoy a cup of cocoa with her mom and dad.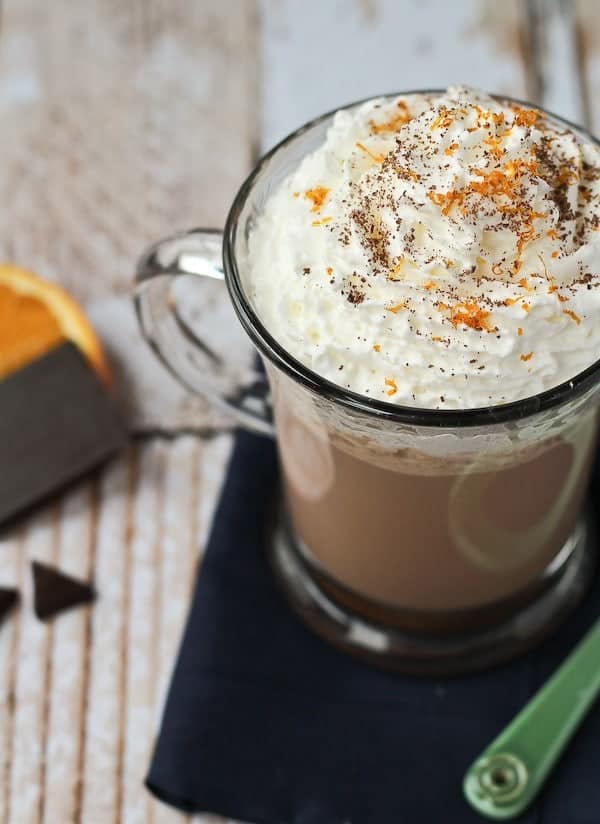 About this Orange Hot Chocolate
We're not talking about a packet of powder that you open up and mix with water here. Oh no no. This is the good stuff. Creamy milk, slowly warmed and then poured over high-quality dark chocolate. If you're going to treat yourself to hot cocoa, make it worth it.
This particular hot chocolate is made extra special thanks to a few strips of orange peel. The orange and chocolate combination works so well together. The orange brightens things up just enough to prevent this beverage from feeling too rich.
I add a bit of powdered sugar to my cocoa. Depending on the type of chocolate you use and how sweet you like your cocoa, you may be able to omit the sugar … or you might want to increase it a touch. You can always add more but you can't remove it, so start with a small amount and work your way up from there according to your tastes.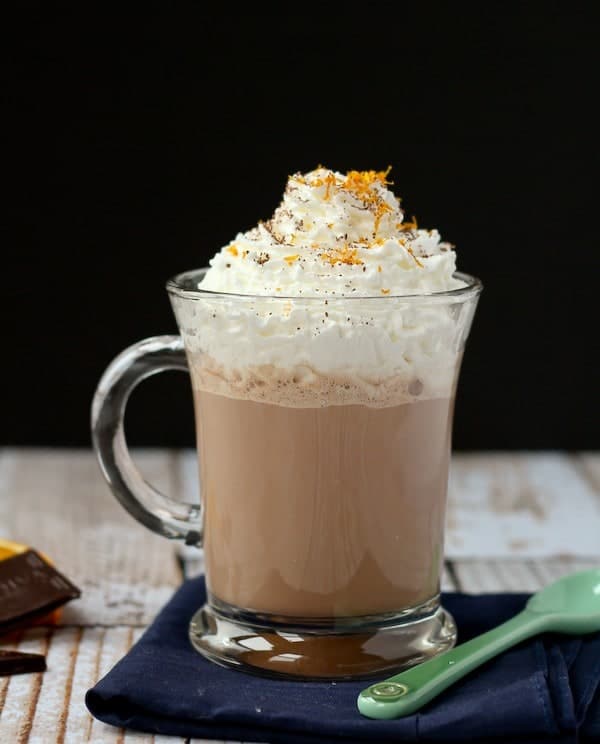 Stay warm…and enjoy!
Loving this orange hot chocolate?

Looking for more creamy drinks to keep you warm all winter long? Try: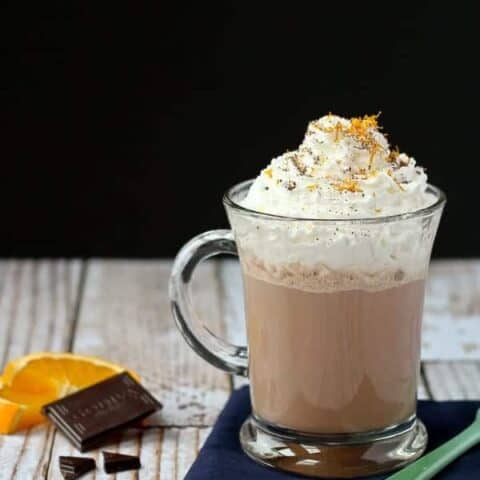 Orange Hot Chocolate Recipe
Yield: serves 1-2
Prep Time: 5 minutes
Cook Time: 10 minutes
Total Time: 15 minutes
This orange hot chocolate recipe is easy to make – you'll be sipping flavorful, rich, creamy hot chocolate in less than 15 minutes.
Ingredients
1 1/2 cups whole milk
1 tablespoon powdered sugar
2-3 strips of orange peel (try to get as little of the white part of the orange as possible
1 ounce dark chocolate (I used 72%)
Optional toppings: whipped cream, shaved chocolate, orange zest
Instructions
Combine milk, sugar, orange peel in a small sauce pan and place over medium heat.
In a small bowl break the chocolate up into small pieces.
Stir milk frequently and heat until hot but not boiling. Pour hot milk over chocolate and stir until chocolate is melted.
Serve topped with whipped cream, shaved chocolate and orange zest.
Notes
Note: If chocolate does not melt well (if it seizes), you can save it by blending it in a blender.
Nutrition Information:
Yield: 2
Serving Size: 1 cup
Amount Per Serving:
Calories: 194
Total Fat: 10g
Saturated Fat: 6g
Trans Fat: 0g
Cholesterol: 19mg
Sodium: 78mg
Carbohydrates: 21g
Fiber: 1g
Sugar: 19g
Protein: 6g
**Disclosure:
I am thrilled to be in an ongoing partnership with United Dairy Industry of Michigan. I have been compensated by UDIM for my time to develop this orange hot chocolate recipe. All opinions are as always, my own. Find out more about why Milk Means More on Twitter, Facebook, YouTube and Pinterest.