Easy Hot Chocolate Recipe (with lactose-free option!)
This easy hot chocolate recipe will have you sipping on rich and comforting cocoa in less than 10 minutes. You can make it using ingredients you probably already have at home!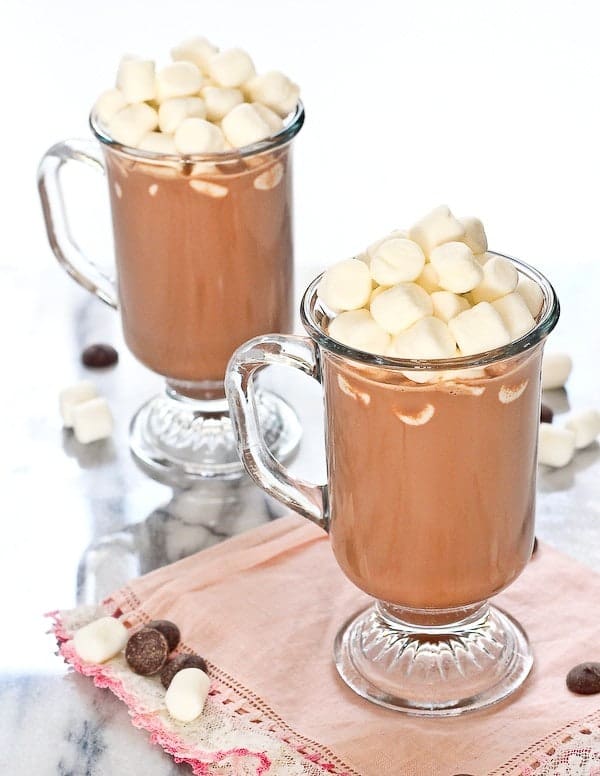 This post is part of my partnership with Milk Means More.
February is the perfect time of year to drink lots and lots of hot chocolate. Don't you think? My kids just adore hot chocolate (can you blame them?).
For me, this orange hot chocolate is good motivation to go out and shovel snow. Or pull the kids around on a sled for awhile.
Hot chocolate always makes me think of super crisp fall evenings at football games. A cup of warm cocoa in a styrofoam cup always works wonders at warming you up from the inside out as you watch the game. I know the cocoa at the football games is likely made from powder and hot water, but it always hits the spot on those cold nights.
However, it doesn't hold a candle to the real thing if you're looking for a decadent, satisfying cup of cocoa. Nothing beats real milk and real chocolate.
When I think of amazing hot chocolate, my mind goes to a brunch I had in Chicago during a blogging conference. I met up with some friends at Mindy's Hot Chocolate and had the most amazing hot chocolate. I had a hot chocolate called the "Half and Half" which was half dark hot chocolate and half espresso, because this lady needs her coffee in the morning, one way or another. Topped with homemade marshmallows, it was the most amazing, rich, creamy hot chocolate you can imagine. It was probably made with cream and must have contained 80 million calories but it was worth every single delicious calorie.
February is Lactose Intolerance Awareness Month and if you happen to be lactose intolerant, you don't have to miss out on this easy hot chocolate recipe. While you could easily make this with regular milk, I make it with lactose-free milk and it works perfectly. It's still just as rich and chocolatey as you'd expect and want it to be.
If you're anything like me, the term "lactose intolerant" can be a little confusing. Initially, I thought people who were lactose intolerant couldn't have any dairy products. Fortunately, I was wrong! The graphic below sums up important details to know about lactose intolerance.
If you are lactose-intolerant and are worried about the milk ingredients in the chocolate in this hot chocolate, here is some helpful information to use when choosing the right chocolate for you:
The amount of lactose present in chocolate chips depends on the type of chip (unsweetened, semi-sweet, milk chocolate, dark, etc). While milk chocolate must contain at least 12% milk and/or cream, other types of chocolate may contain less or no milk/milk ingredients.
Since milk ingredients can vary from brand to brand as well, check the label of the package to see if milk or milk ingredients are present.
If there's a concern, choose pure chocolate (no lactose because no milk solids have been added).
Unsweetened cocoa powder plus sugar could be used as an alternative. Try this recipe and replace the milk with any milk substitute.
Change it up with add-ins like cinnamon or ginger, or add a little spice with a pinch of cayenne powder. Try adding apple pie spice blend or pumpkin pie spice blend for rich delicious flavor.
If you're looking for a hot chocolate recipe for grown-ups, make sure to check out these recipes for stout hot chocolate or hot white Russians. And if you're still craving more, I have a list of 50 hot chocolate recipes that will definitely satisfy your craving for something warm and chocolatey.
Used in this recipe:
Easy Hot Chocolate Recipe (with lactose-free option!)
Yield: 1 serving
Prep Time: 2 minutes
Cook Time: 5 minutes
Total Time: 7 minutes
This easy hot chocolate recipe will have you sipping on rich and comforting cocoa in less than 10 minutes. Lactose-free instructions included!
Ingredients
1 cup 2% lactose-free milk
3 tablespoons dark chocolate chips
1 teaspoon pure vanilla extract
1 teaspoon powdered sugar
optional toppings: marshmallows, whipped cream, or chocolate syrup
Instructions
In a small saucepan, heat the milk over medium heat, stirring frequently.
When milk is steaming, reduce heat to low, add chocolate chips, vanilla extract, and powdered sugar and continue to whisk until smooth and melted.
Pour into a mug and serve immediately with desired toppings or as is.
Notes
You could also use regular milk, either whole, 2%, or low fat.
Choose a lactose-free variety of chocolate chips for lactose-free hot chocolate.
Nutrition Information:
Yield: 1
Serving Size: 1 cup
Amount Per Serving:
Calories: 465
Total Fat: 16g
Saturated Fat: 10g
Trans Fat: 0g
Unsaturated Fat: 5g
Cholesterol: 27mg
Sodium: 169mg
Carbohydrates: 66g
Fiber: 3g
Sugar: 42g
Protein: 11g
RachelCooks.com sometimes provides nutritional information, but these figures should be considered estimates, as they are not calculated by a registered dietitian. Please consult a medical professional for any specific nutrition, diet, or allergy advice.
**Disclosure: I am thrilled to be a dairy ambassador for Milk Means More. I have been compensated by Milk Means More for my time to develop this recipe and write this post. All opinions are as always, my own. Find out more about why Milk Means More on Twitter, Facebook, YouTube, Instagram and Pinterest.