Peppermint Chocolate Sugar Cookies
These peppermint chocolate sugar cookies are a fun take on the traditional sugar cookie – perfect for the chocolate lover!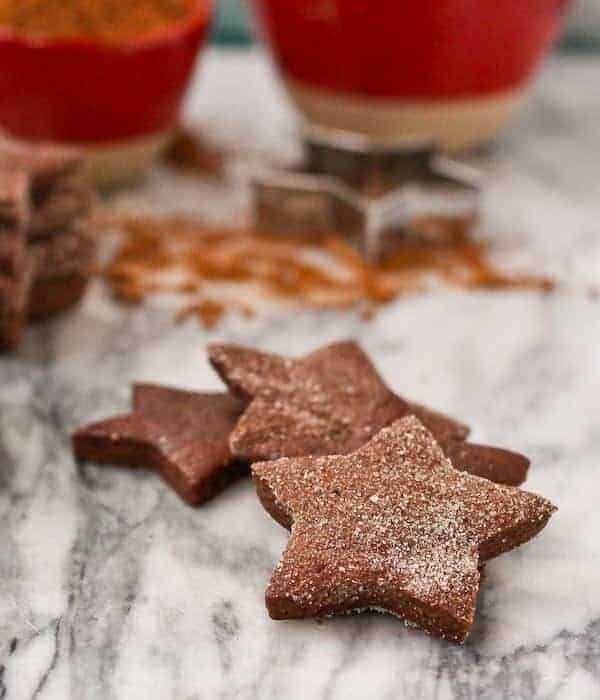 I hope you're still planning to do some cooking baking because I have a couple great recipes for you this week!
This one is a fun take on traditional sugar cookies. These peppermint chocolate sugar cookies are SO easy to make, and look great on the cookie table. Oh and they taste great too! I grew up making sugar cut-out cookies and I love that recipe (I think it was my aunt's). They had nutmeg and lemon extract in them which sounds like a strange combo at first but it added such great flavor to the cookies. However, they spread and are not perfect cut-outs. Enter in Katrina's recipe for what she dubs the best sugar cookie recipe. And I gotta say, she nailed it. These cookies are ridiculously easy to make, don't require any chilling time (!!!) and hold their shape wonderfully thanks to a little help from baking powder.
And they just so happen to translate perfectly into peppermint chocolate flavored cookies. Take out the almond extract, add in some cocoa powder and peppermint extract and you're good to go!
I also used white whole wheat flour in these cookies. To make things healthier. Or because I ran out of all-purpose….
What kind of food blogger runs out of all-purpose flour? The kind with two toddlers, that's who.
The white whole wheat flour really was great in these though, adding a nice bite to the cookies — it's a keeper. It makes them slightly more difficult to roll them out, but just keep them fairly thick (a hearty 1/4-inch) and you should be fine.
These would be beautiful with some white icing but I kept things suuuuuper simple and left some of mine plain and dipped the rest in granulated sugar before baking for a sparkling look.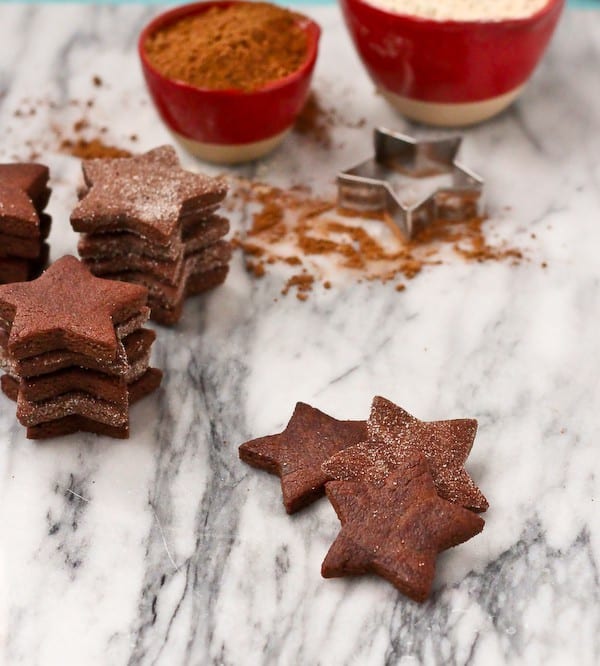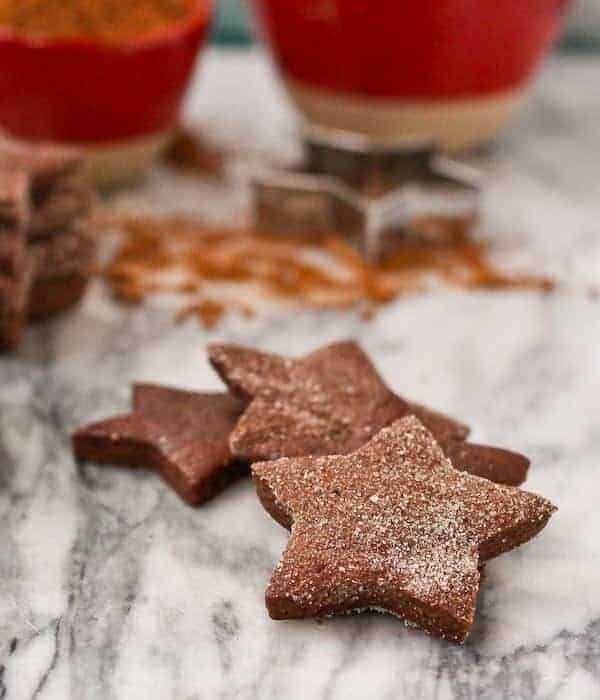 Peppermint Chocolate Sugar Cookies
Yield: Depends on thickness and size of cutter. Mine made about 60 small stars
Prep Time: 15 minutes
Cook Time: 7 minutes
Total Time: 22 minutes
These peppermint chocolate sugar cookies are a fun take on the traditional sugar cookie – perfect for the chocolate lover!
Ingredients
1 cup unsalted butter (2 sticks), softened
1 cup granulated white sugar
1 teaspoon pure vanilla extract
1/2 teaspoon peppermint extract
1 large egg
2 teaspoons baking powder
2 and 3/4 cups white whole wheat flour
1/2 cup cocoa powder, extra for rolling out cookies
Instructions
Preheat oven to 350°F.
In the bowl of a stand mixer, cream together butter and sugar until well combined. Add vanilla extract, peppermint extract, and egg. Beat to combine.
In a separate bowl, combine baking powder, flour, and cocoa powder. With the mixer on low, add dry ingredients gradually until combined.
Coat countertop with cocoa powder and also rub some on rolling pin. Roll out cookies fairly thick (1/4-inch works well) and cut into desired shapes. If you don't plan to frost them, dip them in granulated sugar for some sparkle.
You can place these fairly close together on baking sheet – they won't spread.
Bake for 7 minutes and let cool for 2-3 minutes on baking sheet before removing and placing on a cooling rack to cool completely before storing, frosting, or eating.
Nutrition Information:
Yield: 30
Serving Size: 2 cookies
Amount Per Serving:
Calories: 69
Total Fat: 7g
Saturated Fat: 4g
Trans Fat: 0g
Cholesterol: 22mg
Sodium: 27mg
Carbohydrates: 2g
Fiber: 1g
Sugar: 0g
Protein: 1g
Verdict:
Delicious and full of peppermint-chocolate flavor. This one is a keeper.
Husband's take:
I'm not really even sure he tried one (I'm sure he did), but the kids loooooved these.
Changes I would make:
None are necessary, frosting would be pretty!
Difficulty:
Easy.
Craving more easy cookie recipes? Try peppermint shortbread cookies (slice and bake!), peppermint lofthouse cookies, gingersnaps (a classic!), peppermint chocolate mini cupcakes from Lemons for Lulu, easy peppermint bark from Order in the Kitchen, or if you're suuuuper-duuuuper good at this cookie thing (or really brave) – try these unbelievably adorable nutcracker cookies from Sweetopia.