Healthier Pumpkin Bread
This healthier pumpkin bread is so moist and perfect, you'd never guess that it wasn't 100% indulgent.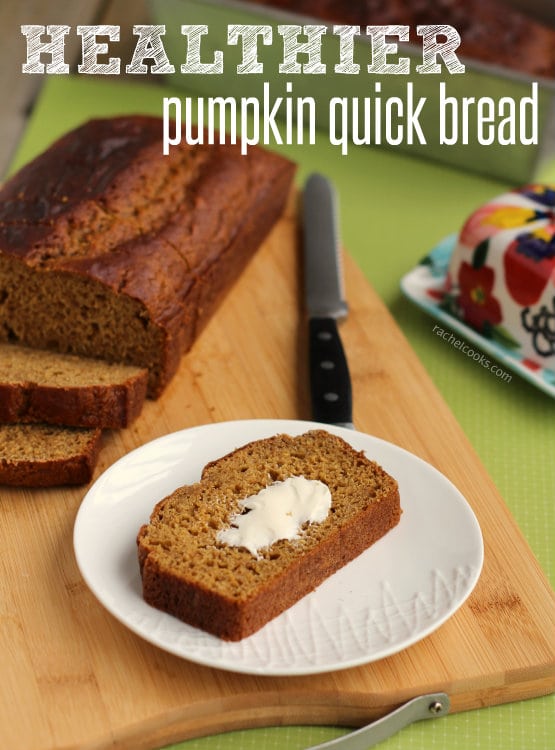 Have you noticed I have a thing about making breads healthier? The main reason is that I love eating breads like this healthier pumpkin bread (or the chocolate banana bread I posted last week!) for breakfast. It's still a treat in my mind but one that I can feel a little better about enjoying. What I love even more are recipes that make two loaves so that I can toss one in the freezer for a treat later in the month. One that is (or at least seems to be) work free to achieve. All you have to do is pull it out of the freezer and let it thaw.
Another reason I like making breads like this more healthy is so that I can feel good about my daughter eating them. I feel confident that I am feeding her something that is not going to contribute to health problems later in life.
Also, as you know, I'm not perfect when it comes to healthy eating (proof…and there's more where that came from). Instead, I focus on everything in moderation and trying my best to make changes where I can. Whole wheat bread, whole wheat pasta, reducing the amount of butter, etc.
Tasting this bread, you'd never know that it wasn't completely indulgent. And that's the best part. Besides the fact that it's pummmmmpkin.
Healthier Pumpkin Bread
This pumpkin bread is so moist and perfect, you'd never guess that it wasn't 100% indulgent.
Ingredients:
one 15 ounce can pumpkin puree (not pumpkin pie filling)
3 large eggs
2 cups sugar
3/4 cup plain Greek yogurt
3/4 cup water
2 teaspoons pure vanilla extract
2 cups whole wheat flour
1 and 1/2 cups all-purpose flour
2 teaspoons baking soda
1 teaspoon baking powder
1 teaspoon salt
2 teaspoons pumpkin pie spice
Directions:
Preheat oven to 350 degrees Fahrenheit. Spray two large loaf pans with nonstick baking spray. In a large bowl, combine pumpkin, eggs, sugar, yogurt, water and vanilla. Whisk until combined.
In a medium bowl, combine remaining ingredients. Add these dry ingredients to the pumpkin mixture and stir until combined but do not over mix.
Split the batter between the two loaf pans and bake for 1 hour to 1 hour and 15 minutes depending on the size of your loaf pans — mine are extra long so it only took an hour. A toothpick or a knife inserted in the middle should come out clean when the bread is done baking.
Let cool 10-15 minutes in pans before removing to a wire rack to cool completely.
Note: This bread freezes well.
All images and text ©
.
Verdict: Everyone loves this healthier pumpkin bread. Duh.
Changes I would make: None at all!
Difficulty: Easy!