Slow Cooker Creamy Chicken and Wild Rice Soup
This Slow Cooker Creamy Chicken and Wild Rice Soup will be the star of your winter cuisine! Perfect for chilly days.
You guys. Fall has officially arrived.
I'm no longer rolling up my skinny jeans.
I wore a scarf.
We turned on our heat.
I got out my slippers.
I haven't worn a real coat yet, but it won't be long.
I've been using my slow cooker more than I care to admit. But I use that baby all year. In the winter, it creates irresistible comfort foods. In the summer, it cooks dinner without heating up your house. Winner, winner, chicken slow cooker dinner.
Speaking of chicken slow cooker dinners (see what I did there?), I'm excited to share another recipe with you that's part of my partnership with Just BARE® Chicken.
This slow cooker soup really couldn't be easier to make. You just throw all the ingredients (except the cream) into the slow cooker and let it work its magic. Six to eight hours later, you have creamy delicious soup. The rice is tender and the chicken is ready to be shredded.
Just BARE antibiotic-free chicken is hand-trimmed so you don't even have to bother with trimming fat off the chicken thighs – it is already done for you. All you need to do is sit and take in the great smells of this cooking all day in your house. Perfect for football Saturdays, Sunday night dinners or busy weeknight meals when you want to come home to a hot meal already made. It's basically the perfect soup.
I like Just BARE's boneless skinless chicken thighs in this soup because they have a lot of really great flavor – but if you're not a dark meat fan, feel free to use boneless skinless chicken breasts in this recipe.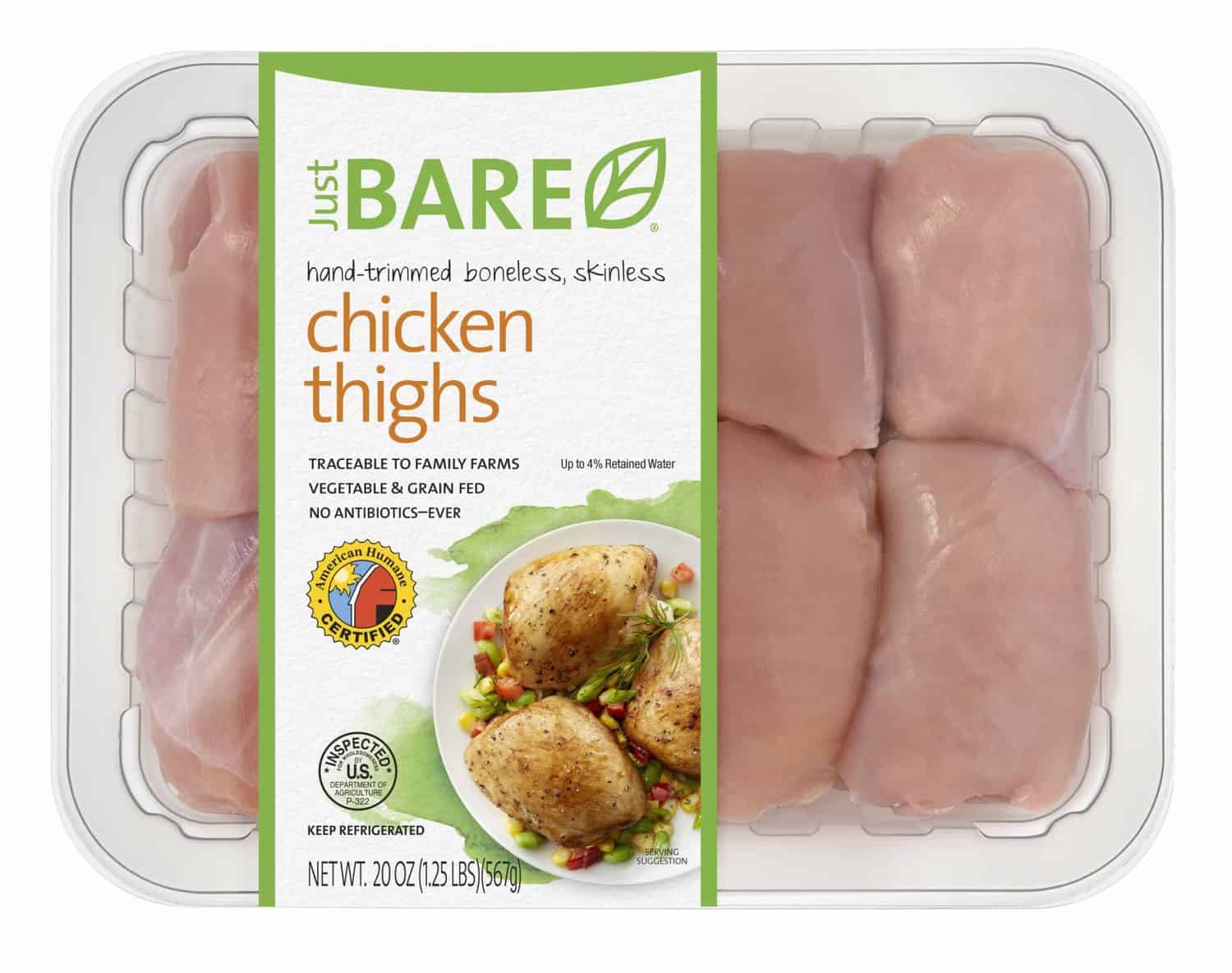 Enjoy – and stay warm!
Slow Cooker Creamy Chicken and Wild Rice Soup
This Slow Cooker Creamy Chicken and Wild Rice Soup will be the star of your winter cuisine! Perfect for chilly days.
Ingredients:
1 1/2 cups uncooked wild and brown rice blend
1.5 pounds boneless, skinless chicken thighs
1 large onion, diced (a heaping cup)
2 cups chopped celery
2 cups chopped carrots
2 bay leaves
2 teaspoons dried parsley
1/2 teaspoon dried thyme
1/2 teaspoon ground sage
1/2 teaspoon garlic powder
1/2 teaspoon ground black pepper
1/2 teaspoon salt
4 cups no salt added chicken stock
3 cups water
1/2 cup heavy cream
milk or water as necessary to thin soup
Directions:
Combine all ingredients except cream in a large slow cooker.
Cook on low for 6-8 hours. Remove bay leaves and discard.  Remove chicken thighs, shred and return to slow cooker.
In a medium bowl, place 1/2 cup heavy cream. Slowly whisk 1-2 cups of hot soup into cream. Then, slowly pour that mixture back into the slow cooker while whisking.
Taste and season with salt and pepper as needed before serving.

Note: I always use the inside stalks of celery with the leaves for soup – they have great flavor.
Note: This turns out very stew-like. If you want it more soupy, I'd recommend using only 3/4 cup of rice rather than 1 1/2 cups. We love our soup stewy!
All images and text ©
.
Verdict: Warm, comforting, delicious. And insanely easy to make. What's better than that?
Husband's take: He really loved this creamy chicken and wild rice soup! I think even more than I did. He ate leftovers for lunch for a few days.
Changes I would make: None!
Difficulty: So easy.
Looking for more recipes using boneless skinless chicken thighs? Try: Chicken Barley Soup with Butternut Squash and Kale, Slow Cooker Moroccan Chicken Thighs, Honey Balsamic Chicken Thighs, Chicken Burger with Bacon, Leeks and Gouda, French Style Garlic Wine Chicken, Barley and Greens with Boneless Skinless Chicken Thighs, or Chicken Pomegranate Tagine.
You can also find more chicken inspiration on Just BARE's Facebook, Twitter and Pinterest pages! You can also read more on Just Dish (their blog), The Good Plate (fun extras on healthy living), and of course on their website.
Disclaimer: I have been compensated by Just BARE chicken for the time required to develop and share this recipe but all thoughts are my own, as always. Thanks for supporting my blog by reading about brands and products I use and love in my own kitchen.