Blueberries and Cream Popcorn
Blueberries and Cream Popcorn is hard to resist. What a unique treat to make for your family!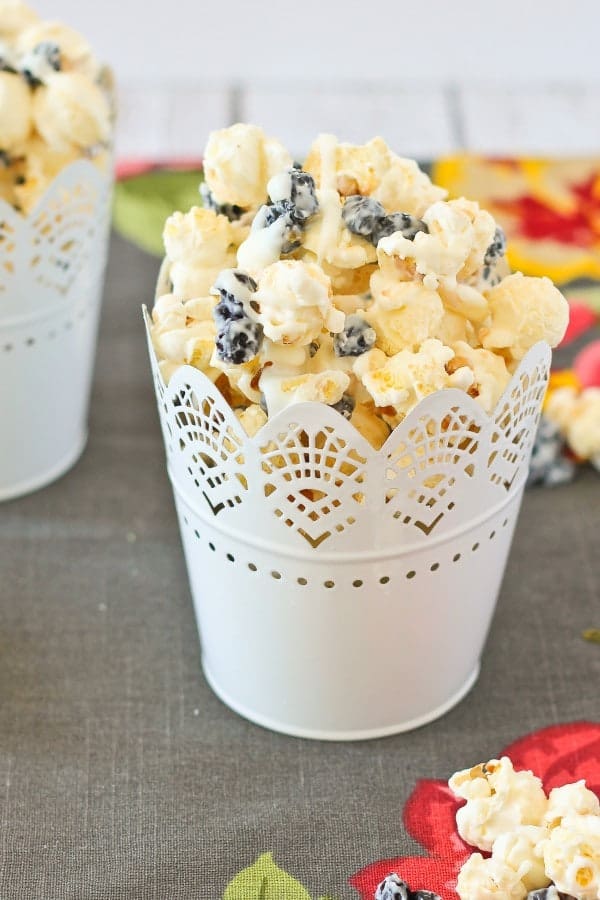 The fun thing about popcorn (other than the fact that it's the best food on earth) is that you can pretty much do anything to it. It's a blank slate waiting to be decorated with any food you're craving or even just whatever you have in the house.
Sweet, savory, salty-sweet, spicy-sweet, whatever you want. The only thing you're limited by is your creativity. So get creative! I seem to gravitate towards sweet popcorn flavors like Cinnamon Toast Crunch popcorn or Brownie Brittle popcorn, and this recipe is no different. I used dried blueberries (I got mine from Costco!) and white chocolate. And popcorn! That's it!
A few tips:
As always, I use mushroom popcorn for fancy popcorn flavors like this one. It pops up really full and is a great vessel for whatever toppings you are adding.
Preheat your air popper for at least 2-3 minutes to minimize the number of unpopped kernels.
Remove any unpopped or barely popped kernels. I know I say it every time (hello, yes, I am a broken record), but it is SO SO SO important! Consider yourself warned. I am not to be held responsible for any expensive visits to the dentist.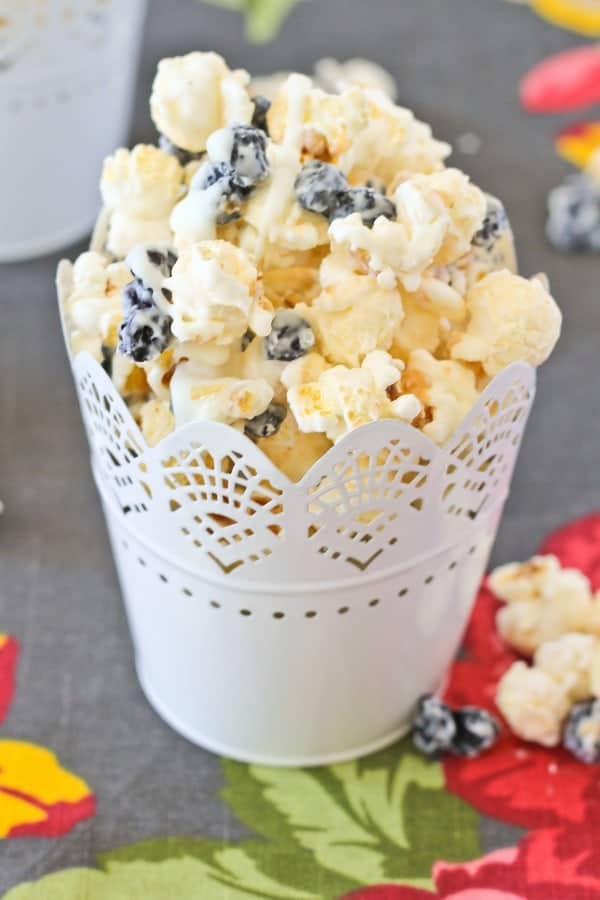 You'll have this popcorn made in less than 10 minutes. You can start digging in right away, but I'd recommend letting the candy coating or white chocolate harden before chowing down.
Oh and BY THE WAY – it has blueberries in it so it's healthy!*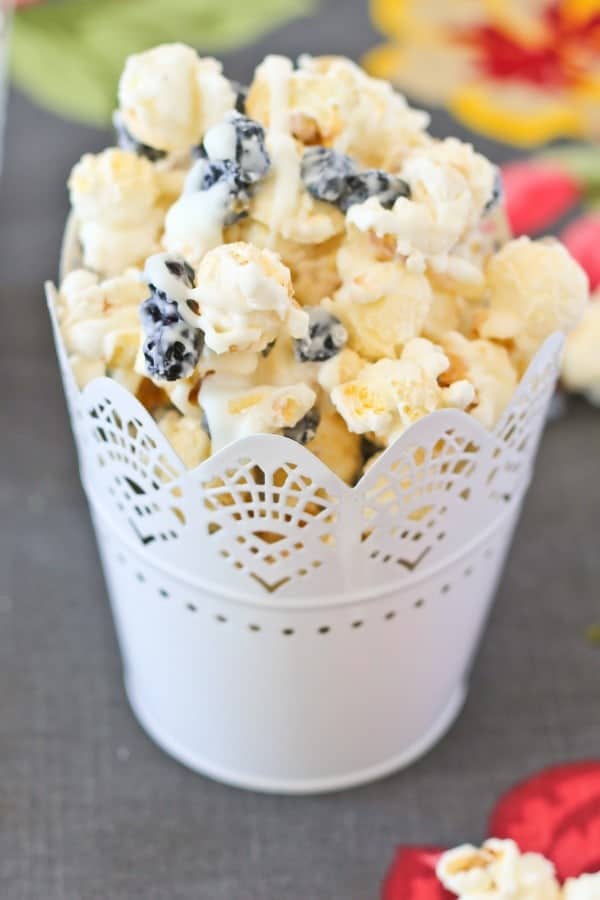 *Not really true.
One more note – if you prefer to use fresh blueberries, I have a couple tips.
Wash them and dry them completely or you'll have soggy popcorn.
I'd sprinkle them on top after you've coated the popcorn with the candy coating. If you try to stir it with the fresh blueberries in there, you'll end up with squished berries which will lead to soggy popcorn.
Only use fresh blueberries if you're going to eat it all immediately.
Long story short, use dried. Not fresh. Save those for snackin'. Or muffins. Or pie.
Are you a popcorn-aholic like me? I have you covered with over 50 great popcorn recipes!
Blueberries and Cream Popcorn
Yield: 16 servings
Prep Time: 10 minutes
Cook Time: 5 minutes
Additional Time: 20 minutes
Total Time: 35 minutes
Blueberries and Cream Popcorn is hard to resist. What a unique treat to make for your family!
Ingredients
1/2 cup popcorn kernels, I use the "mushroom" variety
1 cup dried blueberries
16 ounces vanilla candy coating
Instructions
Pop corn using a hot air popper. Pick out any unpopped kernels (slightly time consuming but very important!!!). To the popped popcorn, add dried blueberries.
Melt candy coating according to package directions. Pour melted candy coating over the popcorn mixture and stir until everything is well coated.
Spread onto a large sheet pan and allow candy coating to harden, about 20 minutes.
Serve immediately or store in an airtight container for 3-4 days.
Nutrition Information:
Yield: 16
Serving Size: 1 cup
Amount Per Serving:
Calories: 90
Total Fat: 0g
Saturated Fat: 0g
Trans Fat: 0g
Unsaturated Fat: 0g
Cholesterol: 0mg
Sodium: 5mg
Carbohydrates: 5g
Fiber: 0g
Sugar: 5g
Protein: 0g
RachelCooks.com sometimes provides nutritional information, but these figures should be considered estimates, as they are not calculated by a registered dietitian. Please consult a medical professional for any specific nutrition, diet, or allergy advice.
I developed this
blueberries and cream popcorn recipe
for
Food Fanatic
.