Pepperoni Pizza Quinoa Stuffed Peppers
 These Pizza Quinoa Stuffed Peppers have all the flavor and goodness of pizza…in a bell pepper! Pretty, delicious, and (mostly) healthy. 
So, I recently turned 30.
I'm officially OLD.
All the more reason to watch what you eat, right? I feel like I've had a slightly obscene amount of sweets around here lately. The No Bake Peanut Butter Bars were especially damaging to my waistline.
Figured it was due time to have a savory recipe…and something slightly healthier. Slightly. We'll just say it's better than actual pizza. You have power packed quinoa, fresh basil, flavorful mushrooms. Oh yeah…and tons of cheese and pepperoni. Minor details. But it's all packaged up in a sweet red bell pepper rather than greasy crust. So that's a win.
I cut my peppers from top to bottom rather than the traditional way of stuffing peppers (by slicing off the tops), because I like this ratio of filling to pepper better than the alternative. Plus they are easier to cook (and eat!) this way.
This isn't my first go-around with stuffing quinoa into a bell pepper. If you're craving tex-mex, make sure to try my southwestern quinoa stuffed peppers. I think I loved this recipe even more than that recipe, though. These are moist on the inside and you get the gooey bits of fresh mozzarella, the slightly spicy pepperoni, and the fresh basil to keep things lively.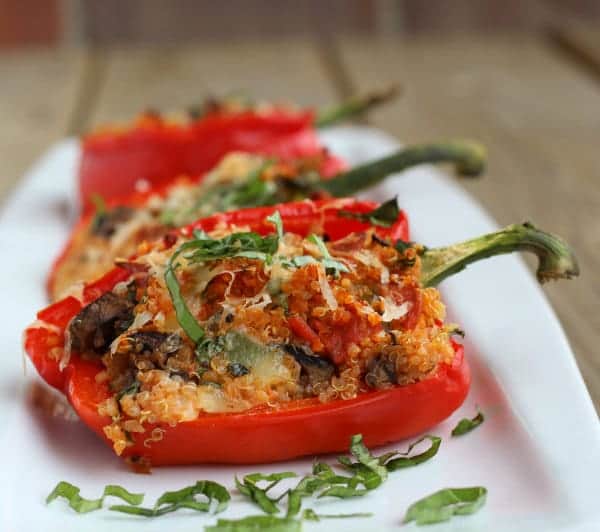 If you're looking for more healthy twists on pizza, try these pepperoni pizza zucchini noodles or pizza chicken tenders!
Enjoy!
PS: Also gluten free!
Pizza Quinoa Stuffed Peppers
Yield: Serves 5
Prep Time: 20 minutes
Cook Time: 45 minutes
Total Time: 1 hour 5 minutes
These Pizza Quinoa Stuffed Peppers have all the flavor and goodness of pizza...in a bell pepper! Pretty, delicious, and (mostly) healthy.
Ingredients:
2 cups cooked and cooled quinoa
3.15 ounce package of sliced pepperoni, slices cut into quarters
8 ounces of perline (pearl) mozzarella, liquid drained
3/4 cup pizza sauce
1 cup loosely packed fresh basil, more for garnish
8 ounces baby bella mushrooms, roughly chopped
2 cups loosely packed fresh spinach, roughly chopped
1/2 cup grated Parmesan
5 red bell peppers, sliced in half and hollowed out
Directions:
Preheat oven to 350 degrees and bring a large pot of salted water to a boil over high heat.
In a large bowl, mix together all ingredients except parmesan cheese and bell peppers.
Meanwhile, place red pepper halves in boiling water and cook for three minutes. Remove and let cool so that you can handle them.
Fill pepper halves with quinoa mixture and place in a large baking dish (9x13 or bigger). Repeat until all pepper halves are full. Sprinkle grated parmesan cheese over the top and bake for 40 to 45 minutes or until cheese is golden brown and peppers are heated through. Enjoy immediately
If you can't find pearl mozzarella you can cut up any type of fresh mozzarella into small pieces.
Verdict: Loved these! The filling was so flavorful and perfect.
Husband's take: He approved. He liked this heathier take on pizza.
Changes I would make: None are necessary.
Difficulty: Easy!
More great quinoa recipes:
Quinoa Salad with Grapes and Celery
Italian Turkey Quinoa Meatloaf
Black Bean, Sweet Potato and Quinoa Stuffed Peppers from Ambitious Kitchen
Quinoa Mushroom Pilaf from Gluten-Free Goddess
Quinoa with Corn and Scallions from Just a Taste