Cranberry-Walnut Oat Bread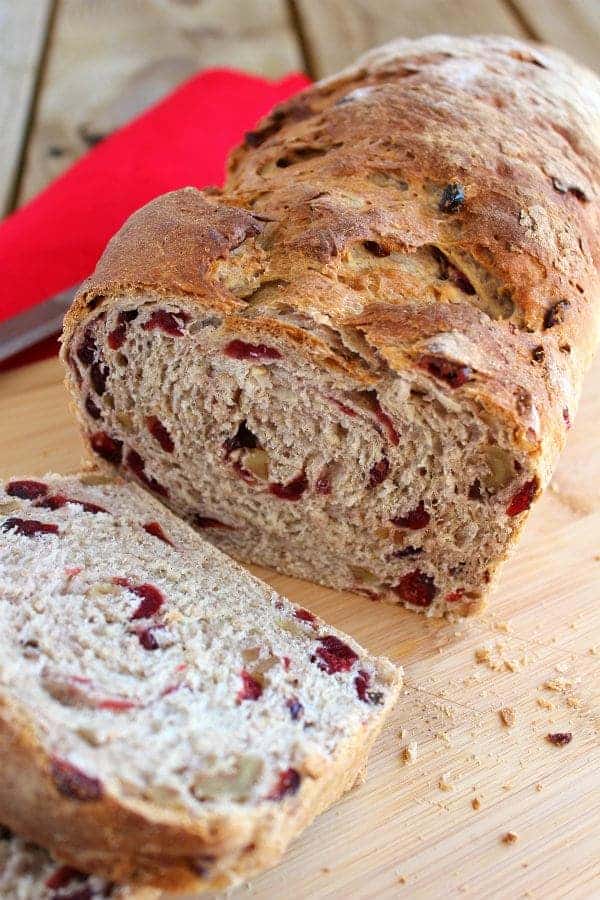 Baking with yeast makes my knees shake a little. For me, it is always hit or miss. I'm working on it. I WILL NOT LET YEAST DEFEAT ME.
Regardless of my ongoing battle with the stuff, when Red Star Yeast contacted me about their new product, Red Star Yeast Platinum Superior Baking Yeast–a yeast they call "forgiving" and "simple to use" I was alllll about it. They promised it would give me "professional results EVERY time." And let me tell you–this bread tastes like something out of one of your favorite bakeries. They added dough improvers to make your bread turn out even more perfectly. They recommend it especially for whole grain dough which is fantastic because I prefer to make whole-grain breads any time possible. There is also helpful information on their website about how to use the yeast and lots of great recipes to get you started!
Let's just say I'm sold.
Want to win some of your own to try? You could win this pretty little package with yeast, coupons, a nice wooden cutting board and a fun apron! Read on for more details.
Cranberry-Walnut Oat Bread
Yield: 1 loaf
Cook Time: 40 minutes
Ingredients:
2 and 1/4 teaspoons Red Star Yeast Platinum Superior Baking Yeast
3 cups bread flour
1 cup old-fashioned oats
2 teaspoons ground cinnamon
1 teaspoon salt
1 cup plus 2 tablespoons water
1 tablespoon vegetable or canola oil
1/3 cup pure maple syrup
1 cup chopped walnuts
1 cup dried cranberries
Directions:
In the bowl of a stand mixer, combine Platinum yeast, one cup flour, oats, cinnamon and salt.
In a large measuring cup (or small bowl), combine water, oil and syrup. Heat to 120-130 degrees F (I did this in the microwave!).
Add liquid ingredients to the dry mixture in the mixing bowl. Using paddle attachment, beat on medium speed for 4 minutes.
Gradually add in the remaining flour and knead with dough hook 5-7 minutes or until smooth and elastic. Add in the walnuts and cranberries and knead gently by hand until combined.
Place dough in a lightly oiled bowl, turned to grease the entire dough ball. Cover and let rise until dough tests ripe. (Read here to learn what that means if you don't know.)
Place dough on lightly floured surface and punch down to remove air bubbles. Form into a (approximately) 14 x 7-inch rectangle. Starting with the short side, roll up tightly to form a roll. Pinch edges and ends to seal. Place in a greased 9 x 5-inch loaf pan. Cover with a clean towel and let rise until indentation remains after touching.
Meanwhile, preheat oven to 375 degrees F. Unless your dough is rising in the oven. Then wait.
Bake at 375 degrees F for 30-40 minutes. Remove from pan and let cool before slicing.
Oh…and that goodness that is spread on the bread? We'll talk about that next week. Don't miss it though–it's perfect on this bread.
Verdict: Best bread I've ever made. Seriously! Tasted amazing toasted, it really brings out the flavor of the walnuts.
Husband's take: Not the biggest fan of dried cranberries but he loved this bread and ate it every day until it was gone!
Changes I would make: None!
Difficulty: If I can do it, you can do it.
Want to talk about the giveaway? Alright!
UPDATE: GIVEAWAY HAS ENDED. CONGRATS TO COMMENT #45, ERICA! 
One (1) winner will receive: A VIP sample package that includes samples of yeast, coupons for the yeast, a cutting board and apron. The winner of the giveaway on Rachel Cooks will also be entered into a grand prize drawing for a 'Platinum' KitchenAid Mixer!
To Enter (Required Entry): Leave a comment on this post telling me what you would bake with Red Star Platinum!
Disclaimer: This post is sponsored by Red Star Yeast but all opinions, as always, are 100% my own.