These wild rice patties are flavorful, filling and such a fun vegetarian meal! Get the kids involved in making them!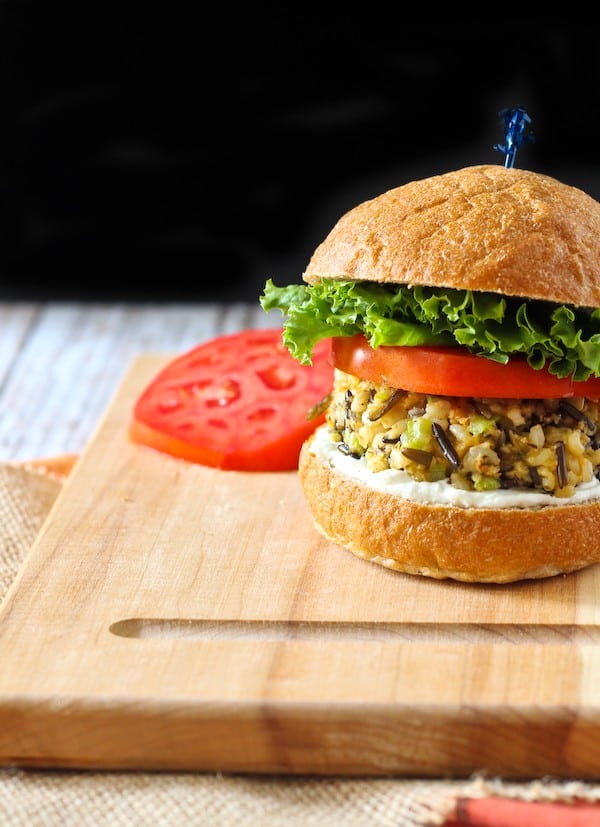 I got my kids involved in cooking this recipe and it made me realize one thing:
I need to do this more often.
It's a nightmare when it comes to my type-A personality, but they have so much fun. The look of excitement on their faces makes every little mess more than worth it.
I'm so glad Door to Door Organics asked me to partner with them on this project, because it is such a fun one! And apparently fun equals a lot of pictures so get ready for that…
If you've followed my blog for any period of time, you'll know that:
I live in the Detroit, Michigan area with my family of four.
I love Door to Door Organics! You might recognize their name from my Sharing by the Shore food blogging retreat post, from their sponsorship of Mac & Cheese Mania, or from when I introduced you to them back in the beginning of January 2014.
Keep those two things in mind as you read on! Door to Door Organics has partnered with the Detroit Zoo to create a Rezoopies® e-cookbook. Get it? ReZOOpies….recipes! The full name of the ebook is Rezoopies – Eat Like an Animal. You can download Rezoopies – Eat Like an Animal the ebook for free here: https://blog.doortodoororganics.com/michigan/rezoopie-cookbook-inspire-kids-eat-healthy-like-animals-detroit-zoo/. The goal of this cookbook is to get you and your kids inspired to get in the kitchen and create some healthy eats while learning about fun zoo animals.
I had originally planned to take the kids to the zoo last Thursday and then make some recipes from the book on Friday, but unfortunately, E's stomach virus had different plans for us. Luckily for us, we're members and the kids are very familiar with everything the zoo has to offer – this is a picture from one of our recent trips. It was fun looking through the Rezoopies e-book and talking about all the animals. Each recipe in the book is paired with an animal, fun facts about the animal, and even a fun activity to do when you're done cooking the recipe.
(Come back for the Cameloupe Water recipe on Friday!)
We chose to make the wild rice patties and everyone loved them! I got the kids involved by adding the ingredients to the bowl and mixing the ingredients together.
But before we could get the ingredients mixed, we had to purchase them! Door to Door Organics makes it SO easy. You can search for recipes on their site, and each recipe has a list of ingredients (obviously). But the great part is that you can click on the ingredients to quickly add them to your order…which gets delivered STRAIGHT TO YOUR DOOR. It's basically the best thing ever. I love living in the 21st century.
It's always so much fun to open a box….
…and see all the delicious food that awaits you!
Small side note: The food comes cushioned, on ice as needed, and very well protected. I arranged it for the picture – it wasn't delivered this way.
Another small side note: Door to Door Organics has chocolate. My recommendation is that you always add chocolate to your order. Ummm…chocolate, delivered TO YOUR DOOR.
Just do it. Don't be a dunce.
Back to the recipe! I ordered all the ingredients for these rice patties except for pantry staples that I already had on hand like spices and olive oil – but those are also available, so if I was running low I'd be 100% covered. They also have snacks, dairy, bread, and pretty much anything you could ever want. It's great to stock up mid-week so that you can avoid a grocery store trip. Or you could never go to the grocery store at all and just have everything delivered right to you! They have prepared foods like quinoa salad and cauliflower mac and cheese (I'll definitely be taking advantage of those come back-to-school time!), meat for grilling, and even pies and bread from Zingerman's (which is a little dangerous for me — SUCH good stuff!). Oh and during the summer you can get a box comprised entirely of local produce!
Back to cooking….E is adding panko bread crumbs to the mixture of brown and wild rice. Combined with a couple beaten eggs, they're a great binder for these patties.
She got a little help from me grating the cheese. I'm not a helicopter mom, but those graters are sharp. I'd be embarrassed to admit how many times I've grated my finger. Safety first!
N got involved when it came to mix the ingredients together. They were such a great team and didn't even fight over the spoon! (I'm lying.)
Form the rice mixture into patties and fry them up in about 5 minutes. Cook the rice the day before to cut down on prep time and the recipe will come together super quickly — even with toddler helpers! We all enjoyed these for lunch.
Ready to dig in? We are!
I'd highly recommend getting your kids involved in the kitchen. They're so much more likely to try the food when they are involved in the process.
And of course, when we were done eating our wild rice patties, we all made sure to stand up tall and stretch our necks out like a giraffe just like the book instructed us to. If you're paying attention to details, you'll notice we don't have sprouts on our patties. Sprouts were unavailable this week so we substituted with some nice green leaf lettuce which was absolutely perfect.
[Tweet "Eat like a giraffe. Try these wild rice patties! "]
Did you make this? Be sure to leave a review below and tag me @rachelcooksblog on Facebook, Instagram, or Pinterest!
These wild rice patties are flavorful, filling and such a fun vegetarian meal! Get the kids involved in making them!
Ingredients
½

cup

uncooked wild rice

½

cup

uncooked brown rice

2

tablespoons

olive oil, divided

1/3

cup

small-diced onion

1/3

cup

small-diced celery

1

clove

garlic, minced

½

cup

breadcrumbs

¼

cup

shredded sharp cheddar cheese

1

teaspoon

kosher salt

½

teaspoon

dried oregano

½

teaspoon

dried thyme

¼

teaspoon

paprika

1/8

teaspoon

cayenne pepper

1/8

teaspoon

black pepper

2

large eggs, beaten

4

multigrain hamburger buns, split

1

cup

plain Greek yogurt

2

cups

sprouts

2

roma tomatoes, sliced
Instructions
Cook rice according to package instructions. Allow rice to cool completely before proceeding to next step.

Heat 1 tablespoon of olive oil in a skillet over medium-low heat. Sauté onions, celery, and garlic until translucent.

In a large bowl, combine rice with onion mixture, breadcrumbs, cheddar cheese, salt, oregano, thyme, paprika, cayenne pepper, and black pepper. Cool completely. Add eggs, stirring to combine.

Divide into 4 balls and shape into 1/2-inch thick patties.

Heat remaining tablespoon of olive oil skillet over medium heat. Fry patties 2-3 minutes on each side or until crisp and golden.

Coat hamburger buns with Greek yogurt and serve with sprouts and tomatoes.
Notes
Prepare rice the night before to expedite the prep time.
Nutrition Information
Serving:
1
pattie with bun
,
Calories:
439
kcal
,
Carbohydrates:
50
g
,
Protein:
21
g
,
Fat:
17
g
,
Saturated Fat:
5
g
,
Polyunsaturated Fat:
10
g
,
Cholesterol:
110
mg
,
Sodium:
1018
mg
,
Fiber:
4
g
,
Sugar:
8
g
This website provides approximate nutrition information for convenience and as a courtesy only. Nutrition data is gathered primarily from the USDA Food Composition Database, whenever available, or otherwise other online calculators.
Verdict: We were all happy giraffes!
Husband's take: He loved these! Really loved these! He even fried up the scraps in the bowl for another small patty.
Changes I would make: None!
Difficulty: Easy to moderate. The patties are a bit fragile. I recommend really squeezing them to get them to hold together and then use a very gentle touch with flipping them over in the frying pan.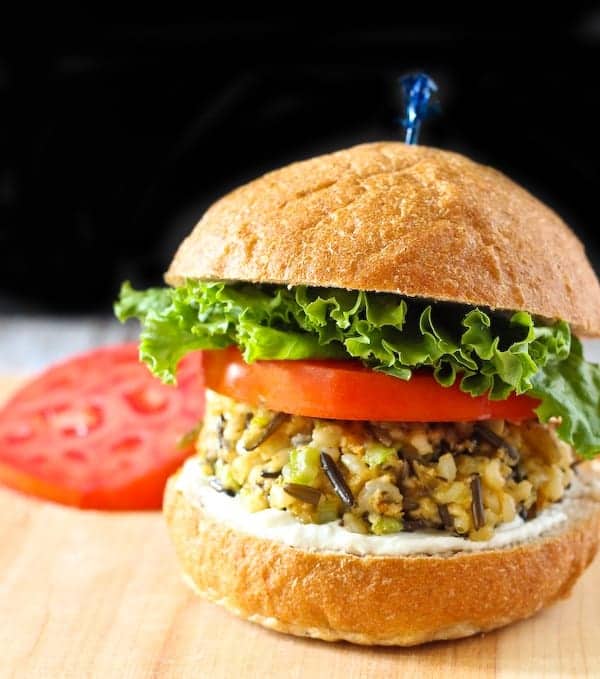 A couple of my blogging (and real-life!) buddies made more recipes from the Rezoopies book – check out Katie's animal themed recipes on Mom to Mom Nutrition and Kristy's kid-friendly healthy recipes on Chocolate Slopes!
*Disclosure: I've partnered with Door to Door Organics to bring you this post. They compensated me for my time but all opinions are, as always, my own. I've paid for Door to Door Organics deliveries with my own money more times than I can count. Thanks for supporting Rachel Cooks by reading about brands I use and love!