Slow Cooker vs. Multi-Cooker – what's right for you?
Slow Cooker vs. Multi-Cooker – which countertop appliance is right for you and your family? This guide will help you decide!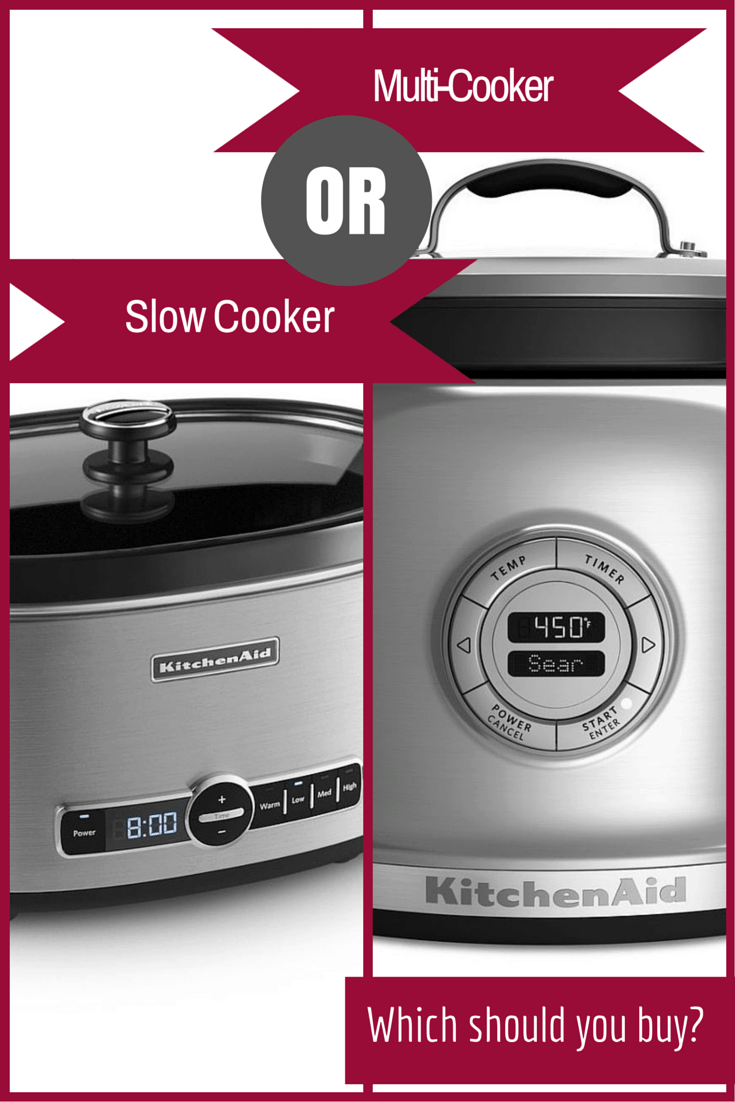 I swear, there is a new kitchen gadget popping up every day. They're all shiny, they all serve a purpose, and they're all very tempting. If only I had a 1,000 square foot kitchen, all my dreams would come true. Or at least my kitchen dreams. I was recently sent a KitchenAid Multi-Cooker for the purpose of a review, and I have already gotten so much use out of it. Since many people aren't familiar with the Multi-Cooker, I wanted to compare it to a similar (yet very different) small appliance, the slow cooker.
What's the difference?
There are a lot of differences between these two countertop appliances. Most people are already familiar with the functions of a slow cooker – it's a great hands-off way to get your dinner (or breakfast!) on the table with very little effort. The one thing that sets the KitchenAid slow cooker apart from the crowd is its handy "medium" setting – something that gives you much more control over your slow cooking. Read more about the KitchenAid Slow Cooker here.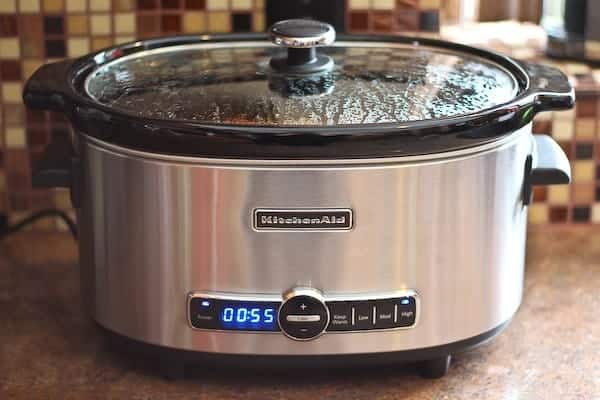 What you might not be familiar with is the Multi-Cooker — a jack of many trades (and a master of all of them!). It comes with a steamer basket that converts to a roasting rack.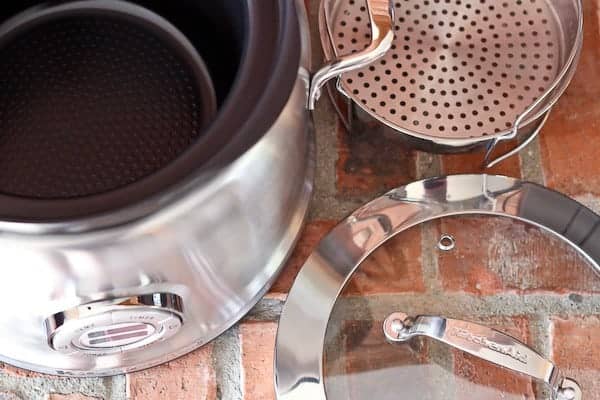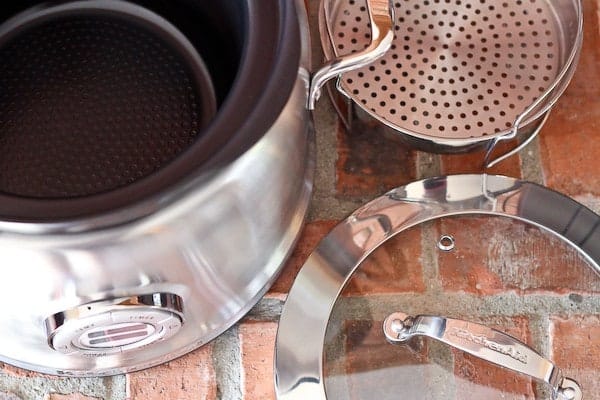 It has over 10 functions (some of which are broken down into step-by-step modes as well) – they are:
Sauté
Sear
Soup
Yogurt
Risotto
Rice
Boil/Steam
Simmer
Keep Warm
Slow Cook – High
Slow Cook – Low
Manual
You can also purchase a stirring tower attachment that will actually stir your food while it cooks in the multi-cooker. Risotto just got a whole lot easier!
And it can be used as a kitchen timer when it's not cooking something. That function, along with its pretty appearance makes this a front-runner for being left out on the counter!
Read more about the KitchenAid Multi-Cooker here.
I made a handy chart to further compare the two products so you can decide which is best for you. (Hint: buy both.)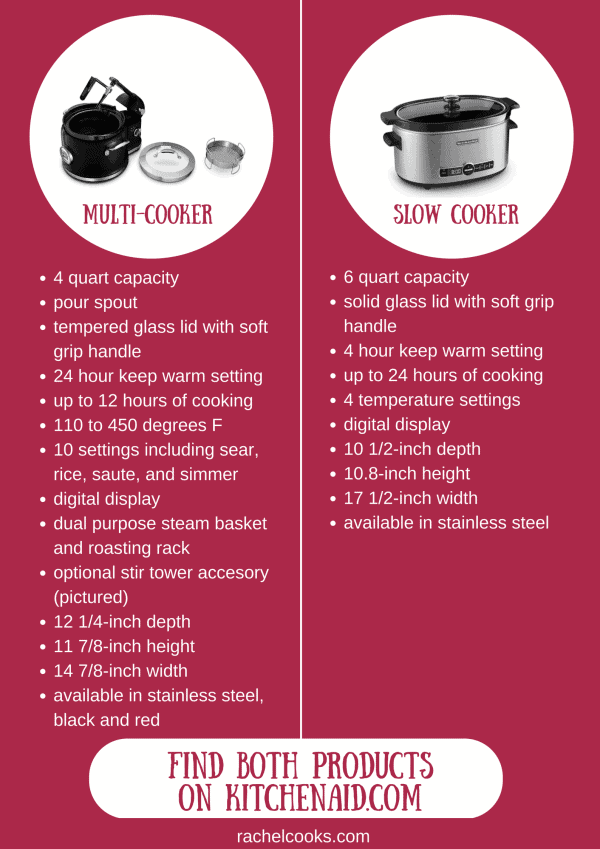 What I like about each
Slow Cooker: The benefit of the slow cooker is its larger capacity. It's perfect for groups and large batches of recipes. The KitchenAid slow cooker is great because of the availability of the "medium" setting and also because it automatically goes to the keep warm setting after cooking is done.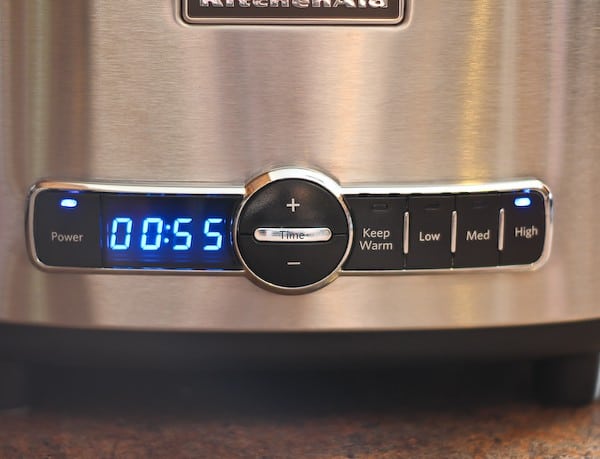 Multi-Cooker: I'm smitten with this thing. I love that I can sear, saute, and simmer all in one appliance. And it makes the most perfect rice (I can never get rice right on the stovetop). The icing on the cake is the nonstick coating on the pot and the appearance of the multi-cooker. It looks great in my kitchen.
What I've made in each
Slow Cooker: Oh goodness, I have so many slow cooker recipes on my site (you can also check out my slow cooker archives). Since I've had this KitchenAid slow cooker, I've made:
Some yummy cheesy potatoes that will be making their appearance soon.
Multi-Cooker: I've been trying to use as many functions as possible. So far I've:
Final Verdict
Obviously, if you have the space and the budget, I'd recommend both of them. They serve very different functions and I am getting tons of use out of both countertop appliances. If you HAVE to choose just one, this is what I'd recommend:
If you have a small family (4 or less), I'd recommend the multi-cooker. It does SO much and you'll find yourself constantly using it. Or if you already have a slow cooker, I'd recommend picking up the multi-cooker to add to your collection. You'll love it!
If you cook for a larger group or attend a lot of potlucks, I'd recommend the slow cooker for its larger capacity.
Disclaimer: I received free products from KitchenAid for the purpose of this review. I was not compensated monetarily and was not required to write a positive review. All opinions are always my own.