Meyer Lemon Parfaits
Cute parfaits filled with the fresh taste of Meyer lemons, these Meyer Lemon Parfaits will have your guests smiling…and puckering!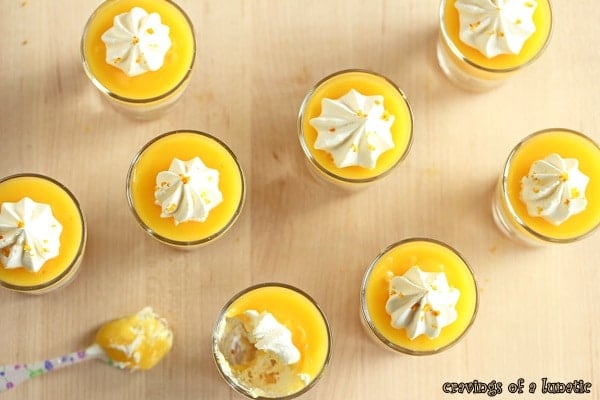 Today I have the oh-so-sweet Kim of Cravings of Lunatic posting for me! And there must be Meyer Lemons in the air! Can't wait to try these fun parfaits. Thanks, Kim!
Hi folks. I'm pleased as punch to be guesting for Rachel today. I remember what it's like to have 2 wee ones in the house. Life gets hectic with kids. As a stay at home mom for 24 years, yes you read that correctly, I can totally relate to trying to juggle kids and life. I think Rachel does an amazing job.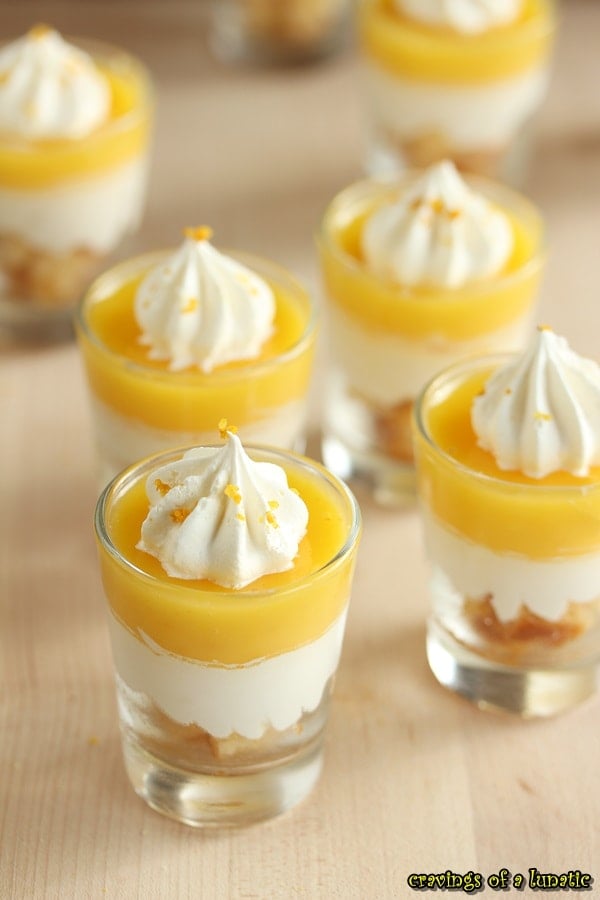 I knew what I wanted to make today right away. I had taken a trip to Toronto not too long ago and picked up 2 bags of beautiful Meyer lemons. They were gorgeous and quite honestly the colour of them blew my mind. The ones we get locally are never as fabulous as the ones I picked up at the farmers' market in Toronto. I brought them home, proceeded to get deathly ill with the flu, and almost lost my window for these little beauties. Luckily I recovered just in time to still make the most of my gorgeous lemons.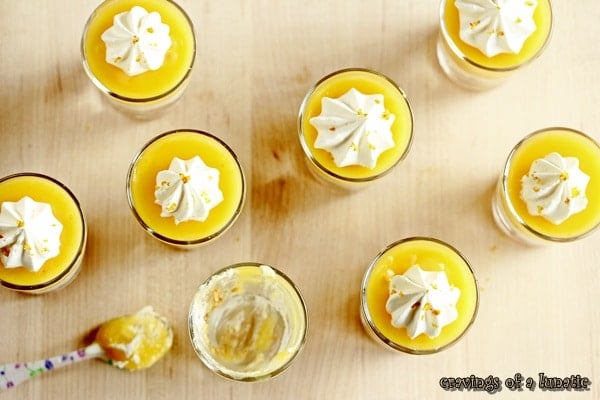 Knowing most moms like things quick and easy, I was torn on making curd. In the end I decided it's not that time consuming or difficult, and totally worth the little bit of effort it takes to squeeze the heck out of the lemons. So I turned the curd into a simple parfait in cute little cups. I mean everything is cuter in tiny little shot glasses right?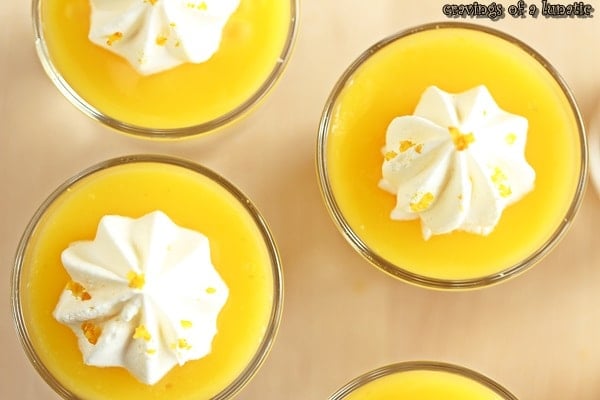 I'd like to thank Rachel for having me today. It was a total pleasure. Also an even bigger thanks for allowing me some extra time to recuperate.
Hope everyone gets a chance to try these little Meyer Lemon Parfaits.
Make these lemon parfaits your own:
Instead of lemon curd, make lemon mousse or lemon cheesecake. You could also swap out simple syrup and use a lemon alcohol. That would be smashing for a party. Also the base can be mixed up by using Nilla Wafers or any fun cookie you love. I quite frankly realized after I made them that they might have been prettier if I had just used a graham crumb base. Live and learn.
For more lemony desserts, try easy no-cook lemon pudding with only 3 ingredients, or lemon pudding/cake filling. Or this creamy lemon smoothie!
~~~~~~~~
Thanks so much Kim! Can't wait to try these!
Meyer Lemon Parfaits
Yield: 12 shot glass servings
Prep Time: 20 minutes
Cook Time: 5 minutes
Total Time: 25 minutes
Cute parfaits filled with the fresh taste of Meyer lemons, these Meyer Lemon Parfaits will have your guests smiling...and puckering!
Ingredients
For the Base:
6 giant ladyfinger cookies, cut into tiny pieces
For the Simple Syrup:
½ cup water
½ cup sugar
2 tablespoon Meyer lemon juice
For the Curd:
2 tablespoons Meyer lemon zest
5 egg yolks
¾ cup sugar
¾ cup Meyer lemon juice
5 tablespoons butter
For the Garnish:
1 cup heavy cream
2 tablespoons confectioners' sugar
Optional- Meyer Lemon Zest
Instructions
For the Base:
Cut cookies into tiny pieces. Place evenly in the bottom of glasses. I used 12 shot glasses.
For the Simple Syrup:
Mix all in the ingredients in a small saucepan and cook over medium heat until sugar dissolves.
Allow to cool.
Spoon 1 to 2 tablespoons into each glass. If desired, pipe a layer of whipped cream on this layer.
Store any leftover syrup in the fridge.
For the Curd:
Add Meyer lemon zest, Meyer lemon juice, sugar and yolks to a medium saucepan. Whisk.
Cook over a medium low heat, adding butter right away.
Whisk until thick, which can take about 6 to 8 minutes.
Allow to cool a bit before adding to shot glasses.
Spoon or pipe into glasses evenly.
Pop in the fridge for about an hour or two.
For the Garnish:
In a stand mixer combine the heavy cream and confectioners' sugar. Mix until fluffy. You can also use a hand mixer.
Transfer to a piping tip with a star tip. Pipe onto top of parfaits.
Garnish with Meyer lemon zest if desired.
You can serve immediately or pop back in the fridge till you need them.
Serve with a big old puckery smile!
Nutrition Information:
Yield: 12
Serving Size: 1 shot glass de
Amount Per Serving:
Calories: 254
Total Fat: 15g
Saturated Fat: 9g
Trans Fat: 0g
Unsaturated Fat: 5g
Cholesterol: 124mg
Sodium: 68mg
Carbohydrates: 29g
Fiber: 0g
Sugar: 24g
Protein: 3g
RachelCooks.com sometimes provides nutritional information, but these figures should be considered estimates, as they are not calculated by a registered dietitian. Please consult a medical professional for any specific nutrition, diet, or allergy advice.