Adorable snowman Oreo pops are fun to make and decorate. They are a hit at any winter party. Fun for any age!
Recipe Overview
Why you'll love it: These snow people are easy and really cute!
How long it takes: 30-45 minutes, depending on who is helping!
Equipment you'll need: microwave-safe bowl, microwave, tray, refrigerator
Servings: 20 snowmen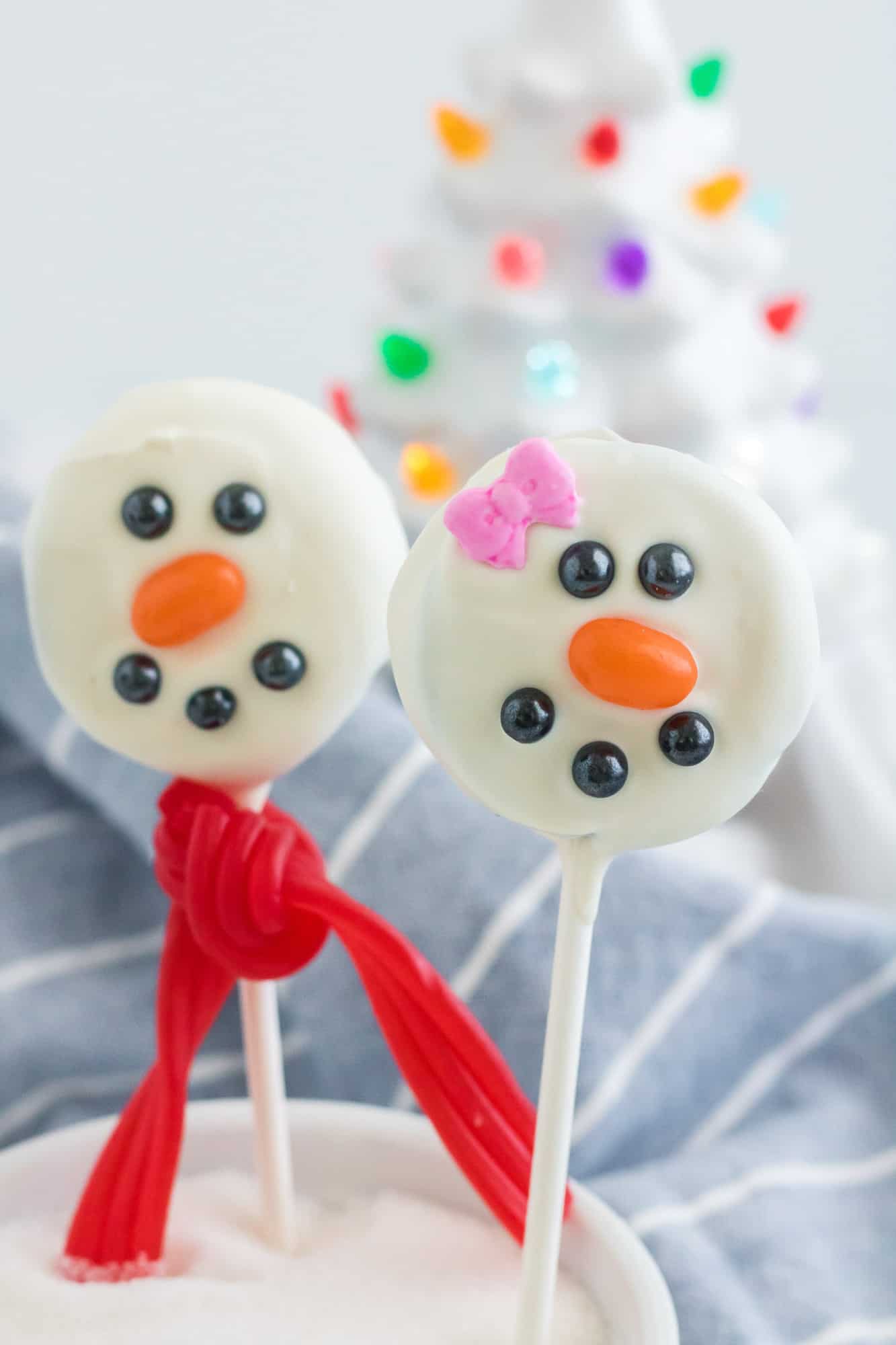 Watch out, Frosty! There's a whole gang of snowmen (and snow ladies, too!) coming your way! These chilly snowman pops are a blast to make and are darling on a plate of Christmas cookies, especially when they're arranged with festive Christmas tree Rice Krispie cookies or Christmas tree brownie bites. Watch the little ones' eyes pop when they see these cuties.
And they are really easy to make. Snowy white chocolate covered Oreo cookies are decorated with black pearl candy "buttons" and and an orange jelly bean nose, along with a sporty red licorice scarf. The snow girls sport a pretty pink bow!
About These Snowmen
Looking for the perfect craft/treat for kids or adults? These snowman Oreo pops are sure to please. They are uncomplicated, fun to make, and fun to eat!
Pretty much everyone loves Oreo cookies, right? How about Oreo cookies covered in white chocolate and perched prettily on a lollipop stick? Irresistible, I'd say.
Perhaps you've tried to make cake pops. So have I, and let me tell you, they can be somewhat tricky, certainly not the easiest treat to make. Then there's the "no-bake" cake pops which are really mushed up cookies squished together with frosting or cream cheese.
You'll be glad to hear that you won't need mixing bowls, food processors, cake baking, or anything at all like that for these Oreo pops. They are simply whole Oreos dipped in chocolate. You still get the nice crunch of the wafer cookie which is one of the reasons we all love Oreos. The white chocolate is just a bonus.
I bet you can't wait to sample these cuties. Let the party begin! I'll get you started here with lots of helpful tips.
If you'd rather skip ahead, the printable recipe card can be found near the bottom of the post with complete instructions.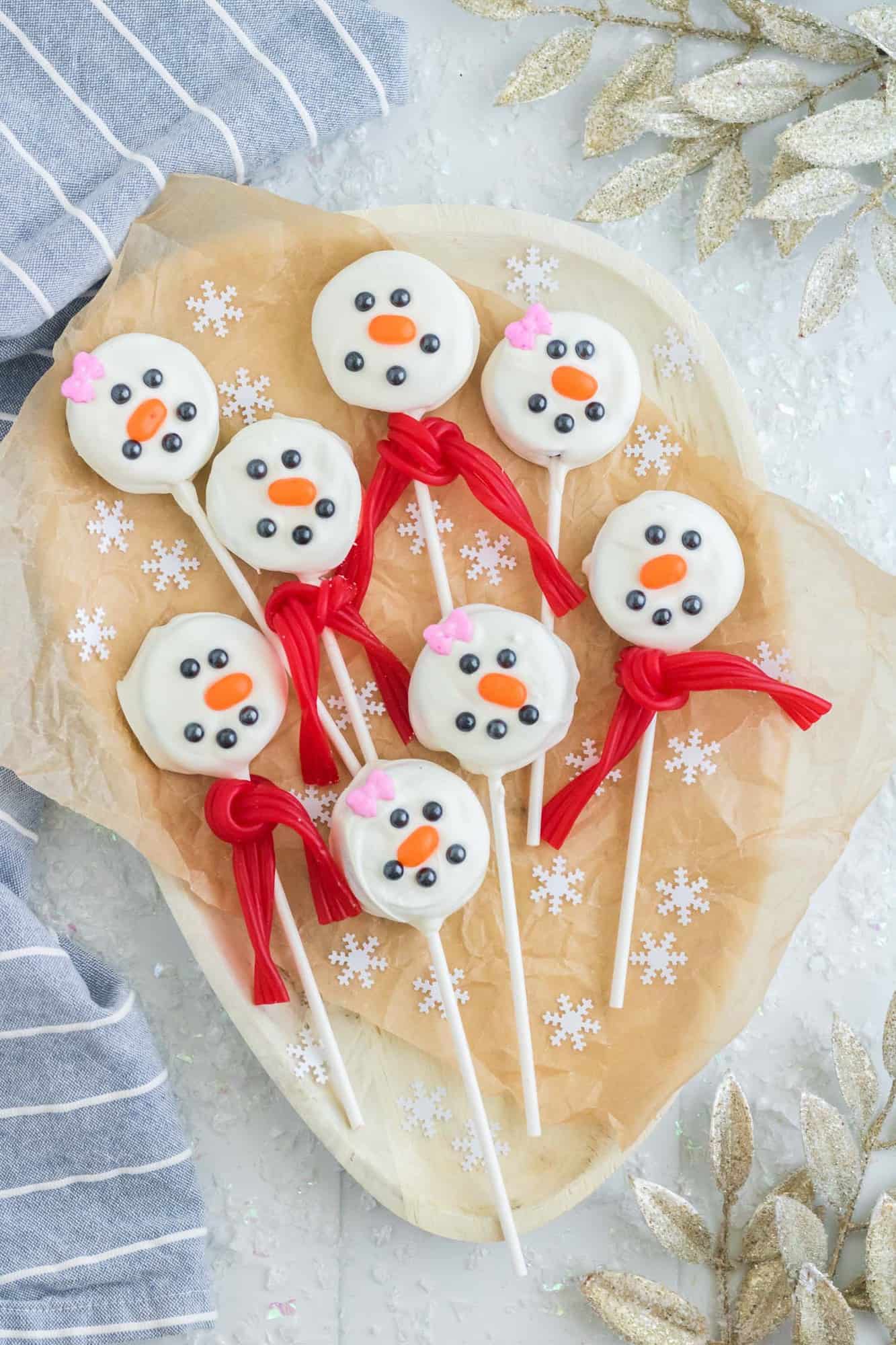 What You'll Need
Mega Stuf Oreos: You'll need one cookie per snowman so yield depends on what size package you purchased and whether any of the cookies have "disappeared" already. By the way, that isn't a typo. "Stuf" is how it's spelled on the package. (Stuf like that drives me crazy!)
Meltable White Chocolate: Regular white chocolate is fine but if you would like your snow people to be extra white, look for bright white vanilla candy wafers which can be found in craft stores. Wilton makes Candy Melts in bright white, too.
Twizzlers Pull 'n' Peel Licorice Candy: This candy comes in a variety of colors, including rainbow, so choose what color you like.
Lollipop Sticks: These white sticks are pretty widely available and are usually found in the cake decorating section of the store or online. You can substitute wooden popsicle sticks but they are a little harder to insert.
Black Candy Pearls, Orange Jelly Beans, Bow Shaped Candy: Used to decorate the snow people; however, you can really do whatever you like.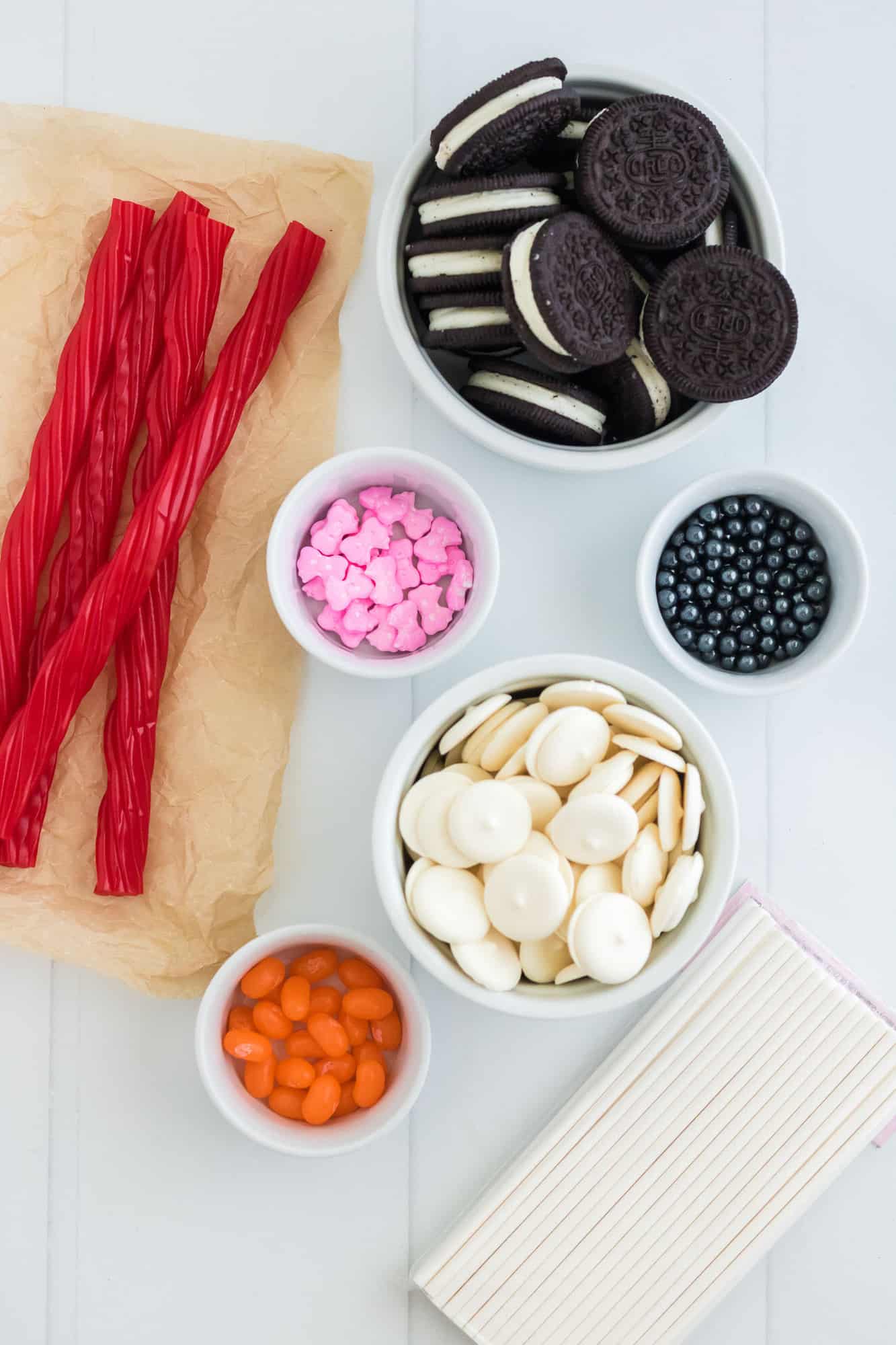 How To Make Them
These adorable snow people are fun to create! Make sure you have all the supplies you need ready and waiting. If you have a few little elves helping out, let them know that you'll be dipping the cookies in the warm chocolate and they'll be decorating the snowmen. It's a little tricky to get the white chocolate coating on evenly and it can be quite warm.
Begin by inserting the lollipop sticks into the thick frosting of the Oreos. It should go at least halfway through or even more. You want the Oreo to be pretty steady on the stick and not fall off halfway through the decorating process. Spread them out on a parchment paper-lined cookie sheet.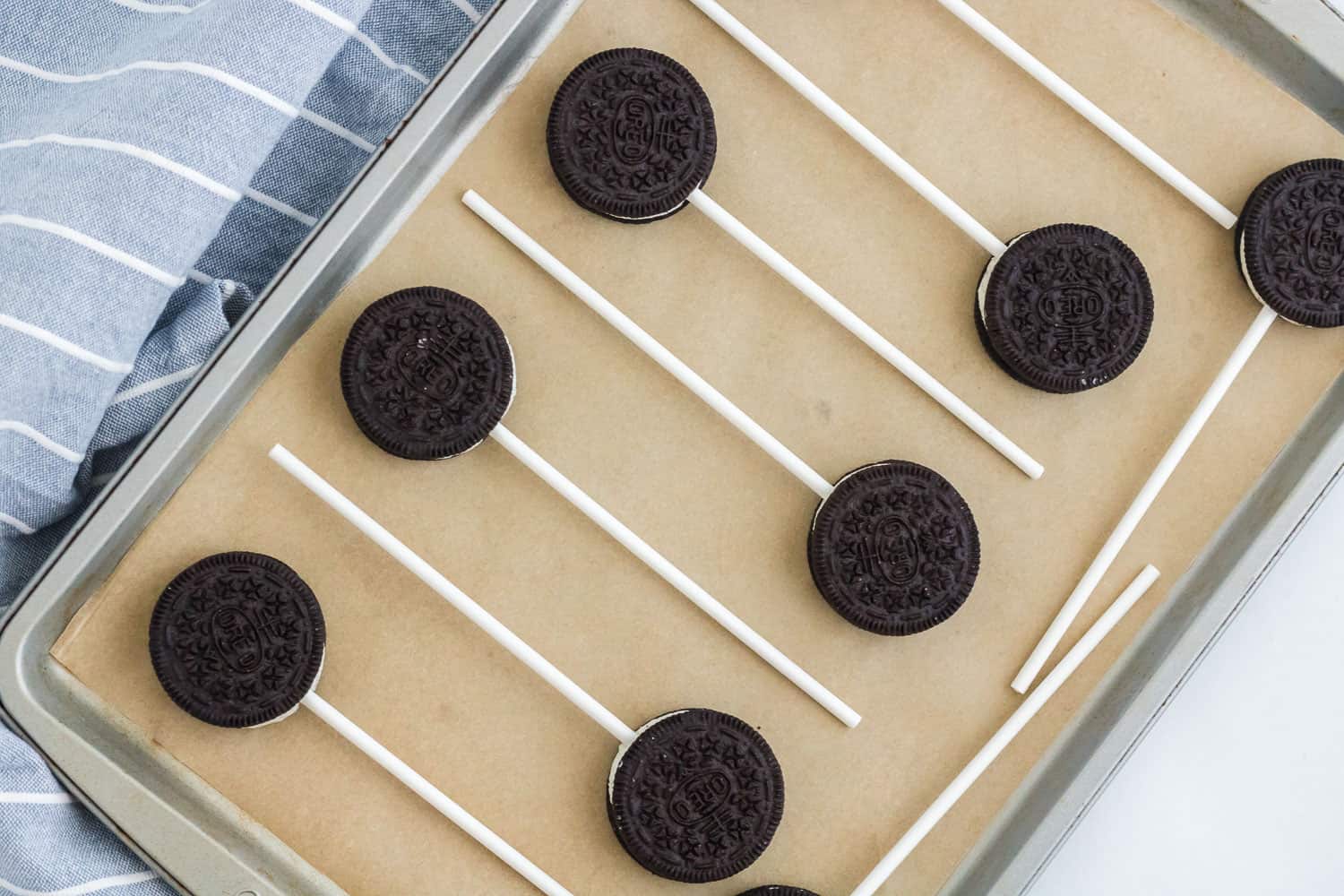 Next, warm the candy melts or meltable white chocolate in the microwave. Use a deep microwave safe bowl. Zap the chocolate in 15 to 30 second intervals, stirring well each time. It may not look melted right away but often stirring it in the warm bowl is enough to melt it completely.
Don't overheat the chocolate. If you find that it's getting too stiff to work with once you start dipping, then briefly microwave it again. For best results, follow the package directions.
Decorate the Oreos one by one, immediately after you dip them. You want to get those eyes and nose on before the white chocolate hardens or they may not stick. Use the black pearls for the eyes and mouth, an orange jelly bean for the nose and a pink bow for the snow girls.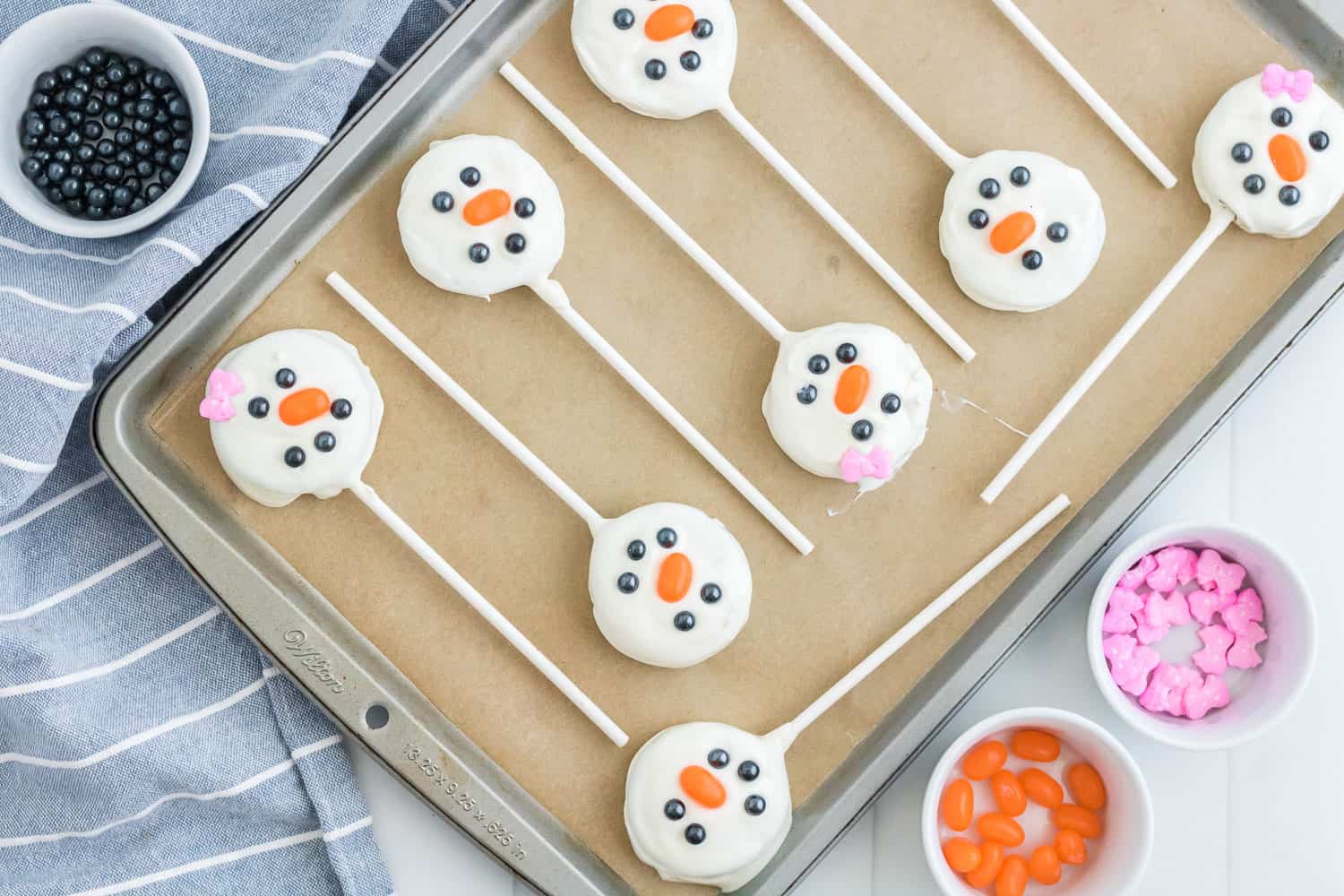 Once all the frosty little heads are decorated, put the tray into the fridge so the coating hardens a bit, about fifteen minutes. While the snow people are in there "chilling", make the scarves, using the licorice.
Each pull 'n' peel has 9 strands. Separate them by 3's, so that you get 3 scarves per piece.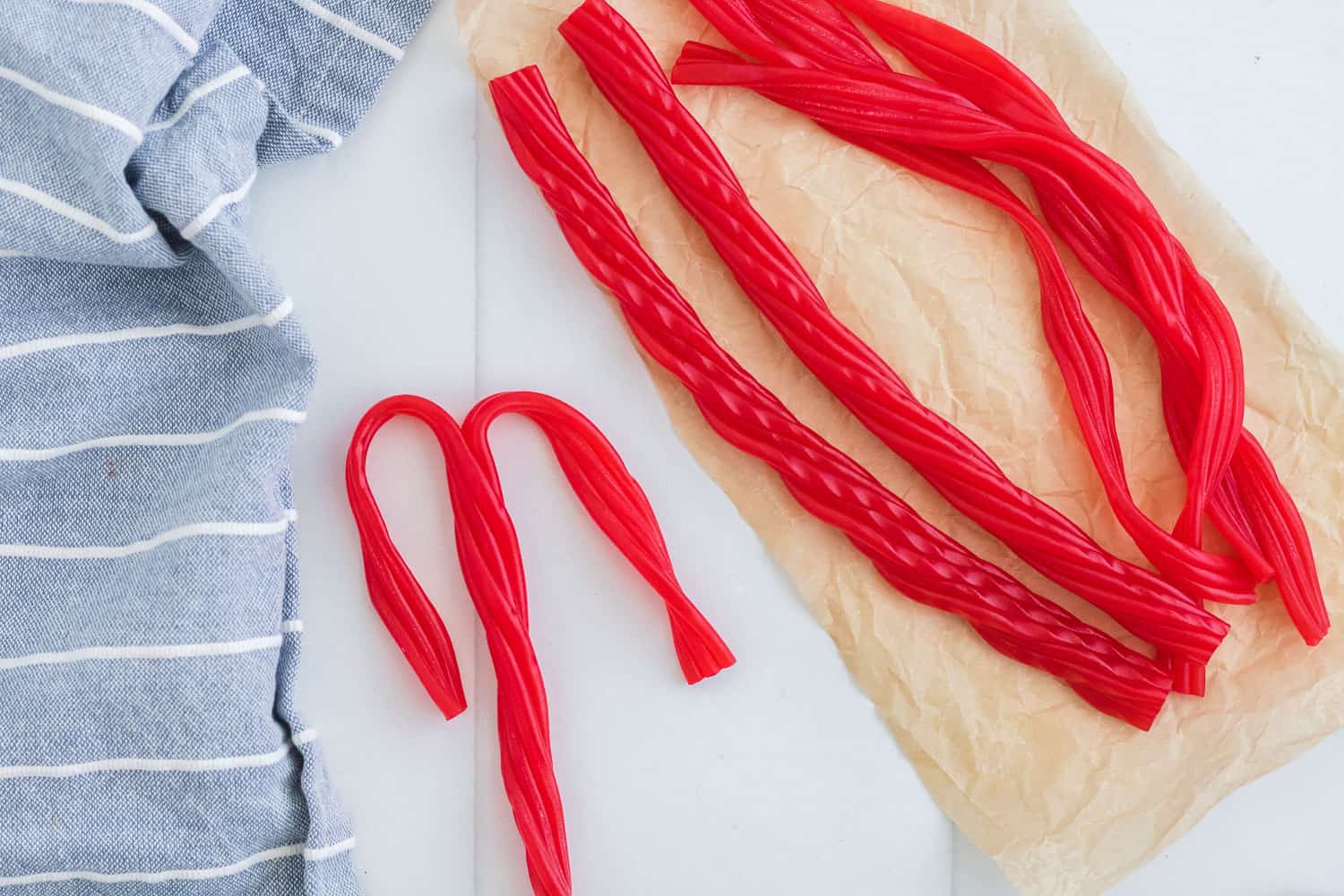 Tie them in a single knot and make them fairly tight. It takes a bit of handling but it's doable.
Once they're ready, you can slide the scarves on the snowman sticks. If you find that they don't want to stay on, use a dab of melted chocolate and press the scarf onto the stick.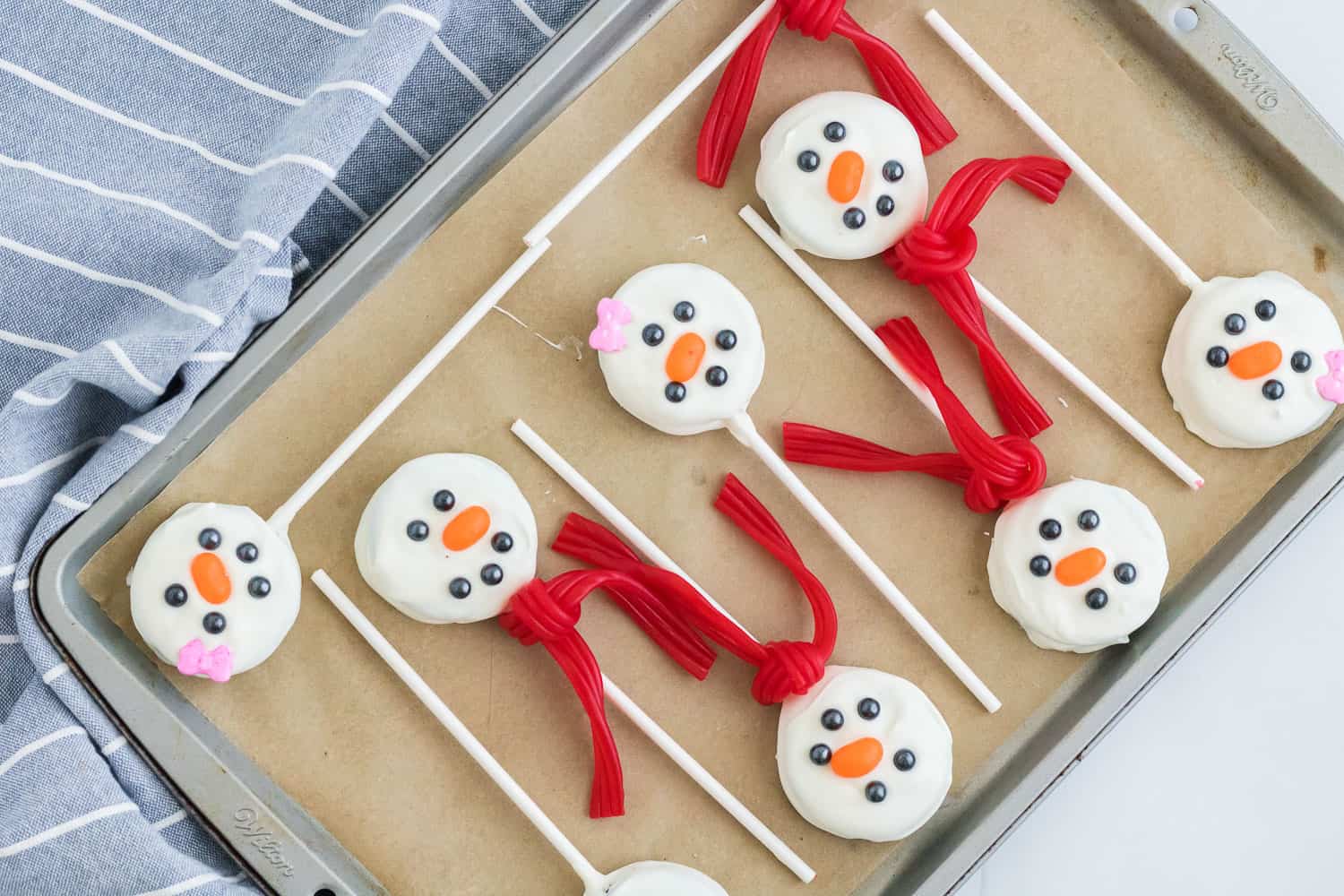 Aren't they just too cute? Arrange them on a plate or stick them into a container full of "snow". White granulated sugar or coconut makes pretty good snow, or even a block of white styrofoam. Wrap them individually in clear cellophane bags with a bow tied around it for party treats.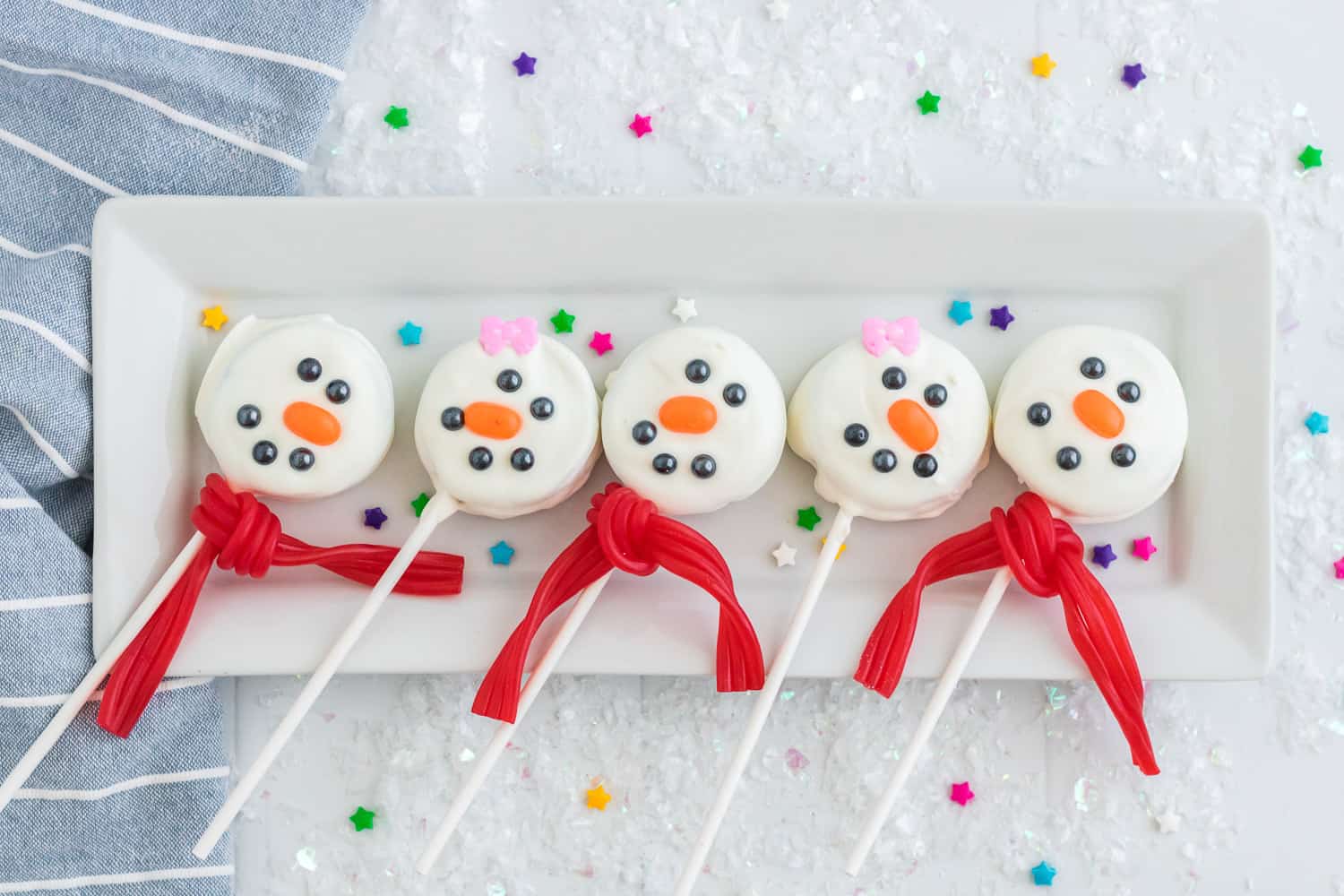 FAQs
What is the best type of Oreo for an Oreo pop?
You'll find that the Oreos with extra creme filling are easiest to work with. When you insert a lollipop stick into a regular Oreo, there's not enough filling to hold everything together and the cookie may fall apart.
I like the Mega Stuf Oreos best but Double Stuf will work in a pinch.
What is the best type of white chocolate for melting?
While you can use white chocolate chips, you'll have the best results with chocolate that's been specially formulated for treats like this. Candy Melts by Wilton come in a variety of colors and melt beautifully. Craft stores sell similar products. For more about melting chocolate, check out this Wilton blog.
Make These Oreo Pops Your Own
Now that you've mastered making Oreo pops, I bet you're already thinking of all sorts of variations. Just a quick look at Pinterest or simply googling "Oreo Pops" can be pretty inspiring.
There are ideas for every holiday: Valentine's Oreo Pops dipped in red-tinted chocolate and fancied up with hearts and "lace"; orange Halloween Oreo pops with Jack o'lantern faces, Christmas Oreo pops with Rudolph's red nose, and monsters, farm animals, rainbows, you name it.
Not a holiday? Oreo pops look pretty with just chocolate and colored sprinkles.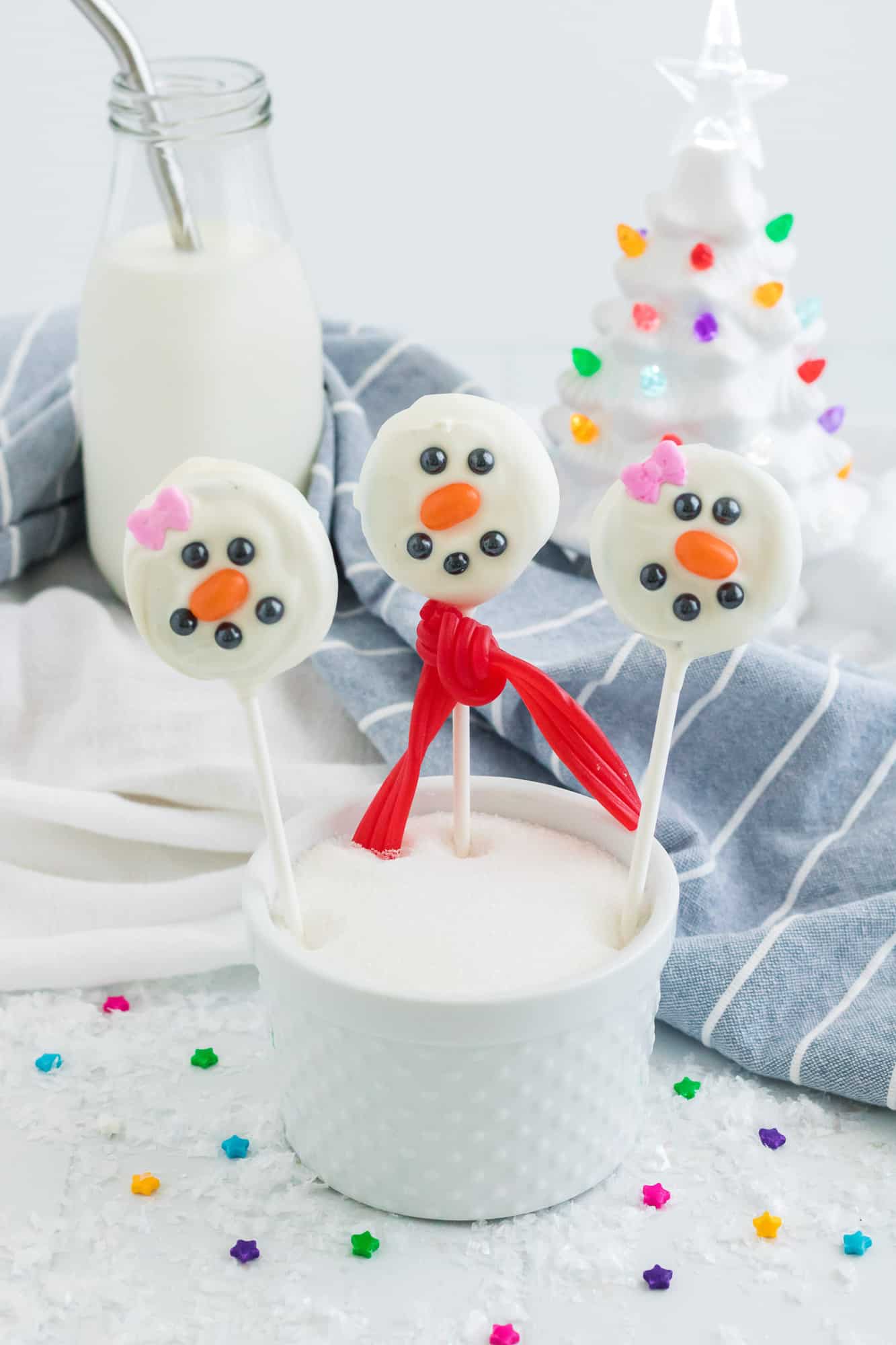 Storage Tips
Store Oreo pops in a tightly covered container, either on the counter or in the fridge for chilly pops. They'll keep for a couple of weeks. I haven't tried freezing them yet but I'm pretty sure they would freeze well, too. It's a snowman's natural environment, right?
More Festive Treats
Did you make this? Be sure to leave a review below and tag me @rachelcooksblog on Facebook, Instagram, or Pinterest!
Adorable snowman Oreo pops are fun to make and decorate. They are a hit at any winter party. Fun for any age!
Ingredients
1

package

(16 oz.) bright white meltable chocolate

(can be found in craft stores)

1

package

(13.2 oz.) Mega Stuf Oreos

(you can use Double Stuf Oreos, but I find that the Mega Stuf Oreos work best)

Black candy pearls

(can be found in craft stores)

Orange flavored/colored jelly beans

Bow-shaped candy

(can be found in craft stores or online)

1

package

(14 oz.) Twizzlers pull 'n' peel licorice candy

(you'll only need a few)

14

lollipop sticks or popsicle sticks

(lollipop sticks work best)
Instructions
Line a large baking sheet with parchment paper and set aside.

Stick one end of the lollipop stick into the "stuf" part of the Oreos, about ½- ¾ of the way through. Set the Oreo pops on the baking sheet while you melt the chocolate for the next step.

In a medium-sized, microwave-safe bowl, heat the meltable chocolate in the microwave in 15 to 30 second intervals until it is smooth and creamy. If you do not have meltable chocolate, you can use regular white chocolate bark or chips and melt it over a double boiler until smooth.

Dip the Oreo pops into the chocolate to coat them (alternatively, you can spread the chocolate on with a shallow spoon or rubber spatula).

Set the Oreo pops on the baking sheet. Quickly add the black candy pearls for eyes and mouths and the orange jelly beans for noses. For the snow-women, add the bows on the top of their heads.

When all the Oreo pops have been made, set the baking sheet in the refrigerator for 15 minutes.

While the snow-people are chilling (no pun intended!) in the refrigerator, you can make the scarves for the snowmen.

Each pull 'n' peel comes in a group of 9 individual strings stuck together. Peel them apart in sections of threes. Per each pull 'n' peel, you should come out with 3 separate "scarves" for your snowmen.

Tie them in a simple knot and make them relatively tight. You'll have to work and maneuver them a bit, but they'll become tighter the more you work on them. Set them aside.

Remove the Oreo pops when they are done chilling in the refrigerator. To each snowman, slide one of the scarves up the length of the lollipop stick until it has reached the base of the Oreo. If the scarf is too loose, you can remove it and rework it to fit tighter, or you can add a dab of melted chocolate to the inside of the scarf, press it against the back of the lollipop stick, and let it harden to get it to stick.
Notes
Serve chilled or at room temperature.

A 13.2 oz. package of Mega Stuf Oreos contains 20 cookies; a 17.6 oz. package contains 28 cookies.
Nutrition Information
Serving:
1
Oreo Pop
,
Calories:
137
kcal
,
Carbohydrates:
19
g
,
Protein:
2
g
,
Fat:
6
g
,
Saturated Fat:
3
g
,
Polyunsaturated Fat:
1
g
,
Monounsaturated Fat:
2
g
,
Trans Fat:
1
g
,
Cholesterol:
1
mg
,
Sodium:
109
mg
,
Potassium:
65
mg
,
Fiber:
1
g
,
Sugar:
13
g
,
Vitamin A:
2
IU
,
Vitamin C:
1
mg
,
Calcium:
16
mg
,
Iron:
2
mg
This website provides approximate nutrition information for convenience and as a courtesy only. Nutrition data is gathered primarily from the USDA Food Composition Database, whenever available, or otherwise other online calculators.