Oreo Popcorn
Oreo popcorn is so full of Oreo cookie goodness — you won't be able to stop eating this delicious cookies and cream popcorn.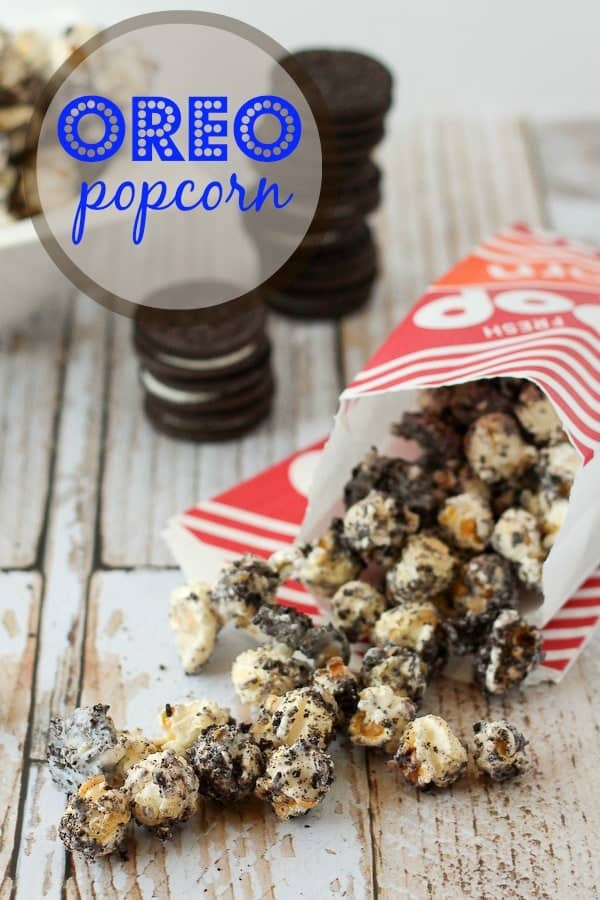 Every time I post a new popcorn recipe, I struggle a bit about what to say about it.
It's not because I don't love popcorn — I do love popcorn (clearly).
I just want to say:
I love popcorn!
This popcorn is so good!
Make this popcorn!
Be obsessed with popcorn like I am!
Oreos! Oreos! Oreos!
Or something along those lines.
But that's a little repetitive. And a little obvious.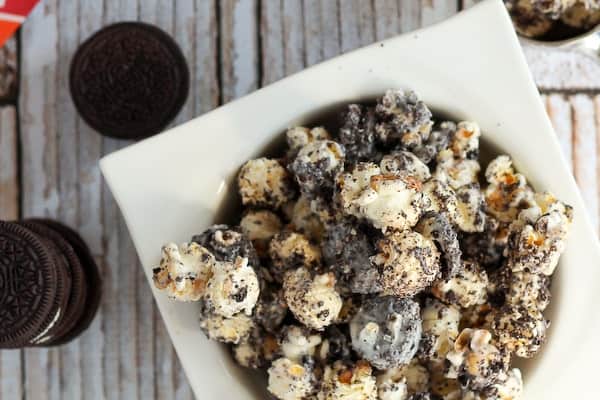 But really — this recipe is pretty self-explanatory, is it not? I mean…OREOS. POPCORN. Oreos and popcorn!!!! Popcorn and Oreos! What more needs to be said, really?
And this popcorn recipe has double the Oreo cookie love. I crush some cookies so that each piece of popcorn is fully coated with cookies and cream but I also leave plenty of mini Oreos whole.
Everything gets coated with white chocolate to create a cohesive cookies and cream popcorn treat that you won't be able to stop snacking on. The mini Oreo cookies are the perfect size to hang out with the popcorn — bite sized, and perfect for tossing a handful in your mouth.
So, if you love Oreo cookies and you love popcorn, you'll obviously love this popcorn. Duh.
This Oreo Popcorn recipe was originally posted on Food Fanatic but you can also find it here!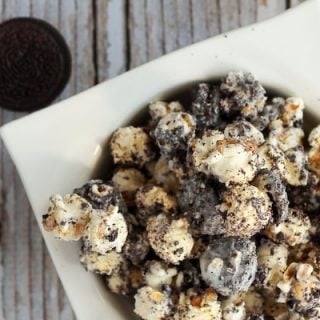 Oreo Popcorn
Yield: 16 servings
Prep Time: 15 minutes
Total Time: 15 minutes
Oreo popcorn is so full of Oreo cookie goodness — you won't be able to stop eating this delicious cookies and cream popcorn.
Ingredients
1/2 cup Popcorn Kernels, "mushroom" variety recommended
8 ounces Mini Oreos (1 package)
16 ounces Vanilla Candy Coating, melted until smooth as directed on the package
15 Oreos, crushed into a fine powder
Instructions
Pop corn using a hot air popper. Pick out any unpopped kernels (slightly time consuming but very important!!!).
To the popped popcorn, add the mini Oreo cookies. Pour melted candy coating over the popcorn mixture and stir until everything is well coated.
While the candy coating is still wet, pour over the crushed Oreo cookies and stir to combine.
Spread onto a large sheet pan for candy coating to harden before serving immediately or storing in an airtight container for 3-4 days.
Nutrition Information:
Yield: 16
Serving Size: 1
Amount Per Serving:
Calories: 200
Total Fat: 5g
Saturated Fat: 1g
Trans Fat: 0g
Unsaturated Fat: 2g
Cholesterol: 0mg
Sodium: 102mg
Carbohydrates: 22g
Fiber: 1g
Sugar: 14g
Protein: 1g
RachelCooks.com sometimes provides nutritional information, but these figures should be considered estimates, as they are not calculated by a registered dietitian. Please consult a medical professional for any specific nutrition, diet, or allergy advice.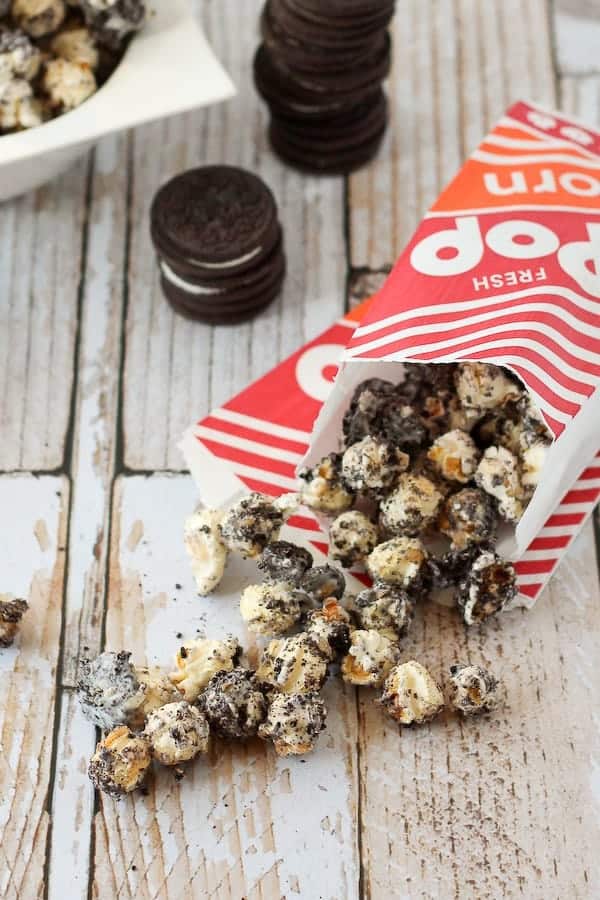 Oreo cookies not your thing? Try these other popcorn recipes: Cool Ranch Popcorn, Biscoff Popcorn, S'mores Popcorn, Peanut Butter Popcorn, Popcorn Snack Mix, Peppermint Crunch Popcorn, Kahlua and Espresso Bean Caramel Corn, or Rum "Spiked" Caramel Corn.