Cranberry Walnut Bread with Oats
Chewy, crunchy, and unbelievably satisfying, this awesome cranberry walnut bread might just become your new favorite. It's amazing toasted!
Recipe Overview
Why you'll love it: There's really nothing like home-baked bread and it's easy to make with a stand mixer.
How long it takes: just over 3 hours, including rising time
Equipment you'll need: stand mixer
Servings: makes one loaf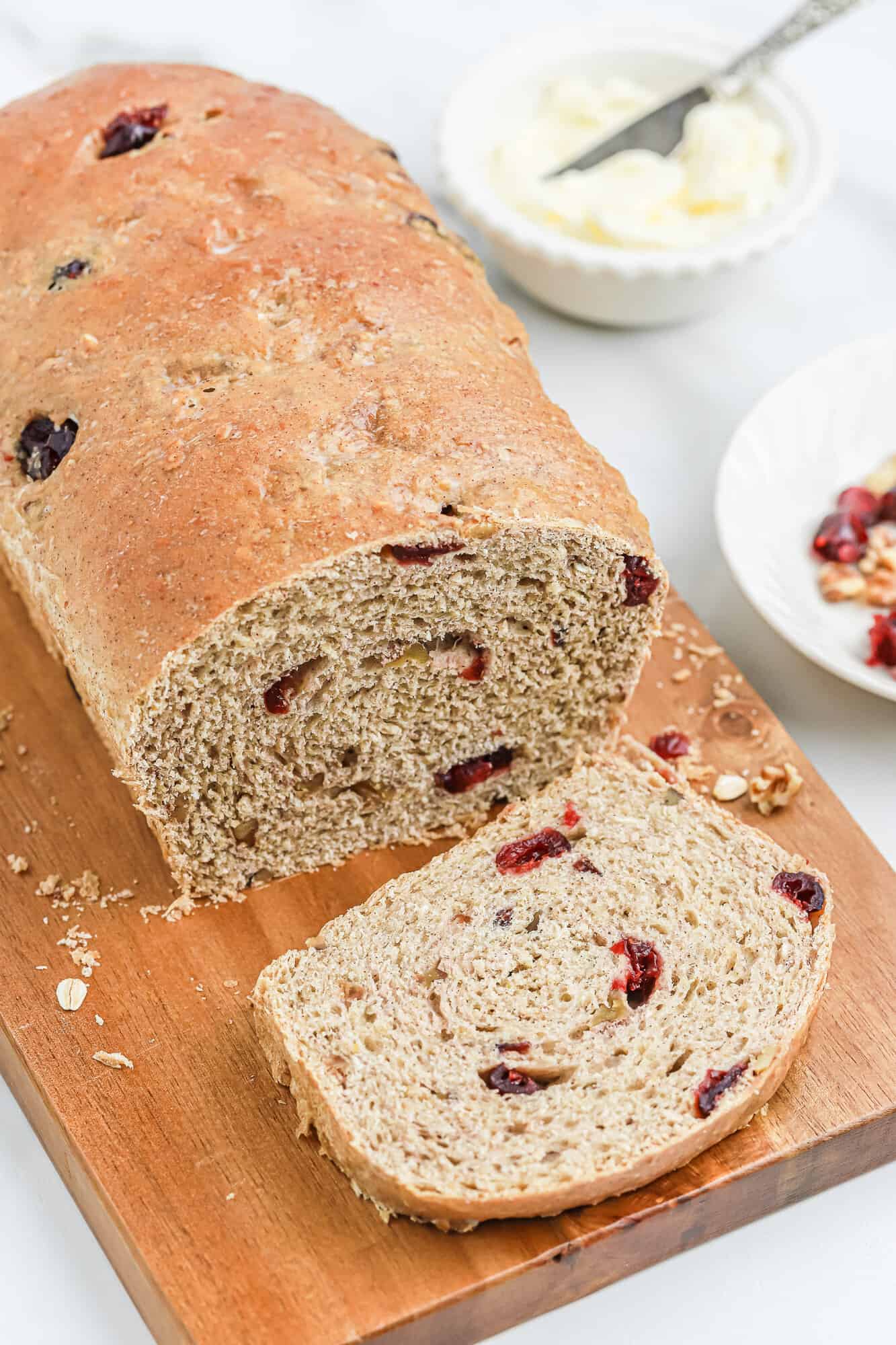 This hearty oat bread with tangy cranberries and crunchy walnuts tastes like something from one of your favorite bakeries. Seriously! You'll even impress yourself, not to mention everyone else.
I also created a little something extra for it: cranberry cinnamon honey butter, not that this bread needs anything extra because it's delightful just the way it is. Slather that creamy butter onto a warm slice of bread. Wow! Just wow! It's a true bakery experience.
Will I Need A Stand Mixer?
If you have a stand mixer, you'll definitely want to use it. Stand mixers come with a dough hook and are powerful enough to do handle all the kneading.
Is it possible to make the bread without a stand mixer? Yes. Some hand mixers are heavy duty and can power their way through the bread dough. If your hand mixer came with a dough hook, it's probably powerful enough to handle dough. Makes sense, right?
If your arms are feeling powerful, you can knead the bread the old-fashioned way, by hand. I would still use a regular hand mixer for step #3 to mix the ingredients thoroughly before you add the remaining flour. Once you add that last portion of flour, the dough will get too thick for a normal hand mixer and you'll have to knead it by hand from there.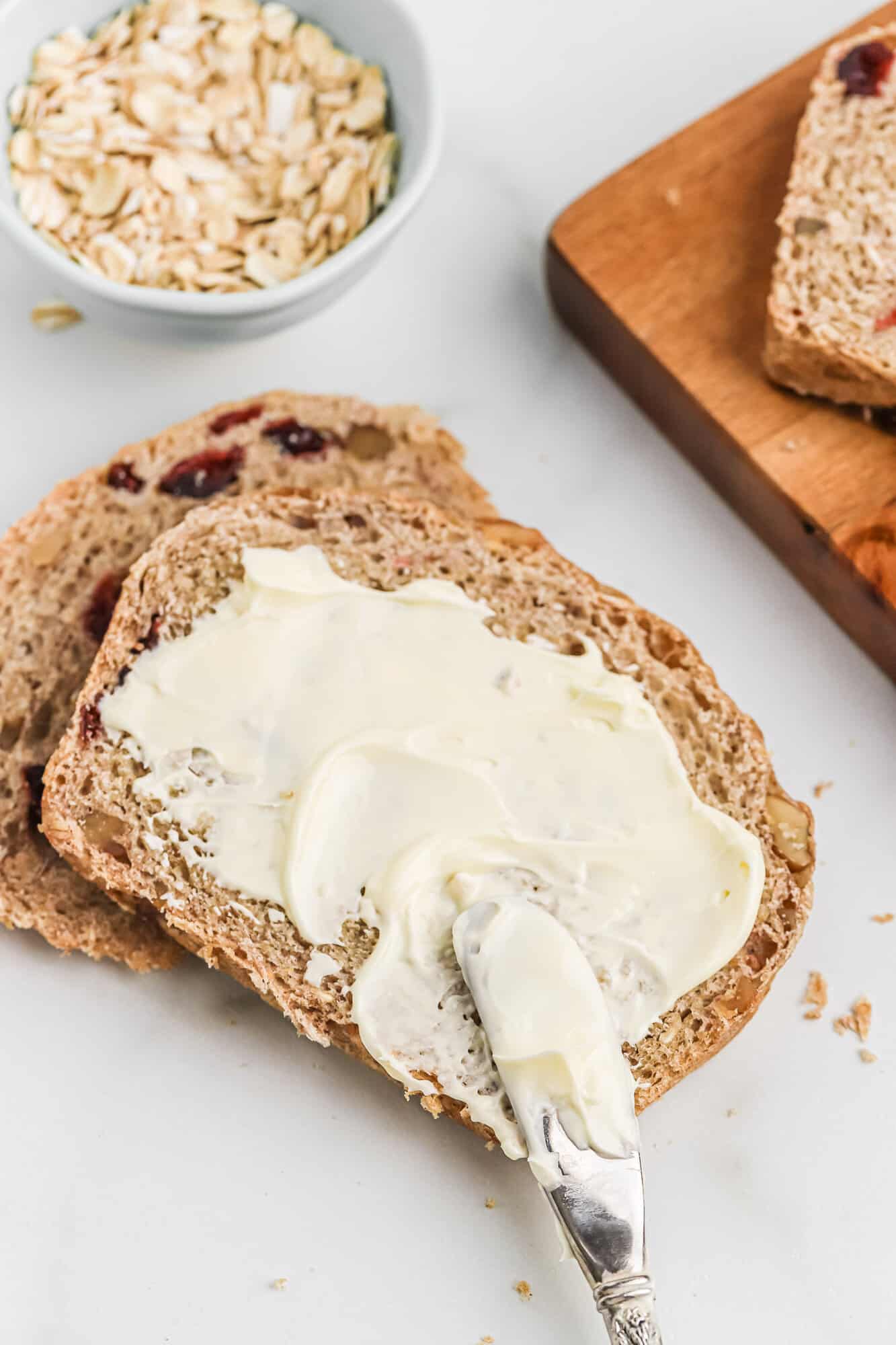 Let's get started on the recipe here and maybe answer some of the questions that may arise. Look for measurements, instructions, and nutrition information on the recipe card near the end of the post.
Ingredients You'll Need
Bread Flour: This recipe calls for bread flour, not all-purpose flour. What is bread flour? According to King Arthur Baking Company, bread flour is made with a different type of wheat: hard spring wheat. This type of wheat has more protein which strengthens the dough and helps the loaf rise higher.
Active Dry Yeast: Make sure you buy the correct type of yeast. This is regular yeast, not fast-rising or instant yeast. You'll need one package, or if you buy it in a jar, 2¼ teaspoons.
Oats: The addition of oats gives this bread great texture and extra nutrition, too. Either fashioned rolled oats or quick oats are fine; I usually use quick oats (not instant oatmeal).
Walnuts: Be sure the walnuts are fresh. Walnuts can go bad fairly quickly. If they smell strong, they may not be fresh. They should smell pleasantly nutty. Store extra walnuts in your refrigerator or freezer to keep them fresh.
Dried Cranberries: Cranberries add great flavor to the bread and they look great, too. If you prefer raisin bread, you could substitute raisins for the cranberries.
Brown Sugar: The bread is lightly sweetened with brown sugar.
Cinnamon: Ground cinnamon is so fragrant; who doesn't love cinnamon bread? This bread has a generous amount of cinnamon, two whole teaspoons!
Salt: You may wonder why you need to add salt to bread. Salt is necessary because it strengthens the yeast and helps the bread rise properly. It also seasons the bread. Without salt, the bread would taste flat.
Oil: Choose a light oil that doesn't have flavor, such as vegetable or canola oil.
Water: Warm water activates the yeast. It's important to have the correct temperature; an instant read thermometer is helpful. More about that later…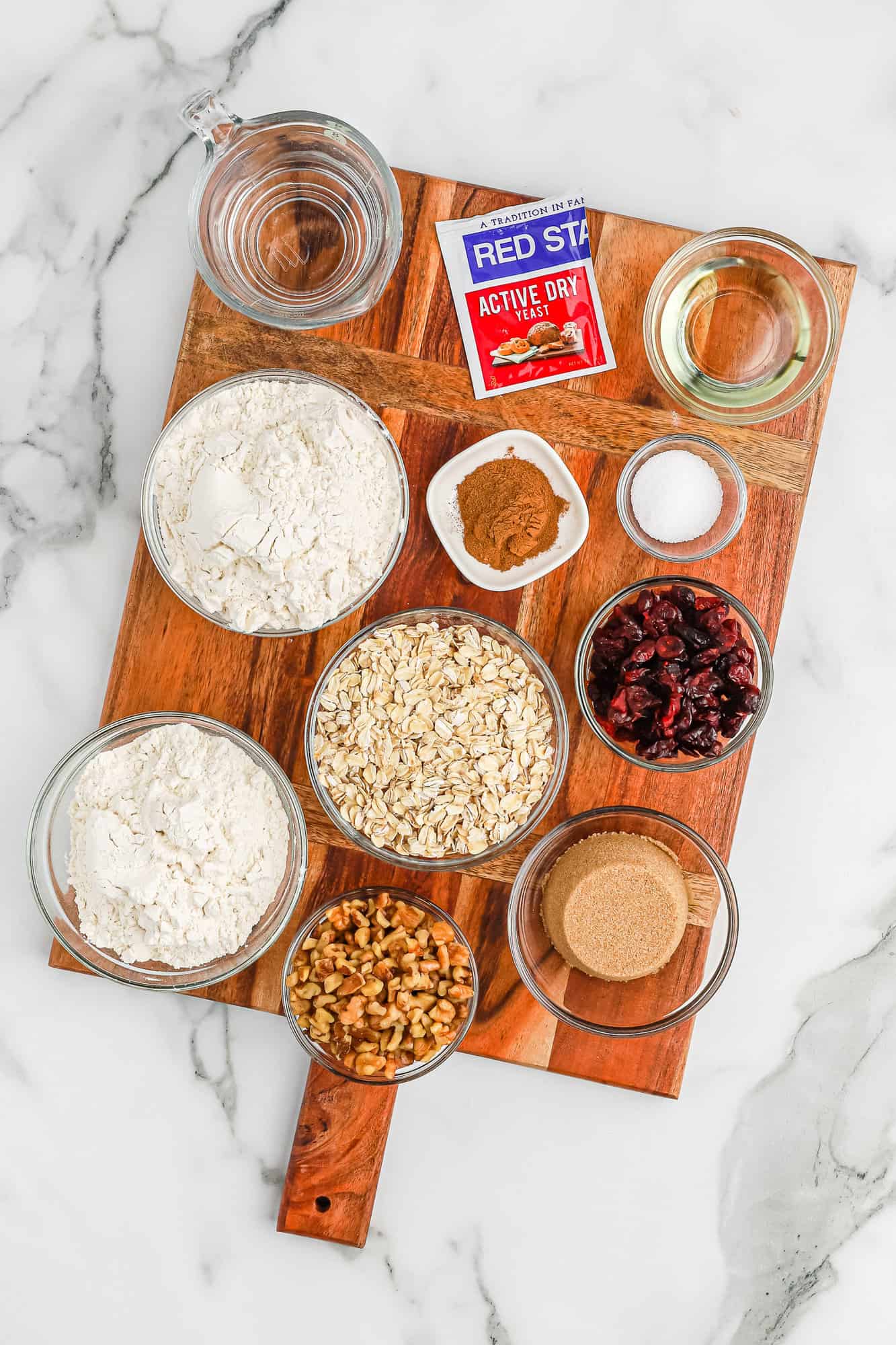 How To Make It
Are you ready to get started? Bread making takes a little time. You can't really hurry it along too much because the dough needs time to rise, about 2 hours total. The good news is that the bread dough doesn't need any attention during that time so you can easily do other tasks while it rises.
Make the bread dough. Measure out 1 cup of flour and put it into the bowl of your stand mixer, along with the oats, yeast, salt, and cinnamon. Give the mixture a little stir to blend it.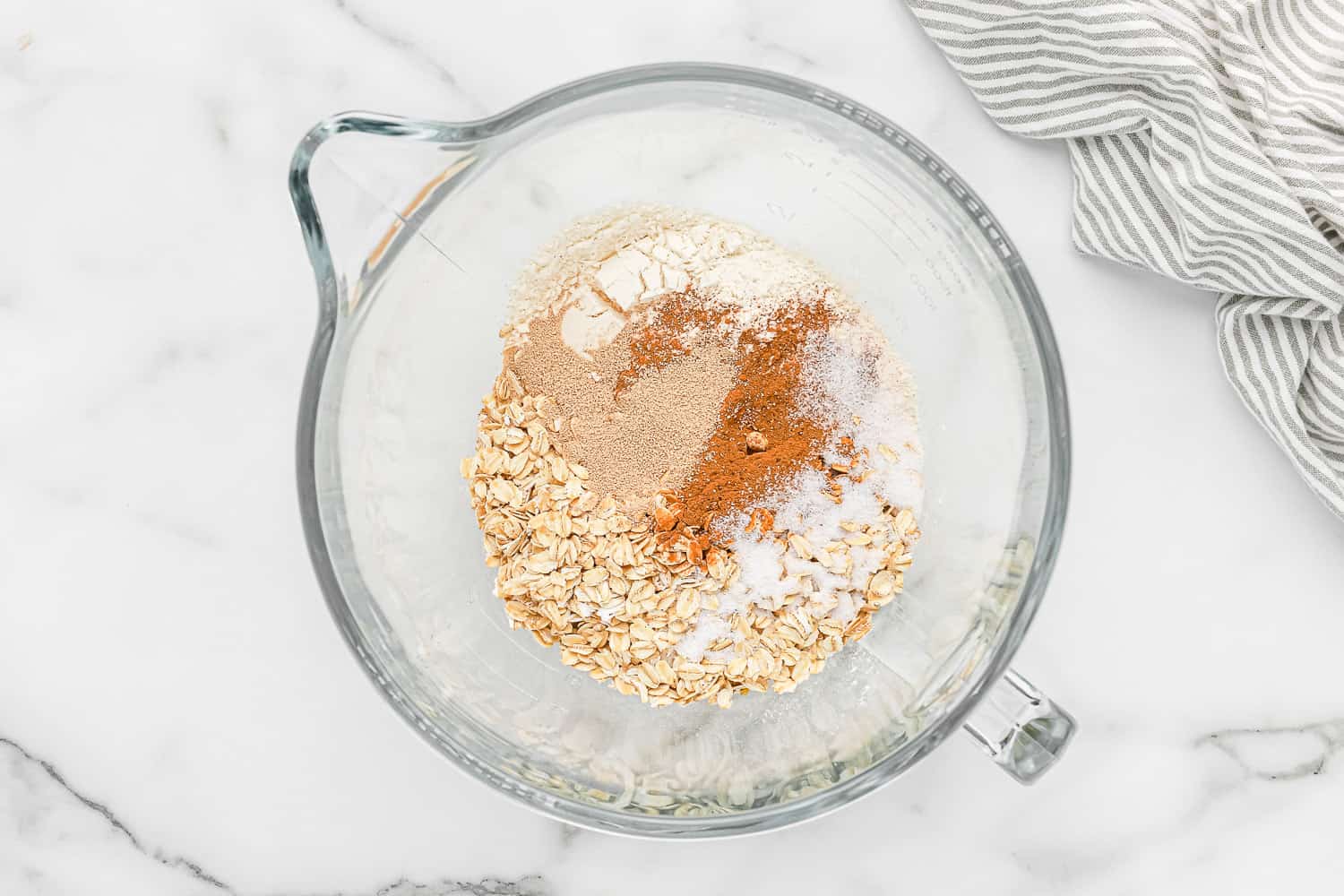 In a 2 cup measuring cup or small bowl, measure out the water, oil, and brown sugar. Stir well.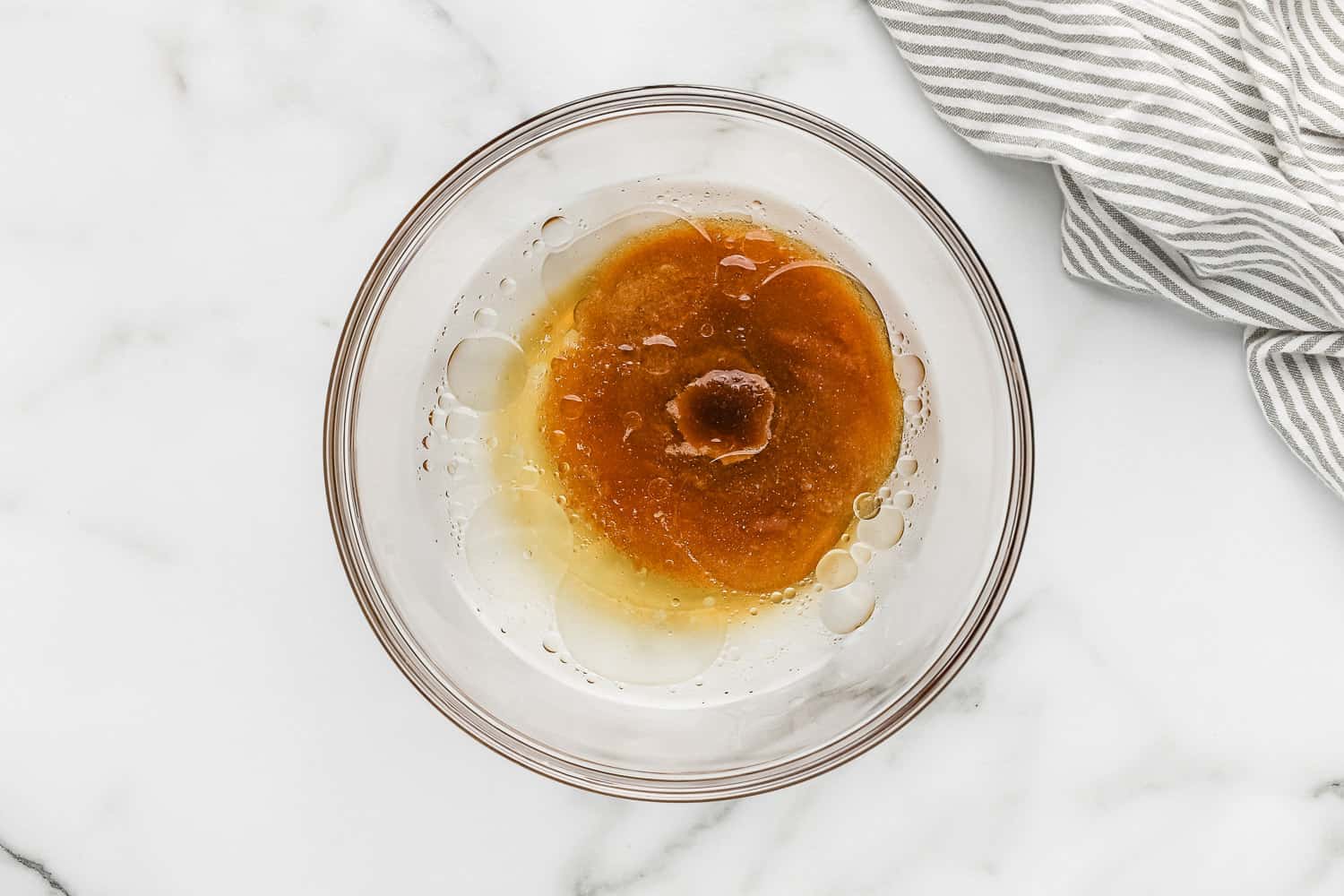 Microwave this mixture until it reaches 120-130° F, about 1 minute on high. This is where your instant read thermometer comes in really handy. If the mixture is too hot, it will kill the yeast. If it's too cool, the yeast won't be activated.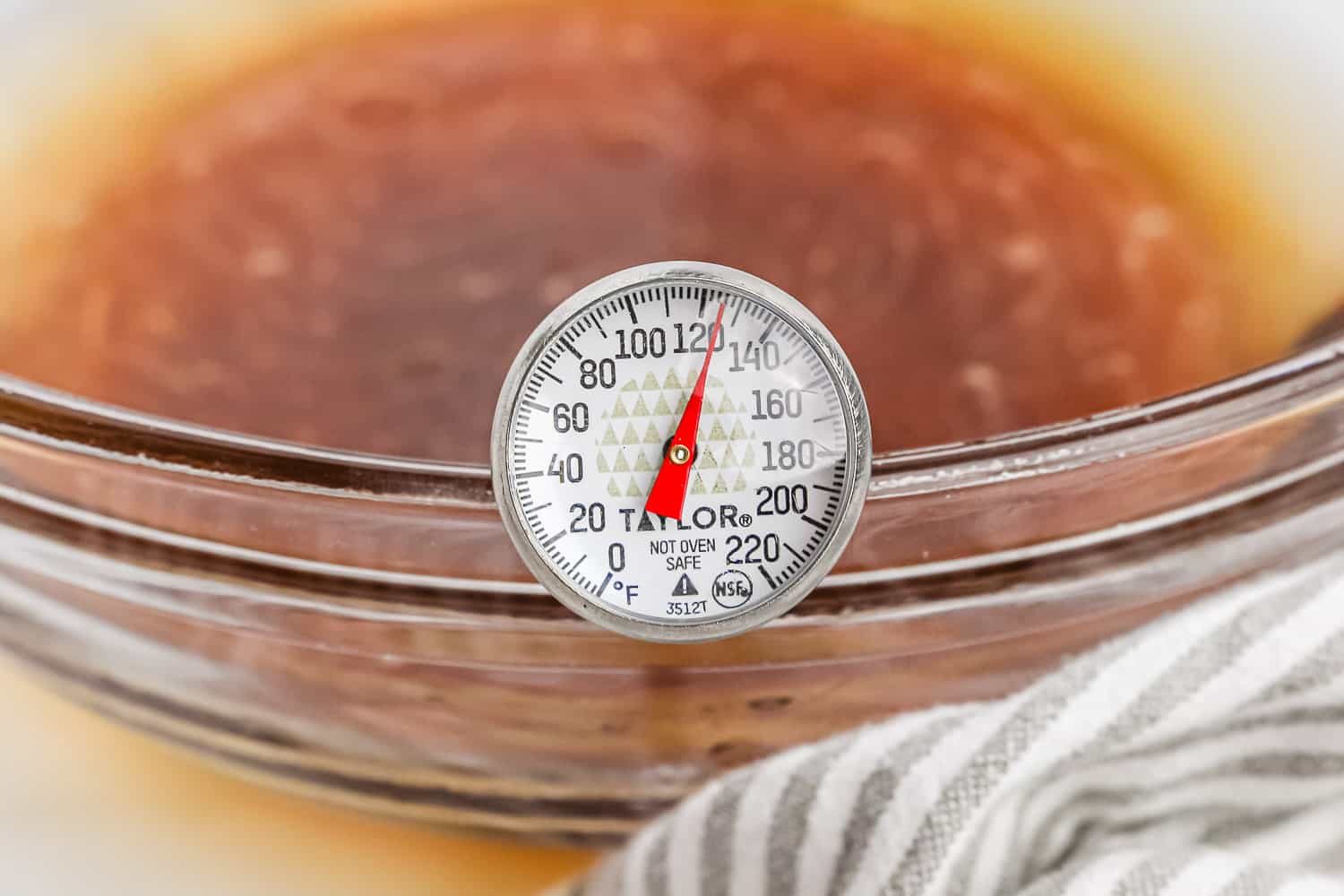 Add the warm water mixture to the contents of the mixing bowl. Put the paddle attachment on the mixer and mix on low speed (#2 on a Kitchen Aid mixer) for four minutes.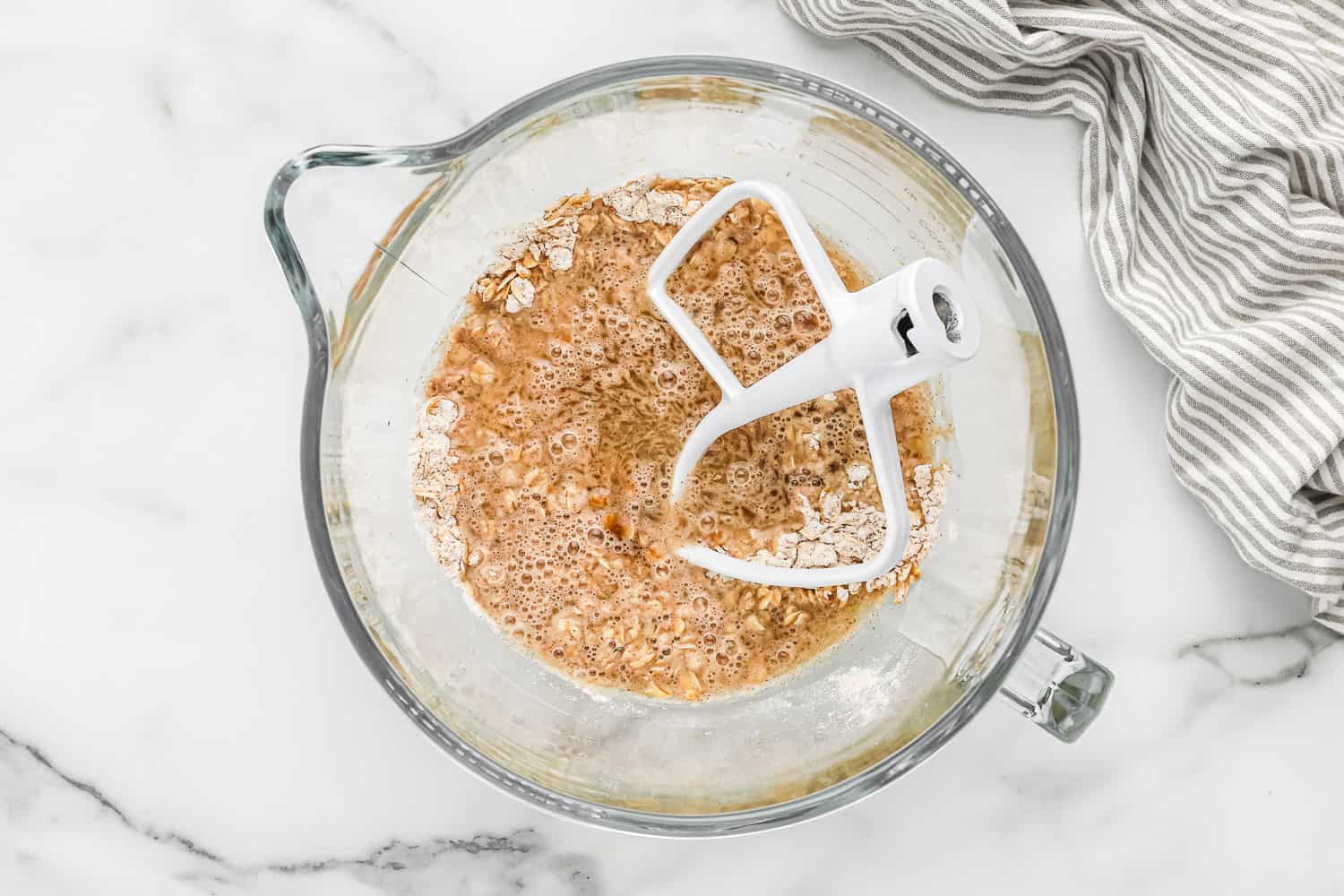 Remove the paddle attachment and switch to the dough hook. Add the remaining flour and knead on low speed for six minutes. If it seems like the dough is too thick and your mixer is straining, add additional water, a little bit at a time, until it has the right consistency. After six minutes the dough should be in a smooth ball and not sticking to the sides of the bowl.
Add the walnuts and cranberries and turn the mixer on again to incorporate them into the dough.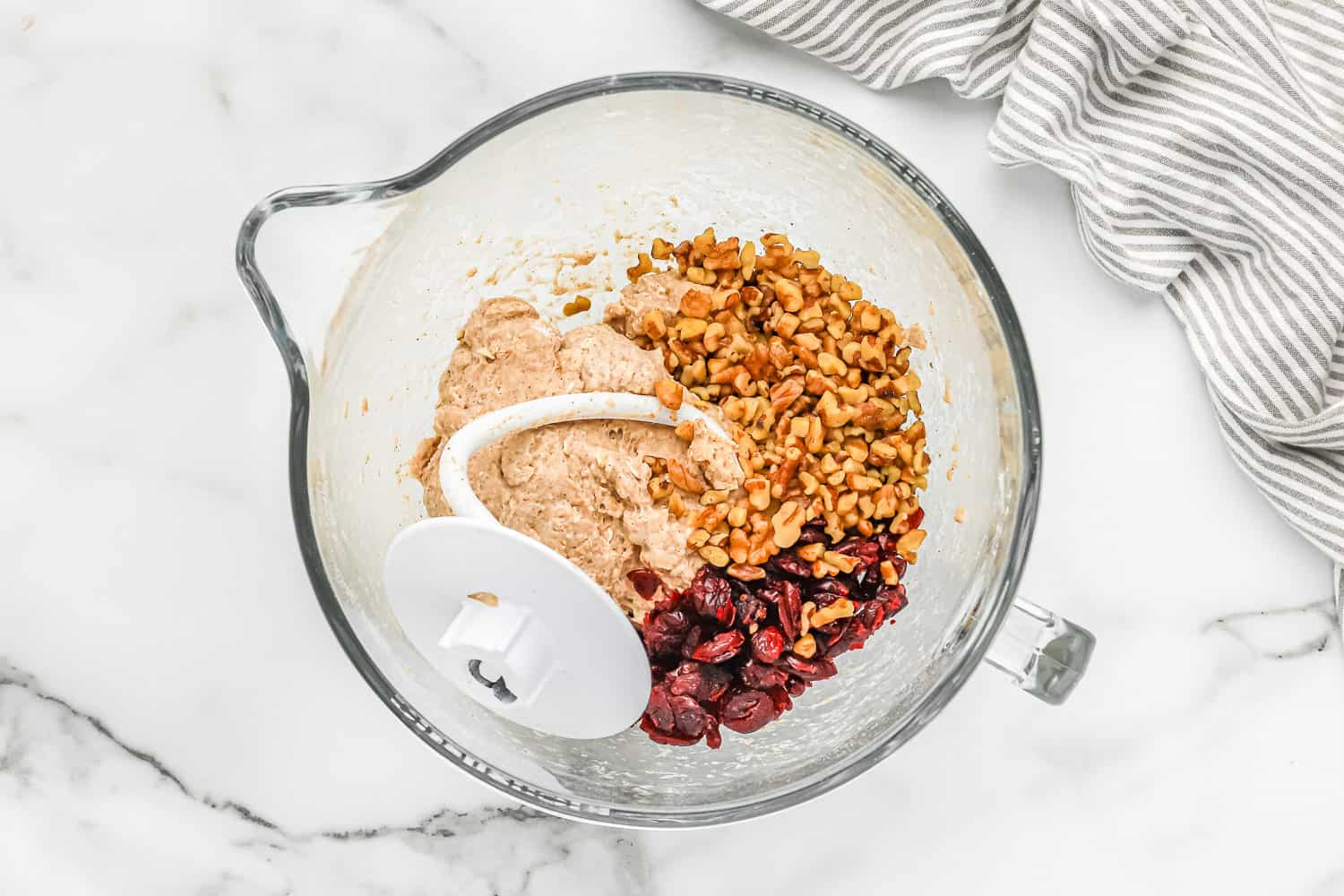 They might want to stay in the bowl and not go into the dough. If that happens, remove the dough from the bowl and the remaining cranberries and nuts. Knead them into the dough by hand.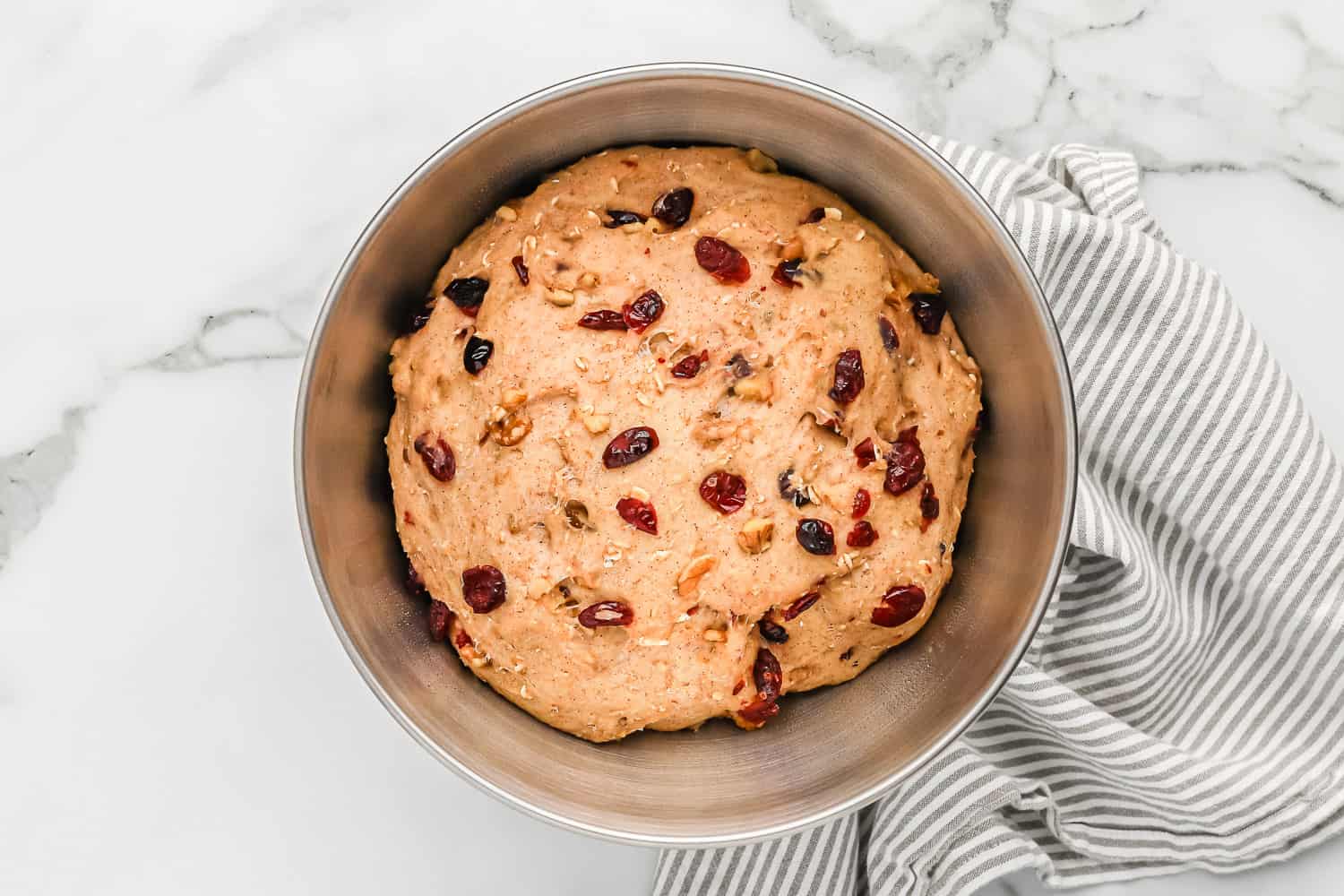 Let the dough rise. Grease a large bowl with a little butter or oil. Put the dough into the bowl and flip it so it has oil on all sides. Cover the bowl with a clean towel and put it in a warm spot to rise. Some newer ovens have a "Proofing" setting. Let the bread rise for an hour or until it's doubled in size.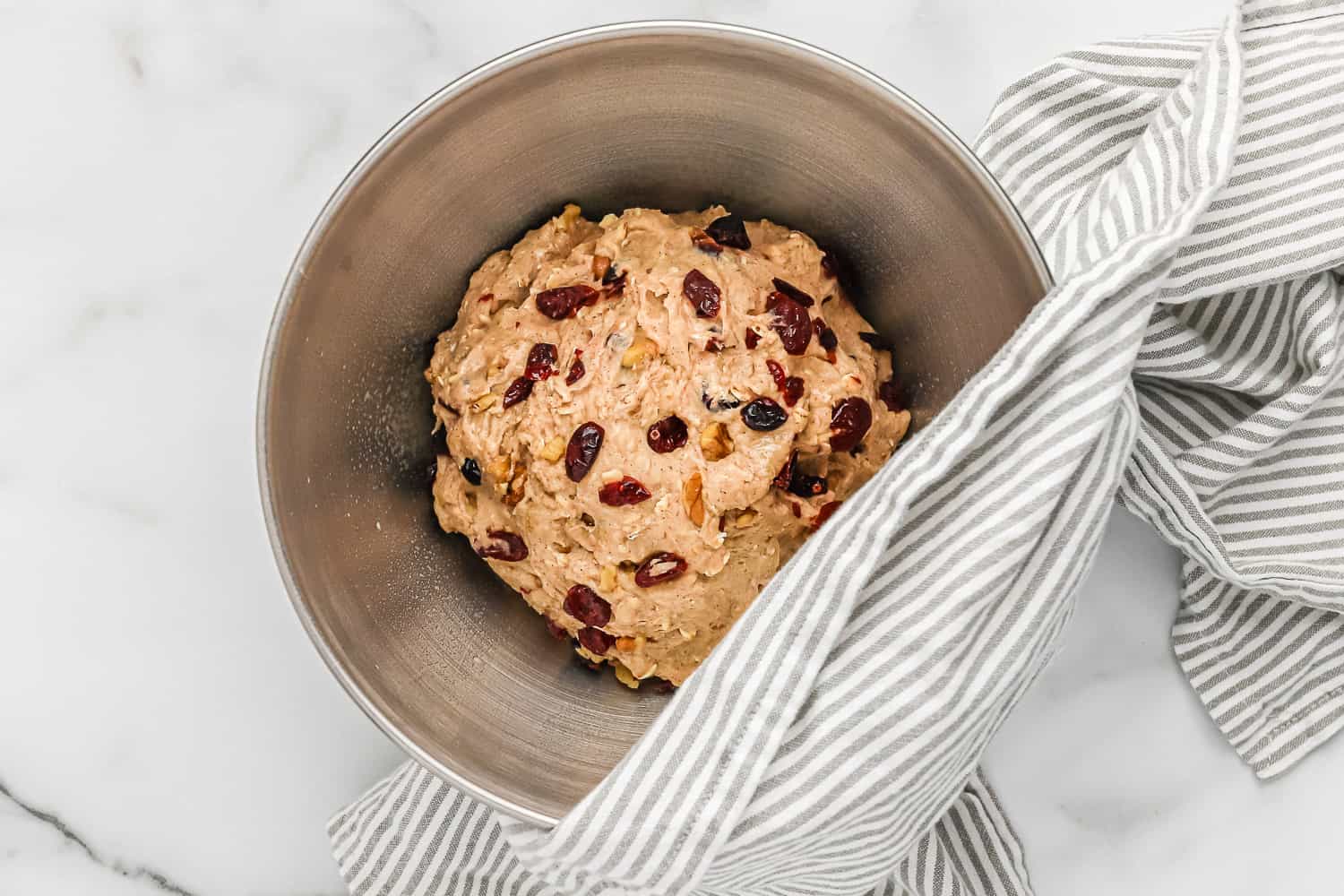 Shape the dough. Grease a bread pan. Remove the dough from the bowl and flatten it into a good-sized rectangle. The short side of the rectangle should be about the length of your bread pan.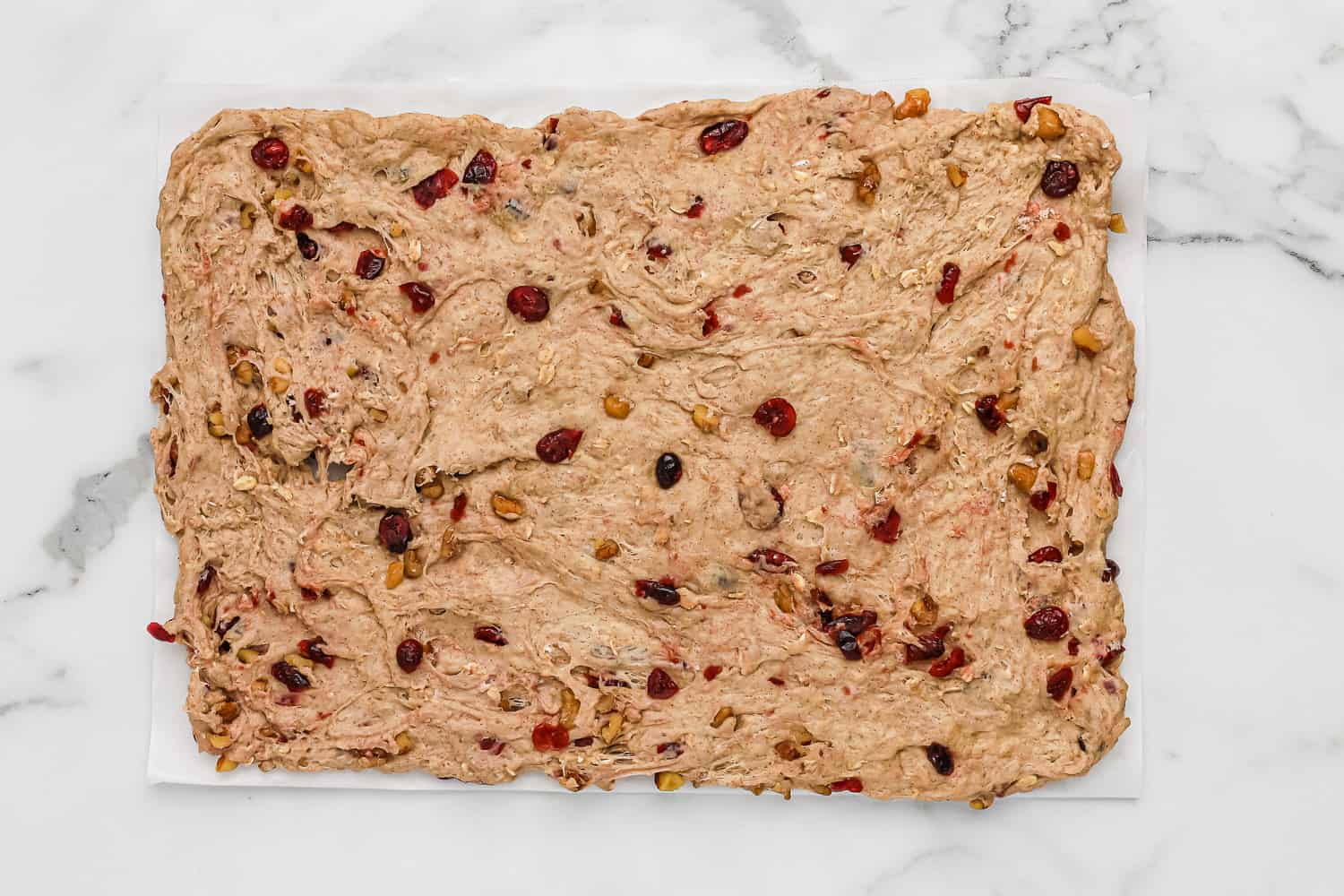 Firmly roll the dough and place it into the greased pan.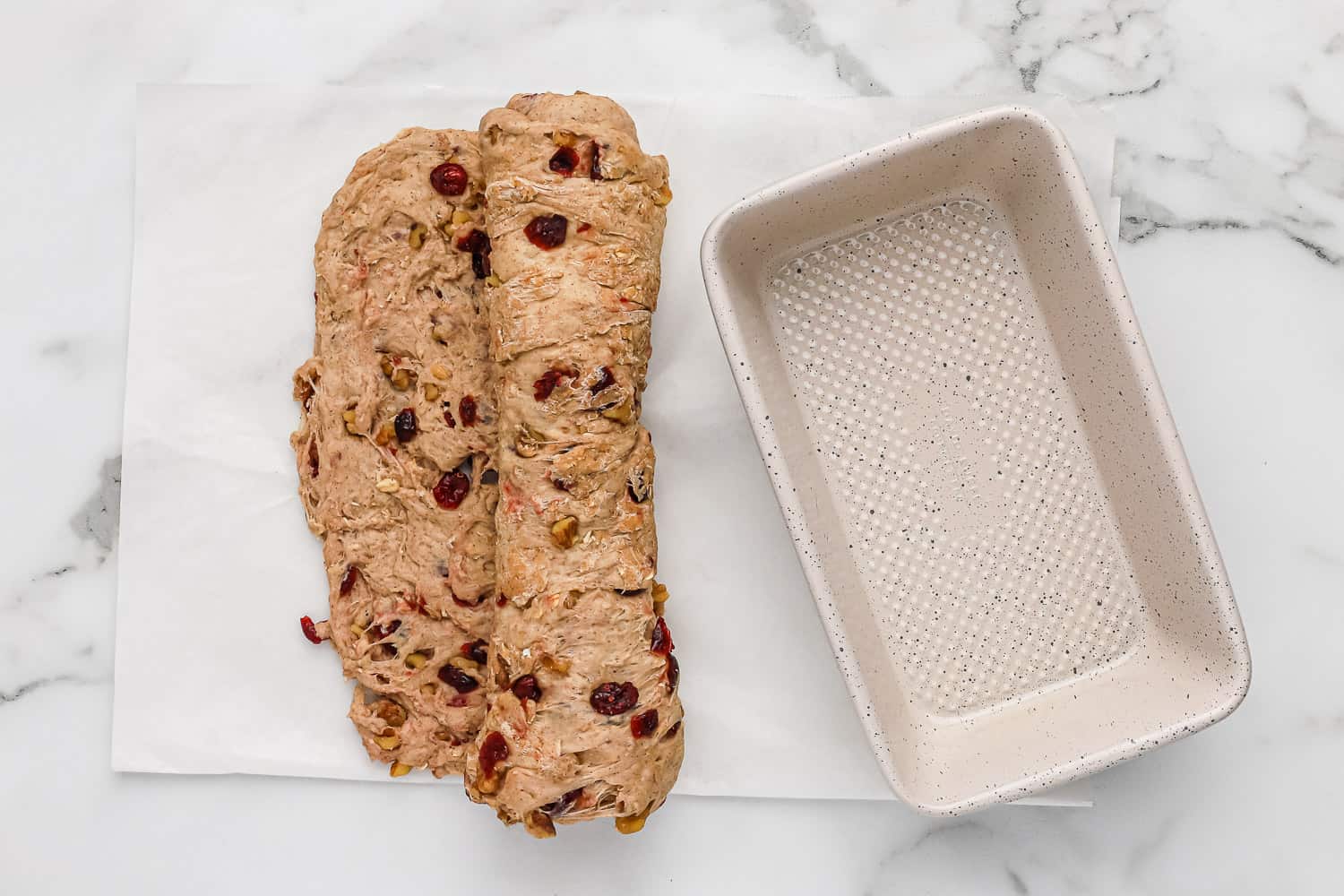 Second rise: Cover the bread with the clean towel and let it rise again for another hour, or until it's doubled in size.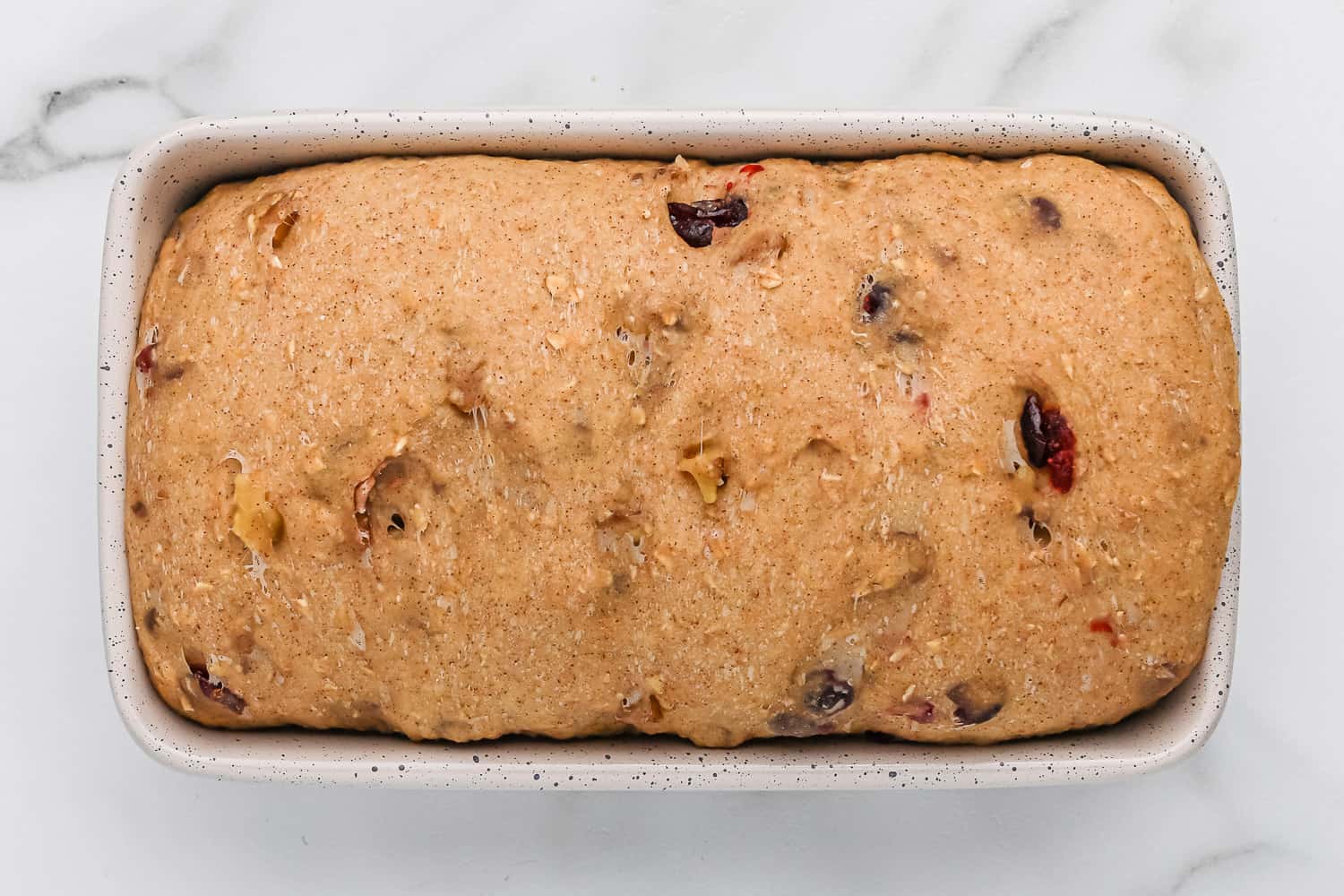 Bake the bread. When the bread is ready, preheat your oven with the oven rack in the center position. Put the bread in the oven to bake, uncovered, until it's golden brown and firm, forty to forty-five minutes. As it's baking, be sure to hang around in the kitchen so you don't miss the wonderful yeasty aroma of freshly baked bread.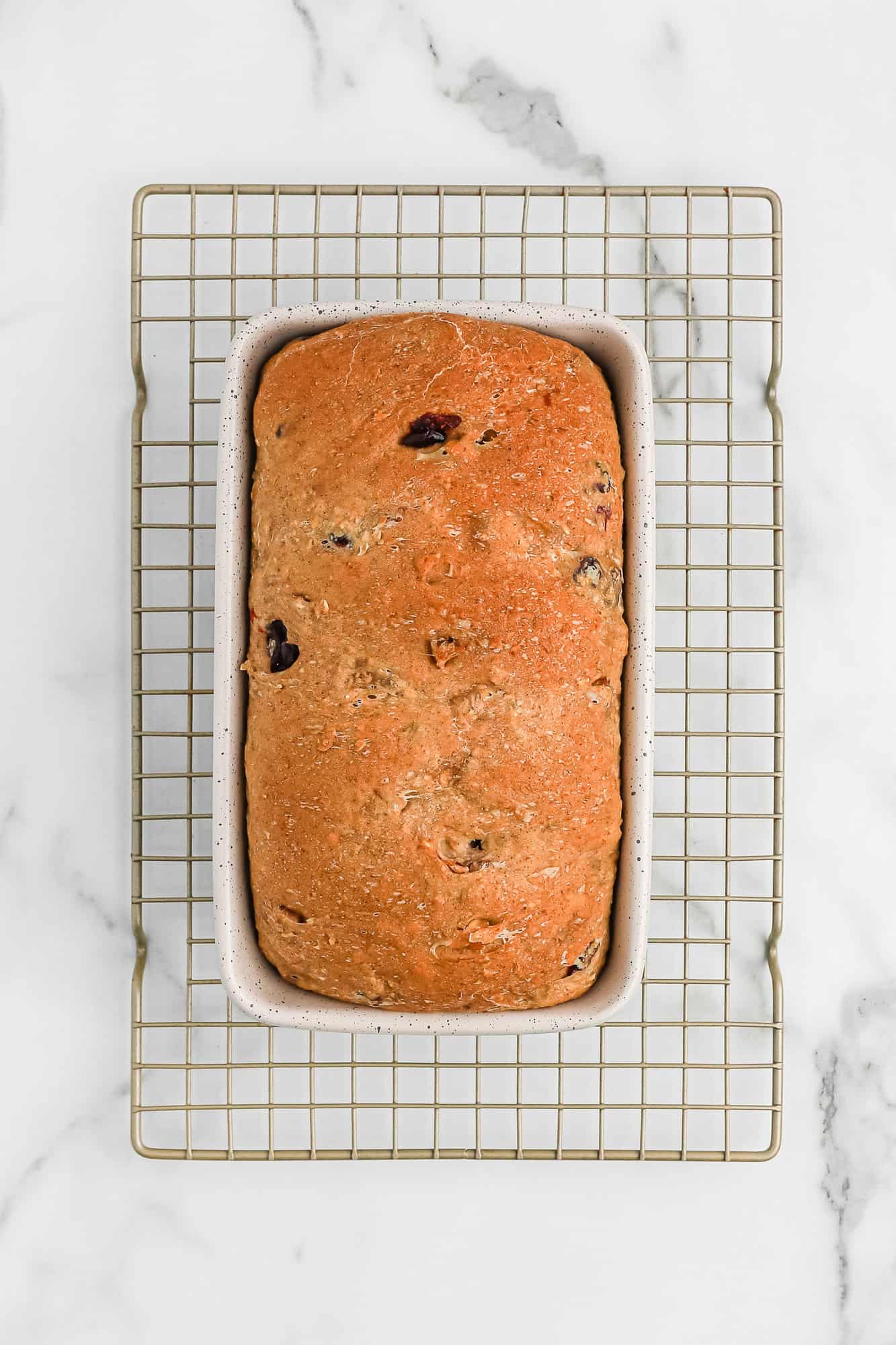 If desired, brush crust with butter for a shiny appearance.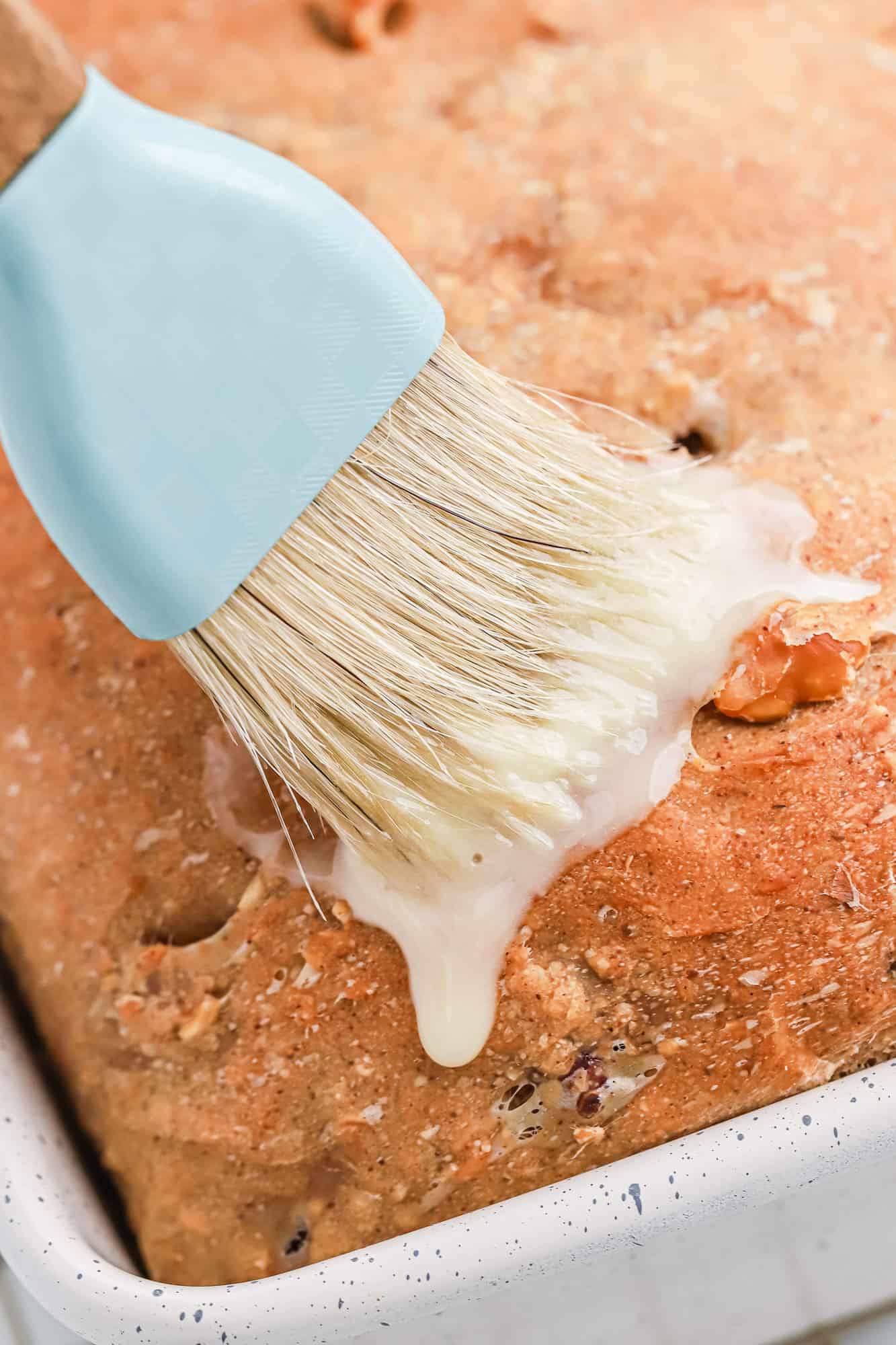 Let the bread cool on a wire rack before you slice it. If the bread is too warm, it can be difficult to slice. I know, it's super hard to wait because you're gonna want to try it right away.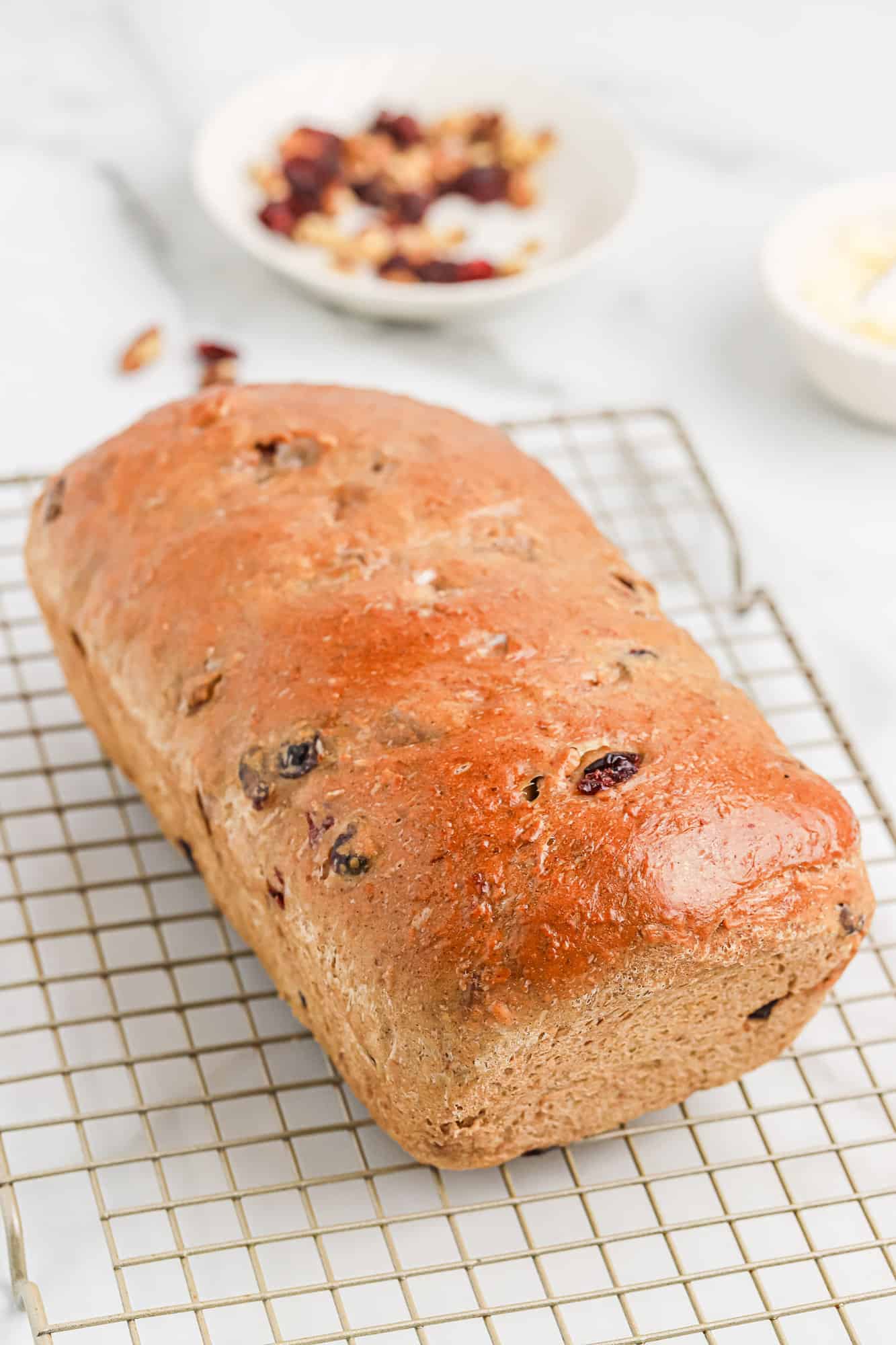 Enjoy your bread with a cup of coffee or tea. It's perfect for brunches, too. This bread is vegan (if you don't brush the top with butter) and goes perfectly with vegan butternut squash soup for an amazing lunch or dinner.
FAQs
Why do walnuts turn bread purple?
According to California Walnuts, the purple discoloration is caused by a chemical reaction. Certain flours that contain iron may interact with gallic acid which is found in walnut skins.
To be quite honest, I've never had that happen but if it's a problem you're experiencing, the website recommends putting the walnuts into boiling water, and boiling them for one minute (in other words, blanching them). Drain well before adding the walnuts to your bread dough.
How do you keep cranberries from sinking in bread?
Dried cranberries don't tend to sink as much as fresh cranberries so that usually isn't a problem with this bread recipe. Yeast bread dough is much thicker than quick bread batter so the cranberries don't really have a chance to sink.
To keep dried cranberries, or other dried or fresh berries, from sinking to the bottom of quick breads or muffins, it helps to toss the berries with a bit of the flour before adding them to the batter.
Another tip that works well is to pour a portion of plain batter with no berries into the pan, then mix the berries with the remaining batter and pour it in the pan.
Make It Your Own
Make it nut-free. If you don't care for walnuts or have a nut allergy, substitute pepitas (shelled pumpkin seeds) or sunflower seeds. I always use seeds because of my children's allergies.
Try different dried fruit. To change things up, try raisins or dried cherries instead of cranberries. The cinnamon spice goes really well with raisins! Add a teaspoon of orange zest for a bit of citrus flavor.
Make it whole wheat. If you are a fan of whole wheat, sub in a cup of whole wheat flour for one cup of the bread flour (step #4). I wouldn't advise using 100% whole wheat flour because the loaf will be too dense and heavy.
Looking for recipes for fresh cranberries? If you have fresh cranberries that you want to use, try a cranberry clafoutis, a super easy dessert, or a cranberry coffee cake. Both recipes can be made with fresh or frozen cranberries. Fresh cranberries can be roasted, too. Try cranberry sauce with roasted Grapes, apples, and shallots.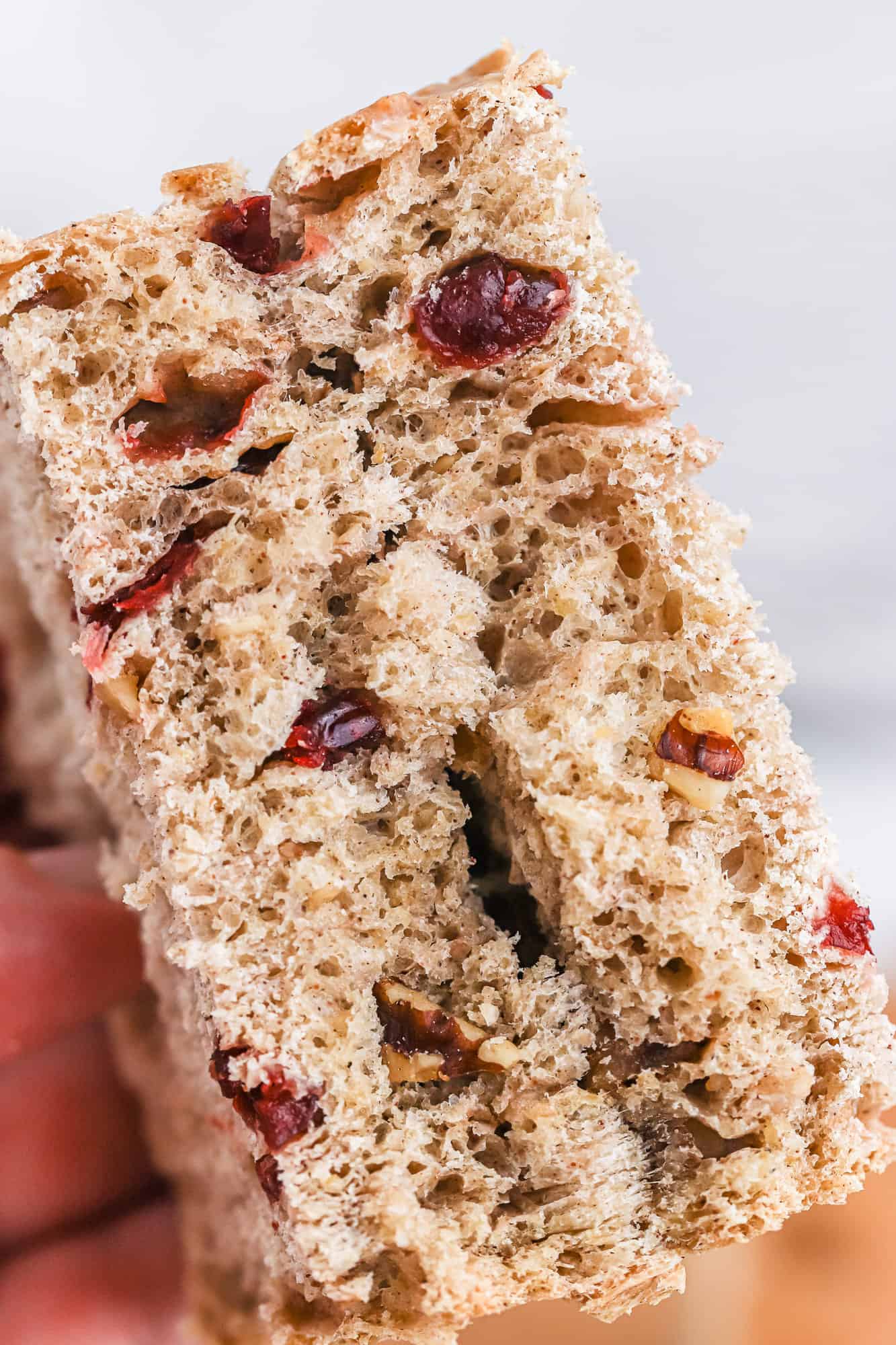 Storage Tips
Cool the bread completely on a wire rack. Store bread, either sliced or a whole loaf, in an airtight container or plastic bag. Since homemade bread does not have any added preservatives, it won't keep as long as store-bought bread. It will last 3 to 4 days at room temperature. If you want to keep it longer, refrigerate it.
Homemade bread can be frozen for up to six months if it's wrapped securely. Slice it before you freeze it so you can take a slice out whenever you want and toast it. So good!
More Yeast Breads
Here's a few that I've made and if I can do it, so can you!
Did you make this? Be sure to leave a review below and tag me @rachelcooksblog on Facebook, Instagram, or Pinterest!
Chewy, crunchy, and unbelievably satisfying, cranberry walnut bread might just become your new favorite. It's amazing toasted!
Ingredients
1

pkg.

active dry yeast

(

2¼

teaspoons)

2 ½

cups

bread flour, divided

1

cup

rolled or quick oats

(see note)

2

teaspoons

ground cinnamon

1 ½

teaspoons

salt

1

cup

water

3

tablespoons

vegetable or canola oil

⅓

cup

packed brown sugar

½

cup

chopped walnuts

½

cup

dried cranberries
Instructions
In the bowl of a stand mixer, combine yeast,

one cup

flour, oats, cinnamon and salt.

In a large measuring cup (or small bowl), combine water, oil and brown sugar. Heat to 120-130° F (about 1 minute in microwave at high power). Use instant read thermometer to test the temperature.

Add liquid ingredients to the dry mixture in the mixing bowl. Using paddle attachment, beat on low speed (#2) for 4 minutes.

Add remaining

1 ½ cups

flour to the mixing bowl. Switch attachment to dough hook. Knead for 6 minutes on low speed (#2), or until dough is smooth and elastic. If dough seems too stiff (the mixer is working too hard), add water, 1 tablespoon at a time.

After 6 minutes, add the cranberries and walnuts to the bowl. Turn the mixer on low speed to incorporate them into the dough. If some remain in the bowl, take the dough and remaining cranberries/nuts out of the bowl and knead lightly until they are incorporated.

Place dough in a lightly oiled bowl, turn to grease dough. Cover and let rise in a warm place until dough doubles in size, about 1 hour (see note).

Remove dough from bowl and form into a rectangle, approximately 7 x 14 inches. Starting with the short side, roll up tightly to form a tight roll. Place in a greased 9 x 5-inch loaf pan. Cover with a clean towel and let rise until doubled, about 1 hour.

Preheat oven to 375°F with rack in middle of oven. Bake bread for 40 to 45 minutes or until internal temperature is 190°F.

Cool 10 minutes on wire rack, remove loaf from pan, and cool completely on wire rack before slicing. If desired, brush the top of the warm loaf with melted butter.
Notes
Use rolled oats (old-fashioned) or quick oats. Do not substitute instant oatmeal or steel cut oats.
Don't have a warm spot in your kitchen? Some newer model ovens have a "Proofing" setting which is made for this purpose. This short YouTube video will show you another good method.
If you prefer, substitute raisins or dried cherries for the cranberries.
Nut Free: Omit walnuts. Use pepitas (shelled pumpkin seeds) or sunflower seeds instead.
If desired, serve with Cranberry Cinnamon Honey Butter.
Nutrition Information
Serving:
1
slice
,
Calories:
265
kcal
,
Carbohydrates:
41
g
,
Protein:
6
g
,
Fat:
9
g
,
Saturated Fat:
1
g
,
Polyunsaturated Fat:
6
g
,
Monounsaturated Fat:
2
g
,
Trans Fat:
0.03
g
,
Sodium:
353
mg
,
Potassium:
101
mg
,
Fiber:
2
g
,
Sugar:
12
g
,
Vitamin A:
3
IU
,
Vitamin C:
0.1
mg
,
Calcium:
26
mg
,
Iron:
1
mg
This website provides approximate nutrition information for convenience and as a courtesy only. Nutrition data is gathered primarily from the USDA Food Composition Database, whenever available, or otherwise other online calculators.