Hot White Russian Recipe
Perfect for the holidays or any chilly day, this Hot White Russian is cozy while still packing a bit of a punch and is a great adult alternative to hot cocoa.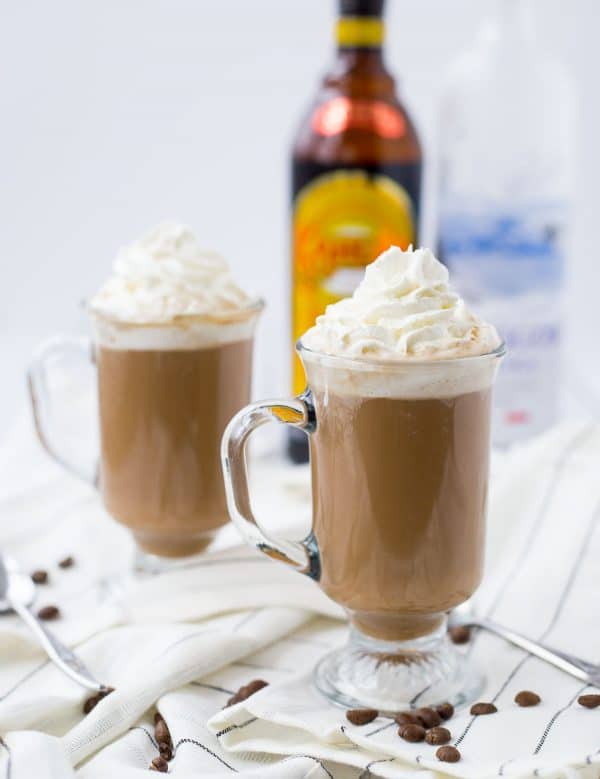 As I write this post, the weather outside is frightful. It really is. It's 5 degrees out and the windchill is -9. Luckily I'm tucked inside a cozy coffee shop sipping on a latte with my warm coat draped over my shoulders. And I'm writing about a Hot White Russian, which truthfully, I could go for right about now. But there's that slippery drive home with two pieces of extra-precious cargo, so maybe I'll save this drink for Christmas and stick with my latte.
Luckily the sun is shining and the snow is sparkling, making that bitter cold just a bit more tolerable. I love looking out over our property this time of year and seeing the snowy apple trees and the deer tracks on the ground. We got a 9-foot Christmas tree this year and I might just leave it up all year if Ben lets me. I'm completely enamored with the Christmas season, and the fact that we're near to family this year and we'll be able to spend Christmas together despite the weather.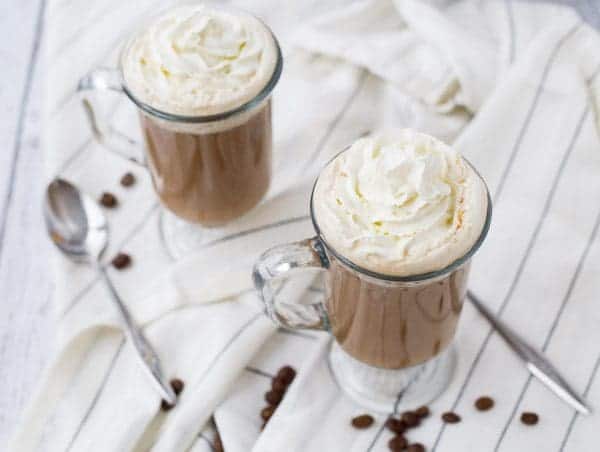 We have a packed full Christmas schedule with family gatherings and it's the first time in years we'll be celebrating with my extended family. I'm forever grateful that God opened the door for Ben to get a job near our family and that his parents were able to move nearby too. And apparently the snow or the cold or something is making me extra sappy this morning.
So should we chat about this Hot White Russian before I start tearing up in this coffee shop? Seems like a good plan to me. This cocktail isn't identical to the cold version, because it's hot, and I also added some extra coffee. I also used whole milk instead of cream — I found that it was plenty creamy for me, but if you'd like to try it with cream, go for it! It's the holidays after all. I wouldn't recommend skim milk for this particular recipe as it won't give you the same creaminess and it also has a higher tendency to curdle when heated.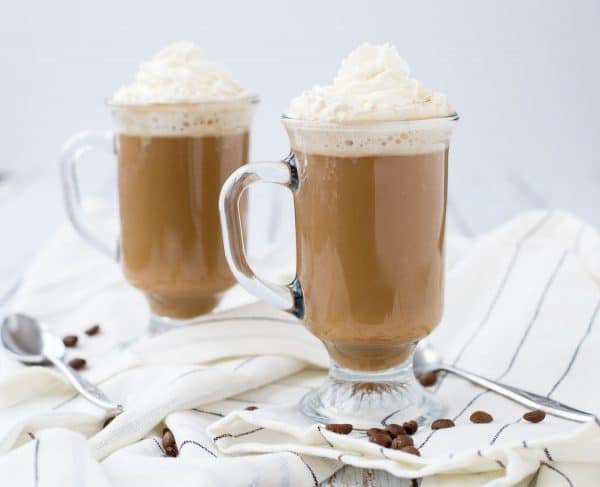 The recipe is written in parts so that you can easily make this for a big group if you're hosting a holiday party. To give you an idea of what a "part" should be, I added a couple of tips at the end of the recipe regarding how to make this for one and also how to make 2-3 servings.
If you're searching for more holiday sips, try:
Hot White Russian
Perfect for the holidays or any chilly day, this Hot White Russian is cozy while still packing a bit of a punch and is a great adult alternative to hot cocoa.
Ingredients:
2 parts freshly brewed coffee
1 part Kahlua
1 part whole milk
1/2 part vodka (I like Grey Goose)
Whipped cream for topping (optional, I guess…but add the whipped cream!)
Directions:
In a small saucepan over medium heat, combine all ingredients and heat until warm (I recommend 150-155 degrees Fahrenheit). Do not boil.
Pour into mugs and serve immediately topped with whipped cream.
Tip: For one serving (9-oz serving), I'd recommend using 2-ounces as a part. (2 ounces Kahlua, 1 ounce vodka, 2 ounces milk, 4 ounces coffee)
Tip: If you use 1/2 cup as a "part," this recipe makes three 6-ounce cups or two 9-ounce cups. (1/2 cup Kahlua, 1/4 cup vodka, 1/2 cup whole milk, 1 cup fresh brewed coffee). Multiply parts as needed to serve your group!
Tip: If you're feeling in the mood for decadence, use cream instead of whole milk. Skim milk is not recommended for this recipe.
All images and text ©
.
Verdict: This Hot White Russian warms you from the inside out and is the perfect addition to Christmas parties. I know I'll be finding a time and place to make it during our celebrations!
Husband's take: He loves this drink, he was raving about it!
Changes I would make: None are necessary. If you find this to be too strong, reduce the amount of vodka.
Difficulty: Easy
Disclosure: I have been compensated by Milk Means More for my time to develop this recipe and write this post. All opinions are as always, my own. Find out more about why Milk Means More on Twitter, Facebook, YouTube, Instagram and Pinterest.