Tiramisu Dip Recipe in 10 minutes (with video)
With all the great taste of tiramisu, but in an easy, fun, dip-able format, this tiramisu dip is going to become an instant party favorite!
With Thanksgiving under our belts (quite literally), we've shifted our attention to Christmas and New Years Eve. Let the celebrations continue! It was so beyond wonderful to be living closer to my extended family this year to celebrate Thanksgiving and I can't wait to celebrate Christmas with everyone too. Ben is an only child and his parents actually just moved into a new house about 20 minutes from us so we're all so close now. I feel so fortunate that our kids are going to grow up surrounded by family members.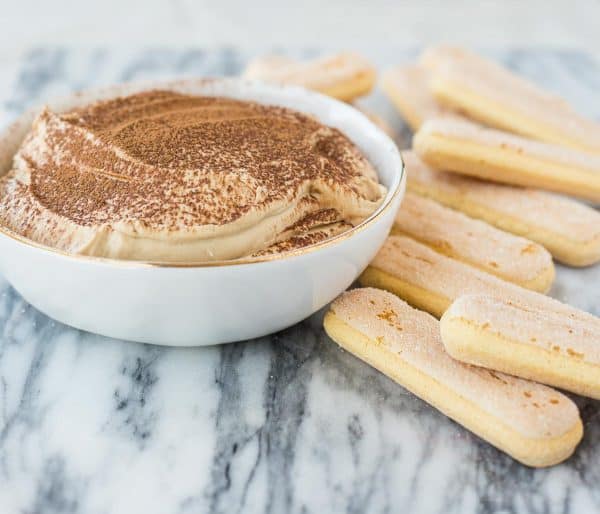 My extended family always celebrates together on Christmas Eve. We could never attend because I feel so strongly about a lazy, mellow, chill, Christmas morning at home with just the four of us. It's a very special time for our family and because of that, we would never make the trip to the Christmas Eve celebration since it would keep us away from home the next morning.
This year, though, we can have our cake and eat it too. And I can't wait. It also means I get to cook even more — and there isn't much I love more than cooking for other people. There's always a need for fun dips, because who doesn't love dip? Sweet dips, savory dips, they're all welcome at any party.
This tiramisu dip is made with mascarpone, cream cheese, espresso powder, vanilla extract and cocoa powder. It's sweetened with a touch of powdered sugar and its fluffy texture comes compliments of a bit of heavy whipping cream. It's the perfect balance of coffee and chocolate flavors without either being overpowering. It's sweet but not too sweet. If you're wondering with to serve with this tiramisu dip, I loved it on apples but you could also dip ladyfingers, graham crackers, or vanilla wafers into it.
I might have put it on pancakes one morning. And it might have been the best thing ever.
If you're looking for more fun dessert dip recipes, try:
Used in this recipe:
Watch this 1 minute video to see how to make this Tiramisu Dip!
Tiramisu Dip Recipe (SO easy!)
With all the great taste of tiramisu, but in an easy, fun, dip-able format, this tiramisu dip is going to become an instant party favorite!
Ingredients:
1 cup heavy whipping cream
1 tablespoon espresso powder
4 ounces cream cheese, softened
8 ounces mascarpone cheese
1/2 cup powdered sugar, sifted
1 teaspoon pure vanilla extract
2 teaspoons unsweetened cocoa powder
Ladyfingers, vanilla wafers, or fruit for dipping
Directions:
Stir cream and espresso powder together in a bowl until dissolved.
Meanwhile, in a medium bowl, beat cream cheese with an electric mixer until smooth and creamy.
Add mascarpone cheese and beat until smooth. Add powdered sugar and vanilla extract; beat on low speed using an electric mixer until mixed. Add heavy cream and espresso mixture and increase speed to high and beat until soft peaks form – do not over beat.
Place in a serving bowl and sprinkle with cocoa powder (I use a very small fine mesh strainer).
Serve with ladyfingers, vanilla wafers or fruit. Store leftovers in the fridge.
Nutrition Information
Yield: 14 servings, Serving Size: 1/4 cup dip
Amount Per Serving:
Calories:

131 Calories

Total Fat:

11.5g

Saturated Fat:

6g

Cholesterol:

38mg

Sodium:

92mg

Carbohydrates:

5g

Sugar:

5g

Protein:

2g
Actual nutrition may vary depending on how recipe is prepared.
All images and text ©
.
Verdict: I loved this tiramisu dip, especially on pancakes!
Husband's take: No complaints from the peanut gallery on this one.
Changes I would make: None are necessary but if you wanted to add a tablespoon or so of rum, it would add great flavor! You could always make it with kahlua – 1-2 tablespoons would be great! Add a little extra powdered sugar if it gets too thin.
Difficulty: Easy! It's ready in ten minutes.
Disclosure: I have been compensated by Milk Means More for my time to develop this recipe and write this post. All opinions are as always, my own. Find out more about why Milk Means More on Twitter, Facebook, YouTube, Instagram and Pinterest.