Hasselback Chicken with Spinach and Artichoke – Sheet pan (VIDEO)
This Hasselback Chicken with Spinach and Artichoke might be your new favorite way to prepare chicken. Rounded out with a few vegetables, this is a perfect weeknight meal! 
It's definitely no secret that I love sheet pan dinners. It's become clear that I am not alone in my obsession — my sheet pan apple gouda stuffed chicken breasts have become wildly popular…have you tried them yet? I mean, really, what is better than a meal prepared all on one pan? Easy clean up, very little attention required…it's a dream come true. I made crispy chicken thighs with dijon and dill — complete with roasted green beans and radishes — they're the easiest crispy chicken you'll ever make.
And these! This hasselback chicken might be my favorite chicken recipe yet.
Check out that cheese, spinach and artichoke oozing out of that perfect chicken! I love making hasselback chicken because you get some of the filling with every bite you take.
I partnered with Just BARE® chicken for this recipe, using one of their Boneless Skinless Chicken Breast Family Packs. I love the family packs more than anything, because I love leftovers! It's the same reason I always buy big packs of chicken to grill.
This recipe is perfect for weeknight dinner because, like other sheet pan dinners, it's super quick, easy and you don't have to dirty many pans. This one is slightly more labor-intensive because of the process of hasselbacking the chicken (I'm sure hasselbacking isn't a word but we're going with it). However, here's your game plan:
Night before: Prep chicken by cutting slits in it and wrapping it up and putting it in the fridge. Prep filling as well, cover bowl and stick in the fridge. Place artichoke hearts not used in filling in a zip-top bag…and put that in the fridge too.
Day of: Place stuffing in chicken, bake!
Or you could do it all the day of…it still won't take long and dinner will be amaaaaazing.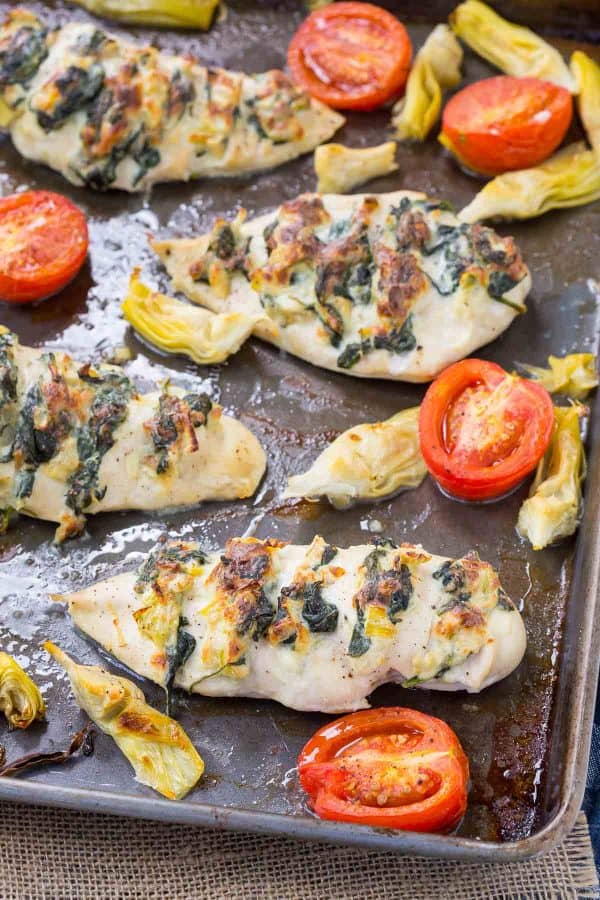 Hit PLAY to watch a short video to see step-by-step directions of how to make this Hasselback Chicken!
Hasselback Chicken with Spinach and Artichoke - Sheet pan dinner
This Hasselback Chicken with Spinach and Artichoke might be your new favorite way to prepare chicken. Rounded out with a few vegetables, this is a perfect weeknight meal!
Ingredients:
2 pounds Just BARE Boneless Skinless Chicken Breasts (4 to 6 boneless skinless chicken breasts)

2 teaspoons plus 1 Tablespoon olive oil

1/3 cup finely diced yellow onion (about 1/2 small yellow onion)

1/4 teaspoon pepper

1/4 teaspoon salt

One can (14 ounces) quartered artichoke hearts (not marinated), drained, patted dry and divided

5 ounces fresh baby spinach

2 ounces cream cheese

1/3 cup shredded mozzarella cheese

1/4 cup grated parmesan cheese

3 roma tomatoes, halved

pepper to taste
Directions:
Preheat the oven to 425°F.

Spread 1 teaspoon olive oil on a large sheet pan to prevent chicken from sticking. Set aside. Place a wooden spoon or chopsticks on either side of one chicken breast (on the long side) and make cuts across the chicken about 1/2 inch apart

without cutting all the way through

. The wooden spoons or chopsticks will help prevent you from cutting all the way through the chicken. Place chicken on prepared sheet pan.

In a large skillet, heat 1 teaspoon olive oil over medium heat. Add onion and salt and pepper and cook, stirring, until translucent, or about five minutes. Chop 1/2 cup of the drained artichoke hearts and add those to the onions (reserve remaining artichoke hearts). Add the spinach and cover until wilted, stirring occasionally as needed.

Once the spinach is wilted, add cream cheese, mozzarella cheese, and parmesan cheese. Stir until cheese melts and is combined. Remove from heat.

Carefully place spinach mixture into each one of the slices you made in the chicken (I used a small spoon to help me and prevent burning my fingers.

In a bowl or zip-top bag, combine the remaining artichoke hearts and halved roma tomatoes with one tablespoon olive oil until vegetables are coated. Arrange around chicken breasts in a single layer and sprinkle everything with pepper as desired.

Bake for 15 minutes or until internal temperature of chicken registers at 165°F. Serve immediately.
Nutrition Information
Yield: 4 servings, Serving Size: 1 of 4
Amount Per Serving:
Calories:

314 Calories

Total Fat:

18g

Saturated Fat:

9g

Cholesterol:

63mg

Sodium:

1010mg

Carbohydrates:

15g

Fiber:

3g

Sugar:

5g

Protein:

24g
Actual nutrition may vary depending on how recipe is prepared.
All images and text ©
.
Verdict: Obsessed.
Husband's take: He loved this!
Changes I would make: NONE! I might throw some additional vegetables on if I had them but the chicken is PERFECT as is. If I do say so myself.
Difficulty: Easy to moderate. The perk is that it looks fancy but it's not that hard to make.
Disclaimer: I have been compensated by Just BARE chicken for the time required to develop and share this recipe but all thoughts are my own, as always. Thanks for supporting my blog by reading about brands and products I use and love in my own kitchen.