One Pot Green Lentils with Sweet Potatoes and Kale
One Pot Green Lentils with Sweet Potatoes and Kale are a hearty vegetarian meal – easy to make and packed with nutrition and flavor, these are sure to become a favorite!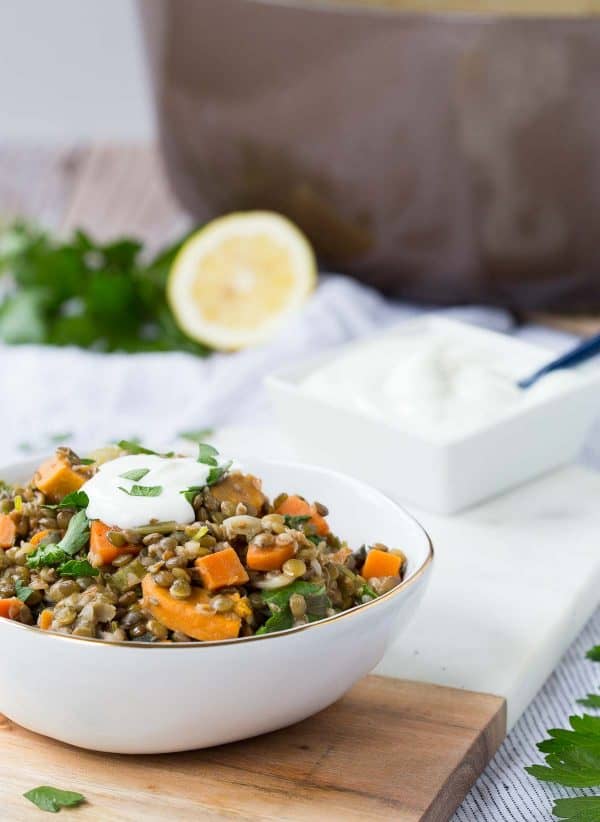 When I think lentils, my mind automatically goes to delicious health food. Lentils are a versatile powerhouse and so tasty. I love using red lentils to make a smooth, comforting red lentil soup. My go-to use of green lentils has always been in salads because they hold their shape well and stand strong in a salad. I love this lentil salad with grapes and orange, or this lentil salad full of feta and bright, fresh flavors. Lentils also make a great stand-in for meat, like they do in my vegan bolognese.
I partnered with Bob's Red Mill for this recipe, using their green lentils. These lentils boast a hearty 18 grams of fiber and 13 grams of protein per serving. And 25% of your daily value of iron. They're such a great meat substitute and you won't miss the meat at all in this recipe. I also threw in a little bulgur for good measure. Because I'm trying to clean out my fridge before I move. It adds another layer of texture as well as additional protein, fiber, and iron. (Okay, so….maybe both reasons apply.)
French green lentils are so beautiful and they have a really great peppery, earthy flavor. I've done soups and salads but I wanted something heartier than a soup this time. An easy, one pan, healthy comfort food recipe. This one will be great for meatless Mondays (or any day of the week!). It's a great back-to-school weeknight meal because you only have to wash one pan. ONE! Pretty much a mom's dream come true. You could prep the carrots, celery and onions the night before and have them waiting in your fridge to make this recipe even easier and quicker when you get home from work or sports games or whatever you may have going on.
I used baby kale for a good dose of greens in these one pot green lentils but if you don't have baby kale on hand, you could use spinach or chopped curly or lacinato kale.
I like to top this recipe with a little plain yogurt, a squeeze of lemon juice and a good sprinkle of fresh parsley. It's a very hearty dish and those three toppings add the brightness and acidity it needs.
Enjoy!
One Pot Green Lentils with Sweet Potatoes and Kale
One Pot Green Lentils with Sweet Potatoes and Kale are a hearty vegetarian meal – easy to make and packed with nutrition and flavor, these are sure to become a favorite!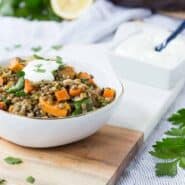 Ingredients:
2 tablespoons olive oil
1 cup diced yellow or sweet onion (about half a large onion)
1 cup diced carrots (about 2 carrots)
1 cup diced celery (about 3 stalks)
1/2 teaspoon salt (more to taste)
1/2 teaspoon ground black pepper (more to taste)
1 garlic clove, minced
½ cup dry white wine
2 cups uncooked Bob's Red Mill Green lentils, rinsed
1/2 cup Bob's Red Mill Golden Bulgur
1 large sweet potato, chopped (about 2 heaping cups)
4 cups chicken broth (use vegetable broth if you want it to be vegetarian)
1/4 cup chopped parsley
1 teaspoon fresh thyme
4 cups packed fresh baby kale (about a 5 ounce container)
1/2 lemon, juiced (more as desired)
Plain greek yogurt
Additional fresh parsley for garnish
Directions:
Heat olive oil in a large pot or dutch oven over medium heat. Add onions, carrots, celery, salt and pepper. Cook, stirring occasionally, for 10 minutes until the vegetables are beginning to soften and onions are translucent. Add garlic and cook, stirring for 1 minute or until fragrant.
Add the wine and scrape any brown bits off the bottom of the pan. Cook for 2-3 minutes or until wine has reduced by about half.
Add lentils, bulgur, sweet potato, broth, parsley, and thyme and increase heat to high. Bring to a boil and then reduce to medium-low to simmer for 30 minutes or until lentils are tender, stirring occasionally. Add more water during the cooking process as needed (I needed to add two cups) to keep the lentils just barely covered with liquid.
Add baby kale and cover for 1-2 minutes. Uncover, stir, and repeat as needed until kale is wilted. Sprinkle in lemon juice and stir to combine. Taste and add salt and pepper as needed.
Serve garnished with plain yogurt and fresh parsley.
Store leftovers covered in fridge for up to a week.
Note: This would be a great recipe to meal prep on the weekends and keep in the fridge for healthy eating all week long!
Verdict: Comforting, healthy, and flavorful. Oh and easy. Pretty much a win-win-win-win in my book.
Husband's take: He likes to eat it cold with tortilla chips. Please keep in mind I am not endorsing this choice. I am only sharing the facts here.
Changes I would make: None!
Difficulty: Easy!
Disclosure: I've partnered with Bob's Red Mill as a brand ambassador to bring you this post. They compensated me for my time but all opinions are, as always, my own. If you opened my cupboards and fridge, you'd find a wealth of Bob's Red Mill products that I purchased myself. Thanks for supporting Rachel Cooks by reading about brands I use and love!