Pumpkin Cheddar Muffins
These pumpkin cheddar muffins are unique, surprising, and extremely delicious. They'll be a new favorite!
What is the first thing you do when you pick up a new cookbook?
Do you read the information on the back?
Look at the pictures?
Check the table of contents?
I'm a flipper. I flip through the pages to see what catches my eye. Then I delve in deeper.
One of the first things I noticed about Baked Explorations
by Matt Lewis and Renato Poliafito was the friendly layout, deep, rich colors and wide variety of recipes.
Other things I love:
There are sections about kitchen tools/equipment and terms/brand recommendations. Both include very educational and helpful information, especially if you are a new baker.
The authors have a sense of humor which makes the cookbook really enjoyable to read.
Each recipe includes a "Baked Note," which is helpful information about the recipe or an educational/interesting tidbit about that particular dessert. I love this feature. It makes this book different than any other baking cookbook.
The cookbook includes a huge variety of recipes from Black and White Cookies to Monkey Bread to Strawberry Jello Salad.
Things I wish were different (because I'm always going to give you my honest opinion!):
I wish there was more pictures. I'm a very visual person and I love my cookbooks to be jam packed with color photographs. I'm greedy–I want a picture of every recipe. However, the photos definitely make up in quality what they lack in quantity–they are gorgeous. (Photos by Tina Rupp.)
That's all I have. It's a good book!
The book's stats:
Complete Title: Baked Explorations: Classic American Desserts Reinvented
Authors: Matt Lewis and Renato Poliafito
Authors' bio (from publisher): "Matt Lewis and Renato Poliafito left their day jobs in advertising five years ago to open their bakery, Baked, in Brooklyn, NY, to immediate praise from fans across the country. The authors have been featured on Oprah, the Today show, the Food Network, and Martha Stewart. Their first book, Baked, was an IACP award nominee. Lewis and Poliafito live in New York City."
Some recipes that I really want to try:
Whiskey Pear Tart
Chocolate Mint Thumbprints
Orange Creamsicle Tart
Sweet and Salty Brownie
Maple Cupcakes with Maple Cream Cheese Frosting
I mean, really. How good do those all sound? In reality, I should just say that I want to try:
So, if you even have the smallest sweet tooth, make sure you order
the book.
The recipe I'm featuring is Pumpkin Cheddar Muffins, from the Breakfast section of the cookbook, and these muffins will not disappoint. Especially if you're someone who doesn't love super sweet breakfasts. Pumpkin cheddar muffins have the perfect balance of sweet and savory with a touch of cayenne to keep things interesting.
The authors suggest topping the muffins with pumpkin seeds which would look beautiful and add a great crunch, but I used all mine for these recipes and didn't have any left.
Pumpkin Cheddar Muffins
Yield: 12 muffins
Prep Time: 10 minutes
Cook Time: 20 minutes
Additional Time: 10 minutes
Total Time: 40 minutes
These pumpkin cheddar muffins are unique, surprising, and extremely delicious. They'll be a new favorite!
Ingredients
1 cup canned solid-pack pumpkin purée (NOT pumpkin pie filling)
3 tablespoons sour cream
2 large eggs
1/2 cup (1 stick) unsalted butter, melted and cooled
2 cups all-purpose flour
1 1/2 teaspoons baking powder
1/4 teaspoon cayenne pepper
1 1/2 teaspoons salt
1 1/2 teaspoons freshly ground black pepper
1/2 cup firmly packed dark brown sugar
1 1/4 cups (about 4 ounces) grated sharp cheddar
2 tablespoons pumpkin seeds, optional
Instructions
Preheat the oven to 400°F. Lightly spray each cup of a standard 12-cup muffin pan with a little bit of vegetable spray and use a paper towel to spread the oil evenly along the bottom and up the sides of each cup.
In a large bowl, whisk together the pumpkin and sour cream. Add the eggs and butter and whisk until combined.
In another large bowl, whisk together the flour, baking powder, cayenne pepper, salt, black pepper, and brown sugar. Make a well in the middle of the dry ingredients. Pour the wet ingredients into the well, and fold until just combined. Fold in three-quarters of the cheese.
Divide the batter among the muffin cups. Sprinkle the remaining cheddar and the pumpkin seeds on top of the muffins. Bake them for 20 minutes, or until golden brown.
Let the muffin pan cool on a rack for 10 minutes before turning out the muffins. Serve them warm.
Notes
Muffins taste best when eaten fresh, but they can be made ahead of time and reheated in a 200°F oven.
Nutrition Information:
Yield: 12
Serving Size: 1 muffin
Amount Per Serving:
Calories: 150
Total Fat: 3g
Saturated Fat: 2g
Trans Fat: 0g
Unsaturated Fat: 1g
Cholesterol: 37mg
Sodium: 364mg
Carbohydrates: 26g
Fiber: 1g
Sugar: 8g
Protein: 4g
RachelCooks.com sometimes provides nutritional information, but these figures should be considered estimates, as they are not calculated by a registered dietitian. Please consult a medical professional for any specific nutrition, diet, or allergy advice.
Verdict: So tasty! I love the flavor complexity of these muffins. They are really great with the pumpkin seeds on top to add some textural variety.
Husband's take: He never tried them. I think know he was a little freaked out by the cheddar-pumpkin combination. My parents were visiting, tried the muffins, and loved them. My mom asked for the recipe. Here it is, mom!
Changes I would make: Not a single one. These aren't low-fat, with a whole stick of butter plus the cheese, but they are a great treat. They would be fantastic for a brunch. Also–I have a good helping of butter on them for the pictures, but they really don't need it. They are very moist and delicious without it. But…a little extra butter is never a bad thing.
Difficulty: Easy!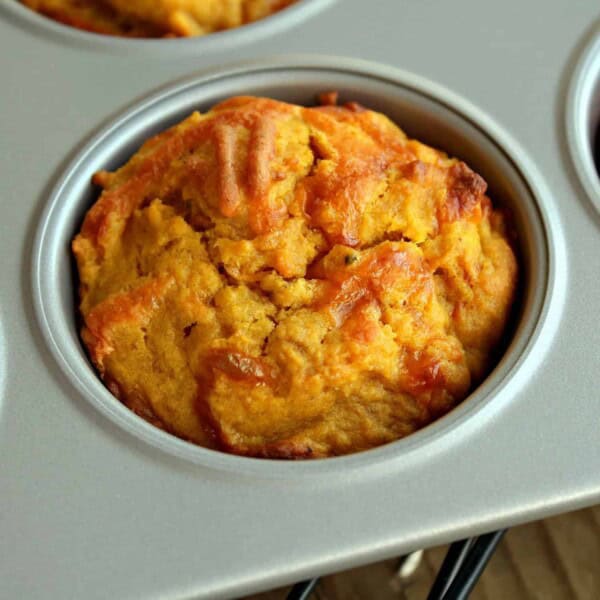 Disclosure: I was sent a free book to review and free brownies to try. However, all opinions expressed in this post are, as always, 100% my own. I was not compensated for this post other than the free book/brownies.