Salad with Beets and Feta with Dijon Vinaigrette
Salad with Beets and Feta with Dijon Vinaigrette – aka your lunch today. You'll love the the combination of the salty feta and the earthy beets.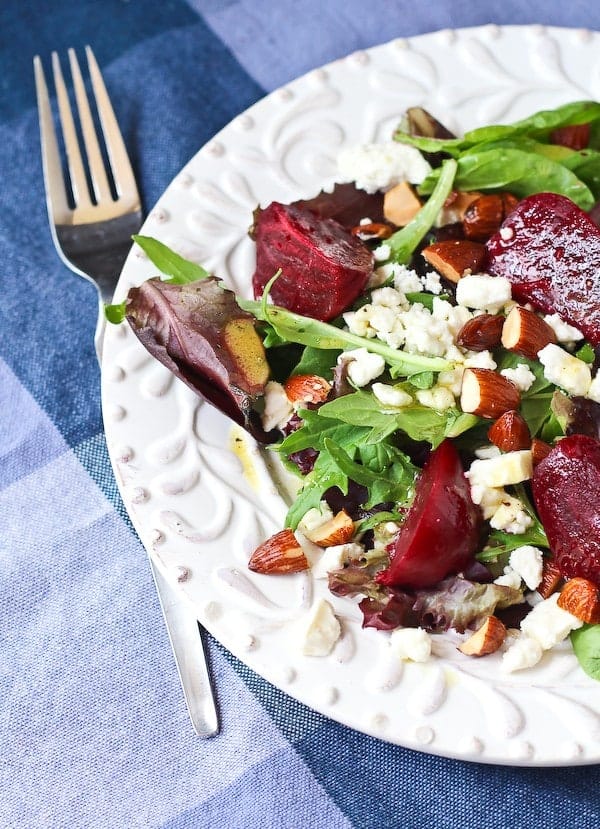 My first taste of this salad was at my mom's house.
Yet, not really.
The almonds she used? My olive oil roasted almonds.
The beets she used? She used my method of roasting beets.
The dressing was a twist on the dressing I used on my asparagus ribbon salad.
Now, I'm certainly not taking credit for this salad! It's the ultimate compliment that my mom makes my recipes and I am definitely giving her credit for this delicious salad. I love the combination of the earthy greens and beets with the salty feta and crunchy almonds. It's dreamy.
Maybe someday E will move past sticking Veggie Straws in her blueberries and into more complicated recipe development. I love the creativity she already shows (albeit often disgusting), and I really hope she develops the love of cooking that my mom and I share.
This salad may seem complicated at first glance but the beauty of it is that much of it can be made in advance. I've been try to do more meal prep on the weekends (I always go in spurts with that), and one of the things I've been doing is roasting beets. They take forever to cook but they're very hands-off. The almonds cook really quickly and will keep for weeks in the fridge. I've also been known to keep a jar of homemade salad dressing in the refrigerator but even if you don't do that, this salad is crazy easy to throw together.
If beets realllly aren't your thing and you've made it this far in my post (impressive!), try subbing the with roasted radishes or roasted carrots. Different, but still delicious.
[Tweet "Beets + Feta + Almonds = Your lunch. #RachelCooks"]
Salad with Beets, Almonds, Feta, and Dijon Vinaigrette
Salad with Beets, Feta, Roasted Almonds and Dijon Vinaigrette – aka your lunch today. You'll love the the combination of the salty feta and the earthy beets.
Ingredients:
for the salad:
1 cup spring greens
1 tablespoon roasted almonds, chopped
1/8 cup crumbled feta
for the dressing:
1 teaspoon olive oil
1/2 teaspoon white balsamic vinegar
1/4 teaspoon dijon mustard
1/4 teaspoon honey
salt and pepper to taste
Directions:
On a plate, pile greens. Top with almonds, feta, and beets.
In a small bowl or a jar, whisk dressing ingredients together.
Pour dressing ingredients over salad and serve immediately.
All images and text ©
.
Verdict: Loved this and have eaten it multiple times.
Husband's take: Allllllll for ME.
Changes I would make: None!
Difficulty: Easy!
If you've gotten this far, you must really love beets and salads. Try these recipes: Asparagus Ribbon Salad with Beets and Burrata, Farro Salad with Chicken, Beets and Red Wine Vinaigrette, Beet, Avocado and Fried Goat Cheese Salad (!) from FoodieCrush, or Crispy Chickpea and Za'atar Beet Salad from Naturally Ella.
Or maybe you're just looking for a great salad! Make sure to check out my salad board on Pinterest!
Follow Rachel Cooks | Rachel Gurk's board Super Salad Recipes on Pinterest.