Easy Pizza Dough Recipe and a Fabulous Flatbread Challenge
This cheesy flatbread comes together quickly thanks to an easy pizza dough recipe and tons of cheese. It's versatile and delicious!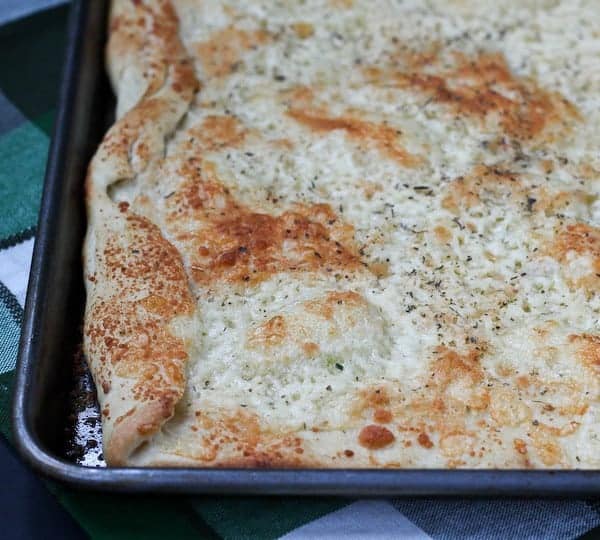 You all remember Mac and Cheese Mania? Welll I've teamed up with one of my favorite clients — United Dairy Industry of Michigan* to bring you a similar challenge but this time we're talking Flatbread!
I'm kicking if off with a basic flatbread dough recipe that can get pizza or flatbread on your table in probably an hour. If you're organized. Maybe an hour and fifteen minutes if you have two toddlers.
The dough starts with yeast (duh), olive oil, honey, and water. All the essentials to a good pizza dough. And then you add in your flour, of course. And then…I added cheese. Because, cheese. Can't ever go wrong with cheese. I used an extra sharp white cheddar — pick a good quality cheese. It will be well worth it in the end.
Basically, if you have a stand mixer, you let the mixer do most of the work for you on this recipe. If you don't have a stand mixer, you don't have to worry, because this is completely doable with just your two hands. (As a sidenote though…if you link up a flatbread recipe here, you have a chance to win a stand mixer! But I'm getting ahead of myself. Read on…)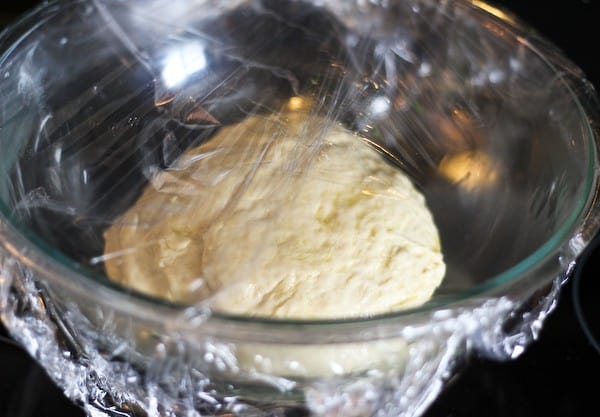 Once you have the pizza dough mixed up and kneaded, it only needs to rise for about 30 minutes! One of the best parts of this recipe is that it makes enough for two flatbread crusts. Great for serving a crowd, or great for saving for another day! It stores terrifically in the fridge for a couple days or for a month or so in the freezer. Even the easiest yeast bread such as this pizza requires a little bit of work. I firmly believe in always making extra. That way you only have to do the work once but you get to reap the benefits twice! It's a wonderful thing.
I roll out this dough on an olive oil coated countertop. I know, whaaaaat? No flour? It's my personal preference because I like a little olive oil on my pizza crust anyways so you're killing two birds with one stone here. Pour about a teaspoon of oil straight onto your counter, rub it around so the surface is well coated. And make sure to throw a little on your rolling pin as well, for good measure. This will keep your dough from sticking but it also tastes great. Win-win. Of course, if you're more comfortable with flour, that will work wonderfully as well.
Now let's talk toppings. This dough is ready for anything you throw at it, but I went with a basic cheesy bread. Who doesn't love cheese bread? I always order some type of cheese bread when we get pizza. It's the best part! The great part about this cheesy flatbread is that it is versatile (I love things that are versatile, obviously). Cut it into sticks and have cheesy breadsticks with that pasta or salad. Cut it into larger portions, pair with a vegetable or salad and you have dinner! Kids would be on cloud nine, right? Or…here's an idea. Cut it into really small pieces and use as croutons on a great soup like this creamy tomato soup. I could go for that combo right about now.
Easy Pizza Dough + Cheesy Flatbread
This cheesy flatbread comes together quickly thanks to an easy pizza dough recipe and tons of cheese. It's versatile and delicious!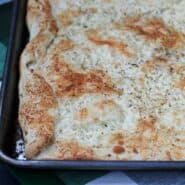 Ingredients:
For the pizza dough (makes 2 crusts):
1 and 1/4 cup warm water
2 envelopes dry yeast (4 and 1/2 teaspoons)
3 tablespoons extra virgin olive oil (plus extra for bowl)
1 tablespoon honey
4 cups all-purpose flour
1 teaspoon salt
1 cup grated cheese (I used extra sharp cheddar)
For the cheese bread:
one pizza crust
2 tablespoons unsalted butter
1/2 teaspoon garlic powder
1 and 1/2 cups sharp cheddar cheese
1/2 cup romano cheese
1/2 teaspoon dried oregano
Directions:
For the dough:
In the bowl of a stand mixer (fitted with a dough hook), combine water, yeast, oil, and honey. Add 3 cups of flour and the salt and mix with the mixer on low. With the mixer on medium-low, slowly add the last cup of flour as need to form a smooth dough that pulls away from the edges of the bowl. Continue to knead for 8 minutes. (You can also do this by hand but it might take closer to 10 minutes for a smooth dough to form.) During the last 30 seconds to one minute, add in cheese and continue to knead until combined.
Pour about a teaspoon of olive oil into a large bowl and rub so the bowl is coated. Transfer dough into bowl and flip over so that the dough is coated with oil. Cover with plastic wrap and place in a warm place for 30 minutes or until about double in size.
Divide dough in half. If you don't plan to use it all right away, store tightly wrapped in the fridge for a couple days or freezer.
On a lightly oiled or floured surface, roll out dough to desired thickness. Place on a oiled baking sheet add toppings and bake at 450 degrees Fahrenheit for 10-12 minutes or until golden brown.
For the cheese bread:
Preheat oven to 450 degrees Fahrenheit.
Roll out pizza dough to 11×17 and place in an oiled or sprayed pan.
Melt butter and mix with garlic powder. Brush this evenly over flatbread dough.
Top with cheeses and dried oregano. Bake for 10 minutes or until golden brown.
Note: Dough can be frozen or refrigerated. To thaw frozen dough, place in refrigerator overnight. To use chilled dough, leave at room temperature for 20 minutes prior to use.
All images and text ©
.
Now, let's talk about the FABULOUS FLATBREAD CHALLENGE! Yay! It will work the same way as mac & cheese mania – link up your favorite flatbread recipe (you can add up to 4 links!) and then use the giveaway widget to complete your entry.
There are step by step directions below — follow those and you'll be good to good.
What's up for grabs?! One winner will win the lovely KitchenAid (also a Michigan company!) 5-quart professional mixer pictured below — in the color of your choice! And then there are three more prize packages which consist of a pizza stone, a pizza cutter, and a ceramic mixing bowl. That's four prizes total!
If you're in need of some flatbread inspiration, I gathered up some of my favorite food bloggers to help me kick off this event! And what they created is making me SO hungry. I'll also be bringing you a couple more recipes this week so check back for those!
Pear & Caramelized Onion Flatbread – Comfortably Domestic
Cuban Pork Flatbread – The Chef Next Door
Buffalo Chicken Flatbread – Mrs. Weber's Neighborhood
Pesto Chicken & Tomato Flatbread – Just Short of Crazy
Fall Apple Cheddar Flatbread – Eat2Gather
Roasted Vegetable Flatbread – What Megan's Making
Apple Chicken Flatbread – Savvy Eats
Bacon Cheeseburger Flatbread – Crumbs and Chaos
Maple Roasted Vegetable & Bacon Flatbread – The Housewife in Training Files
Chicken Enchilada Flatbread – The Sweetphi Blog
Pancetta, Kale, and Pumpkin Flatbread – Fabtastic Eats
Steak Fajita Flatbreads – Miss in the Kitchen
Bacon Brussels Sprouts Butternut Squash Flatbread – Nutmeg Nanny
WHAT YOU NEED TO DO TO PARTICIPATE IN THE FABULOUS FLATBREAD CHALLENGE:
Required:
Find a flatbread or pizza recipe on your blog or create a newly developed recipe — you have two weeks! (If it is an older post, make sure to follow step #2 and you MUST still link back.) If you don't have a blog — read step #4! Recipes MUST contain a cow's milk dairy ingredient and may NOT include any other type of dairy (no goat's milk cheeses) or any dairy substitutes.
If you are a blogger you MUST ADD this to your post: "Come join the Fabulous Flatbread Challenge at Rachel Cooks sponsored by United Dairy Industry of Michigan — Win prizes!" in your new or old blog post. (We will be verifying and you must include this in your posts to be eligible to win a prize.)
Add your link to the Fabulous Flatbread inlinkz link-up widget on my site. Then, use the giveaway widget to confirm you entered and also earn extra entries. You must enter one to be eligible to win but you may enter up to 4 flatbread or pizza recipes.
If you don't have a blog — you are still eligible to win these awesome prizes! Leave your recipe or link to your favorite flatbread or pizza recipe in the comment section of my site during the link-up (ends October 24th, 2014) and tell us why you love it. Then, use the giveaway widget to complete your entry.
PLEASE NOTE: If you do not use the giveaway widget to complete your entry — you will not be eligible to win prizes.
Be patient — it might all take a minute to load. Good luck! Can't wait to see your recipe!
If you have any questions — you know how to contact me. Link-up will be open through October 27th, 2014 at 11:59pm EST. Four (4) winners will be announced that week. All winners will be selected randomly and will be notified via email. They will have 48 hours to respond. All giveaways open to US residents over the age of 18.
Link up your best flatbread recipe! Remember, in order to be eligible for prizes, recipes MUST contain a cow's milk dairy ingredient and may NOT include any other type of dairy (no goat's milk cheeses) or any dairy substitutes. If you don't have a blog — leave your submission in the comments. Remember to use the giveaway widget to verify that you linked up! And remember to link your flatbread recipe back here! (details above)


*Disclosure: I am thrilled to be in an ongoing partnership with United Dairy Industry of Michigan. I have been compensated by UDIM for my time to develop this recipe and organize the Fabulous Flatbread Challenge. All opinions are as always, my own. Find out more about why Milk Means More on Twitter, Facebook, YouTube and Pinterest.