Barley Salad with Cucumbers, Tomatoes and Parsley
This Barley Salad with cucumbers, tomatoes and parsley is a a refreshing, healthy, and filling summer salad. It works great as a side dish or as a complete meal.
I don't know about you, but I am always looking for salads that can act as a full meal like this one with lentils or this freekeh salad that's become one of my favorites. Especially for lunch. I love to have something already prepped and waiting for me in the fridge because lunch is always a little chaotic. It usually falls into one of four categories:
Kids are whining and I'm just looking for something to eat as quickly as I can after I prep their lunches.
I'm throwing lunch together at 8AM and packing it in a cooler because we'll be out and about around lunch (usually play dates).
I'm completely exhausted and I want to eat my arm. But I have two toddlers so my arms are a bit of a necessity. I think I'll keep them.
The kids are whining.
The kids are whining.
Oh wait, that's five. I swear, kids go from happy and cheerful to grumpy and whining in about .00003 seconds — right after I mention the "L" word — lunch. I mean…can they just give me two seconds to make it? I try to get them to understand that I'd be able to make it a lot faster if they weren't hanging on my leg and standing right in front of the refrigerator. Same applies for dinner, kiddos. Breakfast too, for that matter!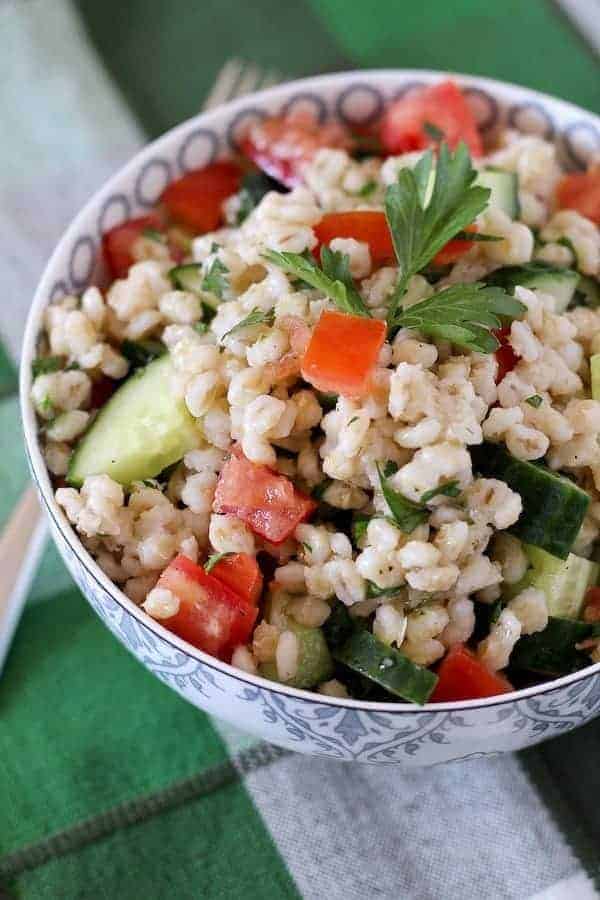 About this barley salad:
Getting back to the point, this salad is the perfect thing to grab out of the fridge once the kids are securely in their seats eating their lunch quietly and happily. At least happily. Quiet? Ha.
This salad is filling and healthy thanks to fiber-full barley. Barley also has about 4 grams of protein (at least that is what my internet research is telling me). If you were to have this be a main dish for lunch or dinner, you might want to consider adding some garbanzo beans or some feta cheese for a little extra boost of protein. They would both be perfect fits in this salad. It has a great fresh Mediterranean flavor with a light and simple dressing made from lemon juice and olive oil.
PS: This brand of barley is always a good bet.
PPS: This barley salad is vegan if you make it as written!
I'm sharing the recipe for this barley salad over on Eat Your Heart Out — don't miss it! (You can now find the recipe here, too.)
Barley Salad with Tomatoes, Cucumber and Parsley
This Barley Salad with cucumbers, tomatoes and parsley is a a refreshing, healthy, and filling summer salad. It works great as a side dish or as a complete meal.
Ingredients:
1 cup uncooked pearl barley, cooked according to package directions and cooled
2 vine-ripened tomatoes, seeds removed, diced
1 English cucumber, diced
⅓ cup chopped flat leaf parsley
3 tablespoons freshly squeezed lemon juice
4 tablespoons extra virgin olive oil
salt and pepper to taste
1 teaspoon za'atar seasoning (optional)
Directions:
If necessary, use a fork to fluff up barley and separate pieces. Add tomatoes, cucumbers, and parsley to barley.
In a small bowl or measuring cup, whisk together lemon juice, olive oil, and salt and pepper.
Pour the dressing over the salad and stir to combine and coat everything in the dressing.
Serve immediately if desired, or keep in fridge overnight prior to serving. Feel free to add more lemon juice and olive oil if needed if the barley soaks up some of the dressing.
Nutrition Information
Yield: 6-8 side dish servings, Serving Size: 1 of 8
Amount Per Serving:
Calories: 154 Calories
Total Fat: 7g
Saturated Fat: 1g
Sodium: 6mg
Carbohydrates: 20g
Fiber: 5g
Sugar: 2g
Protein: 4g
Actual nutrition may vary depending on how recipe is prepared.
All images and text ©
.