Raspberry Vinaigrette Dressing Recipe with Fresh Raspberries
This fresh raspberry vinaigrette dressing recipe will quickly become a summer time favorite with the bright flavor of raspberries — summer's candy.
This is a Sponsored post written by me on behalf of Pompeian. All opinions are 100% mine.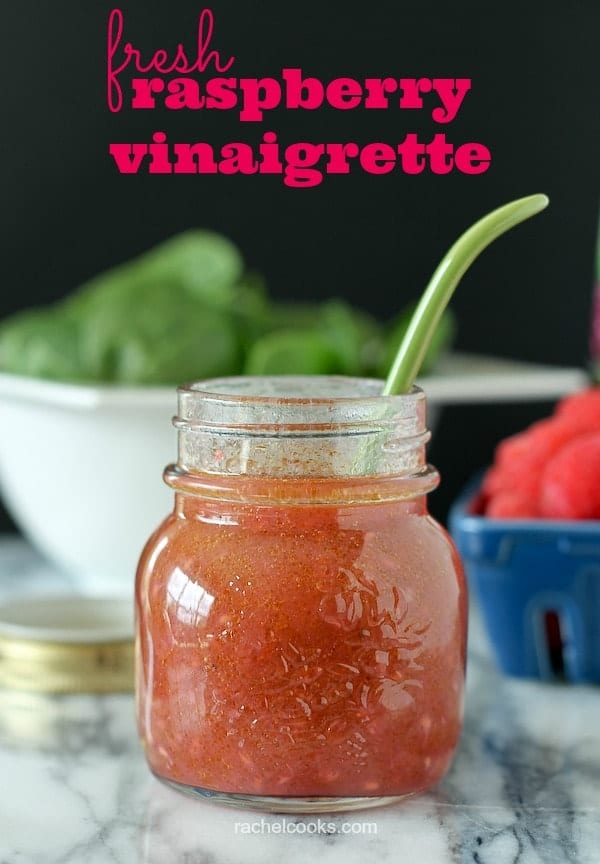 Vinegar — nearly crucial to every good salad dressing, right? And red wine vinegar is no exception, so when Pompeian Red Wine Vinegar challenged me to create a salad dressing to celebrate National Vinegar Month and National Salad Month I headed straight to the kitchen.
Since I just can't get enough of the warm weather and the much anticipated berry season, I decided to go with a fresh raspberry vinaigrette dressing recipe. I'm especially infatuated with raspberries this year for some reason. I smashed the berries through a fine mesh strainer to get all the berry goodness out but leave the crunchy seeds behind.
Add some Red Wine Vinegar to the mix along with some extra virgin olive oil…a bit of salt and pepper…and you're good to go. This is a pretty tangy dressing as it is naturally sugar free, so if you've got a bit of a sweet tooth or are maybe serving it to some picky eaters, you will want to taste and season accordingly. If it's too tangy/sour for your taste, add a bit of honey or granulated sugar to smooth it out a bit.
How to Store This Raspberry Vinaigrette:
I keep mine in a jar in the fridge so it is ready whenever the craving for a salad strikes. All I have to do is shakeshakeshake and pour. I just wish those ol' salad cravings happened more often than a craving for brownies and popcorn…but it doesn't. But I never ever regret eating a salad, especially topped with a fresh, homemade dressing like this one.
PS: Pompeian vinegars are naturally gluten-free and non-allergenic. Safe for little man — hooray!
Tip: Want your dressing to be creamy? Try adding a couple tablespoons of plain Greek yogurt!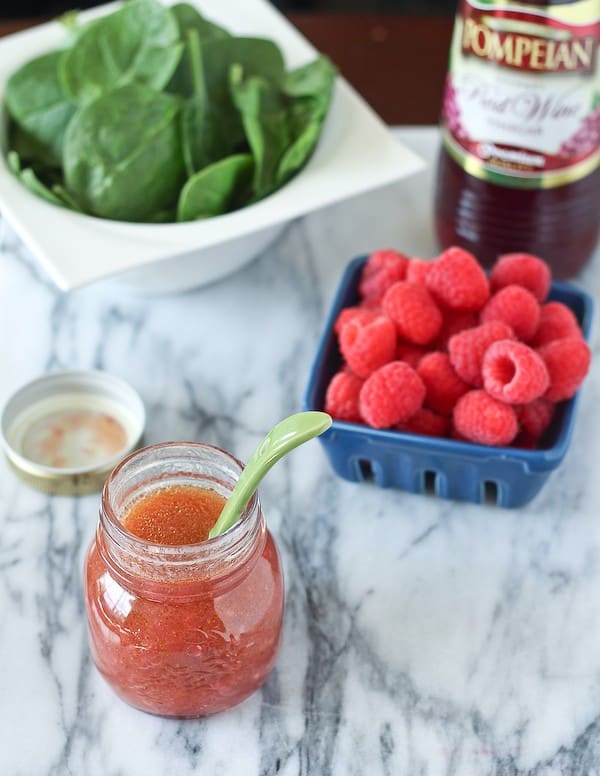 Fresh Raspberry Vinaigrette Recipe
This fresh raspberry vinaigrette dressing recipe will quickly become a summer time favorite with the bright flavor of raspberries — summer's candy.
Ingredients:
6 ounces fresh raspberries, washed
1 tablespoon Pompeian Red Wine Vinegar
4 tablespoons extra virgin olive oil
salt and pepper to taste
honey to taste (optional)
Directions:
1. Push berries through a fine mesh strainer into a small bowl, first with fork (to mash) and then with the back of a spoon to push all the fruit through. If a few seeds squeeze through it's no big deal. This should yield about 1/2 cup of raspberry puree.
2. Using a fork or a small whisk, whisk in Pompeian Red Wine, olive oil, and salt, pepper and honey if desired. Taste and season again as needed. Store in fridge until ready to use or for up to one week. The oil may harden a bit in the fridge, so plan to leave it out on the counter for about 30 minutes prior to use. Or you may gently warm it in the microwave (10 seconds should suffice).
serving size two tablespoons
Nutrition Information
Yield: about 3/4 cup, Serving Size: 2 tablespoons
Amount Per Serving:
Calories: 95 Calories
Total Fat: 9g
Saturated Fat: 1g
Carbohydrates: 3g
Fiber: 2g
Sugar: 1g
Actual nutrition may vary depending on how recipe is prepared.
All images and text ©Rachel Cooks.
This dressing not striking your fancy? Check out Reduced Fat Ranch Dressing, this Honey Lime Dressing, or this Skinny Red Wine Tomato Vinaigrette from Skinnytaste.