Slow Cooker Shredded Chicken for Tacos (EASY!)
Slow cooker shredded chicken that only takes 3 ingredients. Easy, versatile and delicious.
EASY. If you've spent any time at all on my little blog, you know that easy is my favorite word.
Oh wait, no it's not.
POPCORN is my favorite word.
But easy is important too. I need 2949044 more hours in the day to do everything I need to do so easy meals are very important to me. And slow cooker meals are also a lifesaver. Pop it in in the morning before work, before school, before heading to the zoo, whatever. Then when 4pm rolls around and you're completely exhausted, dinner is already ready.
But I don't have to tell you the charms of a slow cooker — everyone knows they are awesome.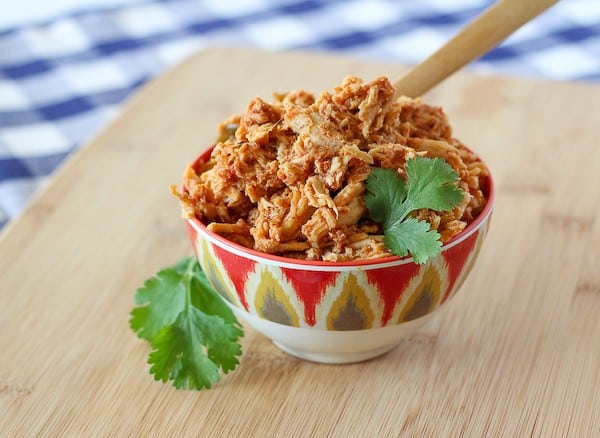 Other things I love? Food that can be frozen and food that is versatile. This recipe covers alllll those things:
EASY
Slow Cooker
Freezable
Versatile
Oh yeah, and it tastes great too. Clearly that's of major importance. This recipe also uses my homemade taco seasoning which I'm beyond obsessed with. If you missed it, I threw it into some homemade flour tortillas on Monday.
As I mentioned, one of the great aspects of this slow cooker shredded chicken is its versatility. When I made this, I did tacos for my family but I threw mine on a sweet potato with some other taco toppings. It was one of the best things I've eaten in the last couple months.I've also made enchiladas with it and quinoa bowls. This chicken is also a recipe that I love to make in large batches and freeze dinner-sized portions. Great for nights when I don't have a clear plan in mind for dinner. I can take a bag of this chicken out of the freezer and use it for tacos, enchiladas, nachos, or loaded sweet potatoes. Whatever my fridge, pantry or stomach dictates.
Easy Slow Cooker Shredded Chicken for Tacos
Slow cooker shredded chicken that only takes 3 ingredients. Easy, versatile and delicious.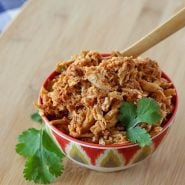 Ingredients:
one 48 ounce bag of boneless skinless frozen chicken breasts
one 16 ounce jar of salsa
3 tablespoons taco seasoning
Directions:
Combine all ingredients in slow cooker. Cover and cook on low for 7-8 hours or until chicken is tender and cooked through. Shred using two forks or a potato masher.
Cook for another hour on low before serving or freezing.
All images and text ©

.
Verdict: So good! This slow cooker shredded chicken is definitely a great go-to recipe.
Husband's take: Loves it!
Changes I would make: None are necessary, but it is on the juicy side, so you could drain some of the liquid off if you wanted a neater chicken for tacos or nachos.
Difficulty: Easy.